CURRENT AFFAIRS – 09/11/2023
CURRENT AFFAIRS – 09/11/2023
Does odd-even work?
(General Studies- Paper II)
Source : The Indian Express
---
The Delhi government will implement the odd-even road rationing scheme for one week following Diwali to address severe air pollution.
Central Pollution Control Board (CPCB) data indicates alarming air quality levels, with an average Air Quality Index (AQI) reading of 421 in Delhi.
The scheme will be enforced from November 13 to 20, marking its fourth implementation in the last seven years to combat the annual spike in air pollution.
Key Highlights
Understanding the Odd-Even Scheme:

The odd-even scheme restricts vehicle usage based on the last digit of their registration numbers.
On odd dates (e.g., November 13, 15, 17, 19), cars with numbers ending in odd digits can ply, while on even dates (e.g., November 14, 16, 18, 20), vehicles with even-numbered plates are allowed.
The primary objective is to reduce the number of cars on the road, aiming to lower AQI levels.

Previous Implementations:

The scheme was previously tried in 2016 and reintroduced in 2019.
Several categories of vehicles were exempt from the scheme, including CNG-run taxis, cars driven by women for safety considerations, electric and hybrid vehicles, and two-wheelers.
The specific details of the new scheme for 2023 have not been disclosed yet.

Impact on Vehicle Numbers:

Delhi currently has an estimated 75 lakh active Delhi-registered vehicles, with roughly one-third being cars.
During the odd-even period, approximately 12.5 lakh cars are expected to be off the roads daily, excluding electric and hybrid vehicles.
An additional 20 lakh vehicles registered in NCR cities or elsewhere may operate in Delhi.
However, they typically do not significantly contribute to Delhi's traffic congestion.

Delhi's Vehicle Statistics:

According to the Delhi Statistical Handbook 2022, as of March 31, 2022, Delhi had 20, 57,657 registered "cars and jeeps" and 51, 35,821 "motorcycles and scooters."
The remaining 77, 39,369 vehicles comprised autorickshaws, taxis, buses, goods vehicles, and tractors, among others.

Delhi's air quality crisis is attributed to various factors:

Geographical factors, including a shallow atmospheric 'bowl,' slow wind speeds, and falling temperatures, trap pollutants in the air.
Farm fires in neighboring states, along with atmospheric conditions during Diwali, worsen air quality.

Impact of Farm Fires:

Farm fires, primarily in Punjab and Haryana, contribute significantly to air pollution.
A study by the Centre for Science and Environment (CSE) found that farm fires could contribute up to 40% of PM 2.5 concentration during peak periods.
In early November, biomass burning contributed 35%, 20%, and 21% to PM 2.5 levels in Delhi, according to Indian Institute of Tropical Meteorology data.
Over the entire year, farm fires contribute about 3% or less to Delhi's air pollution.

Role of Vehicular Emissions:

Vehicular emissions are a major contributor to air pollution in Delhi.
Vehicles contribute up to 30% of the city's annual PM 2.5 concentration.
Additionally, vehicles emit other pollutants like NO2, with increased levels observed compared to the previous year.

Odd-Even Scheme Efficacy:

The odd-even scheme, which restricts vehicle usage on alternate days, has been implemented in Delhi and in cities in other countries.
An analysis comparing AQI levels in Delhi with nearby regions (Gurgaon, Ghaziabad, and Noida) during the 2019 odd-even implementation revealed a significant reduction in Delhi's average AQI.
However, experts note that determining the exact impact of a single measure on air pollution is challenging, as air quality is influenced by numerous factors.

Challenges in Attributing Air Quality Improvement to Odd-Even:

Air quality depends on multiple variables, making it complex to isolate the effect of a single measure like odd-even.
Other factors, such as weather conditions and external influences, can significantly influence air quality.
A senior official from the Environment Ministry highlighted the need to consider all these factors when evaluating the impact of the odd-even scheme.
---
Odd-even's health impact: what studies, doctors say
(General Studies- Paper III)
Source : The Indian Express
---
While there is some evidence suggesting that odd-even vehicle policies can reduce pollutant levels, experts point out that available data lacks consistency.
Reductions achieved through the policy may not be sufficient to fully address the health-related impacts of air pollution.
Key Highlights
Insufficient Impact on Air Pollution Reduction:

SagnikDey, a professor and coordinator at the Centre of Excellence for Research in Clean Air at IIT-Delhi, criticizes the odd-even policy, stating that it does not significantly reduce the number of vehicles on the road as claimed.
The reduction in emissions does not always translate to a decrease in pollutant concentration due to meteorological factors like wind speed.
The available evidence shows an uneven impact, with some areas witnessing reductions, while others do not experience significant improvements or see reductions lasting only for a limited duration.

Unclear Impact on Public Health:

The researchers have emphasized that there is no study demonstrating whether the modest reduction in air pollution levels resulting from the odd-even policy has a tangible impact on people's health.
It is noted that even with a 20% decrease in PM2.5 levels, when they are well above 500, the reduction remains insufficient, as it only brings levels down to 400, which is still considered harmful.

Long-Term Health Implications of Air Pollution:

The long-term exposure to air pollution is associated with various health risks, including hypertension, diabetes, cardiovascular diseases such as heart attacks and strokes, chronic lung diseases, cancers, lower immunity, and even depression.
These health issues underscore the need for more effective and comprehensive measures to combat air pollution in Delhi.

Summary of Studies on Odd-Even Scheme Impact:

Multiple studies have been conducted to assess the impact of the odd-even vehicle policy in Delhi, revealing a reduction in particulate matter (PM) levels during the policy's implementation.
Reductions in PM levels typically fall within the range of 5% to 10%.
A study from 2016, utilizing satellite data found a 2% to 3% decrease in PM2.5 concentration across most of Delhi, with a more significant drop of 8% to 10% observed in specific areas.
Another study from Delhi Technical University reported an average reduction of 5.73% in PM2.5 levels and 4.70% in PM1.
The reduction in PM levels can be attributed to the presence of fewer cars, reduced traffic congestion, faster-moving traffic on decongested roads, and less engine idling.
Notably, the sharpest decrease in PM levels was observed during midday, with lesser reductions during early morning hours, when cold temperatures keep pollutants suspended close to the ground.

Significance of Reducing NO2:

A potential benefit of the odd-even scheme is the reduction of gaseous pollutants, particularly nitrogen dioxide (NO2), primarily emitted from vehicular sources.
Recent research from AIIMS found that an increase in NO2 levels had a more significant impact on emergency room visits compared to PM2.5.
Short-term exposure to NO2 resulted in a 53% increase in the number of patients visiting the hospital's emergency room within a week.

Long-Term Solutions and Regional Implementation:

While the odd-even scheme may offer short-term relief, it is not considered a long-term solution for Delhi's air pollution.
To address air pollution effectively, measures such as phasing out BS-IV vehicles and promoting electric vehicles are expected to yield results in the coming years.
Experts recommend that policies like odd-even should be implemented regionally rather than exclusively in Delhi.
Additionally, the use of air purifiers in schools is suggested as a proactive measure to mitigate the health impact of air pollution.
---
Punjab cannot go from granary to desert: Supreme Court
(General Studies- Paper I)
Source : TH
---
The Supreme Court of India has recommended that the central government seriously consider the Punjab government's proposal to phase out paddy cultivation in the state and encourage farmers to switch to traditional crops such as millets by providing them with a minimum support price (MSP).
This initiative aims to combat the widespread issue of burning paddy stubble and address the significantly declining water table in Punjab.
Key Highlights
Paddy Cultivation and Water Depletion:

The Supreme Court expressed concern over the impact of paddy cultivation on Punjab's water table, noting that many wells are irreversibly damaged due to the excessive cultivation of paddy.
It was emphasized that paddy is not a native crop to Punjab and was introduced by the central government under the Food Security Act.
The state currently cultivates 31 lakh acres of paddy, which is not even consumed locally.

Incentivizing Transition:

The Punjab Advocate-General proposed phasing out paddy cultivation and replacing it with other crops.
The court suggested that the central government explore the possibility of providing MSP for alternative crops to incentivize farmers to make the transition.
This transition is seen as a solution to the water table issue and stubble burning problems in the state.

Challenges of Paddy Cultivation:

Paddy cultivation in Punjab has led to a significant decline in the water table.
Paddy MSP has also led to the illegal smuggling of the crop from other states to Punjab, causing further complications.
The specific type of paddy grown in Punjab and its cultivation period contribute to air pollution through stubble burning.

Cost of Stubble Management:

Marginal farmers in Punjab are willing to adopt technology for stubble management, but they find the machines too expensive even with a 50% subsidy provided by the central government.
About Rice Cultivation in India
Rice is a staple food for the majority of the Indian population.
It is a kharif crop, requiring high temperatures (above 25°C) and high humidity, with an annual rainfall of over 100 cm. In regions with lower rainfall, irrigation is used for cultivation.
India ranks as the second-largest rice producer globally, following China.
Cultivated Land for Rice:

Rice cultivation in India is primarily concentrated in the fertile plains of northern and eastern India.
The total area under rice cultivation in India varies annually but typically covers around 44-45 million hectares of land.

Major Rice-Producing States:

Key rice-producing states in India include Punjab, Haryana, Uttar Pradesh, Andhra Pradesh, West Bengal, and Odisha.
These states have the right combination of soil and climatic conditions for rice cultivation.

Varieties of Rice:

India cultivates a wide variety of rice, with the most common being Basmati and Non-Basmati.
Basmati rice is known for its unique aroma and long grains, while Non-Basmati includes several varieties like SonaMasuri, Ponni, and IR8.

The annual rice production in India varies but generally hovers around 110 to 120 million metric tons.
Major rice-producing countries include China, India, Indonesia, Bangladesh, and Vietnam.
Rice Production and Productivity

In India, rice is cultivated across 43.86 million hectares, resulting in a total production of 104.80 million tons (as of Agricultural Statistics at a glance- 2015).
However, the average productivity stands at approximately 2390 kg per hectare (as of Agricultural Statistics at a glance- 2015).
Over the years, the area under rice cultivation has significantly increased, growing from 30.81 million hectares in 1950-51 to 43.86 million hectares in 2014-15, marking a substantial rise of nearly 142%.
Rice production has also seen remarkable growth, with the output escalating from 20.58 million tonnes in 1950-51 to 104.86 million tonnes in 2014-15, which is nearly fivefold.
Rice is grown under diverse soil and climatic conditions in the country, but its productivity is relatively low when compared to other rice-producing nations globally.
Notably, about 90% of the cultivated land for rice belongs to Marginal, Small, and Medium farmers, which poses a challenge in increasing rice productivity.
The highest rice productivity globally is observed in China, with 6710 kg per hectare, followed by countries like Vietnam (5573 kg/ha).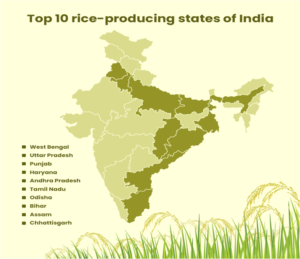 ---
How are the MiG-21 fighter jets being phased out?
(General Studies- Paper III)
Source : TH
---
The MiG-21 was the first supersonic fighter to be inducted into service in the IAF in 1963.
It played a pivotal role in various major conflicts involving the IAF, earning a prominent place in the Indian military aviation history.
Key Highlights
More than 800 variants of the MiG-21 supersonic fighter have been inducted into the IAF, and it remained the frontline fighter jet for an extended period.
The No. 4 squadron, which operated the MiG-21, served the country for approximately six decades, making significant contributions to the Indian war efforts, particularly during Indo-Pak conflicts.
Key Squadron Phased Out:

In 2022, the No. 51 squadron, known as 'swordarms,' based in Srinagar, was phased out.
This squadron gained recognition during the February 2019 Balakot air strike and included Group Captain AbhinandanVarthaman.
The squadron was initially raised at Chandigarh in 1985 and later moved to Srinagar in 1986.
It was initially equipped with MiG-21 Type 75 aircraft and later transitioned to the upgraded MiG-21 Bison in January 2004.

MiG-21 Replacement:

The IAF now operates two MiG-21 squadrons with upgraded Bison variants, and both are scheduled to be phased out by 2025.
Air Chief Marshal Vivek Ram Chaudhari announced the replacement plan, with the indigenous Light Combat Aircraft (LCA)-Mk1A set to fill the gap left by the MiG-21s.
The transition marks the conclusion of the MiG-21's service, which began in 1963 with the No. 28 squadron and was the IAF's mainstay for decades.

IAF's Progress and New Inductions:

In recent years, the IAF has inducted two squadrons of the LCA Tejas and two squadrons of Rafale fighter jets, boosting its squadron strength to over 30.
A contract was signed with Hindustan Aeronautics Limited (HAL) in January 2021 for 83 LCA Mk1A, set to be received from early 2024.
The IAF is also developing a larger LCA-Mk2 and the fifth-generation Advanced Medium Combat Aircraft (AMCA) for the future.
The LCA-Mk1A is expected to form the bulk of the IAF's force, and additional procurement of 97 LCA-Mk1A variants is being considered.
About the MiG-21 fighter jets
The MiG-21, also known as the "Fishbed" in NATO reporting, is a supersonic jet fighter and interceptor aircraft.
It was designed by the Mikoyan-Gurevich Design Bureau in the Soviet Union and first flew in 1956.
The MiG-21 became one of the most widely produced and exported fighter aircraft in the world.
Supersonic Speed:

The MiG-21 was celebrated for its supersonic capabilities, capable of reaching speeds exceeding Mach 2 (twice the speed of sound).
Its high speed and agility made it a valuable asset for air defense and combat missions.

Variants:

The MiG-21 had numerous variants, each tailored for specific roles and equipped with different weapon systems.
Some of the well-known variants include the MiG-21bis, MiG-21MF, MiG-21FL, and MiG-21 Bison.

Challenges:

Over the years, the MiG-21 faced challenges related to safety and maintenance, and it was involved in numerous accidents.
Efforts were made to address these issues, but they remained a concern.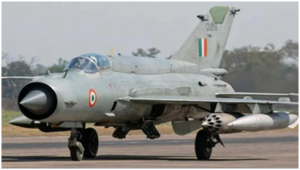 ---
Aditya-L1 captures first glimpse of solar flares
(General Studies- Paper III)
Source : TH
---
Aditya-L1 is India's first space-based mission designed to study the sun.
Launched on September 2, it is currently en-route to its destination at the sun-earth L1 point (L1), approximately 1.5 million km from Earth.
The mission aims to explore various aspects of the sun, including its outermost layer (corona) and the impact of solar activities on Earth.
Key Highlights
HEL1OS Payload's Achievement:

The High Energy L1 Orbiting X-ray Spectrometer (HEL1OS) payload, which is a crucial instrument on Aditya-L1, has achieved a significant milestone.
On October 29, during its first observation period, HEL1OS captured the impulsive phase of solar flares.
The recorded data is in line with X-ray light curves provided by NOAA's GOES (Geostationary Operational Environmental Satellites).

High-Energy X-ray Observations:

HEL1OS is dedicated to monitoring the sun's high-energy X-ray activity, providing fast timing and high-resolution spectra.
The data collected by HEL1OS allows researchers to study the explosive energy release and electron acceleration during impulsive phases of solar flares.
This is vital for understanding and analysing solar phenomena.

Development and Commissioning:

HEL1OS was developed by the Space Astronomy Group of the U. R. Rao Satellite Centre, ISRO, located in Bengaluru.
The payload was commissioned and initiated its observations on October 27, marking a significant step in the mission.

Future Plans:

Aditya-L1 is expected to reach the L1 point in January 2024, where it will spend its mission life.
The satellite will orbit L1 in an irregularly shaped orbit, allowing it to continuously study the sun and its activities.
About Aditya-L1 Solar Mission
Aditya-L1 is a space mission designed and developed by ISRO and Indian research institutes to study the solar atmosphere and phenomena related to the sun.
It orbits at approximately 1.5 million km from Earth, positioned in a halo orbit around the L1 Lagrange point between Earth and the Sun.
The mission's objectives include studying the solar atmosphere, solar magnetic storms, and their impacts on Earth's environment.
Aditya-L1 is India's first mission dedicated to observing the Sun.
The project is led by NigarShaji.
It was launched aboard the PSLV C57 on September 2, 2023, shortly after ISRO's Chandrayaan-3 Moon mission.
Aditya-L1 achieved its intended orbit and separation from its fourth stage.
It is expected to reach its designated orbit at the L1 point approximately 127 days after launch.
About Solar Flares
Solar flares are sudden and intense bursts of energy and radiation originating from the Sun's surface.
These eruptions release a massive amount of electromagnetic radiation, including X-rays and ultraviolet light, along with charged particles like electrons and protons.
Solar flares are caused by the Sun's complex magnetic fields, particularly in regions of high magnetic activity.
---
7.5 million newcases of TB in 2022: WHO report
(General Studies- Paper III)
Source : TH
---
A major global recovery in the number of people diagnosed with TB and treated in 2022.
This recovery comes after two years of disruptions due to the COVID-19 pandemic.
Key Highlights
TB as a Leading Cause of Death:

TB remains the world's second leading cause of death from a single infectious agent.
Global TB targets have been missed or remain off track.

Reduction in TB Cases:

There was a net reduction of 8.7% in TB cases from 2015 to 2022.
This falls far short of the WHO End TB Strategy milestone of a 50% reduction by 2025.

Global TB Statistics for 2022:

The reported global number of people newly diagnosed with TB in 2022 was 7.5 million, the highest since WHO began global TB monitoring in 1995.
This number surpassed the pre-COVID baseline of 7.1 million in 2019.
The increase can be attributed to a backlog of cases due to COVID-related disruptions in healthcare services.
COVID-related disruptions in healthcare resulted in delays in the diagnosis and treatment of TB cases.
These disruptions are estimated to have caused nearly half a million excess TB-related deaths in the years 2020–2022.

Recovery in Key Countries:

India, Indonesia, and the Philippines, which collectively accounted for nearly 60% of the reduction in newly diagnosed TB cases in 2020 and 2021, recovered to above 2019 levels in 2022.
Treatment success rates have improved, with 88% for people treated for drug-susceptible TB and 63% for those with multidrug-resistant TB (MDR/RR-TB).

The report emphasizes the need to translate commitments made at the 2023 UN high-level meeting on TB into action to end the global TB epidemic.
About Tuberculosis
Tuberculosis (TB) is an infectious disease caused by the bacterium Mycobacterium tuberculosis.
It primarily affects the lungs but can also target other parts of the body, leading to various forms of the disease.
Transmission:

TB is primarily spread through the air when an infected person with active TB coughs or sneezes.
It is not easily transmitted through casual contact.

Types of TB:

Latent TB Infection (LTBI):

In this form, the person carries the TB bacteria but does not show symptoms. LTBI can progress to active TB.

Active TB Disease:

This form of TB causes symptoms, and the infected person can spread the disease to others.

Symptoms of Active TB:

Persistent cough that may produce bloody or discolored sputum.
Fatigue, weakness, and unexplained weight loss.
Fever and night sweats.
Chest pain and difficulty breathing.

Diagnosis:

TB is diagnosed through various tests, including a chest X-ray, sputum tests, and blood tests.

Treatment:

Active TB is treated with a combination of antibiotics over a period of several months.
Medication adherence is crucial to prevent the development of drug-resistant TB.

Drug-Resistant TB:

Some TB strains become resistant to the standard antibiotics, leading to drug-resistant TB.
Multidrug-resistant TB (MDR-TB) and extensively drug-resistant TB (XDR-TB) are severe forms of drug-resistant TB.

Global Impact:

TB is a major global health concern and one of the top infectious disease killers.
It disproportionately affects low- and middle-income countries.

Prevention:

TB prevention includes vaccination (BCG vaccine) in childhood.
Preventing the spread of TB involves identifying and treating cases promptly and ensuring that individuals with TB adhere to their treatment regimen.
Tuberculosis in India
India accounts for 28% of all TB cases globally, with 21.3 lakh cases detected in 2021.
This is an increase from 18.05 lakh cases in 2020 but still lower than the pre-pandemic level of 24.04 lakh cases in 2019.
India aims to achieve TB elimination by 2025, setting specific targets for case reduction and mortality.
The national strategic plan for 2017-2025 targets no more than 44 new TB cases or 65 total cases per lakh population by 2025.
The estimated TB incidence for 2021 was 210 cases per lakh population, higher than the plan's target of 77 cases per lakh by 2023.
The program also aims to reduce TB mortality to 3 deaths per lakh population by 2025.
Catastrophic costs for TB patients' families are targeted to be reduced to zero, although the report indicates challenges in achieving this, with a percentage of patients still experiencing high costs.
These goals align with the World Health Organization's End TB strategy, which aims for an 80% reduction in new cases, a 90% reduction in mortality, and zero catastrophic costs by 2030.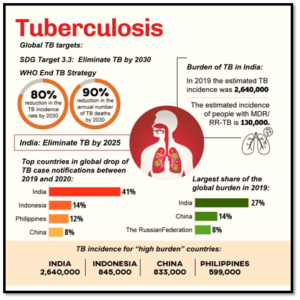 ---