CURRENT AFFAIRS – 20/10/2023
CURRENT AFFAIRS – 20/10/2023
What Caused the Largest Marsquake?
(General Studies- Paper III)
Source : The Indian Express
---
A recent study published in Geophysical Research Letters has unveiled the cause behind the largest marsquake ever recorded, which occurred in 2022.
Initially suspected to be the result of a meteor impact, the research dispels this theory and reveals the true origin of the seismic event.
Key Highlights
Meteor Impact Theory Debunked:

The marsquake in question had a magnitude of 4.7 and initially appeared to have seismic characteristics similar to those caused by meteoroid impacts.
Consequently, scientists launched an international effort to locate a potential crater, but none was found.
In the quest to identify the quake's source, the research team collaborated with several space agencies, including the European Space Agency (ESA), the Chinese National Space Agency (CNSA), the Indian Space Research Organisation (ISRO), and the United Arab Emirates Space Agency.
This collaboration, which spanned missions in orbit around Mars, is notably described as the first of its kind.

New Understanding of Mars' Seismic Activity:

After months of exhaustive examination of the Martian surface, researchers have concluded that the marsquake was not the result of a meteor impact but rather originated from the release of tectonic forces within Mars.
This discovery raises the possibility that Mars may be more seismically active than previously believed, despite the absence of active plate tectonics.
The study suggests that the seismic event was the outcome of stress release within Mars' crust, which has accumulated over billions of years due to various planetary processes, including cooling and differential shrinkage of the planet's different regions.

Implications for Mars Exploration:

The findings have potential implications for future missions and human exploration of Mars.
Space agencies like NASA and technologists like Elon Musk, who plan to send astronauts to Mars, can use this information to determine safer landing sites and areas to avoid.
Understanding the planet's seismic activity is crucial for ensuring the safety and success of future missions to the red planet.
What Are Marsquakes?
Marsquakes are seismic events that occur on the planet Mars, similar to earthquakes on Earth.
These quakes result in the shaking and movement of the Martian surface.
They are a key area of scientific interest for understanding the interior and geology of Mars.
NASA's InSight Mission:

NASA's InSight mission, which landed on Mars in December 2018, includes a seismometer designed to detect and record these marsquakes.
Scientists have eagerly awaited significant marsquakes to gain insights into the planet's interior and geophysical processes.
The data from these events are invaluable for ongoing research, enabling scientists to learn more about Mars and its geological history.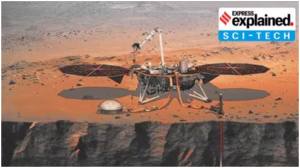 In Image: An artististic concept of InSight lander on Mars. (Source: NASA)
---
Severe drought grips the Amazon rainforest
(General Studies- Paper III)
Source : The Indian Express
---
The Amazon rainforest is experiencing a severe drought that has had devastating consequences, affecting the region's rivers and Indigenous communities.
The situation is considered the worst drought in history, causing widespread hardship and environmental damage.
Key Highlights
Record-Low Water Levels:

The Rio Negro, one of the world's largest rivers by discharge, has reached a record low level of 13.59 meters near the city of Manaus, Brazil.
This unprecedented drop in water levels is causing a crisis in the Amazon region.

Impact on Indigenous Communities:

Indigenous communities living in the Amazon rainforest are suffering from a lack of water, food, and medicine due to the drying up of vital rivers.
Boats are stranded, and the drought has resulted in dead fish and river dolphins known as boto, contaminating the water supply.
This forces residents to use the contaminated water for essential activities like cooking, bathing, and drinking.

Hydropower Dam Affected:

The drought has stalled the operations of a major hydropower dam in the region, compounding the crisis.
Tens of thousands of people are stranded in remote jungle villages with limited access to essential supplies.
It is estimated that approximately 500,000 people may be affected by the drought by the end of October, according to Brazilian authorities.

Environmental Consequences:

The dry conditions have also made the rainforest more vulnerable to wildfires.
In October, the state of Amazonas has witnessed an alarming 2,700 wildfires, the highest on record for the month in the last 25 years, as reported by Brazil's National Institute for Space Research.
Wildfires are further deteriorating the environmental situation.
The wildfires have led to a decline in air quality in Manaus, a city of two million people located in the heart of the Amazon.
Smoke from the fires has pushed air quality to hazardous levels, affecting the health of children and the elderly, with many requiring medical attention.

The intense drought situation in the Amazon is exacerbated by two simultaneous natural phenomena:

El Niño and high sea surface temperatures in the northern tropical Atlantic Ocean.

This drought, considered even more severe than the 2021 dry spell, has far-reaching consequences for the region.
El Niño's Impact:

El Niño is characterized by abnormal warming of surface waters in the equatorial Pacific Ocean.
It has caused an increase in temperature records and extreme heat worldwide.
In the Amazon, El Niño contributes to diminished cloud formation and reduced rainfall, exacerbating the drought.

High Atlantic Ocean Temperatures:

Unusually high water temperatures in the northern tropical Atlantic Ocean create a chain reaction.
Warmer ocean waters lead to the rise of heated air into the atmosphere, which reaches the Amazon rainforest.
This warm air inhibits cloud formation, further decreasing rainfall levels.

Simultaneous Effects:

The combination of these two events intensifies the drought's severity and expands its impact across a larger area of the Amazon biome.
Meteorologist Renato Cruz Senna highlights how this dual phenomenon is causing more significant challenges for the region.

Future Threats:

Climate change and global warming have raised concerns about the Amazon's future.
Studies suggest that with continued fossil fuel burning, the rainforest will experience more frequent and longer droughts.
One study predicts that by 2060, major droughts may occur in the Amazon nine out of every ten years if current trends persist.
Another study warns that the Amazon is approaching a tipping point, where prolonged droughts could lead to the transformation of the lush green forest into a drier savanna.
This transition would release substantial carbon, exacerbating global warming.

Conservation Efforts:

Given that 17 to 20 percent of the Amazon has been destroyed in the last five decades, experts stress the urgent need to combat deforestation and greenhouse gas emissions.
Additionally, efforts to restore and reforest degraded areas are essential for protecting the Amazon and its critical role in regulating the Earth's climate.

The consequences of the Amazon's fate extend far beyond the region.
The interconnected nature of Earth's ecosystems means that the loss of the Amazon will affect everyone.
About Amazon Rainforest
The Amazon Rainforest is the world's largest tropical rainforest, renowned for its unparalleled ecological significance and biodiversity.
Location:

The Amazon Rainforest is primarily located in South America, with the majority of it situated within nine countries:

Brazil, Peru, Colombia, Venezuela, Ecuador, Bolivia, Guyana, Suriname, and French Guiana (an overseas territory of France).

It covers approximately 5.5 million square kilometers (about 2.1 million square miles), making it the largest rainforest globally.
The Amazon Basin, the region drained by the Amazon River and its tributaries, encompasses about 7 million square kilometers (2.7 million square miles).
Biodiversity:

The Amazon Rainforest is home to an astounding variety of plant and animal species. It houses around 10% of the known species on Earth.
It contains approximately 390 billion individual trees representing over 16,000 species.
The rainforest is inhabited by diverse wildlife, including jaguars, anacondas, poison dart frogs, capybaras, and hundreds of bird species.
Indigenous people in the Amazon region have a deep connection with the forest and possess a rich knowledge of its biodiversity.

Climate:

The Amazon experiences a tropical rainforest climate with high temperatures and heavy rainfall throughout the year.
It is characterized by distinct wet and dry seasons, with the wet season typically lasting from November to June and the dry season from July to October.

The Amazon Rainforest is often referred to as "the lungs of the Earth" because it plays a crucial role in absorbing carbon dioxide and producing oxygen.
The Amazon River, the world's second-longest river, flows through the rainforest, providing a vital source of water and transportation.
---
Southwest monsoon withdraws from India
(General Studies- Paper I)
Source : TH
---
The India Meteorological Department (IMD) has declared the end of the southwest monsoon, which began its withdrawal from Rajasthan on September 25, a week later than the typical date of September 17.
While the monsoon withdrawal initiates in Rajasthan, it takes until early to mid-October for the full transition to the northeast monsoon.
Officially, India counts rainfall received from June 1 to September 30 as monsoon rainfall.
Key Highlights
Weak Onset of Northeast Monsoon:

The IMD anticipates that the onset of the northeast monsoon, also known as the 'retreating monsoon,' will occur within the next 72 hours.
However, the agency expects this onset to be weak.

Monsoon Rainfall Overview:

India received 94% of the expected rain from the four monsoon months as of September 30.
This is slightly below the forecast of 96%, but still within the error margin of the IMD's forecast models.
Rainfall within the range of 96% to 104% of the long-term average is considered 'normal.'
Factors such as El Niño contributed to a dry August but were partially compensated by more-than-expected rain in September.

Outlook for Northeast Monsoon:

The IMD had earlier forecast a 'normal' northeast monsoon for the period from October to December.
It also predicted 'normal to above-normal rainfall' over significant parts of north-west India and the southern peninsula.
States like Tamil Nadu, Kerala, Karnataka, and parts of Andhra Pradesh rely on the northeast monsoon for significant rainfall, even though it contributes only around 11% of India's annual rainfall.

Variability in Northeast Monsoon:

Historical data suggests that the northeast monsoon exhibits extreme year-on-year variability.
For instance, in 2015, Chennai experienced heavy rainfall, while a weak northeast monsoon led to severe water shortages in 2019.

Low Pressure Areas and Cyclone Development:

The IMD has reported two developing low-pressure areas, which are precursors to cyclones.
These developments are observed in both the Arabian Sea and the Bay of Bengal.
By October 21, they are expected to progress into 'depressions.'
The potential for further intensification into larger cyclones remains uncertain at this point.
About Southwest Monsoon
The southwest monsoon, often simply referred to as the "monsoon," is a seasonal wind and weather pattern that brings heavy rainfall to the Indian subcontinent and some neighboring regions.
The southwest monsoon season typically occurs from June to September in India. It marks the arrival of the rainy season.
The monsoon season begins in the southwest and moves across the country, covering most of India during this period.
Origin:

The southwest monsoon is associated with the seasonal reversal of wind patterns.
It originates in the Indian Ocean, specifically from the warm waters of the Indian Ocean and the moist air masses over this region.

Winds and Direction:

During the monsoon season, the prevailing winds blow from the southwest to the northeast.

These winds are known as the southwest monsoon winds.

The winds bring moist air from the Indian Ocean, laden with moisture picked up from the sea, which is crucial for rainfall.

Impact on Rainfall:

The southwest monsoon is responsible for the majority of the annual rainfall in India.
It accounts for approximately 70-90% of the total rainfall in many parts of the country.

The monsoon is essential for agriculture, providing the much-needed water for crops and sustaining livelihoods for millions of people.
Regions Affected:

The southwest monsoon affects the entire Indian subcontinent. However, the distribution of rainfall is not uniform, with some areas receiving much more rain than others.
The western coast of India, including regions like Kerala and Mumbai, experiences heavy rainfall during the monsoon.
The monsoon gradually progresses northward and covers states and regions across the country.
About Retreating Monsoon
The retreating monsoon, also known as the "northeast monsoon" or "post-monsoon season," is the second phase of the monsoon cycle in India.
It follows the southwest monsoon and typically occurs from October to December.
During the retreating monsoon, the prevailing wind direction shifts from onshore (coming from the Indian Ocean) to offshore (moving away from the land).
In the earlier southwest monsoon phase, the winds brought moisture-laden air from the southwest, resulting in heavy rainfall.

Now, during the retreating monsoon, the winds blow from the northeast.

Impact on Rainfall:

The retreating monsoon season is characterized by decreased rainfall compared to the peak monsoon season.
Coastal areas of the eastern and southeastern regions of India receive the most rainfall during this phase.
The northeast states, such as Assam, experience significant rainfall during this time.
Southern India, especially the eastern coastal states of Tamil Nadu, Andhra Pradesh, and parts of Kerala, receives a substantial portion of its annual rainfall during the retreating monsoon.
The northeast monsoon is particularly vital for regions like Tamil Nadu, which depend on this phase for replenishing water resources and agriculture.

The retreating monsoon season can also bring cyclonic activity and depressions, especially in the Bay of Bengal.

These weather systems can lead to heavy rainfall, sometimes causing flooding.
---
An opportunity to recast India's food system
(General Studies- Paper II)
Source : TH
---
On World Food Day it is important to view food as a comprehensive system.
India, as the country with the world's largest population to feed, faces significant challenges in ensuring a sustainable and resilient food system.
The primary goal of such a system is to provide nutrition security for all while enabling producers to earn economically viable returns.
Key Highlights
Interconnectedness of Food, Livelihood, and Environment:

The resilience of a food system is intrinsically linked to the resilience of the natural ecosystem.
This is because essential inputs to agriculture, including soil, water, and climatic conditions, are all derived from natural resources.
Recognizing the interconnectedness of nutrition security, livelihoods, and environmental security is crucial for achieving true sustainability in the food system.

Nutrition Challenges:

India grapples with a dual burden of malnutrition and obesity.
On one end, there are significant nutrient deficiencies, with 35% of children experiencing stunted growth, and a large percentage of women and men facing anemia.
On the other end, imbalanced diets and sedentary lifestyles have led to an increase in obesity among adults.
India has initiated efforts to combat malnutrition, even prompting the Prime Minister to call for a mass movement to eradicate it.

Livelihood Issues:

Farm incomes in India are often insufficient to support marginal and small-scale farmers.
Over 68% of marginal farmers rely on non-farm activities to supplement their incomes.
The Mahatma Gandhi National Rural Employment Guarantee Act (MGNREGA) and other casual labor options are filling the income gaps, indicating a need for skills and income diversification opportunities.

Environmental Vulnerabilities:

Depleting natural resources and shifting climatic conditions pose significant vulnerabilities to India's food production.
A 2023 soil health survey revealed that nearly half of the cultivable land in India lacks essential organic carbon, a key indicator of soil health.
Groundwater, a primary source of irrigation, is rapidly depleting, with over 75% of groundwater assessment locations in Punjab labeled as over-exploited.
This depletion threatens the resilience of farm incomes and overall agricultural sustainability.

A Three-Pronged Approach

India faces multifaceted challenges in its food system, including nutrition, farmer livelihoods, and environmental sustainability.
To address these interconnected issues, a comprehensive three-sided approach involving consumers, producers, and middlemen is required.
A) Shifting Consumer Demand:

The first aspect of the approach involves redirecting consumer demand towards healthier and more sustainable diets.
Collaboration between the private sector, civil society, and health communities can influence aspirational consumption patterns.
Social media influencers can play a role in promoting healthier and more sustainable food choices.
Public institutions like the Public Distribution System, mid-day meal programs, railways catering, urban canteens, and public procurement can contribute to improving the quality of food consumed by a significant portion of the population.
Religious institutions can also influence food choices, as demonstrated by the Tirumala TirupatiDevasthanam's procurement of naturally-farmed produce.

B) Supporting Farmer Incomes:

To ensure resilient incomes for farmers, there's a need to support their transition to remunerative and regenerative agricultural practices.
Initiatives like the National Mission on Natural Farming are a step in the right direction, but funding for sustainable agriculture is limited.
Broader and more extensive efforts are necessary to promote agro-ecological practices, such as agroforestry, conservation agriculture, and precision farming.
Shifting from input subsidies to direct cash support per hectare can promote efficient resource use and create a level playing field for sustainable practices.
Budget allocation for agricultural research and extension services should prioritize sustainable practices.

C) Transforming Farm-to-Fork Value Chains:

The third facet focuses on enhancing rural incomes by promoting value addition of agricultural produce in rural areas.
Middlemen, including corporations, should prioritize direct procurement from farmers and incentivize the purchase of sustainably harvested produce.
Approaches like fair trade should be implemented to ensure fair compensation to farmers.
Emerging agri-tech enterprises, such as DeHaat and Ninjacart, facilitate direct connections between farmers and buyers.
Trading of produce between farmer producer organizations (FPOs) can further boost farmers' income and promote a fairer distribution of value.
Note: World Food Day is observed every year on October 16th to raise awareness about global hunger and promote efforts to eradicate it.
---
Why Special and Local Laws also need to be reformed?
(General Studies- Paper II)
Sour : TH
---
The recent introduction of Bills to amend criminal laws in India has ignited a significant discussion on reforms in the legal system.
While these Bills address critical changes in substantive criminal laws codified in the Indian Penal Code (IPC), Code of Criminal Procedure (CrPC), and Indian Evidence Act (IEA), it's essential to acknowledge the importance of Special and Local Laws (SLLs) within the broader criminal justice framework.
Key Highlights
The Significance of Special and Local Laws (SLLs):

SLLs play a pivotal role in the Indian criminal justice system, covering a substantial portion of offenses and procedures.
In 2021, nearly 39.9% of all cognizable offenses registered were under SLLs, amounting to approximately 24.3 lakh offenses out of a total of nearly 61 lakh.
SLLs have sparked numerous debates and discussions about the extent of the state's power to criminalize actions, particularly in the context of individual rights and liberties.

Need for Reforms in SLLs:

The substantive issues in SLLs are diverse and abundant, raising questions about the clarity of definitions and the applicability of certain laws.
Some SLLs, such as the Unlawful Activities (Prevention) Act (UAPA) and the Maharashtra Control of Organized Crime Act (MCOCA), suffer from vague and ambiguous definitions of offenses, like 'terrorist act,' 'unlawful activity,' 'organized crime,' and 'organized crime syndicate.'
The Protection of Children from Sexual Offenses Act, 2012, has faced criticism for its application to consensual sexual activities among minors, potentially criminalizing actions that could be categorized as civil or regulatory wrongs.
Procedurally, SLLs have diluted universally accepted due process values, allowing for expanded powers of search and seizure and the admissibility of confessions recorded by police officers.
Stringent provisions in SLLs often make obtaining bail extremely difficult, with some sections virtually rendering it impossible.

The Need for Comprehensive Reforms

The criminal legal landscape in India has seen significant changes since the enactment of the Indian Penal Code (IPC) in 1860.
Special and Local Laws (SLLs) have become increasingly prevalent, signifying a departure from the original concept of comprehensive codification inspired by Jeremy Bentham's "Pannomion" – an all-encompassing collection of rules codified in a single place.
The IPC was initially intended to contain all criminal laws of the time, subject to suitable amendments and revisions.
While the IPC and other statutes are criticized for retaining archaic moralities and colonial roots, they have, to a large extent, served the purpose of codification.
High-profile legal battles, such as the challenges to Section 377 (homosexuality) and Section 124A (sedition), exemplify the need for reform in India's criminal laws.

The Dominance of Special and Local Laws (SLLs):

Successive governments have increasingly relied on SLLs for various reasons, potentially overshadowing the original codification concept.
SLLs may differ from the IPC and CrPC in terms of reporting offenses, arrest, investigation, prosecution, trial, evidence, and bail.

The Call for Comprehensive Reforms:

There is a pressing need to incorporate the substantive and procedural aspects of SLLs into the ongoing reform project.
This may involve integrating all SLLs that criminalize conduct into a penal code as separate chapters.
Procedures for reporting offenses, arrest, investigation, prosecution, trial, evidence, and bail should be included within the Code of Criminal Procedure (CrPC) or as exceptions to its general provisions.
A second generation of reforms is necessary to address these limitations and ensure comprehensive codification and reforms of criminal laws in India.
---
Why are earthquakes frequent in Afghanistan?
(General Studies- Paper I)
Source : TH
---
Afghanistan has experienced a series of devastating earthquakes in recent years, causing significant destruction and loss of life.
Key Highlights
The Recent Earthquake in Western Afghanistan:

On October 15, Afghanistan was struck by a magnitude 6.3 earthquake, following a similar event just days prior in the Herat province.
The Taliban-run government has provided conflicting numbers regarding the death toll, with a revision down to around 1,000 from a previous figure of over 2,400.

A History of Seismic Activity:

Afghanistan has a turbulent history of destructive earthquakes.
In June 2022, a magnitude 6.1 earthquake in Khost and Paktika provinces resulted in over 1,000 fatalities.
In 2015, a major earthquake in the northeast claimed over 200 lives in Afghanistan and neighboring northern Pakistan.
A 6.1-magnitude earthquake in 2002 led to about 1,000 casualties in northern Afghanistan.
In 1998, another earthquake and subsequent tremors in northeast Afghanistan caused at least 4,500 deaths.

The Anatomy of an Earthquake:

Earth's surface consists of solid rock plates known as tectonic plates, separated by fault lines.
Tectonic forces and stress build up along these fault lines, leading to fractures and movement.
An earthquake occurs when sections of the lithosphere (rock layer) abruptly slip past one another, releasing energy and generating seismic waves.
The point of origin of the fault rupture is called the focus or hypocentre, with the corresponding point on the earth's surface known as the epicentre.
Tectonic plates are continually in motion due to heat energy within the earth, and most earthquakes occur along plate boundaries, specifically at fault lines.

Tectonic Plate Boundaries:

Afghanistan is situated over several fault lines where the Indian and Eurasian tectonic plates meet.
The western part of the country experiences subduction as the Arabian plate moves northward under the Eurasian plate, while in the east, the Indian plate undergoes a similar process.
In the south, the Arabian and Indian plates meet and both subduct northward under the Eurasian plate.

Complex Geological Regions:

The Hindu Kush mountain range and the Pamir Knot are geologically complex regions where tectonic plates collide and converge.
The interaction between the Indian Plate and the Eurasian Plate results in the folding and faulting of the Earth's crust, contributing to seismic activity.

Plate Movement and Stress:

The northward movement of the Indian Plate toward the Eurasian Plate causes compression and uplift of the Himalayas.
This ongoing movement generates tectonic stress across the region, leading to crustal deformation, fault development, and earthquakes.

Active Fault Systems:

Afghanistan is crisscrossed by active fault systems, including the Chaman Fault and the Main Pamir Thrust.
These faults are significant sources of seismic activity in the region.
In Image: Fault lines along plate boundaries.
Understanding the terminologies
Tectonic Plates:

Tectonic plates are large, rigid pieces of the Earth's lithosphere, which is the outermost shell of the Earth.
The lithosphere is divided into several major and minor tectonic plates that "float" on the semi-fluid asthenosphere beneath them.
These plates are constantly in motion, and their interactions at plate boundaries are responsible for various geological phenomena, including earthquakes, volcanoes, and the formation of mountain ranges.

Fault Lines:

Fault lines are fractures or discontinuities in the Earth's crust where rocks on either side have moved relative to each other.
Fault lines are the result of tectonic forces and stress that cause rocks to break and slip along these fractures.
These movements along fault lines are often abrupt and can release a significant amount of energy in the form of seismic waves, leading to earthquakes.

Folding:

Folding is a geological process that occurs when rock layers bend or deform due to compressional forces.
It leads to the creation of anticlines (upward-arching folds) and synclines (downward-arching folds) in the Earth's crust.
Folding is commonly associated with convergent plate boundaries, where tectonic plates collide, causing compression and deformation of the crust.

Faulting:

Faulting is the process by which rocks along a fault line fracture and move relative to each other.
It occurs in response to tectonic forces, such as tension, compression, or shear stress, which can cause rocks to break and displace along the fault.
Faulting is a significant cause of earthquakes, as the sudden movement along a fault releases accumulated stress and generates seismic waves.

Plate Boundaries:

Plate boundaries are regions where tectonic plates interact. There are three primary types of plate boundaries:
Convergent Boundaries:

Plates move toward each other, leading to compression and often resulting in mountain building and earthquakes.

Divergent Boundaries:

Plates move away from each other, creating new crust as magma rises to the surface.
This can lead to the formation of mid-ocean ridges.

Transform Boundaries:

Plates slide past each other horizontally, causing lateral displacement and frequently resulting in strike-slip faults and earthquakes.

Asthenosphere:

The asthenosphere is a semi-fluid layer in the upper mantle beneath the Earth's lithosphere.
It is responsible for the mobility of tectonic plates, as it is ductile and allows the plates to move.
The convection currents in the asthenosphere play a crucial role in driving the movement of tectonic plates.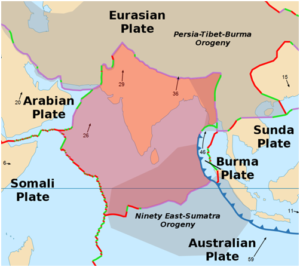 In Image: Tectonic plates around Indian Sub-continent.
---
Major regional disparity in overcoming cancer though survival rates are up: study
(General Studies- Paper II)
Source : TH
---
A study published in The Lancet Regional Health Southeast Asia has reported that the overall survival rate for cervical cancer cases diagnosed between 2012 and 2015 in India was approximately 52%.
This data was gathered from Population Based Cancer Registries (PBCRs) across different regions in India, highlighting variations in survival rates.
Key Highlights
Regional Variations:

The study identified significant regional variations in cervical cancer survival rates across urban PBCRs in India.
Ahmedabad's urban PBCR had the highest survival rate at 61.5%, followed by Thiruvananthapuram (58.8%) and Kollam (56.1%).
In contrast, Tripura reported the lowest survival rate at 1.6%.

Study Details:

The study focused on 5,591 cervical cancer cases diagnosed between 2012 and 2015 in 11 PBCRs across India.
The overall survival rate of 52% marked an improvement of approximately 6% compared to a previous survey (SurvCan survey-3) where the rate was 46%.

Regional Disparities and Contributing Factors:

The northeastern region of India, particularly in PBCRs in Tripura, Pasighat, and Kamrup urban, had notably lower survival rates.
Factors contributing to these variations included access to diagnostic services, effectiveness of treatment, proximity to clinical care facilities, travel costs, presence of co-morbidities, and poverty.

Research Team:

The study was conducted by a research team that included scientists from the National Centre for Disease Informatics and Research and the Indian Council of Medical Research.
It provides valuable insights into cervical cancer survival rates in India and the impact of regional and socioeconomic factors on these rates.
---
India's share of global growth to rise to 18% in 5 years: IMF official
(General Studies- Paper III)
Source : TH
---
A senior official from the International Monetary Fund (IMF) has projected a significant increase in India's contribution to global economic growth over the next five years.
This increase is attributed to the expected faster growth of the Indian economy.
Currently, both China and India collectively account for 50% of global economic growth, with India contributing 16% of that total.
The official anticipates that India's share will rise to 18% in the next half-decade.
Key Highlights
Asia Pacific's Positive Economic Outlook

Despite a challenging global environment, the Asia Pacific region remains a bright spot.
It is projected that the region's economy will grow by 4.6% in 2023 and 4.2% in 2024.
This growth trajectory positions the Asia Pacific to contribute a significant portion of global economic growth, accounting for about two-thirds.

India's Strong Economic Growth

India's economic growth continues to be robust, with a projection of 6.3% growth for the fiscal year 2023/24.
This growth is supported by government capital expenditure, private sector investment, and sustained consumption growth.
It is noteworthy that this growth is occurring despite weakening external demand.

Inflation Trends and Fiscal Deficit

India's retail inflation has been moderating, returning within the Reserve Bank of India's (RBI) tolerance band.
The central government is expected to meet its fiscal deficit target of 5.9% in fiscal year 2024.
While revenue is projected to reach budgeted levels, there is some pressure on expenditure, particularly in areas such as additional LPG subsidy for the poor and higher MNREGA expenses.
The IMF official believes there is room in the budget to absorb these unexpected increases.

Policy Recommendations

In its main policy message for the Asia Pacific region, the IMF recommends several actions.
These include maintaining a sufficiently restrictive monetary policy stance until inflation is firmly under control, continuing fiscal consolidation, using macro-prudential policies to address vulnerabilities in the financial sector, tackling rising inequality, and facilitating the green transition.

Impact of Israel-Hamas Conflict on the Global Economy

Regarding the impact of the conflict between Israel and Hamas on the global economy, it is noted that it is too early to make a comprehensive assessment.
However, one potential effect mentioned is the impact on oil prices.
A 10% rise in oil prices is associated with a 0.15% decrease in global GDP and a 0.4% increase in inflation.
Given that many Asian countries are major oil importers, the impact will depend on the extent of oil price increases.
---