CURRENT AFFAIRS – 28/09/2023
CURRENT AFFAIRS – 28/09/2023
China refuses to further expand cooperation under CPEC
(General Studies- Paper II)
Source : The Hindu
---
China has refused to expand cooperation in key areas under the China-Pakistan Economic Corridor (CPEC).
This development signals strain in the traditionally strong friendship between China and Pakistan.
Key Highlights
The CPEC is a multi-billion dollar project connecting Gwadar Port in Pakistan to China's Xinjiang province.
It is a flagship project of China's Belt and Road Initiative (BRI), aimed at expanding Chinese influence through global infrastructure projects.
Delays and Differences in the 11th JCC Meeting

The 11th Joint Cooperation Committee (JCC) of the CPEC took place virtually in October 2020 but the minutes of the meeting were signed almost a year later in July 2021.
This delay highlights significant differences of opinion between China and Pakistan.

China's Refusal to Expand Cooperation

These areas include cross-border tourism in regions like Gilgit-Baltistan, Khyber-Pakhtunkhwa, and Pakistan-occupied Kashmir (PoK).
Additionally, cooperation for the promotion of coastal tourism was also excluded.
China did not agree to Pakistan's proposals for the inclusion of Water Resources Management, Climate Change, and Urban Infrastructure Development within the CPEC framework.
The disagreement underscores challenges in deepening economic ties between the two countries.

Excluded Areas and Proposals

China excluded cooperation in cross-border tourism and coastal tourism from the final minutes of the 11th JCC.
Proposals by Pakistan for water resources management, climate change, urban infrastructure development, and more were also rejected.
Issues related to financial challenges faced by power companies, transmission lines, gas pipelines, seismic studies, metallic minerals, and coal gasification were not included in the final minutes.
China did not agree to Pakistan's proposal to include a 500kv transmission line from Hub to Gwadar in the CPEC framework.

This transmission line was intended to link the Gwadar seaport city with the national grid.

There is no mention of the South-North gas pipeline project in the final minutes also.

Concessions by Pakistan

Pakistan agreed to set up a new imported coal-fired power plant in Gwadar, Balochistan, as per Chinese demands.
Pakistan also committed to following consensus and ensuring the normal operations of CPEC power projects.
Measures were taken to ensure timely exchange of US dollars for CPEC power projects.

Impact on China-Pakistan Relations

China's refusal to expand cooperation in critical areas suggests a shift in the dynamics of the China-Pakistan relationship.
Pakistan's concessions indicate its willingness to accommodate Chinese demands in certain aspects of the CPEC.
About China-Pakistan Economic Corridor (CPEC)
The China-Pakistan Economic Corridor (CPEC) is a 3,000-km long route of an infrastructure and economic development project that aims to connect Gwadar Port in southwestern Pakistan to China's northwestern region of Xinjiang.
This has been envisioned through a network of highways, railways, pipelines, and other infrastructure.
CPEC is considered a flagship project under China's Belt and Road Initiative (BRI) and has garnered significant attention due to its potential economic and strategic implications in the region.
Key details about CPEC:

Infrastructure Development:

CPEC includes the construction and development of various infrastructure projects, such as highways, railways, pipelines, and energy projects.
These projects are intended to improve connectivity between China and Pakistan, as well as enhance Pakistan's transportation and energy infrastructure.

Economic Corridor:

CPEC seeks to open up new trade routes, reduce transportation costs, and promote economic development in Pakistan, particularly in less-developed regions like Balochistan and Gilgit-Baltistan.

Energy Projects:

A significant portion of CPEC investments is allocated to energy projects.
This includes the development of power plants, particularly coal-fired and hydroelectric projects, to address Pakistan's energy shortages.

Gwadar Port:

Gwadar Port, located in the southwestern province of Balochistan, is a key focal point of CPEC.
China has invested in the expansion and modernization of Gwadar Port, which is expected to become a major trade hub and provide China with access to the Arabian Sea.

Strategic Significance:

CPEC has significant strategic importance for both China and Pakistan.
It provides China with a shorter and more secure route to access the Arabian Sea and the Middle East, reducing its reliance on the longer sea route through the Strait of Malacca.
For Pakistan, CPEC offers the potential for economic growth, job creation, and improved infrastructure.
Security Concerns for India
India has expressed several security concerns regarding CPEC, which have strained India-China relations and contributed to regional tensions.
Territorial Disputes:

A portion of CPEC passes through Pakistan-occupied Kashmir, an area that is part of India's territory. India's stance is that the construction of infrastructure in this region undermines its territorial integrity.

Strategic Encirclement:

India views CPEC as a component of China's strategy to encircle India by developing ports and infrastructure in neighboring countries, including Pakistan and Sri Lanka.
This could potentially enhance China's naval presence in the Indian Ocean, which India perceives as a security challenge.

Security Threat:

India is concerned about the security of CPEC projects and Chinese personnel working on them.
There have been instances of attacks on Chinese workers and concerns about the involvement of militant groups in the region.
---
Manipur government extends AFSPA in hill districts for 6 months
(General Studies- Paper III)
Source : The Hindu
---
The Manipur government has extended the imposition of the Armed Forces (Special Powers) Act (AFSPA) in the entire state, except for specific areas in the Imphal Valley.
This extension is for an additional six months, effective from October 1.
Key Highlights
Exemption in Imphal Valley:

In the Imphal Valley, AFSPA has been gradually withdrawn since 2022, except for specific areas covered by 19 police stations across seven districts.
This withdrawal has occurred due to a perceived "significant improvement" in the security situation in the valley.

Army's Demand for Re-Imposition:

Despite the withdrawal, the army has been advocating for the re-imposition of AFSPA in the valley districts.
They argue that its absence has hampered operations against insurgent groups.

Ethnic Violence and Insurgent Activity:

Manipur has witnessed a resurgence of insurgent groups, mainly operating from Myanmar, advocating for the secession of Manipur from India.
Ethnic violence between the Meitei and tribal Kuki communities erupted in May, resulting in at least 175 civilian deaths, the highest since 1999.
The NIA registered a case to investigate a transnational conspiracy by Myanmar-based leaders of these terror outfits to wage a war against the government, exploiting the ongoing ethnic unrest.

'One District, One Force' Deployment:

The Manipur government is considering a "one district, one force" deployment strategy for better security operations.
Currently, around 40,000 Central security forces, including the army, are deployed in the state.

Concerns and Rationale for AFSPA Extension:

The notification by the Manipur government cited a lack of detailed assessment of the ground situation due to security agencies being preoccupied with maintaining law and order.
It emphasized the sensitivity of the matter and the potential for public criticism and resistance if not handled properly.
The extension of the "Disturbed Area" status is intended to maintain the status quo in Manipur, excluding areas under the 19 police stations.

Significance of AFSPA:

AFSPA, dating back to 1958, grants extensive powers to the army and Central Armed Police Forces (CAPF) in "disturbed areas," including the authority to use lethal force, arrest without warrants, and immunity from prosecution without Union government sanction.

AFSPA Withdrawal Timeline:

AFSPA was initially applicable in Manipur since 1981.
Gradual withdrawals began in 2004 with the removal of AFSPA from the Imphal Municipality area.
In April 2022, AFSPA was removed from 15 police station areas in six districts.
As of April 1, 2023, the disturbed area notification was withdrawn from four additional police stations.
The withdrawal process has so far excluded 19 police station limits in the seven valley districts of Manipur from the "disturbed area" notification under AFSPA.

Authority to Issue AFSPA Notifications:

Both the State and Union governments have the authority to issue notifications regarding AFSPA.
Currently, the Union Ministry of Home Affairs has issued "disturbed area" notifications only for Nagaland and Arunachal Pradesh.
Manipur and Assam have issued notifications through their respective State governments.
About the Armed Forces (Special Powers) Act
The Armed Forces (Special Powers) Act (AFSPA) is a contentious legislation that grants special powers and legal immunity to the armed forces when deployed in "disturbed areas" of India.
AFSPA Powers:
AFSPA grants extensive powers to the armed forces and Central armed police forces deployed in "disturbed areas."
These powers include the authority to use lethal force against individuals contravening the law.
It allows for the arrest and search of premises without a warrant.
Military personnel operating under AFSPA are protected from prosecution and legal suits for their actions.
Origins of AFSPA:

The Armed Forces (Special Powers) Act was first enacted in 1958 to address the insurgency in the Naga region.

Amendments in 1972:

In 1972, the Act was amended to grant the authority to declare an area as "disturbed" concurrently to both the Central government and the States.

Repeal in Some States:

Tripura revoked AFSPA in 2015, ending its application in the state.
Meghalaya had AFSPA in effect for 27 years until it was revoked by the Ministry of Home Affairs (MHA) on April 1, 2018.

Current AFSPA Application:

Currently, AFSPA is in effect in specific areas of Assam, Nagaland, Manipur, and Arunachal Pradesh.
The designation of "disturbed areas" and the application of AFSPA are subject to periodic review and assessment by government authorities.
---
Bihar to get second tiger reserve in Kaimur district
(General Studies- Paper III)
Source : The Hindu
---
Bihar is preparing to establish its second tiger reserve in Kaimur district, following the Valmiki Tiger Reserve in West Champaran.
The decision is expected to be finalized by the end of the year or in early 2024.
The state of Bihar currently has a tiger count of 54.
Key Highlights
The State Forest Department is working towards obtaining approval from the National Tiger Reserve Conservation Authority (NTCA) to officially declare the Kaimur Wildlife Sanctuary as a tiger reserve.
The NTCA had given preliminary approval in July, and the final proposal is now being prepared for formal approval.
Tigers have been spotted in the Kaimur hills area previously.
Increase in Valmiki Tiger Reserve Population:

The Valmiki Tiger Reserve in Bihar has seen an increase in its tiger population, rising from 31 tigers in 2018 to the current count of 54.

Reduction in Proposed Tiger Habitat Area:

The NTCA had raised objections to the State Forest Department's previous proposal, which initially identified 900 square kilometers as tiger habitat.
Following objections, the proposed tiger habitat area has been reduced to 450 square kilometers.

Need for a Second Tiger Reserve:

The establishment of a second tiger reserve in Bihar was necessitated by the saturation point reached by the Valmiki reserve.
Valmiki had the capacity to manage approximately 50 tigers, but the population has now exceeded that capacity with 54 tigers.

Geographical Characteristics of Kaimur District:

Kaimur district in Bihar is divided into two distinct regions:

the hilly area known as the Kaimur plateau and
the plain area on the western side, bordered by the Karmnasa and Durgavati rivers.

The district boasts a significant forest cover and is home to tigers, leopards, and chinkaras.
Kaimur encompasses 1,134 square kilometers of forests, including 986 square kilometers of the Kaimur Wildlife Sanctuary.
Kaimur has the highest green cover in Bihar at 34% and is home to the largest forests in the state in terms of area.
The district shares its boundaries with neighboring states of Jharkhand, Uttar Pradesh, and Madhya Pradesh.
About Valmiki Tiger Reserve
The Valmiki Tiger Reserve is located in the West Champaran district of Bihar, India.
It is situated along the borders of Nepal and shares a boundary with Nepal's Chitwan National Park.
Establishment:

The reserve was established in 1990 as the Valmiki National Park and Wildlife Sanctuary.
It was later declared as a tiger reserve in 1994.

Geographical Features:

The Valmiki Tiger Reserve is characterized by diverse landscapes, including dense forests, grasslands, hills, and riverine habitats.
The Gandak River flows through the reserve, adding to its ecological diversity.
It covers a vast area and is known for its rich biodiversity.
It is home to a variety of wildlife species, including Bengal tigers, leopards, Indian elephants, sloth bears, sambar deer, spotted deer, and many species of birds.
---
Drawing the line: On information and risks underlying infrastructure development in Uttarakhand
(General Studies- Paper II and III)
Source : The Hindu
---
The year began with reports of land subsidence in the temple town of Joshimath, Chamoli district, Uttarakhand.
Cracks appeared in residential and commercial structures, leading to a humanitarian crisis as people feared for their safety and fled their homes, seeking refuge in tents and open spaces.
Key Highlights
The proximate cause of the accelerated fissures and cracks was attributed to tunnelling activities linked to the TapovanVishnugad power project developed by the National Thermal Power Corporation.
Questions arose about whether groundwater depletion and increased urbanization had made disasters inevitable.
Government Response and Information Suppression:

The Uttarakhand State Disaster Management Authority commissioned eight reputed institutions to study the land subsidence phenomenon from various perspectives.
Surprisingly, the authorities banned the public dissemination of information from scientists involved in the research.
The reason cited was that satellite imagery pictures of the subsurface in Uttarakhand were causing "panic," and information could only be shared after clearance from the Centre.
It took a strong rebuke from the High Court of Uttarakhand for the State authorities to release this information publicly.

Technical Reports and Existing Risks:

The technical reports reaffirmed existing knowledge about the risks associated with infrastructure development in Uttarakhand.
The Central Building Research Institute, Roorkee, noted that 99% of construction in the region did not comply with mandatory building codes.
The National Institute of Hydrology, Roorkee, emphasized the need to monitor springs, drainage systems, and areas of subsidence.
The challenging geology of the region made large-scale infrastructure projects risky, necessitating strict town planning and construction measures to minimize accidents and loss of lives.

Balancing Development and Safety:

While there is a legitimate need to provide basic amenities and opportunities for material advancement in hill states like Uttarakhand, governments must make sustainable decisions that prioritize safety over short-term gains.
Information on risks should be widely disseminated and integrated into public awareness and governance.
Independent scientific advice should play a central role in policymaking, and clear boundaries must be established regarding development limits in the region.
The subsidence problem in Joshimath, Uttarakhand
Joshimath is a town located in the Chamoli district of the Indian state of Uttarakhand.
It is a temple town and a popular pilgrimage site for Hindus, particularly those visiting Badrinath, one of the Char Dham pilgrimage sites.
Subsidence Issue:

The subsidence problem in Joshimath involved the sinking or settling of the land, resulting in cracks and structural damage to buildings and infrastructure.
Cracks appeared in both residential and commercial structures, causing alarm among the local population.
This issue prompted a humanitarian crisis as people feared for their safety and fled their homes, seeking refuge in tents and open spaces.
---
From women's reservation to gender equality
(General Studies- Paper II)
Source : The Hindu
---
Parliament recently passed the Women's Reservation Bill, which mandates one-third reservation for women in the Lok Sabha and Legislative Assemblies.
India currently has a relatively low representation of women in Parliament, with only around 15% of seats held by women.
India's global ranking for women's representation in Parliament is 141 out of 193 countries.
Key Highlights
Historical Efforts and Opposition:

Over the past 27 years, there have been multiple attempts to introduce the Women's Reservation Bill in Parliament.
These efforts often faced opposition from various quarters, making it challenging to pass the bill.

Moral Imperative for Increased Representation:

There is a strong moral imperative to increase women's representation in elected bodies, as reflected by the consensus around the issue.
The passage of the bill reflects a growing recognition of the importance of women's participation in governance.
Reservation for women in local body elections in India has led to a notable increase in their participation in governance.
A similar positive outcome may be expected in higher elected bodies like the Lok Sabha and Legislative Assemblies.

Delimitation and Contingency:

The implementation of the law providing for one-third reservation for women in the Lok Sabha and Legislative Assemblies is contingent on the conduct of the next Census and subsequent delimitation exercise.
Delimitation has been frozen since 1976 to provide a level-playing field for States to control population growth.
States with successful population control measures, often centered on women empowerment, may lose parliamentary seats if a delimitation exercise is conducted.
There are legal concerns about whether a law or constitutional amendment can be contingent upon an uncertain future event.
The matter may require determination by constitutional courts, adding complexity to the legislative reform.

Societal Approach and Gender Roles:

Achieving real gender justice requires changing societal attitudes toward gender roles.
Women's representation in elected bodies is interconnected with female labor force participation in India, which is currently low.
Women often bear a disproportionate burden of unpaid household responsibilities, affecting their ability to participate fully in the labor force and politics.
Programs like the "MagalirUrimaiThogai" in Tamil Nadu recognize and address the gender disparity in unpaid household labor.
The UrimaiThogai scheme, a monthly cash transfer program, aims to reduce the gender disparity in labor force participation by recognizing women's contributions to households.

Building Capacity for Women Representatives:

As the proportion of women in higher elected bodies increases due to the present law, there are questions about building capacity for first-time women representatives.
EMILYs List in the U.S. serves as an interesting case study, providing campaign guidance, mentorship, and capacity-building for women entering politics.
EMILYs List has a track record of helping elect numerous members of Congress and Governors over nearly four decades.

Government's Role in Capacity Building:

It is crucial for governments to take responsibility for building the capacity of women in politics, even if political parties do not actively groom women leaders.
Government agencies like the National Commission for Women and the Parliamentary Committee on Empowerment of Women should play an enhanced role to ensure the women's reservation law leads to successful outcomes.
Effective capacity-building efforts are needed to ensure that the women's reservation law goes beyond symbolic gestures and achieves substantive reform in gender equality.
Recognizing unpaid labor and promoting the equitable sharing of household responsibilities are also essential aspects of achieving gender equality.
---
Why are tigers dying in Nilgiris district?
(General Studies- Paper III)
Source : The Hindu
---
Since mid-August, 10 tigers (six cubs and four adults) have died in the Nilgiris, raising concerns about their welfare and conservation efforts.
Key Highlights
Deaths occurred in various incidents, including suspected starvation, fighting with other animals, and poisoning.
Concerns are raised due to the inability to locate the mothers of the deceased tiger cubs.
Poaching incidents in the area earlier this year have added to worries about tiger conservation.
Increased Tiger Population:

The high density of tigers in the Mudumalai-Bandipur-Nagarhole complex of the Nilgiri Biosphere Reserve may be pushing tigers into surrounding habitats.
Increased competition and fighting among tigers could be leading to more deaths.
The Nilgiris Division is now home to 54 tigers, indicating a significant population.

Potential for Human-Animal Conflicts:

Conservationists fear that the growing tiger population could result in more negative human-animal interactions.
Emphasis is placed on regenerating degraded habitats for the prey species of tigers, such as Sambar, spotted deer, and the Indian gaur.

Government Response:

The forest department plans to establish anti-poaching camps in six forest ranges surrounding the Mukurthi National Park to prevent poaching.
Annual monitoring of tiger populations in the Nilgiris Forest Division will be conducted for better management.
Increased patrolling of areas around key tiger habitats in Mukurthi and Mudumalai is being carried out.
About Nilgiri Biosphere Reserve
The Nilgiri Biosphere Reserve is situated in the Western Ghats, spanning across the states of Tamil Nadu, Kerala, and Karnataka.
It was established in 1986 and was one of the first biosphere reserves in India to be included in UNESCO's World Network of Biosphere Reserves.
The reserve covers a vast area of approximately 5,520 square kilometers, making it one of the largest biosphere reserves in India.
It encompasses several protected areas, including national parks, wildlife sanctuaries, and reserved forests.
Protected Areas:

The major protected areas within the Nilgiri Biosphere Reserve include:

Mudumalai National Park and Wildlife Sanctuary,
Bandipur National Park and Nagarhole National Park (all part of the Mudumalai-Bandipur-Nagarhole complex),
Silent Valley National Park,
Mukurthi National Park,
Wayanad Wildlife Sanctuary, and more.

The reserve plays a crucial role in the conservation of numerous endangered species, including tigers, Asian elephants, Indian bison (gaur), and several species of deer.
The Nilgiri Biosphere Reserve comprises of substantial unspoilt areas of natural vegetation ranging from dry scrub to evergreen forests and swamps thus contributing to highest biodiversity.
The Nilgiri Biosphere Reserve is instrumental in the conservation and supply of water for various rivers, including significant tributaries of the Cauvery River such as Bhavani, Moyar, and Kabini.

Additionally, other rivers like Chaliyar and Punampuzha also benefit from the reserve's catchment areas.

Sholas and Grasslands:

The sholas (high-altitude evergreen forests) and grasslands within the Nilgiri Biosphere Reserve play a vital role in water retention and supply.
These ecosystems act as natural sponges, absorbing and storing water, which gradually feeds into the streams and rivers in the region.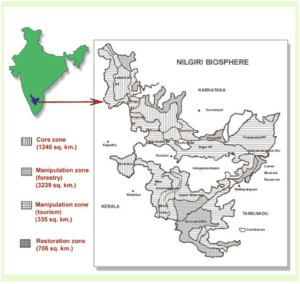 ---
India ageing, elderly to make up 20% of population by 2050: UNFPA report
(General Studies- Paper II)
Source : The Hindu
---
India's elderly population is experiencing significant growth, with a decadal growth rate estimated at 41%.
The percentage of elderly individuals in India is projected to double and exceed 20% of the total population by 2050.
The UNFPA's 2023 India Ageing Report suggests that by 2046, the elderly population may surpass the population of children aged 0 to 15 years in the country.
Key Highlights
High Elderly Poverty Rate:

More than 40% of India's elderly population falls within the poorest wealth quintile.
Approximately 18.7% of elderly individuals live without any income, which can negatively impact their quality of life and healthcare utilization.

Projected Growth in 80+ Age Group:

The report projects that the population of individuals aged 80 years and older will increase by approximately 279% between 2022 and 2050.
This age group is expected to be predominantly composed of widowed and highly dependent elderly women, consistent with trends seen in various countries.

Gender Disparities in Life Expectancy:

Women tend to have higher life expectancy at ages 60 and 80 compared to men, with variations among different states and union territories.
States like Himachal Pradesh and Kerala have a significant gap in life expectancy, with women living four years longer than men at age 60.
Life expectancy for women at age 60 exceeds 20 years in several states, including Rajasthan, Haryana, Gujarat, Uttarakhand, Kerala, Himachal Pradesh, and the Union Territory of Jammu & Kashmir, raising concerns about their social and economic well-being.

Changing Sex Ratios Among the Elderly:

The sex ratio (females per 1,000 males) among the elderly has been steadily increasing since 1991, while the sex ratio in the general population has stagnated.
Between 2011 and 2021, the sex ratio increased across India and all regions except the Union Territories and western India.
In northeast and eastern regions, the sex ratio among the elderly remained below 1,000, indicating that men still outnumber women in these areas among those aged 60 and above.
In central India, the sex ratio increased significantly from 973 in 2011 to 1,053 in 2021, suggesting that women in this region outperformed men in terms of survival beyond the age of 60 over the decade.

Gendered Poverty in Old Age:

Poverty in old age is inherently gendered, with older women being more likely to be widowed, living alone, having no income, and fewer personal assets.
They often depend on their families for support, making them vulnerable in terms of financial security and quality of life.

Inter-State Variation in Elderly Population:

There is substantial variation in the absolute levels and growth of the elderly population across different states.
Southern states and select northern states like Himachal Pradesh and Punjab have a higher share of elderly population compared to the national average.
This gap is expected to widen by 2036.
States with higher fertility rates and slower demographic transition, such as Bihar and Uttar Pradesh, will see an increase in the elderly population share, but it will remain lower than the national average.

Old-Age Dependency Ratio:

In the southern and western regions of India, the old-age dependency ratio (elderly people per 100 people aged 15-59) is higher than the national average.
Union Territories and the northeastern region have lower old-age dependency ratios.
These ratios reflect the age distribution across different regions of the country.

Response to Elderly Needs During the Pandemic:

During the COVID-19 pandemic, many elderly individuals reported receiving state aid, but it was often insufficient.
Accessible public healthcare facilities were lacking, and NGOs and community-based organizations played a significant role in providing assistance.
The report calls for a special focus on older persons in disaster-preparedness plans.

Lack of Credible Data:

There is a lack of credible data on various issues related to the elderly in India.
The report suggests including questions on relevant elderly-related topics in upcoming data collection exercises by national surveys and the Census of India.

Government Recommendations:

Encourage the creation and operation of elderly self-help groups.
Emphasize the importance of multigenerational households for elderly individuals.
Promote in-situ (at home) ageing by establishing short-term care facilities like creches or day-care centers.
About the United Nations Population Fund (UNFPA)
The United Nations Population Fund (UNFPA) is a United Nations agency established in 1969.
Mandate:

UNFPA's mandate is to ensure that every pregnancy is wanted, every childbirth is safe, and every young person's potential is fulfilled.
It focuses on sexual and reproductive health, gender equality, and population dynamics.

Headquarters:

The agency's headquarters is located in New York City, United States.

Leadership:

UNFPA is led by an Executive Director who is appointed by the United Nations Secretary-General.
---
Indian Navy to unveil 'Swavlamban 2.0'
(General Studies- Paper III)
Source : The Hindu
---
The Indian Navy is set to release its updated indigenisation roadmap, named 'Swavlamban 2.0,' which will provide an update on achievements and future plans.
The Navy has exceeded its target of developing 75 futuristic technologies in collaboration with domestic Micro, Small, and Medium Enterprises (MSMEs) and startups.
These technologies will be unveiled at the second edition of the Swavlamban seminar and exhibition scheduled for October 4 and 5.
Key Highlights
Last year, the Indian Navy pledged to develop at least 75 technologies as part of the AzadikaAmritMahotsav.
This commitment has been fully met and surpassed, thanks to initiatives like SPRINT (Supporting Pole-Vaulting in R&D through Innovation for Defence Excellence), the Naval Innovation and Indigenisation Organisation (NIIO), and the Technology Development Acceleration Cell.
The Swavlamban initiative focuses on collaboration, coordination, and the development of new technologies in partnership.
Startups and MSME Participation

Around 1,100 proposals were received from startups and MSMEs in response to the SPRINT challenges.
118 MSMEs were declared winners, and approximately 100 new firms have entered the defense ecosystem for the first time.
The Navy is actively supporting startups to develop "transformational" technologies.

Innovative Technologies

The Navy has filed over 50 patents since the establishment of NIIO.
Over 150 products are in development through partnerships, including innovative firefighting solutions.
An advanced firefighting suit has been developed, reducing the weight from 18.5 kg to under 2 kg.
A firefighting robot has been deployed on the aircraft carrier INS Vikrant, with an AoN signed worth ₹225 crore for this technology.
There is potential for these innovative products to be exported to other countries.
About the Naval Innovation and Indigenisation Organisation (NIIO)
NIIO was officially established by the Indian Navy to drive innovation and indigenization efforts within the organization.
It was set up to harness the creative and technological capabilities of startups, Micro, Small, and Medium Enterprises (MSMEs), and other partners to address defense and naval challenges.
It has been launched with the help of the ministry of defence keeping with the vision of Atmanirbhar Bharat.
NIIO plays a pivotal role in identifying, nurturing, and scaling up innovative solutions and technologies that can be used in naval operations.
---