CURRENT AFFAIRS – 25/09/2023
CURRENT AFFAIRS – 25/09/2023
Aadhaar unreliable in 'hot, humid' India: Moody's
(General Studies- Paper II)
Source : TH
---
Moody's Investors Service has expressed concerns regarding the security and privacy vulnerabilities associated with centralized identification systems like India's Aadhaar program.
Aadhaar, the world's largest digital ID program, assigns unique numbers to over 1.2 billion Indian residents using biometric and demographic data.
Moody's acknowledges Aadhaar's scale and innovation but highlights issues related to service denials, biometric reliability, and data security.
The rating agency suggests that decentralized identity (DID) systems, particularly those based on blockchain technology, could offer better privacy and security.
Key Highlights
Unreliable Biometric Technology:

Moody's emphasizes the challenges of Aadhaar's biometric technology, especially in hot and humid climates.
The system often results in service denials, affecting marginalized groups and manual laborers who face difficulties due to unreliable biometric authentication methods.

Privacy and Security Concerns:

Moody's points out that centralized ID systems like Aadhaar concentrate sensitive information with specific entities, increasing the risk of data breaches.
It highlights concerns regarding privacy and security associated with Aadhaar and a new crypto-based digital identity token called Worldline, both of which have drawn scrutiny.

Government Adoption and Mandate:

The Indian government has been increasingly adopting Aadhaar for routing direct benefit transfers to beneficiaries of official welfare schemes, including laborers under the Mahatma Gandhi National Rural Employment Guarantee Act (MGNREGA) scheme.
The government has extended the deadline for switching to Aadhaar-based payment systems for MGNREGA beneficiaries multiple times.

Decentralized Identity (DID) Systems:

Moody's advocates for DID systems, particularly digital wallets based on blockchain capabilities.
DID systems grant users more control over their private data, reduce online fraud, and offer increased privacy.
Examples of successful blockchain-based DID systems in Catalonia, Azerbaijan, and Estonia are cited, with Estonia known for fully digitalized public services that embrace Self-Sovereign Identity (SSI).

Negative Social Repercussions:

Moody's acknowledges that both centralized and decentralized digital ID systems can have negative social repercussions.
These systems may strengthen group identities and political divides, particularly when offered by influential technology and social media companies.
Consolidation of control within these entities could lead to a concentration of power over individual identities and potentially contribute to polarization in the digital realm.
What is a Decentralised ID (DID) system?
A Decentralized Identity (DID) system is a digital identity framework that provides individuals with control over their own personal information and identity data.
It is designed to give users the ability to manage, store, and share their identity information in a secure and privacy-preserving manner, without relying on a central authority or intermediary.
Key characteristics and components include:

User-Centric:

DIDs prioritize the individual's control over their identity information.

Users have the ability to create, manage, and use their digital identity without being dependent on a centralized entity, such as a government or a corporation.

Blockchain Technology:

Many DID systems are built on blockchain technology, which provides a secure and tamper-resistant ledger for storing identity-related data.
Blockchain ensures the integrity and immutability of the identity records.

Decentralization:

DIDs eliminate the need for a single, central authority to verify and manage identity. Instead, identity verification and authentication can occur through a decentralized network of nodes or peers.

Interoperability:

DIDs are designed to be interoperable across various platforms and services.
Users can use their decentralized identity across different applications and ecosystems without the need to create separate identities for each.

Privacy-Preserving:

DIDs prioritize user privacy by allowing individuals to selectively disclose only the necessary parts of their identity information for specific transactions or interactions.
This minimizes the exposure of personal data.

Self-Sovereign Identity (SSI):

SSI is a subset of DID systems that emphasizes the idea that individuals have full control and ownership of their identity.
It aligns with the principles of user-centricity and empowers users to assert their identity without relying on third parties.
---
Multiple entry, exit option in higher studies may not suit India: House panel
(General Studies- Paper II)
Source : TH
---
The Parliamentary Standing Committee on Education, led by BJP MP Vivek Thakur, has recommended that the Indian government engage in discussions with all stakeholders regarding the implementation of the Multiple Entry and Multiple Exit (MEME) system proposed in the National Education Policy (NEP) of 2020.
The NEP introduces MEME as an option in higher education.
Key Highlights
Unpredictable Student Flow:

The committee expressed concerns that MEME may not work effectively in India due to the country's high population and the uncertainty of student enrollment and exits.
Implementing MEME could pose challenges in predicting the number of students entering and exiting higher education institutions, disrupting the pupil-teacher ratio.

Geographical Distribution:

Uneven geographical distribution of higher educational institutions could pose hurdles in managing MEME, particularly in rural areas.
The committee noted that institutions had not sufficiently addressed this issue and its potential solutions.

Benefits of MEME Acknowledged:

Despite concerns, the committee recognized that MEME could provide students with greater flexibility and choice in their educational pathways.

Recommendations by the Committee:

The committee advised the central government to develop comprehensive guidelines and a clear framework for MEME options.
Specific eligibility criteria and credit transfer mechanisms should be established, along with a roadmap for students pursuing different exit points.
The committee recommended the implementation of a standardized Credit Accumulation and Transfer (CAT) system.
CAT would allow students to earn and transfer credits seamlessly across institutions, facilitating smooth transitions between different levels of education.

Consultations with Stakeholders:

The Union Education Ministry was urged to conduct wider consultations with universities, institutions, regulatory bodies, and other stakeholders.
These consultations should aim to address the difficulties and challenges associated with implementing MEME options.

Student and Teacher Apprehensions:

Students and teachers have expressed apprehensions about MEME, with concerns that it may devalue degrees and lead to the production of cheap labor for the job market.
The Students Federation of India's general secretary, Mayukh Biswas, criticized MEME, viewing it as a way to undermine the existing education system.

State-Level Decision:

The Kerala government has decided not to implement MEME in colleges and universities in the state.
Kerala's curriculum document states that multiple entry will be allowed, but exit will only be permitted after three years with a degree or after four years with an honors degree.
About National Education Policy (NEP) of 2020
The National Education Policy (NEP) of 2020 is a comprehensive and transformative educational policy framework introduced by the Government of India.
It aims to revamp the country's education system and address the evolving needs and challenges in the field of education.
The NEP 2020 was approved by the Union Cabinet on July 29, 2020, and it replaces the previous National Policy on Education, which was formulated in 1986 and subsequently modified in 1992.
Key highlights and features:
Early Childhood Care and Education (ECCE):

The policy recognizes the importance of early childhood education and aims to provide foundational education for children aged 3 to 6.
It promotes the establishment of Anganwadi centers and preschools.

School Education:

The NEP proposes a 5+3+3+4 curricular structure, replacing the existing 10+2 system.
It includes 12 years of schooling divided into stages.
Foundational Stage (3-8 years), Preparatory Stage (8-11 years), Middle Stage (11-14 years), and Secondary Stage (14-18 years).
Focus on experiential learning, critical thinking, and holistic development.
Reduction of the curriculum to core concepts and skills.
Introduction of a flexible approach to subject choices.
Emphasis on mother tongue or local language as the medium of instruction in the early years.

Higher Education:

Multidisciplinary education is promoted, allowing students to choose courses from various fields.
A common regulatory system called the Higher Education Commission of India (HECI) will oversee all higher education institutions, replacing the University Grants Commission (UGC).
Increased focus on research and innovation.
Foreign universities can establish campuses in India, and Indian universities can collaborate with foreign institutions.

Vocational Education:

Integration of vocational education into mainstream education from the school level.
Greater emphasis on skill development and practical training.
Recognition of vocational courses and certification.

Teacher Training:

Improved teacher training programs and continuous professional development.
A National Mission for Mentoring will be launched to provide support to teachers.

Digital Education:

Promotion of digital and online learning.
Development of the National Educational Technology Forum (NETF) for the integration of technology in education.
Equal access to digital resources for all students.

Assessment Reforms:

Shift from rote learning to competency-based assessment.
Reducing the emphasis on board exams.
Introduction of a National Assessment Center, PARAKH, for holistic assessments.

Languages:

Encouragement of multilingualism and the promotion of Indian languages.
Flexibility in the choice of languages for study.

Inclusive Education:

Ensuring access to quality education for all, including children with disabilities.
Special education zones and support centers.

Equity and Inclusion:

Emphasis on providing education to disadvantaged and marginalized groups.
Strengthening of the school infrastructure in rural and remote areas.

Research and Innovation:

Creation of a National Research Foundation (NRF) to promote research culture in India
---
Land around Assam monastery to be reserved for indigenous people
(General Studies- Paper I)
Source : TH
---
The Assam government is in the process of drafting a law to establish an indigenous-only zone around Batadrava, the birthplace of the 15th-16th century saint-reformer SrimantaSankaradeva, who is known for propounding neo-Vaishnavism.
This zone is intended to protect and preserve the cultural and historical significance of the area.
Key Highlights
Batadrava is located in Nagaon district, approximately 130 kilometers east of Guwahati, Assam.
Assam Chief Minister HimantaBiswaSarma announced plans to create an 8-kilometer radius protective ring around BatadravaThan, a holy spot adjacent to a satra or monastery.
Land within this zone will be designated exclusively for indigenous people, and its purpose is to safeguard the sanctity of the area.
Development and Beautification of 21 Places:

In addition to creating the indigenous-only zone, the government has plans to develop and beautify 21 locations where SrimantaSankaradeva stayed, even for a single night, during his spiritual journey.
These sites will include the construction of modern namghars (prayer halls).
A 15-day circuit will connect these 21 places, allowing visitors to explore the spiritual and historical aspects of the journey.
About saint Srimanta Sankaradeva
Srimanta Sankaradeva, also known as Sankardev or Sankaracharya, was a 15th-16th century saint, scholar, poet, and social reformer who made significant contributions to Assamese culture, religion, and society.
Birth and Early Life:

SrimantaSankaradeva was born in 1449 in the village of Bordowa, located in present-day Nagaon district of Assam, India.
He was born to KusumvarBhuyan and Satyasandhya Devi, and his original name was Sankara Barman.

Neo-Vaishnavism:

SrimantaSankaradeva is most renowned for propounding Neo-Vaishnavism, a reformist movement within Hinduism that emphasized devotion to Lord Krishna and the Bhakti (devotional) tradition.
He sought to simplify religious practices and make spirituality more accessible to the common people.

Literary Contributions:

Sankaradeva composed numerous devotional songs and verses known as "Borgeets" and "Bhakti Ratnakara."
These devotional compositions continue to be sung and revered in Assam.
His most famous literary work is the "KirtanGhosa," a collection of devotional songs that expound the teachings of Neo-Vaishnavism.
Sankaradeva also authored plays called "AnkiaNaat," which were performed as a form of devotional drama.

Cultural Reforms:

He initiated several cultural and social reforms in Assam, advocating for simplicity in lifestyle and religious practices.
Sankaradeva promoted dance-dramas known as "Sattriya" (associated with the Vaishnavite monasteries or Satras) that conveyed religious messages through the performing arts.
He played a pivotal role in the development of Assamese classical music, dance, and visual arts.

Religious Legacy:

Sankaradeva founded monasteries or "Satras" across Assam to propagate Neo-Vaishnavism and impart spiritual teachings.
His teachings and the institutions he established continue to be central to Assamese culture and spirituality.
The "Ekasarana Dharma" or the path of single-minded devotion to Lord Krishna is a key aspect of his religious philosophy.

Social Reforms:

Sankaradeva was an advocate for social harmony and worked to bridge the gap between different communities and castes.
His teachings emphasized equality and the universal availability of spiritual knowledge.
About Neo-Vaishnavism
Neo-Vaishnavism, a part of the Bhakti Movement, is a devotional and reformist movement within Hinduism that emerged in the late medieval period.
It emphasizes personal devotion (bhakti) to a personal god, typically Lord Vishnu or his avatars, as the means to attain spiritual realization and liberation (moksha).
Neo-Vaishnavism represents a departure from the ritualistic aspects of traditional Hinduism, focusing instead on a direct and emotional connection with the divine.
---
The Fukushima N-wastewater controversy
(General Studies- Paper III)
Source : TH
---
In April 2021, Japan's government announced plans to release contaminated water from the Fukushima nuclear plant.
The water, a byproduct of the 2011 earthquake and tsunami, had been stored for over a decade.
Japan cited running out of storage space and claimed the treated water was safe for release.
Key Highlights
Controversy and Opposition:

Public and international backlash against the decision to release contaminated water.
Concerns about health risks, particularly for seafood-dependent regions.
Significant opposition in South Korea, where surveys showed high levels of disapproval.
China banned Japanese seafood in response to the decision.

Water Treatment:

Tokyo Electric Power Company (TEPCO) handles the treatment of contaminated water from Fukushima.
TEPCO manages decommissioning of the Fukushima Daiichi power plant and waste.
Advanced Liquid Processing System (ALPS) is a key technique used to treat the water.
ALPS removes 62 types of radioactive materials, but it cannot remove tritium.

Tritium Concerns:

Tritium concentration not removed during treatment.
Japanese government and TEPCO argue that tritium levels are within international standards.

Tritium's radiation is considered weak and can be blocked with a single sheet of paper.
Concentration is six times less than the limit for tritium in drinking water set by the World Health Organization.

Public Response:

Majority of the public still harbors concerns.
Poll by Japan's Jiji Press in September showed 16.3% opposed to the water discharge, with 30.8% neither in favor nor opposed.
Protests held in Seoul against the release, and seafood hoarding also observed.
Survey data indicates 80-85% opposition to the release in South Korea.
China banned Japanese seafood in response to Japan's decision.

Safety Concerns:

Scientifically, radiation levels in the wastewater aren't considered panic-inducing, but even low-level radiation exposure can harm humans and the environment.
Tritium, a component of the wastewater, is easily absorbed by living creatures in the form of tritiated water and is rapidly distributed throughout their bodies via blood.
Tritiated water can pass through the placenta, potentially leading to developmental effects in babies when consumed by pregnant women.
Chemically, there's no difference between tritiated water and regular water.

Regional Politics:

Transparency in the treatment and release process is crucial for Japan's relations with South Korea.
Japan's relations with South Korea have been strained historically due to Japan's colonization of the Korean peninsula.
Both leaders aim to improve relations, especially in light of potential threats from more aggressive neighbors like China and North Korea.
The IAEA's approval of the water release has reassured South Korea and other countries.
Transparent communication between Japanese authorities and regional counterparts has helped ease concerns in most countries, except China and Russia.

China's Geopolitical Response:

China's reaction to the water release should be seen in a broader geopolitical context.
Japan-China relations have experienced fluctuations, particularly with China expanding its military presence in the South China Sea.
This issue has stirred nationalist sentiments on both sides, making it significant in the larger context.
China is closely observing the growing relationship between South Korea and Japan and is uncomfortable with it.
China may attempt to use this issue to create strategic divisions between South Korea and Japan.

Future Actions:

Japan plans to release the treated wastewater over the next 30 years.
Continuous monitoring of seawater radiation will be conducted.
The government is allocating 80 billion yen to compensate fishers who will lose business due to public fears.
Japan aims to revitalize its nuclear power plant industry to stabilize the energy sector.
Before the 2011 earthquake, 30% of Japan's electricity came from nuclear reactors, but by March, it had dropped to less than 10%.
There's a desire to create the impression that the Fukushima accident is in the past, but the reality is that it will take decades to fully segregate radioactive materials.
What Is Tritiated Water?
Tritiated water, also known as tritium oxide or T2O, is a radioactive form of water.
It contains tritium, which is a radioactive isotope of hydrogen.
Unlike regular hydrogen, which has one proton and no neutrons, tritium has one proton and two neutrons in its nucleus, making it radioactive.
Tritiated water is created when tritium, typically produced in nuclear reactors, combines with oxygen to form H2O molecules.
This means that one or more of the hydrogen atoms in a water molecule is replaced by tritium.
The radioactivity of tritium is relatively low, emitting low-energy beta particles.
While it can pose health risks if ingested, inhaled, or absorbed into the body, its low energy makes it relatively easy to shield.
However, because it behaves chemically like regular hydrogen, it can be challenging to remove tritium from water through chemical means.
---
Navy's proposal for a second Vikrant-like aircraft carrier
(General Studies- Paper III)
Source : TH
---
The Indian Navy has put forth a proposal for the acquisition of a second aircraft carrier similar to the INS Vikrant, with an estimated cost of ₹40,000 crore (around $5.3 billion).
The Defence Procurement Board (DPB) recently discussed this proposal, but final approval from the Defence Acquisition Council (DAC), headed by the Defence Minister, is pending.
Key Highlights
Design Modifications and Upgrades

The new aircraft carrier project involves modifying and upgrading the design of the country's first Indigenous Aircraft Carrier (IAC), INS Vikrant.
This project will also be undertaken by the Cochin Shipyard Limited (CSL).

INS Vikrant Specifications

INS Vikrant, commissioned in September 2022, is 262 meters long, 62 meters wide, and displaces 44,800 tonnes.
It is powered by four General Electric LM2500 engines, providing a maximum speed of 28 knots and an endurance of 7,500 nautical miles.
The carrier uses the Short Take off but Arrested Recovery (STOBAR) aircraft operation mode and is equipped with a ski-jump for launching aircraft and three 'arrester wires' for aircraft recovery.

Indian Navy's Current Carrier Fleet

The Indian Navy currently operates the INS Vikramaditya, a 44,500-tonne carrier also using the STOBAR mechanism.
It was procured from Russia under a $2.3 billion deal and was inducted in November 2013.

Repeat Order for Vikrant-Sized Carrier

The Indian Navy's plan for the second aircraft carrier, Indigenous Aircraft Carrier-2 (IAC-2), is to repeat a design similar to INS Vikrant, albeit with some modifications.
Due to the long timelines involved in building larger and more capable carriers, IAC-2 is expected to be inducted close to the time when INS Vikramaditya is retired, effectively becoming its replacement.

Original Plan for Larger Carrier

Initially, the Navy had envisaged IAC-2 with a displacement of 65,000 tonnes and a Catapult Assisted Take Off But Arrested Recovery (CATOBAR) system for launching aircraft, as well as full-electric propulsion.
However, the high cost and longer build time associated with such a larger carrier led to the decision to opt for a repeat of the Vikrant-sized carrier.

Importance of Three Carriers

The Indian Navy has traditionally centered its force structure around three aircraft carriers.
The parliamentary standing committee on defence has emphasized the necessity of having three aircraft carriers to meet various operational requirements, especially given India's extensive coastline and security challenges on both sides of the Indian peninsula.

Future Timeline

The keel of INS Vikrant was laid in 2009, launched in 2013, and commissioned in 2022.
With the experience gained from this project, CSL officials believe that a repeat order for a Vikrant-sized carrier can be executed in seven to eight years.
Note: The "Short Takeoff But Arrested Recovery" (STOBAR) aircraft operation mode is a method used on aircraft carriers to launch and recover fixed-wing aircraft.
About Cochin Shipyard Limited (CSL)
Cochin Shipyard Limited (CSL) is one of the largest shipbuilding and maintenance facilities in India.
CSL is located in Kochi, Kerala, along the southwestern coast of India.
It has a strategic location along the Arabian Sea, making it well-suited for shipbuilding and repair activities.
Cochin Shipyard Limited is a government-owned enterprise.

It operates under the administrative control of the Ministry of Shipping, Government of India.
The company has Miniratna status.

CSL was established in 1972.
CSL is known for its shipbuilding capabilities.

It constructs various types of vessels, including bulk carriers, offshore support vessels, oil tankers, and passenger ships.
The shipyard has delivered numerous vessels for both domestic and international clients.

CSL plays a significant role in the construction of naval vessels for the Indian Navy and the Indian Coast Guard.

It has been involved in the construction of advanced naval ships, including aircraft carriers, frigates, and offshore patrol vessels.
It built the first indigenous aircraft carrier for the Indian Navy, the INS Vikrant.
The first ship to roll out of the Cochin Shipyard was the MV Rani Padmini in 1981.
The history of aircraft carriers in India
INS Vikrant (1961):

India's journey with aircraft carriers began with the commissioning of INS Vikrant in 1961.
Vikrant was a Majestic-class aircraft carrier originally built for the British Royal Navy during World War II.
It played a crucial role in the 1971 India-Pakistan War.

INS Viraat (1987):

INS Viraat, a Centaur-class aircraft carrier, joined the Indian Navy in 1987.
It was a refurbished and modernized version of the British HMS Hermes.
Viraat served as the flagship of the Indian Navy for many years.

INS Vikramaditya (2013):

Formerly known as the Admiral Gorshkov, INS Vikramaditya is a modified Kiev-class aircraft carrier that was acquired from Russia.
After extensive refitting and modernization, it was commissioned into the Indian Navy in 2013.

INS Vikrant (2022):

INS Vikrant, the first indigenous aircraft carrier (IAC), was commissioned into the Indian Navy in 2022.
It is a significant milestone in India's shipbuilding capabilities and defense preparedness.
---
NASA's first asteroid samples land on Earth
(General Studies- Paper III)
Source : TH
---
NASA's Osiris-Rex spacecraft successfully returned asteroid samples from deep space, marking a significant achievement in space exploration.
Key Highlights
The Osiris-Rex spacecraft, on a $1 billion mission, was launched in 2016.
It reached the carbon-rich asteroid Bennu in 2018.
Using a long stick vacuum, the spacecraft collected rubble from Bennu in 2020.
The sample capsule was released from the mothership during a flyby of Earth from 100,000 km away.
The capsule landed four hours later in a remote area of military land.
Scientists estimate the capsule holds at least a cup of asteroid rubble from Bennu, but the precise amount won't be known until it's opened.
Historical Significance

This return marks the biggest haul of asteroid samples from beyond the moon.
The samples contain preserved building blocks from the early solar system, providing insights into Earth's formation and the origins of life.
Japan is the only other country to bring back asteroid samples, collecting about a teaspoon during two asteroid missions.

Asteroid Bennu and Future Missions

Bennu, roughly the size of the Empire State Building, is believed to be a fragment of a larger asteroid.
Close observations of Bennu's surface revealed its characteristics and potential risks.
The data gathered by Osiris-Rex will aid in future asteroid-deflection efforts.

Future Sample Returns

NASA's plans to return samples from Mars are currently on hold, pending an independent review of cost and complexity.
The Perseverance rover is collecting core samples on Mars for eventual transport to Earth.
In Image: the capsule released by the Osiris-Rex spacecraft lying on the surface near the parachute after landing to Earth.
About NASA's Osiris-Rex Spacecraft
The Origins, Spectral Interpretation, Resource Identification, Security, Regolith Explorer (Osiris-Rex) is a NASA spacecraft designed to study and collect samples from the near-Earth asteroid Bennu.
Its primary mission objective is to gather valuable insights into the early solar system, the origins of life, and the potential threat posed by near-Earth asteroids.
Osiris-Rex was launched on September 8, 2016, aboard an Atlas V rocket. It embarked on a seven-year journey to reach its target asteroid, Bennu.
The spacecraft arrived at Bennu on December 3, 2018.
About Asteroid Bennu
Bennu is a near-Earth asteroid with an estimated diameter of approximately 490 meters (1,608 feet).
It is roughly shaped like a spinning top or a rubble pile.
Bennu is classified as a carbonaceous asteroid, meaning it contains carbon-rich materials.
Such asteroids are of particular interest to scientists because they may contain organic molecules and water-bearing minerals, which are essential building blocks for life.
Bennu is expected to come dangerously close to Earth in the year 2182, possibly posing a collision threat.
Understanding its composition and characteristics is crucial for potential asteroid-deflection efforts.
---
What is the Five Eyes Alliance?
(General Studies- Paper II)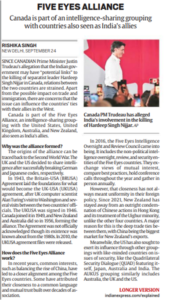 Source : The Indian Express
---
Canadian Prime Minister Justin Trudeau alleged in his country's Parliament that the Indian government may have "potential links" to the killing of separatist leader Harmeet Singh Nijjar in Canada.
US Ambassador to Canada David Cohen revealed in an interview that it was "shared intelligence among Five Eyes partners" that helped Canada make these claims.
The "Five Eyes" refers to an intelligence-sharing alliance of the United States, United Kingdom, Australia, Canada, and New Zealand.
Key Highlights
The Five Eyes alliance traces its origins back to World War II when the UK and the US decided to share intelligence after successfully breaking German and Japanese codes.
It initially began as the BRUSA agreement between the US War Department and the UK's intelligence agency to share intelligence information.
Formation of the UKUSA Agreement

In 1946, the UKUSA agreement was established, which included Canada in 1949 and later New Zealand and Australia in 1956.
This formed the Five Eyes alliance, although its existence was not officially acknowledged until the 2010 release of UKUSA agreement files.

How the Five Eyes Alliance Operates

The alliance comprises countries that share intelligence information to protect their shared national interests.
Common interests and trust built over decades have led to closer alignment among these countries.

Differences in Foreign Policy

While the Five Eyes countries share intelligence and security interests, they don't always have uniform foreign policies.
For example, New Zealand has refrained from condemning certain Chinese actions due to deep trade ties, while the other four countries have taken a different stance.

Potential Role in India-Canada Issue

The Five Eyes countries, especially the US, maintain close ties with both India and Canada.
They have sizeable Indian populations and have witnessed pro-Khalistan activities.
Although they are unlikely to show outright support for either side, they could potentially play a mediating role in the issue once they have clear intelligence and information.
---
JP Morgan Includes Indian Government Bonds in Emerging Market Bond Index
(General Studies- Paper III)
Source : The Indian Express
---
JP Morgan has announced that Indian government bonds will be included in its emerging market bond index from June of the next year.
This decision follows India's inclusion in the Index Watch Positive since 2021 and was widely anticipated.
Key Highlights
Potential Impact on India's Bond Market and Integration

This inclusion in the index opens the door for significant inflows of billions of dollars, which can help deepen India's bond market.
It may also pave the way for India's entry into other global indices like Bloomberg and FTSE, further amplifying capital inflows and strengthening India's integration into global financial markets.

Weightage in the GBI-EM Global Diversified Index

India is expected to achieve a maximum weightage of 10% in the GBI-EM Global Diversified Index, on par with other countries like China, Brazil, Indonesia, and Malaysia.
The inclusion will occur over ten months, with a 1% increment to its weight every month, starting from June 2024 to March 2025.

Eligible Bonds and Investor Sentiment

Approximately two dozen bonds with a combined notional value of $330 billion will be eligible for inclusion.
JP Morgan's announcement revealed that 73% of benchmarked investors were in favor of India's inclusion, with an additional 17% expressing neutrality.

Asset Management and Expected Inflows

Funds tracking the index have assets under management totaling $236 billion.
Reports from various investment firms suggest that inflows into India post-inclusion could range from $24 billion to $30 billion.
Inclusion in other JP Morgan bond indices may further boost these numbers, with an additional $10 billion expected in active flows according to Goldman Sachs.

Impact on Bond Yields, Capital Flows, and Currency

The influx of capital resulting from India's inclusion in global bond indices could potentially moderate government and private sector bond yields, reducing the cost of capital in the broader economy.
This could address concerns over the financing of India's current account deficit and free up capital for the banking sector for lending.
However, it may also introduce volatility in local debt markets, particularly during global economic uncertainties, leading to increased scrutiny of government finances and implications for the domestic currency.
This complexity could present challenges for the Reserve Bank of India in making policy decisions.
About Bond Market and Asset Management
Bond Market:

The bond market, also known as the fixed-income market or debt market, is a financial market where participants buy and sell debt securities, primarily bonds.
Bonds are essentially loans issued by governments, municipalities, corporations, or other entities to raise capital.
When investors purchase bonds, they are lending money to the issuer in exchange for periodic interest payments (coupon payments) and the return of the bond's face value (principal) at maturity.

Asset Management:

Asset management, in the context of finance, refers to the professional management of investments on behalf of individuals, institutions, or entities.
The goal of asset management is to optimize the returns on these investments while managing risk according to the specific objectives and constraints of the investor.
Asset managers make investment decisions, build portfolios, and oversee the day-to-day management of assets to achieve financial goals.
---