CURRENT AFFAIRS – 19/09/2023
CURRENT AFFAIRS – 19/09/2023
Hanging fire for 27 years: How Women Reservation Bill kept lapsing?
(General Studies- Paper II)
Source : The Indian Express
---
The Union Cabinet, led by Prime Minister Narendra Modi, has cleared the draft Women's Reservation Bill.
This draft bill is expected to be tabled in both the Lok Sabha and Rajya Sabha during the ongoing special session of Parliament for consideration and passage.

The bill's objective is to increase the representation of women in the Indian legislative bodies, addressing the gender disparity in politics and decision-making.
Background and Highlights
The Women's Reservation Bill in India has faced a tumultuous legislative journey over the past few decades.

Introduced in 1996, under the H D Deve Gowda-led government, the bill aimed to provide women with reservations in the Lok Sabha and state Assemblies.

However, it has encountered significant challenges and opposition along the way.

Background

The issue of women's reservation in India gained momentum in the 1970s.

In 1971, the Union Ministry of Education and Social Welfare formed the Committee on the Status of Women in India (CSWI) in response to a request from the United Nations ahead of International Women's Year, 1975.

The CSWI was tasked with examining constitutional, administrative, and legal provisions affecting women's social status, education, and employment.

The committee's report, "Towards Equality," highlighted the failure of the Indian state to ensure gender equality and recommended measures to address this.

Following the report, several states began announcing reservations for women in local bodies.

In 1987, under Prime Minister Rajiv Gandhi's government, a 14-member committee led by Union minister Margaret Alva presented the National Perspective Plan for Women, 1988-2000, which included recommendations for reserving seats for women in elected bodies.

These recommendations ultimately led to the enactment of the Constitution 73rd and 74th Amendment Acts during P V Narasimha Rao's tenure as Prime Minister.

These amendments mandated the reservation of one-third of seats for women in Panchayati Raj institutions and offices of the chairperson at all levels of Panchayati Raj institutions, as well as in urban local bodies.

In several states, seats were also reserved for women within the quotas for Scheduled Castes, Scheduled Tribes, and Other Backward Classes (OBCs).

First Attempt: United Front Government (1996):

In 1996, the Constitution (Eighty-first Amendment) Bill, which included new Articles 330A and 332A, was introduced in the Lok Sabha.

The bill was proposed by Ramakant D Khalap, the Minister of State for Law in the United Front government, a coalition of 13 parties.

It faced resistance within the coalition, with several leaders expressing disagreement.

A Joint Committee, led by Geeta Mukherjee of the CPI, was formed to review the bill.

Notable members of the committee included Mamata Banerjee, Meira Kumar, Sumitra Mahajan, Nitish Kumar, Sharad Pawar, Sushma Swaraj, and others.

The committee suggested changes to the bill, including clearer wording and reservations for women in the Rajya Sabha, Legislative Councils, and consideration of OBC reservations.

It recommended a 15-year reservation period, with a rotation policy for reserved seats in states with fewer than three SC/ST reserved seats.

Dissenting voices, including Nitish Kumar, raised concerns about OBC women's representation.

The bill faced opposition within the Lok Sabha, leading to its lapse.

Second Attempt: NDA Government (1998-1999):

During the BJP-led NDA government under Atal Bihari Vajpayee (1998-2004), multiple attempts were made to pass the bill.

Chaotic scenes unfolded in the Lok Sabha in 1998, with RJD and SP MPs protesting the bill's introduction.

The bill faced opposition from NDA allies, and it ultimately lapsed after the House dissolution in 1999.

Vajpayee Government's Continued Efforts:

After Vajpayee's government was reformed in 1999, the bill was reintroduced in the Lok Sabha but faced continued opposition.

Despite multiple attempts in 2000, 2002, and 2003, the bill couldn't pass.

UPA's Push (2004-2010):

The Congress-led UPA government, in its common minimum program, committed to passing the bill.

In 2008, the bill was introduced in the Lok Sabha amid dramatic scenes, including physical altercations among MPs.

The bill was referred to a Parliamentary Standing Committee, which recommended its passage without delay.

Nitish Kumar's U-turn on supporting the bill led to its passage in the Rajya Sabha in 2010.

However, the UPA government did not show the political will to pass it in the Lok Sabha, despite support from the BJP and Left parties.
---
Sacred ensembles of Hoysalas inscribed on UNESCO world heritage list
(General Studies- Paper I)
Source : The Indian Express
---
The UNESCO World Heritage Committee has recently recognized three Hoysala Temples in Karnataka and Santiniketan in West Bengal as World Heritage Sites.
This designation marks India's 42nd UNESCO World Heritage Site and acknowledges the historical and cultural significance of these landmarks.
Key Highlights
Recognition at the World Heritage Committee Meeting:

The announcement of these recognitions was made during the 45th session of the World Heritage Committee, held in Riyadh, Saudi Arabia, until September 25.
India submitted the nomination dossier for the "The Sacred Ensembles of the Hoysalas" to the World Heritage Centre in January 2022.
The Hoysala Temples have been on UNESCO's tentative list since 2014.

The Sacred Ensembles of the Hoysalas:

The Hoysala Temples, also known as "The Sacred Ensembles of the Hoysalas," are a group of three ancient temples located in Karnataka, India.
These temples were constructed during the 12th and 13th centuries by the Hoysala kings and are dedicated to the deities Shiva and Vishnu.

The three temples included in this recognition are:

Chennakeshava Temple in Belur (Hassan district), situated in the heart of a traditional settlement surrounded by remnants of a mud fort and a moat.
Hoysaleswara Temple in Halebidu (Hassan district), located on the banks of Dwarasamudra tank, a town with many protected and unprotected temples, archaeological ruins, and mounds.
Keshava Temple in Somanathapura village (Mysore district), situated at the center of the village.

Significance and Creative Excellence:

The UNESCO recognition acknowledges the exceptional creative genius and technical expertise of the Hoysala architects and artists, particularly their mastery in stone carving.
These temples are known for their richly experiential and visually stunning architecture, showcasing the Hoysala artists' creativity in translating religious beliefs and stories into intricate sculpture.
This recognition highlights the enduring cultural legacy of the Hoysala dynasty in the realm of art and architecture.
About UNESCO World Heritage Site
A UNESCO World Heritage Site is a place, structure, area, or landmark recognized by the United Nations Educational, Scientific and Cultural Organization (UNESCO) for its cultural, historical, scientific, or natural significance.
The World Heritage designation aims to protect and preserve these exceptional sites for future generations and promote international cooperation in conservation efforts.
Key Characteristics and Criteria:

Cultural and Natural Heritage:

UNESCO designates two main types of World Heritage Sites: Cultural and Natural.
Cultural sites typically include historic buildings, cities, archaeological sites, and cultural landscapes, while Natural sites encompass natural features like forests, mountains, and ecosystems.

Outstanding Universal Value (OUV):

To be recognized as a World Heritage Site, a location must possess Outstanding Universal Value, meaning it holds exceptional significance for all of humanity, transcending national or regional boundaries.

Criteria for Selection:

Sites must meet at least one of the ten criteria established by UNESCO.
These criteria cover aspects such as cultural diversity, architectural innovation, historical importance, ecological significance, and more.

Protection and Preservation:

Designation as a World Heritage Site carries the responsibility of ensuring the site's protection and preservation.
Nations with designated sites are expected to implement measures to safeguard them from damage, deterioration, or destruction.
About World Heritage Committee
The World Heritage Committee is a specialized committee within the United Nations Educational, Scientific and Cultural Organization (UNESCO) responsible for overseeing the implementation of the World Heritage Convention.
This committee plays a crucial role in the identification, protection, conservation, and promotion of cultural and natural heritage sites of exceptional global significance.
Composition:

The World Heritage Committee is composed of representatives from member states of the UNESCO World Heritage Convention.
Each member state appoints a delegation to participate in committee sessions.
The number of committee members varies but typically includes 21 representatives.
Members serve staggered terms, and elections are held during the General Assembly of States Parties to the World Heritage Convention.
UNESCO World Heritage Site in India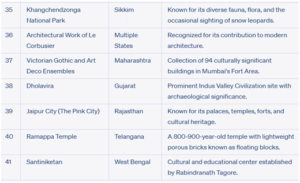 Note: Recently added the Sacred Ensembles of the Hoysalas are number 42 on the list.
---
India-Middle East-Europe Corridor: The way to a new world order
(General Studies- Paper II and III)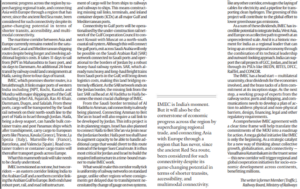 Source : The Indian Express
---
The historic trade routes connecting India to Europe have deep roots dating back to the beginning of the Common Era, showcasing the profound economic and geopolitical significance of this connection.
However, in the modern world, we are witnessing a unique development: heads of state from around the globe, have come together at a global summit to endorse a memorandum of understanding on a remarkable initiative – the India-Middle East-Europe Economic Corridor (IMEC).
Key Highlights
The Vision of IMEC

IMEC is not just another corridor; it represents a historic route, laden with geopolitical and economic significance.
The primary objective is to expedite the development and integration of Asia, the Arabian Gulf, and Europe, positioning this region as a new epicenter of global power.
IMEC aims to establish a dependable, cost-effective railway and ship-to-rail transit network that complements existing maritime and road routes, facilitating the seamless movement of goods and services across India, the UAE, Saudi Arabia, Jordan, Israel, and the EU.
In essence, IMEC is India's defining moment, solidifying its role as a regional leader.

Challenging the Status Quo

While the current maritime corridor between Asia and Europe relies heavily on the congested Suez Canal and Mediterranean shipping routes, IMEC presents an innovative alternative.
By linking major ports in western India, such as JNPT, Kochi, Kandla, and Mundra, with key Gulf ports like Jebel Ali, Fujairah, Ras Al-Khair, Dammam, Duqm, and Salalah, IMEC offers shorter and more economically efficient routes.
For example, the transit time from JNPT in Maharashtra to Suez port takes 11 days by sea, whereas IMEC could reduce this journey by three to four days through rail transit.

IMEC: Two Corridors in One

IMEC is envisioned as not one but two distinct corridors: an eastern corridor connecting India to the Arabian Gulf and a northern corridor linking the Arabian Gulf to Europe.
Both ends boast robust port, rail, and road infrastructure.

India's Infrastructure Advantages

India's impressive connectivity infrastructure, featuring a well-integrated railroad network, mega ports, and highways on the eastern end of IMEC, provides a solid foundation for this ambitious project.
Several major infrastructure projects, such as dedicated rail freight corridors, highways, expressways, and ports, are at various stages of development.
On the western end of IMEC, beyond Haifa, the Mediterranean sea route to Greece, Italy, France, and Spain offers well-established pathways supported by efficient hinterland connectivity to Europe via rail and road networks.

Land Bridging: Key Requirements

To realize IMEC's potential, the focus must shift to the land bridging requirements from the Gulf ports to the Mediterranean ports.
This entails constructing missing rail links, establishing terminals, and creating inland container depots (ICDs) at major Gulf and Mediterranean ports.

Standard Gauge for Seamless Connectivity

A crucial factor that sets IMEC apart is the standard gauge rail networks, ensuring seamless connectivity.
Developing feeder rail routes to connect hinterlands further enhances the efficiency of this corridor.

Financial and Environmental Sustainability

The commitment of resources from stakeholders and international financial institutions is not a hurdle, as IMEC promises high financial returns and sustainable growth.
Moreover, IMEC's commitment to greening the project by laying cables for electricity and pipelines for transporting clean hydrogen contributes to global efforts to reduce greenhouse gas emissions.

India's Leadership and Technical Expertise

India plays a pivotal role in supporting rail projects in the Gulf, Jordan, and Israel through its public sector undertakings (PSUs) like IRCON, RITES, DFCC, RailTel, and CONCOR.

Roadmap for Action

A working group of experts from the railway sector, ports and shipping, and communications should develop a comprehensive plan of action to address physical and non-physical barriers, design, financing, legal and regulatory requirements.
A detailed IMEC agreement with a clear time frame will help translate the commitments of the memorandum of understanding into a roadmap for action.

IMEC: Catalyst for Collective Growth

IMEC's immense potential lies in its capacity to integrate India, West Asia, and Europe on a collective path to unprecedented growth.
It represents a historic moment for India as a regional leader, capable of uplifting entire regional economies through its technical leadership and outward-looking approach.
IMEC also promotes global cooperation initiatives for socio-economic development across continents, benefiting millions.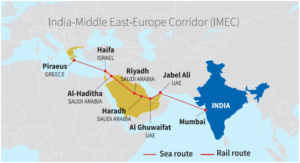 ---
As Parliament turns 75, the 'backbone' that keeps it going — its secretariat
(General Studies- Paper II)
Source : The Indian Express
---
The 75-year journey of the Indian Parliament has been shaped not only by its members and legislative processes but also by the diligent work of the Parliament secretariat.
The secretariat plays a crucial role in advising presiding officers, providing information to MPs, and ensuring the smooth functioning of the legislature.
Key Highlights
Vithalbhai Patel's Role

Vithalbhai Patel, the first elected Speaker of the Central Assembly in 1925, advocated for a separate secretariat for the legislature.
He believed that the Speaker's office needed independent staff to work effectively.
Patel resisted government interference in security matters, closing access to visitor galleries until security arrangements were placed under the Speaker's control.

Emergence of Specialized Staff

A cadre of specialized Parliament staff began emerging as legislatures evolved in India.
Parliamentary reporters, responsible for accurately reporting legislative proceedings, were among the first of these specialized roles.
They produced verbatim records of parliamentary proceedings, allowing rapid publication for public access.

Professionalization of Parliament Secretariat

MaheshwarNathKaul, who joined the legislative assembly office in 1937, played a key role in professionalizing the Parliament secretariat.
He created Parliament's research and reference service to provide MPs with information for discussions on Bills and other subjects.
Kaul also advocated for separate buildings for the secretariat, library, committees, and MPs to accommodate the changing profile of MPs.

Simultaneous Interpretation Services

The demand for simultaneous interpretation services in Parliament led to the provision of Hindi and English real-time interpretation in 1964.
Interpreters must be proficient in vocabulary, grammar, language nuances, literature, idioms, and humor.
The secretariat now provides simultaneous interpretation in 22 languages.

Functional Areas and Administrative Consolidation

In 1974, a committee of MPs recommended structuring the Lok Sabha and Rajya Sabha secretariats into 11 functional areas.
The secretariats now have approximately 2,200 officers in Lok Sabha and 1,500 in Rajya Sabha, organized into eight services.
There is no specific law regulating recruitment and conditions of service for Parliament secretariat staff; instead, rules are made by the presiding officers.

Role of Secretary-Generals

Two Secretary-Generals, one for Lok Sabha and one for Rajya Sabha, lead the respective secretariats.
They aid and advise the presiding officers, playing dual roles, one as an advisor and the other as the head of the administration.
The pay scale and status of the post of Secretary-General were elevated to that of the Cabinet Secretary in the Government of India in 1990.

State Legislature Secretariats

While the Lok Sabha and Rajya Sabha secretariats are independent of the government, state legislature secretariats do not enjoy the same autonomy.
Recognizing the contributions of the secretariat is essential for the further strengthening of Parliament.
---
IRDAI plans committee to create BimaSugam platform
(General Studies- Paper II)
Source : The Indian Express
---
The Insurance Regulatory and Development Authority of India (IRDAI) has established a steering committee for its BimaSugam platform.
BimaSugam is an ambitious project aimed at facilitating the online purchase of life, health, motor, or property insurance policies.
The platform aims to provide a centralized marketplace for insurance companies, agents, brokers, banks, and aggregators.
BimaSugam will serve as a one-stop-shop for all insurance-related queries, policy purchases, claim settlements, insurance advice, and grievance redressal.
Key Highlights
New Implementation Deadline

IRDAI has set a new deadline of July 2024 for the BimaSugam project to go live after postponing it twice.
The project aims to transform the insurance industry by offering a centralized and accessible platform for insurance-related services.

Composition of Steering Committee

The steering committee includes members from IRDAI, leading insurance companies such as ICICI Prudential, Tata AIA Life, Kotak Life, Tata AIG General Insurance, Manipal Cigna Health Insurance, and industry councils.
Cyril AmarchandMangaldas (CAM) has been appointed as the legal counsel for the project.

Responsibilities of the Platform

BimaSugam will support both personal and commercial insurance requirements.
It will provide an end-to-end digital onboarding process for all insurance products, eliminating manual interventions.
The platform will offer services related to life insurance, ULIP products, health insurance, vehicle insurance, travel insurance, personal accident insurance, property insurance, commercial insurance, marine insurance, agricultural insurance, and more.
It aims to simplify the insurance purchase process and enhance user experience through an easy-to-use interface.

Role of Project Consultant

A project consultant will be appointed to oversee the ideation, design, and development of the BimaSugam platform.
The consultant will ensure a seamless digital onboarding journey for users, covering customer acquisition, onboarding, documentation, underwriting, policy issuance, customer service, analytics, and user interface.
The BimaSugam platform is expected to bring significant digital transformation to the insurance industry in India, making insurance products more accessible and user-friendly.
About Insurance Regulatory and Development Authority of India (IRDAI)
The Insurance Regulatory and Development Authority of India (IRDAI) is the regulatory body responsible for overseeing and regulating the insurance industry in India.
Establishment:

IRDAI was established on April 1, 2000, following the enactment of the Insurance Regulatory and Development Authority Act, 1999.
It was formed as an autonomous and statutory body to regulate and promote the insurance and reinsurance industries in India.

Regulatory Functions:

IRDAI's primary role is to regulate the insurance sector and protect the interests of policyholders.
It sets and enforces regulations and guidelines governing various aspects of insurance, including licensing of insurers, product approvals, premium rates, and claims settlement.

Promotion of Insurance:

In addition to regulation, IRDAI also plays a crucial role in promoting the growth and development of the insurance industry in India.

Market Oversight:

IRDAI monitors the financial health and performance of insurance companies operating in India.

Consumer Protection:

One of IRDAI's key objectives is to safeguard the interests of insurance consumers.

Product Approvals:

Insurance products, including life insurance, health insurance, and general insurance policies, must receive approval from IRDAI before being offered to the public.

Board and Leadership:

IRDAI is governed by a board of directors, including the chairman and members appointed by the Government of India.
---
Inflows in Gold ETF hit 16-month high
(General Studies- Paper III)

Source : The Indian Express
---
Gold exchange-traded funds (ETFs) in India received an inflow of Rs 1,028 crore (approximately $137 million) in August.
This marks the highest monthly inflow in 16 months, indicating growing investor interest in gold.
The inflow comes as interest rates in the US have been rising, potentially slowing down economic growth there.
Key Highlights
Year-to-Date Inflow and Asset Growth:

Year-to-date inflows into Gold ETFs have now reached over Rs 1,400 crore (approximately $187 million).
The asset base of Gold ETFs has increased, showing that investors are allocating more funds to these instruments.

Factors Driving Gold Investment:

The end of the US Federal Reserve's tightening cycle is anticipated, which is positive for gold.
Gold has remained resilient despite rising US yields and a strengthening US dollar.
Factors such as the potential for a US recession, central bank gold buying, geopolitical tensions, and rising US debt levels are boosting interest in gold.
Gold's appeal as a safe haven and a hedge against inflation is expected to continue due to rising interest rates in the US and concerns about economic growth.
Gold prices have corrected from their all-time highs, making it an attractive buying opportunity.

Investor Interest and Growth:

Gold's strong performance in recent years has attracted significant investor interest.
The number of investor accounts in Gold ETFs increased by 20,500 folios in August, reaching 47.95 lakh (4.795 million) folios.
The assets under management (AUM) of Gold ETFs grew by over 4% to Rs 24,318 crore (approximately $3.25 billion) in August from the previous month's Rs 23,330 crore (approximately $3.12 billion).

Gold ETFs as Investment Instruments:

Gold ETFs in India track the domestic physical gold price and offer a passive investment option based on gold prices.
Each Gold ETF unit represents 1 gram of physical gold and is backed by gold of high purity.
Gold ETFs combine the flexibility of stock investments with the simplicity of investing in gold.
What is Gold exchange-traded funds (ETFs)?
Gold exchange-traded funds (ETFs) are investment funds that provide a way for individuals to invest in gold without owning physical gold.
A gold ETF is structured as a fund, and it holds a substantial amount of physical gold in secure vaults.
Instead of buying physical gold, investors buy shares or units of the ETF.
These shares are traded on stock exchanges, just like stocks.
The value of each share in the gold ETF is directly linked to the price of gold.

When the price of gold goes up, the value of your ETF shares also increases.
Conversely, if the gold price falls, the ETF's share value decreases.

Investors can buy and sell ETF shares throughout the trading day, just like stocks.

This provides liquidity and flexibility compared to owning physical gold, which would require finding a buyer for the actual gold.

When you invest in a gold ETF, you own a portion of the gold held by the fund, but you don't physically possess the gold.

The ETF takes care of storage, security, and other logistical aspects.

Investing in a gold ETF is typically cost-effective compared to buying, storing, and insuring physical gold.

The fees associated with ETFs are relatively low.
Understanding the Meaning
Rising US Yields:

This refers to an increase in the interest rates on US government bonds.
When yields rise, it often has the effect of making other investments, like gold, relatively less attractive because bonds become more competitive in terms of the return they offer.

Strengthening US Dollar:

When the US dollar strengthens, it means that the value of the US dollar in relation to other currencies increases.
A stronger US dollar can also make gold less appealing to investors because gold is priced in dollars, and a stronger dollar can make it more expensive for investors using other currencies to buy gold.

Tightening of Monetary Policy:

It refers to measures taken by a central bank to reduce the money supply, increase interest rates, and control inflation.
This is usually done to slow down economic growth and prevent excessive inflation.
---