CURRENT AFFAIRS – 18/09/2023
CURRENT AFFAIRS – 18/09/2023
India is at a pivotal moment in its health-care journey
(General Studies- Paper II)
Source : TH
---
India is emerging as a global leader in various critical issues, such as climate change, electrification, manufacturing, and space exploration.
However, it faces a significant challenge in the form of non-communicable diseases (NCDs), which could burden the country with substantial economic costs.
Key Highlights
India's Rising NCD Burden:

India currently grapples with a high prevalence of non-communicable diseases like diabetes, hypertension, heart disease, cancer, respiratory issues, and mental health problems.

Economic Implications:

If unaddressed, the NCD burden could cost India nearly $4 trillion by 2030 and hinder its development, creating an 'age tax' on its demographic dividend.

Call for Action

Urgent Collaboration:

The healthcare industry must join forces to raise awareness, promote healthier lifestyles, and offer comprehensive health checks that include advanced scans.

India has made substantial progress in health metrics, including infant and maternal mortality rates, with world-class healthcare infrastructure and clinical talent.
India as a Medical Value Travel Hub

Global Attraction:

India has become a hub for medical value travel, especially in oncology, orthopaedics, and robotic surgery.
India leads regionally in cancer treatment, attracting patients worldwide for its expertise, infrastructure, and cost-effective care.
Skilled surgeons perform joint replacements and spinal surgeries using minimally invasive techniques.

Robotic Surgery:

India's adoption of robotic-assisted surgery offers precision and faster recovery for international patients.

Potential in AI Solutions

AI in Healthcare:

Artificial intelligence is revolutionizing healthcare, with India having the potential to lead this transformation.

Diagnostic Enhancement:

AI-powered tools improve medical diagnoses, leading to quicker treatment decisions and better patient outcomes.

Disease Prediction:

AI can predict disease outbreaks, analyze healthcare data, optimize treatment plans, and revolutionize drug discovery.

India's AI Potential:

India's pool of data scientists, engineers, and healthcare professionals positions it to excel in AI-driven healthcare solutions.

Fostering Collaboration and Investment

Public-Private Partnerships:

Collaboration between public and private sectors is crucial for infrastructure investment, medical tourism promotion, and international healthcare accreditation.

Investment in AI:

Continued research and development, academic-industry collaboration, and innovation encouragement will establish India as a global leader in AI-driven healthcare.

Economic Impact:

AI expenditure in India is projected to reach $11.78 billion by 2025 and add $1 trillion to India's economy by 2035.
What are non-communicable diseases (NCDs)?
Non-communicable diseases (NCDs), also known as chronic diseases, are medical conditions that are not directly caused by infectious agents (bacteria, viruses, etc.) and cannot be transmitted from person to person.
Instead, these diseases typically result from a combination of genetic, environmental, and lifestyle factors.
NCDs tend to develop slowly and often have long-lasting effects.
Some common examples of NCDs include:

Cardiovascular Diseases (CVDs): These include conditions like heart disease, stroke, and hypertension (high blood pressure).
Diabetes: A chronic condition characterized by high levels of blood sugar (glucose) in the body.
Cancer: The uncontrolled growth and spread of abnormal cells in the body.
Chronic Respiratory Diseases: Conditions like chronic obstructive pulmonary disease (COPD) and asthma that affect the lungs and breathing.
Mental Health Disorders: Conditions like depression, anxiety, and schizophrenia.
Musculoskeletal Disorders: Conditions affecting the bones, joints, and muscles, including osteoarthritis and osteoporosis.
Obesity: Excessive body weight, often resulting from poor diet and lack of physical activity, is a risk factor for many NCDs.
Dental Diseases: Conditions such as tooth decay and gum disease.

Status of NCDs in India and Worldwide:
Worldwide:

NCDs are the leading cause of death globally, responsible for approximately 71% of all deaths according to the World Health Organization (WHO).
The major risk factors for NCDs include tobacco use, unhealthy diets, physical inactivity, and excessive alcohol consumption.
NCDs are not limited to high-income countries; they affect people in low- and middle-income countries as well, making them a global health equity issue.
The burden of NCDs is expected to increase in the coming years due to factors like population aging and urbanization.

India:

NCDs are the leading cause of death in India, accounting for more than 60% of all deaths, according to the Indian Council of Medical Research (ICMR).
Cardiovascular diseases, diabetes, and cancer are among the top NCDs affecting the Indian population.
India has seen a rise in risk factors for NCDs, including an increase in tobacco use, unhealthy diets, sedentary lifestyles, and rising obesity rates.
The burden of NCDs in India is not only a health issue but also an economic concern, with significant healthcare costs and potential productivity losses.
---
Project Cheetah, a year on
(General Studies- Paper III)
Source : TH
---
Project Cheetah was India's initiative to introduce African cheetahs into the country's wildlife reserves.
Key Highlights
Why African Cheetahs in India?

The project aims to establish a viable cheetah population in India.
This population should be free-ranging in large wildlife reserves connected by corridors to enhance global conservation efforts.

Status of the Project

A total of 20 adult African cheetahs have been imported, with two batches arriving in India.
The cheetahs underwent quarantine and acclimatization processes.
Only 12 of the 20 cheetahs have been released into the wild, while others faced risks and returned to captivity.
Several cheetahs, including cubs, have died.

Challenges and Causes of Cheetah Deaths

Various factors contributed to the deaths, including sickness, environmental conditions, and mating attempts.
Questions arise about why sick cheetahs were brought to India and why mating was rushed in captivity.
Deaths during the monsoon remain unexplained.

Expectations and Predicted Mortalities

Mortalities in captivity and during specific seasons were not anticipated.
There is discrepancy in mortality rate predictions compared to the actual mortalities.

Impact on Other Conservation Efforts

Project Cheetah has diverted attention and resources from other conservation projects, such as those for the Great Indian Bustard and Asiatic lions.
The strategy of using cheetahs to conserve grasslands and related species is criticized.

Lessons Learned and Future Strategy

The project highlights the importance of ensuring proper and adequate habitats before importing more cheetahs.
The focus should be on habitat restoration and creation, covering at least 5,000 square kilometers.
Wider consultation and increased transparency in conservation efforts are essential.
About Cheetah
Cheetahs are remarkable large cats known for their incredible speed and distinctive appearance.
Physical Characteristics:

Appearance:

Cheetahs are characterized by their slender, long-legged bodies, spotted coats, and distinctive "tear tracks" running from the inner corners of their eyes down to their mouths.

Coat:

Their fur is covered with small, round black spots on a tan or pale yellow background.
Their spots help camouflage them in their grassland habitats.

Size:

Adult cheetahs typically weigh between 75 to 160 pounds (34 to 72 kilograms) and measure around 28 to 35 inches (70 to 90 centimeters) tall at the shoulder.

Speed:

Cheetahs are the fastest land animals, capable of reaching speeds up to 70 miles per hour (112 kilometers per hour) in short sprints.

Habitat:

Cheetahs are primarily found in Africa, particularly in open grasslands, savannas, and arid regions.
They are adapted to a wide range of habitats but require sufficient prey and cover to thrive.

Behavior:

Solitary: Cheetahs are usually solitary animals, except for mothers with cubs or mating pairs.
Hunting: They are carnivorous predators that primarily prey on small to medium-sized ungulates, such as gazelles and impalas.

Conservation Status:

Cheetahs are listed as vulnerable by the International Union for Conservation of Nature (IUCN) due to habitat loss, human-wildlife conflict, and poaching.
It's estimated that there are around 7,000 to 9,000 cheetahs left in the wild, making them a species of concern.

Cheetah populations are scattered across Africa, with some small populations found in Iran.
They face challenges due to habitat fragmentation, which limits their ability to roam and find mates.
Cheetahs are an important species in maintaining ecosystem balance by controlling herbivore populations.
Status in India
Historically, the Asiatic cheetah (Acinonyxjubatusvenaticus) was found in India, but the last confirmed sighting in the country was in the 1950s.
The Asiatic cheetah is now considered functionally extinct in India, meaning there are no breeding populations left in the wild.
Project Cheetah:

Launched in an attempt to reintroduce cheetahs to India after their extinction.
Aims to establish viable cheetah populations in large, unfenced wildlife reserves with wildlife corridors connecting them.
The project aims to create conditions for cheetahs to perform their ecological role as top predators.

Import of African Cheetahs:

Due to the extinction of the Asiatic cheetah, India imported African cheetahs from Namibia and South Africa.
A total of 20 adult African cheetahs have been imported in two batches.
---
PM inaugurates Vishwakarma Scheme
(General Studies- Paper II)
Source : TH
---
Prime Minister Narendra Modi unveiled the Pradhan MantriVishwakarmaYojana (PMVY) worth ₹13,000 crore to support artisans and craftspeople.
Additionally, he inaugurated the first phase of the India International Convention and Expo Centre, named 'Yashobhoomi,' in New Delhi.
About Pradhan Mantri Vishwakarma Yojana (PMVY)
The PM Vishwakarma scheme, launched with a financial outlay of Rs. 13,000 crore for a five-year period (FY 2023-24 to FY 2027-28), has several key objectives and benefits:
Aim:

The scheme aims to strengthen and preserve the Guru-Shishyaparampara, a family-based practice of traditional skills, among artisans and craftspeople who work with their hands and tools.
It intends to enhance the quality and reach of products and services offered by artisans and craftspeople and integrate them into both domestic and global value chains.

Benefits:

Recognition:

Artisans and craftspeople will receive recognition through the PM Vishwakarma certificate and ID card.

Credit Support:

Financial support will be provided, with artisans eligible for credit support up to Rs. 1 lakh (first tranche) and Rs. 2 lakh (second tranche).
These loans come with a concessional interest rate of 5%.

Skill Upgradation:

The scheme includes provisions for skill upgradation to enhance the capabilities of artisans.

Toolkit Incentive:

Artisans will receive incentives for the acquisition of toolkits.

Incentive for Digital Transactions:

The scheme encourages digital transactions among beneficiaries.

Marketing Support:

Support for marketing products and services will also be provided to artisans.

Coverage:

The PM Vishwakarma scheme will cover artisans and craftspeople in both rural and urban areas across India.
Initially, the scheme will focus on 18 traditional trades, including carpenters, boat makers, blacksmiths, goldsmiths, potters, sculptors, cobblers, masons, tailors, and more.
---
Santiniketan finds its place on UNESCO's World Heritage List
(General Studies- Paper I)
Source : TH
---
Santiniketan, a town in West Bengal's Birbhum district founded by Nobel laureate Rabindranath Tagore, has been included in UNESCO's World Heritage List.
The town, which means 'abode of peace,' began taking shape in 1901, and it later became the foundation for VisvaBharati University established by Tagore.
Key Highlights
Historical Significance and UNESCO Recognition:

The Ministry of Culture's proposal for Santiniketan's inclusion in the UNESCO World Heritage List highlights its importance as a place that exhibits an exchange of human values over time and within a cultural area, particularly in architecture, arts, town planning, and landscape design.
Efforts to secure UNESCO recognition for Santiniketan have been ongoing since 2010.
Santiniketan is celebrated for its unique cultural contributions, as Rabindranath Tagore aimed to bring the world together through architectural, artistic, and landscape design elements.

Archaeological Restoration Efforts:

The Archaeological Survey of India (ASI) has been involved in restoring various structures in Santiniketan, including SantiniketanGriha, Konark, UpasanaGrihaPurba, and PaschimToran.
These restoration efforts have contributed to the preservation and enhancement of the town's cultural and historical heritage.

Origins of Santiniketan:

Santiniketan, originally known as Bhubadanga, was owned by the Tagore family.
Rabindranath Tagore's father, Debendranath Tagore, decided to build an 'Ashram' (hermitage) after discovering the landscape of red soil and lush paddy fields during a boat journey to Raipur in 1862.
He constructed a house called Santiniketan, which stands to this day, and renamed the area due to its suitability for meditation.
In 1901, Rabindranath Tagore chose a vast tract of land in Santiniketan to establish a school following the 'Brahmachary Ashram' model, inspired by the ancient Indian Gurukul system.
This school later evolved into VisvaBharati University, described by Tagore as a place "where the world makes a home in the nest."
About Rabindranath Tagore
Rabindranath Tagore, also known as Rabindranath Thakur orGurudev, was a renowned poet, philosopher, polymath, musician, and playwright.
He was one of the most prominent cultural figures of the Indian subcontinent in the late 19th and early 20th centuries.
Tagore's contributions spanned literature, music, art, education, and social reform.
Early Life and Family:
Rabindranath Tagore was born on May 7, 1861, in Calcutta (now Kolkata), India, into a prominent Bengali family.
His father, Debendranath Tagore, was a philosopher and leader of the BrahmoSamaj, a reformist religious and social movement.
Tagore's mother, Sarada Devi, played a crucial role in his upbringing and education.
By the age of sixteen, he began publishing poems using the pseudonym Bhanusimha and authored a short story called 'Bhikharini' in 1877 and a poetry collection, 'Sandhya Sangit,' in 1882.
Tagore drew inspiration from classical poetry, particularly the works of Kalidasa.
Education:

Tagore received a diverse education influenced by both Indian and Western traditions.
He began writing poetry at an early age.
He briefly attended the University of Calcutta but did not complete a formal degree.
His education was mainly through self-study and exposure to a wide range of subjects.

Literary and Artistic Achievements:

Poetry:

Tagore's poetry is considered his most significant contribution.
His collection of poems, titled "Gitanjali" or "Song Offerings," was published in 1910 and earned him the Nobel Prize in Literature in 1913, making him the first non-European to receive the Nobel Prize in Literature.

Songs:

Tagore composed over 2,000 songs (known as "RabindraSangeet" or Tagore songs), which are immensely popular in India and Bangladesh.
His songs reflect themes of love, nature, spirituality, and humanism.

Plays:

He wrote numerous plays, including the famous work "The Post Office" (DakGhar), which explores themes of isolation and freedom.

Prose: Tagore's essays, short stories, and novels also made significant contributions to Bengali literature.

Social and Educational Reforms:

Tagore was a strong advocate for social and educational reforms.

He established VisvaBharati University in Santiniketan, emphasizing the importance of holistic and creative education.

He encouraged interaction between students and teachers in an open and natural environment, promoting the Gurukul system of education.

Nationalism and Patriotism:

Tagore was involved in the Indian independence movement and wrote patriotic songs, including "Jana Gana Mana," which later became the national anthem of India.
Tagore had complex political views.
While he denounced narrow nationalism, he supported Indian independence and expressed his political opinions through some of his songs.
He openly criticized European imperialism and the British education system imposed on India.
In 1915, Tagore was knighted by the British Crown, but he later renounced this honor as a protest against the JallianwalaBagh massacre, stating that the knighthood meant nothing to him when the British failed to treat his fellow Indians as humans.

Legacy:

Rabindranath Tagore remains an iconic figure in Indian and world literature and culture.
His birth and death anniversaries are celebrated as Rabindra Jayanti in India and Bangladesh, with cultural events and performances of his works.
Apart from Jana Gana Mana (the National Anthem of India), his composition 'Amar Shonar Bangla' was adopted as the National Anthem of Bangladesh and the National Anthem of Sri Lanka was inspired by one of his works.

Death:

Rabindranath Tagore passed away on August 7, 1941, in Calcutta (Kolkata), leaving behind a lasting legacy of literature, music, and art that continues to resonate with people worldwide.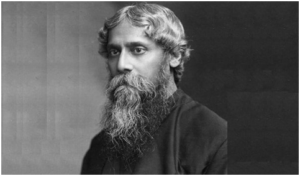 ---
It's time for India and Africa to deal with food and security issues together
(General Studies- Paper II)
Source : The Indian Express
---
India's G20 presidency is recognized for its success in reshaping the global mindset by integrating the aspirations of the Global South, particularly Africa.
The inclusion of the African Union in G20 acknowledges Africa's significance as a global development and stability partner.
The new G21 now represents 84% of the world's population, with India and Africa together constituting 36% of the global population.
Key Highlights
Food and Nutritional Security Challenges

India and Africa, despite their large populations, account for a significant portion of the world's undernourished and malnourished people.
These regions, which constitute 36% of the global population, are home to approximately 69.4% (503 million) of the world's undernourished individuals.
They also account for 67.0% of children under five suffering from stunting (impaired growth and development due to chronic malnutrition).
Additionally, 75.8% of the world's children under five in these regions experience wasting (acute malnutrition resulting in rapid weight loss and weakness).
The central challenge for the Global South is how to achieve food and nutritional security while dealing with climate change.
Key Strategies for the Global South

Open Agricultural Trade:

International borders should remain open for agricultural trade to ensure food security.
India has been a significant contributor to global food security, exporting 85 million tonnes of cereals in the last three years.
However, recent restrictions on rice and wheat exports from India could negatively impact African countries, which rely on these imports.

Climate Change Financing:

Developed nations must commit to providing $100 billion for climate change mitigation and adaptation efforts in developing economies.
Private sector investments should complement public funding.
The G20 estimates that an additional investment of $3 trillion annually through 2030 will be required to address these issues, including debt relief for low-income countries.

South-South Collaboration:

With Africa's inclusion in the G20, the challenges posed by rapid population growth, persistent poverty, and widespread undernourishment become more pronounced.
India and Africa should engage in comparative analyses and collaboration to foster sustainable agriculture and food systems.
To tackle the high levels of nutritional insecurity in both regions, agriculture policies should become more nutrition-sensitive.

Bio-Fortification:

Scaling up bio-fortification of staple crops can combat malnutrition in India and Africa.
Organizations like the Consultative Group on International Agricultural Research (CGIAR) and the Indian Council for Agriculture Research (ICAR) have developed nutrient-rich varieties of staple foods, including iron and zinc bio-fortified pearl millet, zinc-fortified rice and wheat, and iron bio-fortified beans.
These innovations can be implemented on a large scale in both Indian states and African countries to combat chronic malnutrition.

Women's Education:

Promoting girls' education through scholarships can empower women with knowledge about nutrition and healthcare, leading to better maternal and child health outcomes.
India has made significant progress in reducing the percentage of underweight women from 35.5 percent in 2005-06 to 18.7 percent in 2019-21.
The findings and strategies related to women's education and its impact on nutrition and health should be shared widely with African nations.

WASH Initiatives:

Investment in Water, Sanitation, and Hygiene (WASH) initiatives can have a multiplier effect on nutritional outcomes.
India's Swachh Bharat Abhiyan can serve as a model for improving sanitation.
Swachh Bharat Abhiyan (Clean India Campaign) has led to a significant increase in the coverage of households with improved sanitation facilities.
Between 2015-16 and 2019-21, the coverage rose from 48.5 percent to 70 percent.

Global South Collaboration

Collaboration between India and Africa is essential to address food and nutritional security challenges in the face of climate change.
The successful integration of the African Union into G20 should result in meaningful collaboration and knowledge sharing between India and African nations.
---
Why Nipah virus keeps returning to Kerala?
(General Studies- Paper III)
Source : The Indian Express
---
Nipah virus, a zoonotic virus that previously caused an outbreak in Kerala in 2018, has resurfaced in the state for the fourth time in the last five years.
Six cases have been detected in 2023, all in the Kozhikode district of northern Kerala.
Key Highlights
Comparison with 2018 Outbreak

Anoop, an infectious disease and tropical fever expert, compares the current outbreak with the 2018 incident.
In 2018, it was confirmed that bats in the Kozhikode area carried the Nipah virus, and the same strain was isolated in all cases, indicating bats as the source of infection.
This may explain the repeated presence of the virus in the region.
Additionally, other states may not report Nipah cases due to a lack of suspicion and testing, whereas Kerala maintains a higher index of suspicion and conducts rigorous testing for Nipah.

Fruit Bats as Reservoirs

All fruit bats in Indiaare reservoirs of the Nipah virus.
However, there is no scientific data comparing the virus's density in fruit bats across different regions.
Kerala's higher number of cases may be attributed to increased suspicion, testing, and identification rather than a higher density of the virus in its bats.

Reasons for Kerala's Vigilance

Several factors contribute to Kerala's vigilance in detecting Nipah cases.
The state boasts a well-developed healthcare system, high public awareness, and active patient engagement, leading to rigorous diagnosis and testing.
Public awareness, healthcare professionals' dedication, and robust infrastructure collectively aid in case identification and containment efforts.

Absence of Nipah Outbreaks in West Bengal

Despite Nipah outbreaks in West Bengal in 2001 and 2007, there have been no reported cases from the state since.
A S Anoop Kumar highlights that the reasons for this absence remain unclear.
It's possible that the source of infection is not present in the area.

Clinical Differences Between 2018 and 2023 Nipah Cases

In the 2018 Nipah outbreak in Kerala, patients predominantly exhibited encephalitis symptoms, such as fever progressing to unconsciousness and neurological issues.
However, in the 2023 cases, patients primarily displayed respiratory symptoms, developing severe pneumonia rather than encephalitis symptoms.
The index case in 2023 had no signs of encephalitis and was initially diagnosed with viral pneumonia.
This shift in clinical symptoms suggests the presence of genetic variation, slight mutation, or a different variant of the virus, warranting further investigation by the National Institute of Virology, Pune, to determine if the strain is the same as in 2018 or if mutations have occurred.

Progress in Handling Nipah Over the Years

The healthcare system in Kerala has evolved significantly in the last five years to address Nipah outbreaks.
After the experience with the COVID-19 pandemic, healthcare workers are more accustomed to handling high-priority viral pathogens with appropriate precautions.
Public awareness has also increased, leading to better adherence to protocols.
Additionally, molecular labs are now more widely available to test for various viruses, including Nipah.
Greater preparedness has been observed in infection control practices in healthcare institutions, reducing the risk of outbreaks.
This progress has led to more efficient handling of Nipah outbreaks.

The Role of Infection Control in Healthcare Settings

In the past, Nipah virus transmission predominantly occurred within healthcare institutions.
However, the implementation of improved infection control measures has reduced the risk of transmission in hospitals.
Proper infection control practices can effectively prevent transmission in healthcare settings, especially since Nipah is primarily transmitted through droplets rather than through the air.
The improvement in infection control practices has contributed to minimizing the scale of Nipah outbreaks.

The Need for Further Research on Nipah

While there has been progress in understanding Nipah, more research is needed.
Studies on individuals who have survived Nipah infections could help determine if they have long-lasting immunity and whether their serum can be used to develop monoclonal antibodies.
Research should also investigate exposed individuals, both symptomatic and asymptomatic, to understand the extent of asymptomatic spread and identify protective factors.
Genetic factors that may offer protection against the virus should also be explored.

Effectiveness of Monoclonal Antibody Therapies

Monoclonal antibody therapies are unlikely to be effective in treating existing Nipah patients.
Data from similar viruses like Hendra virus suggest that these therapies are more useful when administered to individuals exposed to the virus before the development of symptoms.
The effectiveness of such therapies in the early stages of Nipah infection remains a subject of study.

Seasonality and Transmission

The viral load in fruit bats, the natural reservoir for Nipah, tends to increase during their roosting season from June to November, which poses a higher risk of transmission from bats to humans.
However, the factors that induce viral spillover from bats to humans, such as ecological variations or changes in food availability, require further research.
The mode of transmission from bats to humans also needs to be studied.

Focus Areas for Preventing Future Outbreaks

Enhanced disease surveillance is crucial for preventing future Nipah outbreaks.
This includes testing for Nipah in cases of fever deaths and undiagnosed encephalitis and respiratory diseases that have tested negative for other viruses.
Proper screening and diagnosis of encephalitis cases are essential, and investigations into undiagnosed fever deaths should be conducted.
Kerala should ensure the availability of sufficient testing facilities.
---