CURRENT AFFAIRS – 15/09/2023
CURRENT AFFAIRS – 15/09/2023
Indian Air Force Receives First C295 Aircraft to Replace Aging Fleet
(General Studies- Paper III)
Source : The Indian Express
---
The Indian Air Force (IAF) received the first of the 56 C295 aircraft, which are intended to replace its aging Avro-748 fleet.
Airbus Defence and Space stated that the C295, configured for transport and equipped with an indigenous electronic warfare suite, will depart from the Airbus production site in Seville, Spain, for Delhi, piloted by a joint IAF-Airbus crew.
Key Highlights
Acquisition and Cost:

In September 2021, India finalized the acquisition of 56 Airbus C295 aircraft to replace the legacy Avro fleet of the IAF at a cost of Rs 21,935 crore.

Assembly and Delivery Schedule:

The first 16 C295s out of the 56 on order will be assembled at the San Pablo Sur site in Seville, with the second aircraft scheduled for delivery in May 2024.
The remaining 14 will be rolled out at a rate of one per month until August 2025.
The remaining 40 C295s will be manufactured and assembled in partnership with Tata Advanced Systems Limited (TASL) at a Final Assembly Line (FAL) in Vadodara, Gujarat.

Make in India Aerospace Program:

These aircraft will be manufactured under India's first-ever 'Make in India' Aerospace program in the private sector, breaking the monopoly of Hindustan Aeronautics Limited (HAL) over the production of military aircraft in India.

Production and Technology Transfer:

Component production has already begun at the Main Constituent Assembly (MCA) facility in Hyderabad, with parts to be shipped to the Vadodara FAL, set to be operational by November next year.
Airbus plans to transfer manufacturing technology to TASL for most components, with the goal of achieving 95% indigenization of the aircraft within a few years.

C295 Aircraft Capabilities:

The C295 is known for its versatility, capable of carrying up to 71 troops or 50 paratroopers, airdropping cargo, performing medical evacuations, and operating on short and unpaved runways.

Significance and Statements:

Air Chief Marshal VR Chaudhari called it a momentous day, marking the beginning of a new era in military aircraft manufacturing in India.
Jean-Brice Dumont, Airbus's Head of Military Air Systems, noted the contract with India as the largest order in the history of the C295.
Airbus officials highlighted the transfer of manufacturing technology and plans for significant indigenization in India.
---
75th anniversary of Operation Polo
(General Studies- Paper III)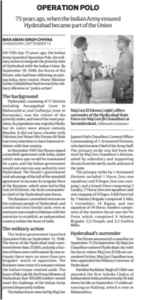 Source : The Indian Express
---
Operation Polo was a military action launched by the Indian Army on September 13, 1948, to integrate the princely state of Hyderabad into India.
This year marks the 75th anniversary of Operation Polo.
Key Highlights
The Nizam of Hyderabad, Mir Osman Ali Shah, had initially resisted joining India or Pakistan after Independence in August 1947.
Hyderabad took advantage of India's focus on the Kashmir conflict with Pakistan and signed a standstill agreement with India in November 1947, maintaining the status quo.
Reasons for Launching Operation Polo:

Hyderabad was a wealthy and populous state in the Deccan region with a majority Hindu population but ruled by Muslims.
The Nizam intended to maintain Hyderabad's independence and establish fraternal relations with Pakistan.
The Nizam's administration increased the irregular force known as Razakars, causing tensions and violence against the predominantly Hindu population.
Overtures to Pakistan and the intention to create an independent state within India led to the Indian government's decision to act and prevent secession.

Forces and Military Situation:

Hyderabad state forces numbered around 25,000, with only a fraction being well-trained.
The Razakars, although numerous, were poorly trained and posed more of a nuisance than a military threat.
The Indian Army was led by Maj Gen JayantoNath Chaudhuri, later the Chief of Army Staff.

Operation Polo Execution:

The primary strike from the west was led by Maj Gen Chaudhuri's 1 Armoured Division, with supporting thrusts from the north, south, and east.
The Western thrust included a Smash Force, Kill Force, and Vir Force, comprising various regiments.
Other thrusts were launched from the Aurangabad axis, the northern direction, the eastern advance, and the southern thrust from Vijayawada.

Surrender and End of Operation Polo:

The Nizam announced a ceasefire on September 17, 1948.
On September 18, Maj Gen Chaudhuri entered Hyderabad city with his forces, and Maj Gen El Edroos surrendered.
Maj Gen Chaudhuri was appointed the Military Governor of Hyderabad.
Havildar Bachhitar Singh of 2 Sikh was posthumously awarded the first Ashoka Chakra of Independent India for his role in Operation Polo, losing his life on September 13, 1948.
Operation Polo marked the successful integration of the princely state of Hyderabad into India and put an end to its aspirations for independence.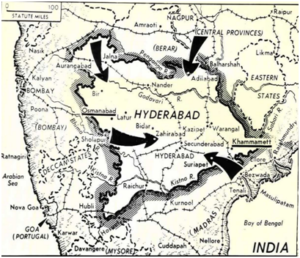 ---
2030 global renewable energy target
(General Studies- Paper III)
Source : The Hindu
---
The upcoming 28th Conference of Parties (COP28) of the United Nations Framework Convention on Climate Change (UNFCCC) in Dubai has called for a global target of tripling renewable energy capacity by 2030.
This figure and the target appears in the G-20 declaration too.
However, a closer examination of this target reveals significant challenges and inequities.
Key Highlights
Current State of Renewable Energy:

In 2021, global installed renewable energy capacity for electricity generation was 3026 GW, accounting for 39% of total capacity.
Renewable energy contributed to 28% of total electricity generation, with hydropower dominating while solar and wind accounted for 36% of renewable generation.

Tripling Renewable Energy Capacity by 2030:

Tripling renewable energy capacity implies a target of around 9000 GW, exceeding the total installed capacity from all sources in 2021.
Most of this capacity is expected from solar and wind.
This would require the generation of about 13,000 TWh of electricity from renewable sources alone, accounting for 38% of total global electricity production.

Regional Differences in Electricity Demand:

Global electricity demand varies across countries and regions.
Developing countries, like China and India, experience rapid electricity demand growth, while developed regions, like the EU and the U.S., have slower growth.
The growth rate of electricity consumption between 2010 and 2019 was high in China and India but minimal in the EU and the U.S.

Challenges in Meeting the Tripling Target:

If developed countries don't phase out fossil fuel capacity, they will need relatively smaller additions of renewable energy capacity.
Developing countries like India would need a significant share of the tripling target.
A full phase-out of fossil fuel-based capacity in developed countries would require substantial renewable energy additions.

Transparency and Equity Issues:

The origin of the COP28 global renewable energy target lacks transparency.
The target aligns with a scenario proposed by the International Renewable Energy Agency (IRENA) that mirrors inequitable outcomes.
The IRENA analysis suggests that developing regions would carry most of the burden, while developed regions continue to have substantial non-renewable capacity.

Challenges Beyond Capacity Addition:

Absolute projections of installed capacity do not consider growth in energy demand.
Meeting the target would also require matching non-renewable capacity for supply stability and viable storage options.
Developing countries may face challenges in building national grids at such high capacity levels.

Discrepancy in Domestic vs. International Targets:

Developed countries promoting the global target do not have similar absolute domestic targets.
The U.S. and the EU have relative targets and rely on market signals rather than government intervention.

Call for Equitable Commitments:

Developing countries, especially India, should consider the global renewable energy capacity target if developed countries commit to equitable and absolute targets domestically.
Developed nations should update their Nationally Determined Contributions under the Paris Agreement to reflect their responsibility.
Government's Ambitious Renewable Energy Plan
The Indian government had recently unveiled a plan to add 250 GW of renewable energy capacity in the next five years.
This initiative is part of India's goal to achieve 500 GW of clean energy capacity by 2030.
Bids for 50 GW of renewable energy capacity will be invited annually from the financial year 2023-24 until the financial year 2027-28.
The plan aligns with Prime Minister Narendra Modi's announcement at COP26 to reach 500 GW of installed electricity capacity from non-fossil fuel sources by 2030.
Current Renewable Energy Capacity:

As of February 2023, India has a total renewable energy capacity of 168.96 GW.
Approximately 82 GW is at various stages of implementation, and about 41 GW is under the tendering stage.
The existing renewable energy capacity includes 64.38 GW of solar power, 51.79 GW of hydro power, 42.02 GW of wind power, and 10.77 GW of bio power.

Bid Plan to Accelerate Capacity Expansion:

Renewable energy projects typically take 18-24 months for commissioning.
The bid plan is designed to add 250 GW of renewable energy capacity and ensure the achievement of the 500 GW installed capacity target by 2030.
The Ministry of Power is working on upgrading and expanding the transmission system capacity to accommodate 500 GW of electricity from non-fossil fuel sources.
The Ministry has also announced a quarterly plan of bids for the financial year 2023-24.
It includes bids for at least 15 GW of renewable energy capacity in each of the first two quarters and at least 10 GW in each of the last two quarters.
This plan complements capacities that may arise from schemes like Rooftop solar and PM-KUSUM.

Implementing Agencies and Bid Categories:

Currently, Solar Energy Corporation of India Ltd. (SECI), NTPC Ltd., and NHPC Ltd. are designated as Renewable Energy Implementing Agencies (REIAs).
SJVN Ltd., a government-owned enterprise, will also be designated as an REIA.
The targeted bid capacity for FY 2023-24 will be allocated among these four REIAs.
The REIAs will have the flexibility to issue bids for various renewable energy categories, including solar, wind, solar-wind hybrid, and RTC RE power, with or without storage, based on market conditions and government directions.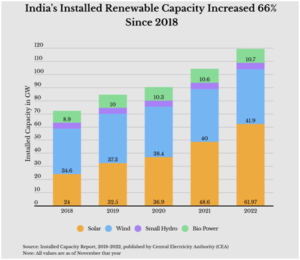 ---
Introduction of the New Post Office Bill (2023)
(General Studies- Paper II)
Source : The Hindu
---
The Indian government has introduced the Post Office Bill (2023) in the Rajya Sabha to replace the outdated Indian Post Office Act (1898).
The new bill reflects the changing role of post offices, which now serve as a platform for delivering various citizen-centric services beyond traditional mail services.
Key Highlights
Empowering the Director General of Postal Services:

The Post Office Bill (2023) grants authority to the Director General of Postal Services to create regulations related to activities required for offering government-prescribed services.
This provision enables flexibility in setting service charges, eliminating the need for parliamentary approval for revisions, which is crucial in a competitive industry.

Government's Surveillance and Security Provisions:

The new bill authorizes the central government to intercept, open, or detain postal items in the interest of national security, public order, emergency, or public safety.
This provision aims to prevent smuggling and unlawful transmission of contraband goods through postal parcels.

Comparing India Post with Courier Firms:

India Post holds less than 15% market share in the courier/express/parcels (CEP) industry.
While India Post is subject to provisions for interception and opening of postal items, no similar legislation exists for courier firms.

Digital Addressing and Geo-Spatial Coordinates:

The bill empowers the central government to establish standards for addressing, address identifiers, and the usage of post codes.
This provision paves the way for futuristic postal delivery systems, potentially using digital codes and geo-spatial coordinates for precise identification and sorting.

Eliminating Exclusive Privilege of Postal Services:

The new bill eliminates the provision that granted the central government exclusive privilege in conveying and performing related services for letters.
This provision had lost relevance with the emergence of courier services since the 1980s.
The bill removes ambiguity surrounding the definition of "letter" and "document" in the context of postal services.

Reflecting Changing Communication Habits:

Personal written communication via letters has declined in significance due to the mobile revolution.
Eliminating the provision of "exclusive privilege" acknowledges this shift in communication habits.
About Indian Post
India Post, also known as the Post Office, is a government-operated postal system in India.
It operates under the Department of Post, which is part of the Ministry of Communications in India.
The roots of India Post can be traced back to 1766 when Warren Hastings, under the East India Company, initiated the Postal Service in India.
Initially, it operated under the name "Company Mail."
In 1854, during the tenure of Lord Dalhousie, the postal system in India underwent a significant transformation.

It was modified into a service under the direct control of the British Crown.

Lord Dalhousie introduced uniform postage rates, a concept known as universal service.

This meant that postage rates were standardized across different regions of India, making postal services more accessible and affordable to the general public.

India Post Office Act 1854:

To formalize and improve the postal system, the India Post Office Act of 1854 was enacted.
This act replaced the 1837 Post Office Act and introduced several reforms.
It also created the position of Director General of Post, responsible for overseeing postal operations across the entire country.

The Department of Posts (DoP) has a legacy that spans over 150 years, making it one of the oldest postal systems in the world.
The DoP offers a diverse range of services that touch the lives of Indian citizens in multiple ways.

These services include traditional mail delivery, financial services, and retail services.
Through its vast network of post offices, the DoP promotes financial inclusion by offering Small Savings Schemes, including savings accounts and recurring deposit accounts.
The DoP also provides life insurance coverage through Postal Life Insurance (PLI) and Rural Postal Life Insurance (RPLI).
It acts as an agent for the Government of India in disbursing various benefits and payments.
This includes wage disbursement for schemes like the Mahatma Gandhi National Rural Employment Guarantee Scheme (MGNREGS) and old-age pension payments.
Apart from its core postal and financial functions, the DoP offers retail services like bill collection and the sale of forms for government exams and schemes.

This simplifies administrative processes for citizens.
---
Supreme Court joins National Judicial Data Grid
(General Studies- Paper II and III)
Source : The Hindu
---
The Chief Justice of India, D.Y. Chandrachud, announced the integration of the Supreme Court with the National Judicial Data Grid (NJDG), providing real-time access to case filing and disposal information.
Key Highlights
National Judicial Data Grid (NJDG)
The NJDG is a national repository of data that encompasses details about cases initiated, pending, and resolved in courts across India.
It serves as a comprehensive source of judicial information.
Open Data Policy

The onboarding of the Supreme Court onto the NJDG aligns with the "open data policy."
This move ensures that Supreme Court data is regularly updated on the NJDG portal, allowing easy access to data on case initiation, disposal, and pending cases.
This data is categorized by case type, year, stage, and quorum.

Benefits of NJDG Integration

Enhanced Coordination:

Integration with NJDG fosters increased coordination within the judiciary, aiding in informed decision-making.

Resource Optimization:

It facilitates the optimal allocation of resources and manpower based on real-time data insights.

Single Data Source:

NJDG integration establishes a single, authoritative source of judicial data.

Research Opportunities:

Researchers can leverage this data for high-quality research work within the legal domain.

Accessible Information

The NJDG-SCI portal will provide accessible information such as the current status of civil and criminal cases, monthly filings, case disposal statistics, and the number of cases pending before three-judge, five-judge, and nine-judge Benches.

Current Pendency Statistics

As of 2023, the Supreme Court has 64,854 registered pending cases and 15,490 unregistered cases.
Specifics include 583 three-judge Bench matters, 288 five-judge Bench cases, 21 seven-judge Bench cases, and 135 nine-judge Bench references (all civil).

Development of NJDG

The NJDG was developed by the National Informatics Centre, in collaboration with the Supreme Court Registry's in-house software development team.
It features an interactive interface and analytics dashboard.

Completion of the e-Courts Project

The integration of the Supreme Court with NJDG marks the completion of the e-courts project, encompassing all three tiers of the Indian judiciary.
The NJDG is recognized as a significant innovation under the government of India's "ease of doing business" initiative.
What is e-Courts project?
The eCourts project is a flagship initiative of the Government of India aimed at modernizing the country's judicial system through the use of information and communication technology (ICT).
Its primary objective is to enhance transparency, accessibility, and efficiency in the Indian judiciary.
Key Features:

One of the central components of the eCourts project is the digitization of case records and processes.
The project introduces eFiling facilities, allowing litigants and advocates to file cases and documents online.
The project implements Case Information Systems (CIS) in courts, enabling the recording and management of case-related data electronically.

CIS provides judges and court staff with tools for efficient case scheduling, case assignment, and case status updates.

The project offers online access to case status and case history information to litigants, lawyers, and the general public.

Anyone can check the status of a case, upcoming hearing dates, and orders issued by the court.

The eCourts project is closely linked with the National Judicial Data Grid (NJDG), a centralized repository of judicial data from all levels of the judiciary.
About National Judicial Data Grid (NJDG)
NJDG is a comprehensive database of orders, judgments, and case details from District & Subordinate Courts and High Courts in India.

The Supreme Court, now, has also joined the NJDG.

It operates as part of the eCourts Project, an initiative to modernize the judicial system.
NJDG includes data from 18,735 District & Subordinate Courts and High Courts, making it a vast online platform for legal information.
Data on judicial proceedings and decisions is updated in near real-time by connected District and Taluka courts.
NJDG has linked data related to land disputes from 26 states, enhancing its utility in tracking land-related cases.
The World Bank had recognized NJDG in its Ease of Doing Business report for 2018.
In Image: Status of pending cases in District and Taluka courts as of 14th September.
---
Does Vagus nerve dysfunction have a connection with COVID-19?
(General Studies- Paper III)
Source : The Hindu
---
There's a recent online buzz about stimulating the vagus nerve.Various methods, from yoga to cold water immersion, are suggested for its stimulation.
Recent research indicates a link between vagus nerve dysfunction and long COVID.
Key Highlights
What is the Vagus Nerve?

The vagus nerve is a pair of nerves that run from the brainstem through the neck, chest, and stomach.
It's part of the parasympathetic nervous system, responsible for relaxation, regulating heart rate, blood pressure, digestion, and the immune system.

Research Interest in the Vagus Nerve:

Researchers are intrigued by the vagus nerve due to its extensive reach, connecting brain to gut and various vital organs.
It's the 10th cranial nerve, containing 75% of the parasympathetic nervous system's nerve fibers.
Bidirectional communication between the brain and body occurs through these nerves, making them significant.

Conditions Treated with Vagus Nerve Stimulation:

Implantable vagus nerve stimulators are used for epilepsy and treatment-resistant depression.
Vagus nerve regulates inflammation, offering potential treatments for various conditions.
Ongoing studies explore vagus nerve stimulation for migraines, alcoholism, Alzheimer's, rheumatoid arthritis, and more.

Vagus Nerve and Long COVID:

Research suggests a link between vagus nerve dysfunction and post-COVID-19 conditions (long COVID).
Patients with long COVID experience vagus nerve-related symptoms like hoarseness, swallowing difficulties, dizziness, and more.
The coronavirus's impact on the vagus nerve may contribute to these symptoms.

Natural Vagus Nerve Stimulation:

Various methods can naturally stimulate the vagus nerve, including meditation, exercise, massage, music, and cold water immersion.
These techniques aim to enhance relaxation and overall well-being.

Important Considerations:

Implanted vagus nerve stimulation doesn't work for everyone and is often an additional treatment, not a primary one.
It must be done under medical supervision due to its influence on heart rate and blood pressure.
Commercial devices for vagus nerve stimulation should not be used at home without proper medical guidance.
In Image: Vagus Nerve connecting to different organs.
About the Nervous System
The nervous system is a complex network of nerves and cells that transmit signals and information throughout the body.
It is the body's communication system, allowing different parts of the body to interact and coordinate responses to internal and external stimuli.
The nervous system can be divided into two main components: the central nervous system (CNS) and the peripheral nervous system (PNS).

Central Nervous System (CNS):

This includes the brain and spinal cord.
It serves as the central processing unit, receiving, interpreting, and sending signals to and from the body.

Peripheral Nervous System (PNS):

This includes all the nerves and ganglia (clusters of nerve cell bodies) outside the CNS.
The PNS connects the CNS to the rest of the body and includes sensory and motor nerves.

The nervous system is responsible for various functions, including sensory perception, motor control, coordination, cognitive processes, and regulating bodily functions like heart rate, breathing, and digestion.
Parasympathetic Nervous System
The parasympathetic nervous system is one of the two main divisions of the autonomic nervous system, which controls involuntary bodily functions.
Its primary role is to promote a "rest and digest" response, countering the effects of the sympathetic nervous system.
Key functions of the parasympathetic nervous system include:

Slowing heart rate: It reduces the heart rate to promote a state of relaxation and conserve energy.
Stimulating digestion: It increases digestive processes, such as salivation, gastric secretion, and peristalsis, facilitating the absorption of nutrients.
Constricting pupils: It constricts the pupils of the eyes, promoting near vision and reducing sensitivity to light.
Relaxing muscles: It helps relax muscles in the gastrointestinal tract, promoting efficient digestion.
Promoting urination and defecation: It assists in eliminating waste products from the body.
Activation of the parasympathetic nervous system is often associated with a sense of calm and relaxation.

It counters the "fight or flight" response initiated by the sympathetic nervous system during stress or danger.
Sympathetic Nervous System:
The sympathetic nervous system is one of the two main divisions of the autonomic nervous system, the other being the parasympathetic nervous system.
It plays a crucial role in the body's "fight or flight" response, which is activated in situations of stress, danger, or excitement.
The sympathetic nervous system prepares the body for rapid and vigorous action to deal with perceived threats.
Key functions of the sympathetic nervous system include:

Increasing heart rate:

It accelerates the heart rate to pump more blood and oxygen to muscles and vital organs.

Dilating airways:

It opens up the airways in the lungs, allowing for increased oxygen intake.

Redirecting blood flow:

It redirects blood flow away from non-essential functions like digestion and towards the muscles and organs needed for immediate action.

Mobilizing energy:

It triggers the release of stored energy (glucose and fatty acids) for quick fuel.

Dilating pupils:

It dilates the pupils of the eyes to enhance visual perception.

Inhibiting digestion:

It reduces digestive processes, including gastric secretion and peristalsis, as these functions are not essential during a stress response.

Activation of the sympathetic nervous system results in a state of increased alertness, heightened physical readiness, and enhanced sensory perception.

It readies the body to respond to a perceived threat.

After the threat or stressor has passed, the parasympathetic nervous system typically counteracts the effects of the sympathetic system, promoting a "rest and digest" state to return the body to normal functioning.
The balance between the sympathetic and parasympathetic nervous systems is crucial for maintaining homeostasis, ensuring that the body's physiological processes are appropriately regulated in different situations.
---
Expanding Rubber Cultivation in Northeastern States
(General Studies- Paper III)
Source : The Hindu
---
The Rubber Board, in collaboration with the Central government and the Automotive Tyre Manufacturers' Association, is undertaking a project to increase the area under natural rubber cultivation in the Northeastern States of India.
Key Highlights
Currently, there are 8.5 lakh hectares of rubber cultivation in the country, with the majority (5 lakh hectares) in Kerala and Kanyakumari district in Tamil Nadu, and 1 lakh hectares in Tripura.
The project aims to bring 2 lakh hectares of land under natural rubber cultivation in the Northeastern States (excluding Sikkim but including West Bengal), with a total investment of ₹1,000 crore by tyre manufacturers.
The potential for rubber cultivation in these States is estimated to be around 4 lakh hectares, but 2 lakh hectares will be initially targeted due to challenges like landslides.
Approximately 27,000 hectares were covered in the previous fiscal year, with plans to cover about 40,000 hectares in the current year.
The project is expected to bring about socio-economic benefits, and States like Chhattisgarh have also shown interest in rubber cultivation.
About Rubber Plantation
Rubber plantation involves the cultivation of rubber trees, primarily for the extraction of natural rubber latex from the trees' bark.
Rubber trees are of the species Heveabrasiliensis, native to South America but widely cultivated in various countries with suitable climates.
Rubber latex is harvested by making incisions in the bark, allowing the latex to flow into containers. It is then processed to produce natural rubber.
Climate:

Rubber trees thrive in tropical climates with high rainfall and consistent temperatures.
They require a minimum of 1,500-2,500 mm of rainfall spread throughout the year.
However, they should also have a dry period for latex coagulation.
The ideal temperature range is 20°C to 34°C.

Soil:

Well-draining soils with good fertility are essential for rubber cultivation. Sandy loam and laterite soils are suitable.
The pH level should be slightly acidic (pH 6.0 to 6.5).

Major Rubber Plantation Areas in India

Kerala:

Kerala is one of the largest rubber-producing states in India.
The state's climate and geographical conditions are ideal for rubber cultivation.
Major rubber-producing districts in Kerala include Kottayam, Pathanamthitta, and Kollam.

Tamil Nadu:

The Kanyakumari district in Tamil Nadu is known for its rubber cultivation

Tripura:

In northeastern India, Tripura is a significant contributor to the country's rubber production.

Karnataka:

Karnataka has some areas suitable for rubber cultivation, with regions like Kodagu (Coorg) being known for rubber plantations.

West Bengal:

Certain parts of West Bengal, especially in the northern regions, have favorable conditions for rubber cultivation.
---