CURRENT AFFAIRS – 14/09/2023
CURRENT AFFAIRS – 14/09/2023
Centre, Navy stitch together plan to revive maritime heritage
(General Studies- Paper I)
Source : The Indian Express
---
A remarkable initiative led by the Indian Navy, in collaboration with the Culture Ministry and a Goan shipbuilding company, Hodi Innovations, is set to revive an ancient shipbuilding technique called the "stitched ship."
This historic project aims to construct a 21-meter vessel using traditional methods, involving ropes, cords, coconut fibers, natural resins, and oils.
The ship will embark on a voyage from Odisha, India, to Indonesia's Bali in November 2025, signifying a tribute to India's rich maritime heritage.
Key Highlights
The Stitched Ship Revival Project:

The project is a joint effort between the Indian Navy, the Culture Ministry, and Hodi Innovations, with the support of the Indian government.
It is set to cost Rs 9 crore (approximately 1.2 million USD) and is expected to take 22 months to complete.
The ship will embark on a voyage from Odisha, India, to Indonesia's Bali during the Bali Jatra festival in November 2025.

Historical Significance:

The "stitched ship" technique was prevalent in ancient India for constructing ships using wooden planks stitched together with ropes, cords, and natural materials.
This method fell out of favour around the 16th century when European powers colonized the Indian Ocean region due to its unsuitability for mounting cannons.

Ship Design:

The ship's design draws inspiration from an Ajanta painting of a stitched ship.
It will feature square sails, two masts, two trailing oars, and a flexible hull without a frame or rudder.

Reviving a Dying Art:

The traditional shipbuilding technique of stitching had largely disappeared, making it a dying art.
The project aims to preserve and celebrate this ancient maritime craft.

Construction and Materials:

Traditional shipwrights, led by expert Babu Sankaran, are undertaking the stitching work.
The ship's planks are shaped using traditional steaming methods and are connected to one another using cords and ropes.
These joints are sealed with a combination of coconut fiber, resin, and fish oil.

Cultural and Historical Significance:

The initiative aims to revive India's rich maritime tradition and heritage, acknowledging the country's history as seafarers of the world.
References to India's maritime heritage can be traced back to the Mauryan dynasty, with administrative positions like the Superintendent of Shipping demonstrating the country's historical maritime prowess.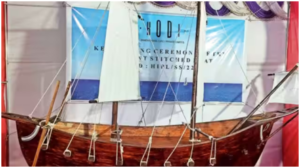 In Image: A model of the stitched ship that will sail from Odisha.
---
Singapore, US, UK top the outbound investment list
(General Studies- Paper III)
Source : The Indian Express
---
In the fiscal year 2023, Singapore was the largest beneficiary of Indian outward direct investment (ODI), receiving Rs 2.03 lakh crore ($24.48 billion), constituting 22.3% of the total ODI for the year.
Indian firms' total ODI increased by 19.46% to Rs 9.11 lakh crore ($109 billion) in FY2023 compared to Rs 7.62 lakh crore in the previous year.
Key HIghlights
Other Top Recipients:

The United States received Rs 1.24 lakh crore (13.6% share), and the United Kingdom received Rs 1.16 lakh crore (12.8% share) of Indian ODI in FY2023.
The top ten countries accounted for 85% of the total ODI.

Tax Havens:

Notably, three jurisdictions known for tax benefits, namely Bermuda, Jersey, and Cyprus, are among the top ten countries receiving Indian ODI.
Bermuda, for instance, imposes no taxes on profits, income, dividends, or capital gains.

Indian FDI Trends

US Leads in FDI:

In FY2023, the United States was the largest source of inward foreign direct investment (FDI) in India.
It brought in Rs 8.58 lakh crore ($103 billion), constituting 17.2% of the total share.

Other top FDI contributors to India included Mauritius (Rs 7.43 lakh crore), the United Kingdom (Rs 7.08 lakh crore), Singapore (Rs 6.59 lakh crore), the Netherlands (Rs 5 lakh crore), and Japan (Rs 3.98 lakh crore).

The total FDI flow in FY2023 amounted to Rs 49.93 lakh crore ($601 billion), compared to Rs 46.72 lakh crore in the previous year.
Out of the total FDI, Rs 47.75 lakh crore was by way of equity, with the remaining amount in debt.
Data Source and Scope

RBI's Annual Census:

The data is derived from the Reserve Bank of India's annual census on foreign liabilities and assets (FLA.

The manufacturing sector continued to attract the largest share of FDI equity.
Among services, information & communication and financial & insurance activities were significant recipients of FDI.

Over 97% of the responding direct investment (DI) entities were unlisted in March 2023, and they accounted for a significant portion of FDI equity capital in India.
The market value of FDI in unlisted firms exceeded that in listed companies.
Let us learn some terminologies
Foreign Direct Investment (FDI):

Foreign Direct Investment (FDI) refers to the investment made by individuals, companies, or entities from one country (the investor or source country) into businesses or assets located in another country (the host country).
FDI can take various forms, including the acquisition of shares in a foreign company, establishing new business ventures (Greenfield investments), or expanding existing operations in a foreign country.

Equity Participation:

This refers to the purchase of shares or ownership stakes in a foreign company.
It gives the investor a direct ownership interest and the ability to participate in the management and decision-making of the foreign business.

Greenfield Investment:

Greenfield investment involves establishing a completely new business operation, such as a subsidiary or branch, in a foreign country.
This can include building new factories, offices, or facilities.

Brownfield Investment:

Brownfield investment, in contrast to Greenfield, involves investing in existing businesses or assets in a foreign country.
It may include acquiring or merging with an established company.

Joint Ventures:

FDI can occur through joint ventures, where a foreign investor partners with a local company to establish a new business entity.
This allows for sharing of resources, risks, and expertise.
What is a 'tax heaven'?
A "tax haven" is a country or jurisdiction that offers favorable tax conditions and financial secrecy to individuals, businesses, and organizations seeking to minimize their tax liabilities.
Tax havens are characterized by low or zero taxation on certain types of income, minimal financial regulations, and a lack of transparency regarding financial transactions.
---
Special Session to debate Parliament's 75-year journey
(General Studies- Paper II)
Source : The Hindu
---
India's Parliament is set to hold a Special Session from September 18 to 22, with a focus on commemorating the 75-year journey of Parliament since its inception in 1946.
The session will also see discussions on key bills.
Key Highlights
Discussion on Parliament's 75-Year Journey

On the first day of the Special Session, both Houses of Parliament will engage in a discussion titled "Parliamentary Journey of 75 years starting from Samvidhan Sabha – Achievements, Experiences, Memories, and Learnings."
This discussion will commemorate the milestones and experiences of the Indian Parliament since its inception in the Constituent Assembly on December 9, 1946.

Agenda for Special Session

The agenda hints at a possible shift to the new Parliament building.
Despite being inaugurated on May 28, the new building was not used during the Monsoon Session of Parliament, with no official explanation provided.

Key bills to be discussed during the Special Session include:

The Post Office Bill, 2023, which aims to consolidate and amend the laws related to Post Offices in India.
The Chief Election Commissioner and Other Election Commissioners (Appointment, Conditions of Service, and Term of Office) Bill, intended to regulate the appointment, conditions of service, and term of office of election commissioners.
The Repealing and Amending Bill, 2023, designed to repeal certain enactments and amend others.
Additionally, the Lok Sabha will discuss The Advocates (Amendment) Bill, 2023, and the Press and Registration of Periodicals Bill, 2023.

Union Parliamentary Affairs Minister Pralhad Joshi has scheduled an all-party meeting of Parliamentary floor leaders on September 17, the day before the Special Session begins.

This meeting aims to discuss the session's proceedings and agenda.
About Parliamentary Sessions
The Indian Parliament is a bicameral legislature consisting of two houses: the Rajya Sabha (Council of States) and the Lok Sabha (House of the People).
Parliament operates in sessions, and each session serves a specific purpose in the legislative process.
The different sessions of the Indian Parliament are as follows:
Budget Session:

The Budget Session is the most important session of Parliament and usually starts in late January or early February and extends until May.
The session begins with the presentation of the Union Budget by the Finance Minister.

It includes the Annual Financial Statement (commonly known as the Budget).

During this session, discussions and debates on the budget, economic policies, and various bills take place.
The session is divided into two parts, with a recess in between, during which parliamentary committees review budget proposals.

Monsoon Session:

The Monsoon Session typically occurs from July to August.

Winter Session:

The Winter Session generally runs from November to December.

Special Session of Parliament:

A Special Session of Parliament is an extraordinary session convened outside the regular schedule of the Budget, Monsoon, and Winter Sessions.
It is called by the President of India on the advice of the government (the Prime Minister and the Cabinet).
Special Sessions are convened when there is an urgent need to address specific issues or when exceptional circumstances arise.
Rules and Procedures regarding Parliamentary Sessions
The conduct and procedural rules governing parliamentary sessions in India are primarily outlined in the Constitution of India and the Rules of Procedure and Conduct of Business in Lok Sabha (House of the People) and Rajya Sabha (Council of States).
Constitutional Provisions:

Article 85 – Sessions of Parliament:

Article 85 of the Indian Constitution deals with the sessions of Parliament.
It states that there shall be three sessions of Parliament in a year: the Budget Session, the Monsoon Session, and the Winter Session.
The President summons and prorogues these sessions.

Article 87 – Special Address by the President:

Article 87 provides for a special address by the President at the commencement of the first session after each general election to the Lok Sabha and at the commencement of the first session of each year.
His address outlines the policies and priorities of the government.

Article 88 – Rights of Ministers and Attorney General:

Article 88 allows ministers and the Attorney General to participate in and address either House of Parliament.
They have the right to speak, but they cannot vote in the proceedings of the House where they are not members.

Rules of Procedure and Conduct of Business:

Rules of Lok Sabha:

The Rules of Procedure and Conduct of Business in Lok Sabha are governed by a set of rules that outline the proceedings, conduct, and functioning of the Lok Sabha.
These rules are regularly updated and provide detailed guidelines for the functioning of the lower house of Parliament.

Rules of Rajya Sabha:

Similarly, the Rajya Sabha has its own set of rules, known as the Rules of Procedure and Conduct of Business in Rajya Sabha, which govern its proceedings, conduct, and business.
---
The complex path to biofuel sustainability
(General Studies- Paper III)
Source : The Hindu
---
In recent years, electric vehicles (EVs) have gained prominence as a means to reduce carbon emissions in the transport sector.
However, it is important to note that transitioning to EVs is not without its challenges, including the need for massive infrastructure changes and concerns related to battery production and mineral sourcing.
In this context, biofuels emerge as an alternative with advantages, such as compatibility with existing internal combustion engine (ICE) vehicles and reducing import dependence.
However, not all biofuels are sustainable, and understanding the difference is crucial for effective decarbonization.
Key Highlights
Challenges in India:

India mainly associates biofuels with first-generation (1G) ethanol, primarily sourced from food crops like sugarcane and grains.
India aims to achieve a 20% ethanol blending with petrol (E20) by 2025-26, relying mainly on 1G ethanol.
Second-generation (2G) ethanol, made from crop waste and residues, faces challenges in feedstock supply chain and scaling up.

Concerns with 1G Ethanol:

The cultivation of sugarcane for 1G ethanol has implications for groundwater depletion and food security.
India's crop yields have stagnated, and global warming is expected to reduce yields, making surplus crop production an unsustainable strategy.
The agriculture sector is a significant contributor to greenhouse gas emissions, making it counterproductive to increase emissions for fuel production while aiming to reduce emissions in the transport sector.

Sustainable Biofuels:

Sustainable biofuels are produced from crop residues and waste with low water and greenhouse gas footprints.
The formation of the Global Biofuels Alliance is expected to promote sustainable biofuels and ethanol uptake.
Sustainable biomass use should prioritize sectors with limited low-carbon alternatives, such as long-haul aviation and road freight.

Prioritizing Sustainable Biomass Use:

The Energy Transitions Commission recommends prioritizing biomass in sectors with limited low-carbon alternatives.
Long-haul aviation and road freight, where electrification might take longer, are potential beneficiaries.
Achieving net-zero emissions by 2050 globally requires a tripling of sustainable biofuel production by 2030.

Challenges in Sustainable Biofuel Production:

Achieving true sustainability in biofuel production is complex.
Balancing economies of scale with efficient biomass collection and transport over long distances is a major challenge.
The Global Biofuels Alliance can drive innovation in establishing efficient biomass supply chains and decentralized biofuel production units.
What is Bio-fuel?
Biofuel is a type of renewable energy derived from organic materials or biomass.
These organic materials can include crops, agricultural residues, wood, algae, and even municipal solid waste.
Biofuels are considered a sustainable alternative to fossil fuels because they can be produced from renewable resources and have the potential to reduce greenhouse gas emissions.
There are several types of biofuels, including:

First-Generation (1G) Biofuel:

1G biofuels are the earliest and most common type of biofuels.
They are typically produced from food crops such as corn, sugarcane, wheat, and soybeans.
The primary types of 1G biofuels are ethanol and biodiesel.
Ethanol is typically made from corn or sugarcane, while biodiesel is often produced from vegetable oils, such as soybean oil.

Second-Generation (2G) Biofuel:

2G biofuels are considered more advanced than 1G biofuels because they are produced from non-food feedstocks such as crop residues (like corn stover or rice straw), wood, and other lignocellulosic materials.
This reduces competition with food production and addresses some of the sustainability concerns associated with 1G biofuels.
Technologies like cellulosic ethanol and thermochemical processes are used to convert these feedstocks into biofuels.

Third-Generation (3G) Biofuel:

3G biofuels are even more advanced and are typically produced from algae.
Algae have a high oil content and can be cultivated in various environments, including ponds, tanks, or even wastewater treatment facilities.
Algal biofuels have the potential to yield higher energy outputs and do not compete with arable land for food production.
India's Biofuel Strategy:
In India, biofuels have gained attention as a means to reduce greenhouse gas emissions and promote energy security.
India's biofuel program primarily focuses on 1G and 2G biofuels.
1G Biofuel:

India's 1G biofuels are primarily ethanol derived from food crops like sugarcane and grains.
The government has set targets for blending ethanol with petrol (gasoline), such as achieving a 20% ethanol blending with petrol (E20) by 2025-26.
However, this approach raises concerns about food security and groundwater depletion due to sugarcane cultivation.

2G Biofuel:

Second-generation biofuels in India are produced from non-food feedstocks like crop residues and wood.
Despite their sustainability benefits, 2G biofuels face challenges related to feedstock supply chains and scaling up production.

While 3G biofuels (algae-based) are recognized globally for their potential, they are not yet a prominent part of India's biofuel strategy.
The emphasis in India has been on achieving blending targets and addressing food security and sustainability concerns associated with 1G biofuels.
Note: Instead of 2030, the Centre plans to move ahead with its ethanol blending target of 20% of petrol containing ethanol by 2025-26.
---
Protecting floodplains is the need of the hour
(General Studies- Paper I and III)
Source : The Hindu
---
Floods have been increasing in frequency and intensity, largely due to climate change.
Recent floods in Pakistan, Uttarakhand, Kashmir, Chennai, Gujarat, Himachal Pradesh, and the rising Yamuna water level highlight the severity of the issue.
Key Highlights
Vulnerability of Indian Cities:
Over 40 million hectares, nearly 12% of India's land area, is prone to floods.
Cities in India are particularly vulnerable due to haphazard expansion and little effort to maintain natural topography.
Indian cities are projected to contribute to 75% of the GDP by 2030.
Current Legal Framework:

India primarily relies on the Disaster Management Act, 2005, and related rules for flood management.
However, this law is not specifically focused on flood risk management and does not consider predictability.

Shift to Flood Risk Management:

Countries like Germany, the U.K., and the Netherlands have shifted from flood protection to flood risk management.
Flood risk management involves retaining water and restoring floodplains.
Encroachments on floodplains increase flood frequency and damage.

Encroachments on Floodplains:

Illegal construction on floodplains reduces the river's capacity to hold excess water during heavy rainfall, leading to flooding.
Uttarakhand has allowed construction of guest houses and hotels on eco-sensitive floodplains, aiming to boost tourism and the economy.
The National Green Tribunal issued a directive in 2015, barring construction within 200 m of the Ganga's banks in response to the 2013 floods.

However, there were attempts to bypass this directive.

Proper environmental impact assessments in the state are questionable.
The Uttaranchal River Valley (Development and Management) Act, 2005, was designed to regulate mining and construction in river valleys, but reports suggest rampant activities with little environmental consideration.

Climate Change and Floods:

Floods are often induced by climate change-induced rainfall, especially impacting mountainous regions like the Himalayas.
Climate change adaptation involves integrating various laws related to land use, water body preservation, coastal regulations, and environmental impact assessments into a coherent framework.

The Need for Ecosystem Preservation:

Protecting ecosystems like wetlands, forests, lakes, and coastal areas can reduce exposure to natural hazards.
Germany, after a massive flood, made changes to its Federal Water Act, emphasizing floodplain restoration and water retention.
Laws in India intended to protect the environment are often not enforced.
While there are central policies to safeguard floodplains, they lack binding force on states.
No Indian state has effectively prevented encroachments on floodplains, exacerbating flooding issues.
In Image: A map of the reduction in Yamuna floodplains boundaries in Delhi.
What is a 'flood plain'?
A floodplain is a relatively flat or gently sloping area of land adjacent to a river, stream, or other water body that is prone to periodic flooding.
Floodplains are a natural feature of many river and coastal environments and are created through the accumulation of sediment carried by water over time.
Significance and Uses of Floodplains:

Natural Water Storage:

Floodplains act as natural reservoirs, storing excess water during heavy rainfall or snowmelt.
This helps in regulating water flow and preventing or reducing downstream flooding.

Biodiversity:

Floodplains are often fertile and rich in nutrients, making them ideal habitats for a variety of plant and animal species.
These areas support diverse ecosystems and provide breeding grounds for many aquatic species.

Agriculture:

Due to their nutrient-rich soils, floodplains are historically used for agriculture.
Farmers plant crops in these areas because the periodic flooding replenishes the soil with essential nutrients.

Recreation:

Many people enjoy recreational activities in floodplain areas, such as hiking, birdwatching, fishing, and boating.
Some floodplains are developed into parks and green spaces for public enjoyment.

Natural Protection:

Floodplains act as a buffer against extreme weather events by absorbing and slowing down floodwaters.
This helps protect downstream communities and infrastructure from the full force of flooding.

Groundwater Recharge:

During periods of flooding, water can seep into the ground and recharge groundwater supplies.
This is vital for maintaining water availability in regions that rely on groundwater for drinking and irrigation.

Some key features commonly associated with a floodplain:

Meandering:

Meandering refers to the winding and curving pattern of a river or stream as it flows across the floodplain.
Meandering rivers have a sinuous path, with numerous bends and curves.

Oxbow Lake:

An oxbow lake is a U-shaped or crescent-shaped body of water that forms when a meandering river cuts off a meander loop.
The abandoned meander loop then becomes an oxbow lake, separated from the main river channel.

Levee:

A levee is an embankment or raised barrier constructed along the banks of a river or stream within a floodplain.
Levees are built to prevent floodwaters from spilling over into adjacent areas during periods of high water flow.

Point Bar:

A point bar is a deposit of sediment, typically sand and gravel, that accumulates on the inside of a meander curve within a river or stream.
As the river flows around the curve, it slows down, causing it to lose its ability to transport sediment.
This results in the deposition of sediment on the point bar.
Point bars are often characterized by gently sloping, sandy surfaces.

Backswamp:

The backswamp is an area within the floodplain located behind the natural levees.
It is a low-lying, often swampy or marshy region that retains water after a flood event.
Backswamps are essential for groundwater recharge and the overall hydrology of the floodplain.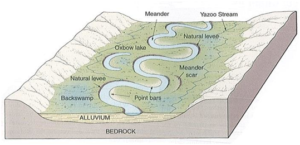 ---
Transfer of personal data under U.N. treaty will be according to native laws
(General Studies- Paper II)
Source : The Hindu
---
India has presented suggestions at the United Nations (UN) as member states negotiate a treaty to counter cybercrimes.
India's proposal states that the transfer of "personal data" under the convention should align with the country's domestic laws, not other applicable international laws.
Key Highlights
India's Digital Personal Data Protection Act:

India's Digital Personal Data Protection Act, enacted by Parliament in August, includes provisions that allow the processing of personal data in the interest of sovereignty, integrity, and security of the state.
The Act exempts firms from disclosing or sharing data in the case of lawful interception of data, but it requires them to disclose to users the identity of other firms to which their data would be entrusted for processing.

Review of U.N. Cyber Crime Convention:

The Union Home Ministry in India recently reviewed the draft of the U.N. Cyber Crime Convention to assess necessary changes in the existing systems if India signs and ratifies the convention.
The convention, under negotiation for three years, is expected to be ratified at the U.N. General Assembly in 2024.

India's Requests and Agreements:

At the sixth session of the Ad Hoc Committee on Countering the Use of Information and Communications Technologies for Criminal Purposes, India requested the deletion of a clause promoting bilateral or multilateral arrangements to facilitate the transfer of personal data.
India agreed to the another clause stating that personal data may be transferred to a third country or international organization with the prior written authorization of the original transferring state party, subject to safeguards.
The draft convention requires each state party to designate a 24/7 point of contact to provide immediate assistance for investigations, prosecutions, or judicial proceedings related to criminal offenses established in accordance with the convention.
About Digital Personal Data Protection Act
Key Highlights
Applicability of the Bill:

The Bill applies to digital personal data processing in India, whether collected online or offline and then digitized.
It also covers data processing outside India if it involves offering goods or services within India.

Consent for Personal Data Processing:

Personal data can only be processed for lawful purposes with individual consent.
However, consent may not be needed for specific legitimate uses, such as voluntary data sharing by individuals or data processing by the government for permits, licenses, benefits, or services.

Obligations of Data Fiduciaries:

Data fiduciaries (entities determining data processing purposes) must ensure data accuracy, maintain data security, and delete data once its purpose is fulfilled.

Rights of Individuals:

The Bill grants several rights to individuals, including the right to access information about data processing, the right to seek data correction and erasure, and the right to file grievances for redressal.

Exemptions for Government Agencies:

The central government has the authority to exempt government agencies from certain provisions of the Bill, particularly in cases related to national security, public order, and offense prevention.

Data Protection Board of India:

The central government will establish the Data Protection Board of India, tasked with adjudicating non-compliance with the Bill's provisions.
---
For sickle cell patients, an elusive disability certificate
(General Studies- Paper III)
Source : The Hindu
---
A plan to issue permanent disability certificates for Sickle-Cell Disease (SCD) patients above the age of 5 has been stuck in bureaucratic hurdles for nearly three years.
The issue involves coordination between three Union Ministries: the Health Ministry, the Social Justice and Empowerment Ministry, and the Tribal Affairs Ministry.
Key Highlights
Government's Campaign to Eradicate SCD:

The Union government aims to "eradicate" SCD in India by 2047.
However, current SCD patients only receive disability certificates with a three-year validity, despite the chronic and progressive nature of the disease.

Current Focus on Detection:

Health Minister Mansukh Mandaviya stated that the current focus is on "detection."
A project is underway to screen seven crore tribal people in 17 States and Union Territories for SCD.

Push for Permanent Disability Certificates:

Tribal Affairs Minister Arjun Munda has advocated for permanent disability certificates for SCD patients.
The issue was raised in 2020 when dialogue began with the Department of Empowerment of Persons with Disabilities (DEPwD) to consider permanent certificates due to the progressive nature of the disease.

DEPwD's Response:

The DEPwD initially increased the validity of disability certificates for SCD patients to three years, requiring a minimum of 25% disability.
However, Minister Munda emphasized the need for permanent certificates for SCD patients beyond the age of five.

Health Ministry's Review:

The DEPwD sent a report to the Health Ministry after consultations with stakeholders and SCD patients.
The Health Ministry's Expert Committees are reviewing the criteria and rules for disability certificates, and their report is expected in about a month.

Parliamentary Standing Committee's Recommendations:

In a report tabled in Parliament in August, the Parliamentary Standing Committee on Empowerment of Women acknowledged SCD as a "lifelong illness" with limited treatment options.
The Committee recommended issuing permanent disability certificates for SCD patients above the age of 5, or at least extending the validity of temporary certificates to five years if permanent ones are not feasible.
What is Sickle-Cell Disease?
Sickle-Cell Disease (SCD) is a genetic blood disorder characterized by the presence of abnormal hemoglobin in red blood cells.
Hemoglobin is the protein responsible for carrying oxygen from the lungs to various parts of the body.
In SCD, the genetic mutation leads to the production of an abnormal form of hemoglobin known as hemoglobin S (HbS).
Abnormal Red Blood Cells:

Red blood cells containing HbS become stiff and assume a sickle or crescent shape instead of their normal round shape.
This change in shape makes them less flexible and more prone to getting stuck in blood vessels.

Chronic Anemia:

The altered red blood cells are fragile and easily break apart, leading to a shortage of red blood cells in the body, a condition known as anemia. Anemia can cause fatigue, weakness, and paleness.

Painful Crises:

SCD patients experience episodes of severe pain, known as "crises," which can occur unpredictably.

Organ Damage:

Over time, the repeated blockages and reduced oxygen supply can lead to damage to various organs, including the spleen, kidneys, liver, lungs, and bones.
The disease is more common in certain populations, particularly those of African, Mediterranean, Middle Eastern, and Indian descent.
Treatment for SCD focuses on managing symptoms, preventing complications, and improving overall quality of life.
---