CURRENT AFFAIRS – 09/09/2023
CURRENT AFFAIRS – 09/09/2023
Centre to Regulate Dark Patterns on the Internet
(General Studies- Paper III)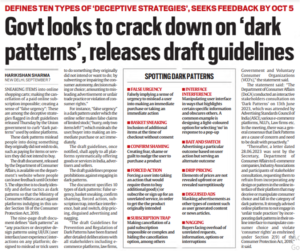 Source : The Indian Express
---
The Indian government is seeking public feedback on draft guidelines aimed at preventing and regulating "dark patterns" on the internet, particularly within e-commerce platforms.
These guidelines are designed to address deceptive design practices that mislead or manipulate users into taking actions they did not originally intend to do.
The public has the opportunity to provide comments on these guidelines until October 5, and they are available on the Union Consumer Affairs Ministry's website.
Key Highlights
What are Dark Patterns?

The draft guidelines define dark patterns as deceptive design patterns or practices that utilize user interface or user experience interactions on any platform.
These patterns are intended to mislead or trick users into actions they did not originally intend or want to perform.
Such practices undermine consumer autonomy, decision-making, or choice and can be seen as misleading advertising or unfair trade practices that violate consumer rights.

Types of Dark Patterns:The Ministry has identified several types of dark patterns within the guidelines, including:

False Urgency:

This involves falsely creating a sense of urgency to push users into immediate actions.

Basket Sneaking:

It refers to adding additional items to a user's shopping cart during the checkout process without their explicit consent.

Confirm Shaming:

Using phrases, videos, audio, or other means to create fear, shame, ridicule, or guilt in the user's mind.

Forced Action:

Forcing users to take actions that necessitate buying additional goods.

Subscription Trap:

Making it difficult or complex for users to cancel a paid subscription.

Interface Interference:

Manipulating the user interface to guide users into specific actions.

Bait and Switch:

Advertising a particular outcome based on the user's action but delivering something different.

Drip Pricing:

Not revealing elements of prices upfront.

Disguised Advertisement:

Incorporating advertisements in ways that are not easily discernible to users.

Nagging:

Continuously prompting or urging users to perform specific actions.

Applicability of Guidelines:

The guidelines are intended to apply to all individuals and online platforms, including sellers and advertisers.

Challenges in Enforcement:

While the introduction of these guidelines has been commended, the enforcement of such regulations may pose challenges.
For instance, proving that certain practices qualify as dark patterns, especially those related to false urgency, can be tricky.
The determination of whether a claim like "only 2 rooms remaining – book now!" by a hotel or platform is genuine or misleading may require context and scrutiny.
---
Central Empowered Committee's Role Shifts: Now Reports to Environment Ministry
(General Studies- Paper II and III)
Source : The Indian Express
---
The Central Empowered Committee (CEC), established by the Supreme Court in 2002 to address non-compliance with court orders related to environmental conservation, will undergo significant changes in its reporting structure and function.
The Environment Ministry will now have control over the CEC, including the nomination of its members and final decision-making regarding its recommendations.
This shift marks a departure from the CEC's previous independence and reporting directly to the Supreme Court.
Key Highlights
Historical Significance of CEC:

Over the past two decades, the CEC has played a crucial role in addressing various environmental issues, with its reports shaping environmental policy discussions.
It has worked on matters such as compensatory afforestation, net present value of forests, mining in Kudremukh, protection of Aravali forests, and Bellary mining.
The CEC has also taken action against officials for non-compliance with court orders, leading to legal consequences.

Recent Developments:

Several recent developments have contributed to the change in the CEC's role:

March Report on Patnitop:

The CEC filed a report opposing the reconstruction of a convention center in Patnitop, Jammu and Kashmir, despite the Supreme Court's permission.
The Supreme Court did not appreciate this action and sought new, younger members to replace aging CEC members.
Government's Draft Notification:

In May, Solicitor General Tushar Mehta announced the government's intention to establish the CEC as a permanent statutory body, subject to the Supreme Court's approval.

The Supreme Court granted permission to the Ministry of Environment to establish the CEC as a permanent body, stating that it would benefit all stakeholders.

On September 5, the Ministry of Environment issued a notification outlining the changes to the CEC's structure and functions.
Key Changes in the CEC's Role:The notification introduces significant alterations to the CEC's operations:

Reporting to the Ministry:

Instead of reporting to the Supreme Court, the CEC will now report to the Ministry of Environment.

Member Selection:

The Ministry will have the authority to select all CEC members, with no involvement from the Supreme Court.

Funding:

The Ministry, not the court, will provide funding for the CEC's activities.

Elimination of NGOs:

The provision allowing two non-governmental organizations (NGOs) to participate in the CEC has been removed, permitting the inclusion of any deemed "expert" as a member.

Administrative Control:

The notification specifies that the CEC will operate under the administrative control of the Central Government in the Ministry of Environment.

Final Decision-Making:

If the government disagrees with any of the CEC's suggestions or recommendations, it must provide written reasons for its decision, and the government's decision will be considered final.

Reactions to the Changes:

Conservationists and experts have expressed concerns about the CEC's new reporting structure and its implications.
Some view it as a significant shift that diminishes the committee's independence and reduces its influence over environmental decision-making.
Critics argue that this change weakens the role of the Supreme Court in environmental matters and raises questions about the effectiveness of environmental conservation efforts in India.
About Central Empowered Committee (CEC)
The CEC was established in the year 2002 by the Supreme Court of India.
It was created as a response to the need for an independent body to oversee and facilitate environmental protection efforts in the country.
The primary mandate of the CEC is to investigate and report on issues related to environmental conservation and the implementation of environmental laws and regulations.
It plays a crucial role in evaluating and ensuring compliance with court orders and directions in environmental cases.
Functions: The CEC carries out various functions, including:

Reviewing cases of non-compliance with environmental laws and court orders.
Conducting site visits and investigations to assess the environmental impact of specific projects or activities.
Preparing reports and recommendations for the Supreme Court on matters related to environmental conservation.
Recommending actions to address environmental violations and promote sustainable environmental practices.
Advising the Supreme Court on complex environmental issues and policy matters.
---
Indore Tops Swachh Vayu Sarvekshan 2023 Awards for Clean Air
(General Studies- Paper III)
Source : The Indian Express
---
Union Environment, Forest, and Climate Change Minister Bhupender Yadav announced the Swachh Vayu Sarvekshan 2023 (clean air survey) awards.
Indore in Madhya Pradesh secured the top rank in the category of million-plus population cities.
The survey, conducted for the second year, is part of the National Clean Air Programme and is based on self-assessments submitted by 130 identified cities.
Key Highlights
Awards in Three Categories:

The awards are categorized into three groups based on population size, according to the 2011 census:

Million-Plus Cities:

Indore secured the top rank in this category, followed by Agra (Uttar Pradesh) and Thane (Maharashtra).

Cities with Population between Three and Ten Lakh:

Amravati (Maharashtra) claimed the first position in this category, with Moradabad (Uttar Pradesh) and Guntur (Andhra Pradesh) following suit.

Cities with Population under Three Lakh:

Parwanoo and Kala Amb in Himachal Pradesh clinched the first two positions, with Angul in Odisha securing the third place.

Assessment Criteria:The assessment of cities was based on various criteria related to air quality and environmental factors, including:

Control of biomass and municipal solid waste burning.
Management of road dust.
Management of dust from construction and demolition waste.
Monitoring and regulation of vehicular emissions.
Control of industrial emissions.
Public awareness initiatives.
Improvement in PM10 (particulate matter) concentration.

Changes in Rankings:

Notably, cities in Uttar Pradesh had dominated the top positions among million-plus cities in the previous year (2022).
However, all three top-ranking cities in the million-plus category—Lucknow, Prayagraj, and Varanasi—saw a decline in their rankings this year.

Methodology:

The assessment process involved the submission of self-assessment reports and supporting documents by urban local bodies.
These reports were then vetted by respective Air Quality Monitoring Committees, chaired by the Principal Secretary of Environment.
Further evaluation and ranking were conducted by the Central Pollution Control Board (CPCB).
About Central Pollution Control Board (CPCB)
The Central Pollution Control Board (CPCB) is a statutory organization in India that plays a pivotal role in controlling and preventing environmental pollution.
It was established under the provisions of the Water (Prevention and Control of Pollution) Act, 1974.
Further, CPCB was entrusted with the powers and functions under the Air (Prevention and Control of Pollution) Act, 1981.
The CPCB operates under the Ministry of Environment, Forest, and Climate Change (MoEFCC) and is responsible for monitoring and regulating pollution in various forms, including air and water pollution.

Mandate:

The primary mandate of the CPCB is to promote and enforce pollution control and prevention measures.
Functions:

Monitoring:

The CPCB is responsible for monitoring air and water quality across India.

It collects data on pollutant levels and assesses environmental trends.

Regulation:

It sets and enforces national standards for air and water quality, emission limits for industries, and wastewater discharge standards.
Environmental Impact Assessment (EIA):

The board reviews EIA reports for industrial and development projects to assess their potential environmental impacts.

Air Quality Index (AQI):

The CPCB plays a key role in the development and dissemination of the Air Quality Index (AQI) in India.
The AQI provides information about air quality to the public and helps in making informed decisions to protect health.
---
India Unveils World's Tallest Nataraja Statue in Delhi: A Symbol of Artistry and Spirituality
(General Studies- Paper I)
Source : The Indian Express
---
In New Delhi's Pragati Maidan, a grand 27-foot Nataraja statue, representing Lord Shiva in his dancing form, has been unveiled as part of the G20 event.
Crafted from an eight-metal alloy known as ashtadhatu, this magnificent statue is a testament to India's rich artistic heritage.
It was created by skilled sculptors from Swamimalai in Tamil Nadu and symbolizes the convergence of artistry, history, and spirituality.
In Image: The 27-feet-tall 'Nataraja' statue made of 'Ashtadhatu' is installed at the Bharat Mandapam where the G20 summit will be held on Sept. 9 and 10, 2023.
Key Highlights
The Craftsmanship:

Artistry of Swamimalai:

The statue was meticulously crafted by sculptors from Swamimalai, a renowned hub for traditional bronze casting in Tamil Nadu.
It weighs approximately 18 tonnes and required a 36-wheel trailer to transport it across the country.

Inspiration from Temples:

The design of the Nataraja statue draws inspiration from three revered Nataraja idols located in temples originally constructed by the Cholas.
These temples include the Thillai Nataraja Temple in Chidambaram, the Uma Maheswarar Temple in Konerirajapuram, and the iconic Brihadeeswara Temple in Thanjavur, a UNESCO World Heritage Site.

The Cholas and Nataraja:

Chola Dynasty:

The Chola dynasty, which flourished from the 9th to the 11th centuries AD, was a patron of art and culture in South India.
They were known for their prosperous empire and significant territorial expansion.

Chola Art and Architecture:

Chola rulers were devout Shaivites and constructed elaborate Shiva temples throughout their dominions.
These temples are celebrated for their architectural and artistic grandeur.

Nataraja Sculpture:

While Shiva's dancing form as Nataraja has ancient origins dating back to the 5th century AD, it evolved and gained prominence under the Cholas.
The bronze sculpture of Nataraja became a hallmark of Chola art, representing the god's cosmic dance.

Shiva as the Lord of Dance:

Complex Nature of Shiva:

Shiva, the deity worshipped as Nataraja, is a multifaceted god in Hinduism.
He embodies both creation and destruction, asceticism, and protection.

Symbolism of Nataraja:

The Nataraja sculpture is surrounded by a flaming aureole, symbolizing the circle of the world that Shiva both encompasses and transcends.
His dynamic dance signifies the rhythmic motion of the universe.
While Nataraja's dance is powerful and destructive, it also conveys reassurance and protection.
His raised foot symbolically crushes illusion, leading humanity astray, and his gestures include the 'abhayamudra,' a gesture that allays fear.
Nataraja is often depicted with a serene and benevolent smile that transcends life and death, joy and sorrow, signifying the eternal balance in the universe.

The Lost Wax Method:

Traditional Craftsmanship: The 27-foot Nataraja statue was created using the traditional "lost-wax" casting method, a technique passed down through generations of artisans.
Ancient Origins:

The lost-wax method dates back thousands of years, with archaeological evidence of its use in ancient civilizations, including the Indus Valley Civilization.
The iconic Dancing Girl of MohenjoDaro was crafted using this technique.

Process:
The process involves creating a detailed wax model, covering it with alluvial soil paste, burning away the wax to leave a hollow mold, and then filling the mold with molten metal to create the final sculpture.
In Image: A Chola period bronze Nataraja sculpture.
---
Scientists Create Human Embryo Model in Lab without Egg or Sperm
(General Studies- Paper III)
Source : The Indian Express
---
Scientists have achieved a significant milestone by successfully creating a "human embryo" model in a laboratory setting without the use of eggs or sperm.
This breakthrough involves a mixture of stem cells that spontaneously organize into an embryo-like structure, replicating molecular characteristics of an early human embryo.
Key Highlights
Creating the Embryo Model:

This accomplishment is considered one of the most complete models of a 14-day-old human embryo, showcasing advancements in the field of embryology.
Several research teams have been working on developing similar embryo-like models, with approximately six such models published in the current year.
Researchers in Israel utilized a combination of stem cells and specific chemicals.
A portion of this mixture spontaneously assembled into various cell types essential for the formation of a fetus, including those providing nutrients, cells contributing to body development plans, and cells creating structures such as the placenta and umbilical cord.

Efficiency Challenge:

One challenge faced during this process was that only 1% of the mixture assembled spontaneously, indicating the need for increased efficiency in future experiments.

Significance of Embryo Models and Research:

Ethical Limitations:

Ethical constraints prevent scientists from ethically studying the early stages of embryo development after implantation in the uterus.
As a result, researchers rely on laboratory models or donated embryos for studying these initial changes.

Reducing Miscarriages and Birth Defects:

Research on early embryo development is vital because the majority of miscarriages and birth defects occur during the initial days of embryo development.
Studying these stages can enhance understanding of genetic and inherited diseases.

Improving In Vitro Fertilization (IVF):

Insights gained from studying early embryo development can potentially improve the success rates of in vitro fertilization (IVF).
This will help in understanding why some embryos develop normally and implant successfully while others do not.

Limitations and Ethical Considerations:

Research Scope:

These lab-grown embryo models are solely intended for studying the early stages of fetal development and cannot be used for pregnancy.

14-Day Limit:

Globally accepted ethical guidelines impose a 14-day limit on embryo research.
Embryos created for research are typically destroyed after this period, and any attempt at implantation is prohibited.

Definition of Individual:

The 14-day limit is based on the point at which embryos naturally complete implantation and when cells begin to differentiate into an "individual."
Beyond this point, cells cannot divide into twins, signifying a crucial developmental milestone.

Scientific Insights from Models:

Understanding DNA Errors:

Embryo models have contributed to understanding the origins of DNA replication errors, particularly why errors occur during the duplication of DNA, leading to imbalances in chromosome distribution.

Gene Function Exploration:

Researchers can manipulate genes in these models to study their roles in development, allowing for a deeper understanding of the functions of specific genes during embryonic development.
What is an Embryo?
An embryo is the earliest stage of development in multicellular organisms, including humans.
It is the phase following fertilization, during which a single-cell zygote (formed by the fusion of a sperm cell and an egg cell) undergoes a series of cell divisions and differentiations to develop into a more complex organism.
In humans, the term "embryo" is typically used to describe the developing organism from the moment of fertilization until the end of the eighth week of pregnancy.

After this point, it is referred to as a "fetus" until birth.
The study of embryos and their development is known as embryology and is a fundamental field in biology and medicine.
What is In Vitro Fertilization (IVF)?
In Vitro Fertilization (IVF) is a medical procedure used to help individuals or couples with fertility problems conceive a child.
IVF involves the fertilization of an egg and a sperm outside the body, in a laboratory setting, and the resulting embryo is then implanted into the uterus.
IVF may require multiple cycles to achieve a successful pregnancy, and the chances of success can vary based on factors such as age, the underlying cause of infertility, and the quality of embryos.
---
20th ASEAN-India summit in Jakarta
(General Studies- Paper II)
Source : The Indian Express
---
Prime Minister of India recently attended the India-ASEAN summit held in Jakarta, Indonesia.
India and ASEAN members have announced their commitment to enhance cooperation in the maritime domain, aiming to bolster maritime safety, security, and sustainable development in the region.
This joint effort signifies a shared commitment to addressing various challenges and opportunities in the maritime sphere.
Key Highlights
Enhanced Information Sharing and Capacity Building:

Both sides have agreed to enhance information-sharing and capacity-building in the maritime domain.
Specialized agencies in the region will play a crucial role in strengthening cooperation.
Key areas of cooperation include maritime safety and security through confidence-building measures.
Sharing best practices in emergency response, Humanitarian Assistance and Disaster Relief (HADR), Search and Rescue (SAR) operations, and early warning systems.
Collaboration in countering piracy, armed robbery against ships, trafficking in persons, smuggling of arms and drugs, and combating illegal, unreported, and unregulated (IUU) fishing.

Promotion of Blue Economy:

Both sides aim to promote cooperation in the Blue Economy, focusing on sustainable development of marine resources, marine biodiversity conservation, climate change mitigation, and marine pollution control.
Efforts to promote green and efficient maritime transport, marine-based renewable energy, and sustainable use of oceans and marine resources.

Seamless Connectivity in the Indo-Pacific:

Collaboration for quality, sustainable, and resilient infrastructure in the Indo-Pacific region.
Involvement of the private sector, tourism industry, MSMEs, coastal communities, financial institutions, youth, scientific community, and academia in promoting the Blue Economy.
Development of maritime infrastructure, particularly in fisheries and shipbuilding sectors.
---
India's Hosting of the G20 Summit: A Perspective
(General Studies- Paper II)
Source : The Indian Express
---
The G20 Summit in New Delhi is set to bring together global leaders to address pressing global challenges.
This event holds special significance for India, given its unique dynamics and the presence of all permanent members of the United Nations Security Council(P-5 countries).
Key Highlights
Here are five key aspects to keep an eye on during the summit.
Building Consensus in a Polarized World:

The Russia-Ukraine conflict has polarized the G20, making it challenging to craft a consensus document.
Differing stances between the G7 and Russia-China bloc on Russia's actions require delicate negotiation.
Indonesia successfully brokered a compromise at the previous G20 Summit, and India seeks to achieve a consensus, although it may be a last-minute effort.

G20's Nationwide Reach:

India's approach to hosting the G20 has been distinctive, taking meetings and priorities to every corner of the country, including smaller cities.
Critics have seen this as a political campaign, but it has raised awareness of India's Presidency across cities and even Tier-2 towns.
The long-term impact may involve foreign policy and diplomacy becoming significant talking points in Indian elections.

Deliverables for the Present and Future:

India is exploring ambitious proposals across various sectors, such as digital public infrastructure, gender, climate change, and technology.
Sherpas must develop concrete outcomes for the leaders' declaration and ensure that these deliverables can be implemented by future presidencies, with Brazil and South Africa next in line.

Voice of the Global South, Especially Africa:

India has assumed the role of representing the developing and underdeveloped world during its G20 Presidency.
The economic shocks from the COVID-19 pandemic and the Russia-Ukraine conflict have raised issues like food security and rising fuel and fertilizer prices, disproportionately affecting developing nations.
India organized the Voice of the Global South Summit, attended by around 120 countries, to convey the concerns of these nations to the G20.
India advocates expanding the G20 by including the African Union, strengthening its claim to permanent membership in the UN Security Council.

The Challenge Posed by China:

China's absence at the Summit, likely due to strained India-China relations over border issues, highlights bilateral challenges affecting multilateral summits.
Despite previous cooperation in various international forums, the India-China relationship has faced difficulties.
There is a risk that bilateral tensions may negatively impact multilateral forums, akin to the collapse of SAARC.
Premier Li faces the formidable task of bridging gaps and rebuilding trust in the absence of President Xi.
About United Nations Security Council (UNSC)
The United Nations Security Council (UNSC) is one of the six principal organs of the United Nations (UN) and holds a central role in maintaining international peace and security.
It was established after the end of World War II with the primary goal of preventing conflicts and addressing threats to global peace.
The UNSC is outlined in the UN Charter, and its powers and functions are detailed in Chapters VI and VII of the Charter.
Composition:

The UNSC consists of 15 member states, of which five are permanent members (P5), also known as the "Great Powers."
These five countries hold veto power, allowing them to block any substantive resolution.
The P5 members are the United States, Russia (formerly the Soviet Union), China (the People's Republic of China), the United Kingdom, and France.
The remaining ten seats are occupied by non-permanent members, elected by the UN General Assembly for two-year terms.

Responsibilities and Functions:

The primary responsibility of the UNSC is the maintenance of international peace and security.
To fulfill this role, it can take various actions, including the use of sanctions, peacekeeping missions, and even military force.

The UNSC has the authority to investigate and mediate in international conflicts, impose sanctions on countries or entities involved in disputes, and authorize the deployment of peacekeeping forces to conflict zones.
It can also recommend the suspension or expulsion of UN member states that violate the UN Charter.
Decision-Making Process:

Resolutions passed by the UNSC require the affirmative votes of at least nine out of the 15 members, including the concurring votes of all five permanent members (P5).
The veto power held by the P5 allows any one of them to block the adoption of a resolution, even if it receives the support of all other members.

Role in Conflict Resolution:

The UNSC plays a pivotal role in resolving conflicts and crises around the world.
It can issue ceasefires, negotiate peace agreements, and establish peacekeeping missions to monitor and enforce peace agreements.
The council has been involved in addressing numerous international crises, including those in Kosovo, Libya, Iraq, Syria, and Sudan, among others.

Reform and Criticisms:

The composition of the UNSC has been a subject of criticism and debate.
Many countries advocate for its reform to reflect the changed global geopolitical landscape, including expanding the number of permanent members.
Critics argue that the veto power held by the P5 can lead to paralysis and inaction in the face of global crises.
---
Change the playbook, repatriate Indian children
(General Studies- Paper II)
Source : The Hindu
---
Several expatriate Indian mothers have faced the traumatic experience of being separated from their children by the host states, leading to a gross violation of human rights.
This situation adversely affects not only the mothers but also the well-being of the children and their families.
These cases often involve accusations of child abuse, which leads to child services authorities taking custody of the children.
The mothers' pleas to repatriate the children to India are often ignored by the host states.
Key Highlights
Tragic Consequences in Australia

One heartbreaking case involves PriyadarshiniPatil, an Indian mother of two living in Australia.
Her children were taken away by Australian child services authorities, and her desperate appeals to have them returned to India were unanswered.
This distressing situation led Patil to tragically take her own life.
The child protection authorities in Australia were alerted by doctors after Patil had filed a complaint of mistreatment when her elder child was admitted to a hospital for treatment.

Separated Family in Germany

Another case in Germany involves Dhara Shah, along with her software engineer husband, who have been separated from their 2.5-year-old baby girl.
The child was placed in permanent foster care by Germany's child welfare agency in 2021, following allegations that the parents had injured the child.
Despite evidence to the contrary, including expert medical reports, the parents and the doctors accusing them were not cross-examined.
The police investigation was also closed without charges, and a psychological expert recommended supervised placement of the child with her parents.
However, the court disregarded these findings.
The Indian government has intervened, requesting the return of the child to Indian child protection authorities, but Germany has yet to comply.

Common Patterns in These Cases

These cases, occurring across different countries, share common patterns.
Expatriate families move to high-income countries for work, and accusations of child abuse arise when children struggle to adapt to the new environment or require medical treatment.
The ensuing legal trials are often one-sided, with biased assessments by culturally prejudiced social workers.
Parental custody is terminated, and the children are placed in foster care, typically with local caregivers who lack cultural ties to the child's origins.
This separation results in the children losing their identity and connection to both their host country and their country of origin.

The Need for a Change in Approach

It is argued that repatriation to the home country, when it is safe to do so, is a more humane and compassionate solution for these children.
Placing them in the custody of a foreign state is seen as a less favourable alternative.
In many cases, these children have grown up well-adjusted and happy after returning to their home country.

A Call for Compassion and Cultural Sensitivity

There is a need for foreign nations to abandon their sanctimonious views and conduct a sincere inquiry into claims of cultural prejudice and unfair trials in their child protection systems.
Regardless of parental behaviour, the fate of these children should be considered with a broader perspective that takes into account the cultural sensitivities and the importance of maintaining family bonds.
Decisions should be made based on what is in the best interest of the child, which often means returning them to their home country where they can live with extended family and grow up in a familiar culture.
Note: An expatriate, often referred to as an "expat," is an individual who is living in a country other than their native or home country. Expatriates typically move abroad for various reasons, such as employment, education, retirement, or personal pursuits.
---
Japan Moon Mission takes off
(General Studies- Paper III)
Source : The Indian Express
---
Japan's Moon-lander mission, named SLIM (Smart Lander for Investigating Moon), has launched successfully after several weather-related delays.
If SLIM successfully lands on the Moon, it would make Japan the fifth country in the world to achieve this feat.
SLIM, notable for its small size and unique landing approach, is expected to provide valuable insights into lunar exploration and technology.
Key Highlights
Delayed Launch and Mission Overview

The SLIM mission had faced delays due to adverse weather conditions but finally launched.
SLIM's goal is to land on the Moon, making Japan one of the few countries to achieve this milestone.
The spacecraft will take an unconventional route to reach the Moon, with a planned landing timeframe of four to six months.

Dual Payload Launch

The H-IIA rocket carrying SLIM also had another payload onboard, the X-Ray Imaging and Spectroscopy Mission (XRISM), intended for astronomical observations.
XRISM was successfully deployed in its intended orbit, where it will perform high-resolution X-ray spectroscopic observations.

SLIM's Objectives

SLIM is a small spacecraft, weighing approximately 200 kg, with a primary objective to demonstrate precision landing within 100 meters of the chosen lunar site.
This mission aims to showcase the capability to land precisely where desired on the Moon, rather than merely at easily accessible locations.

Chosen Landing Site

SLIM's landing site is located near a small crater named Shioli in the Moon's equatorial region.
The terrain around this site is sloped at approximately 15 degrees, making the landing method crucial.
SLIM employs a "two-step landing method" to safely land on such slopes.
In this approach, the main landing gear first touches the ground and then rotates forward for stabilization, a technique shown to be effective through simulations.
---