CURRENT AFFAIRS – 08/09/2023
CURRENT AFFAIRS – 08/09/2023
Kim Jong Un's Possible Visit to Russia
(General Studies- Paper II)
Source : The Indian Express
---
There are reports suggesting that North Korean leader Kim Jong Un may travel to Russia for a summit with President Vladimir Putin.
Such a visit would signify increasing cooperation between the two leaders as they face separate confrontations with the United States.
Kim and Putin previously met in April 2019, and this potential summit would be Kim's first meeting with a foreign leader since North Korea closed its borders in January 2020.
Key Highlights
Russian Interest in North Korean Ammunition:

Russia is reportedly seeking to purchase ammunition from North Korea to replenish reserves depleted during its war in Ukraine.
In exchange for ammunition, North Korea is likely to request food and energy shipments and transfers of advanced weapons technologies.

Possible Violation of UN Resolutions:

The purchase of munitions from North Korea by Russia would violate UN resolutions that prohibit all arms trade with North Korea.
Russia, facing international sanctions and export controls due to its involvement in Ukraine, has been seeking weapons from sanctioned countries like North Korea and Iran.

What Kim Jong Un May Seek:

Kim's priorities in this potential deal would likely include aid shipments, prestige, and military technology.
North Korea has faced economic difficulties due to pandemic-related border closures and may seek supplies of food and energy.
Expanding relations with Moscow would also be valuable for North Korea's domestic agendas and international standing.

Military Cooperation and Exercises:

Russian Defense Minister Sergei Shoigu has proposed potential military exercises with North Korea, including the possibility of a trilateral training exercise involving China.
If realized, this would be North Korea's first joint military drill with a foreign country since the Korean War.
However, it remains uncertain whether North Korea would accept such an offer, as it could increase its dependence on China and Russia.

Outcomes and Significance:

The outcome of Kim Jong Un's diplomacy with Russia is uncertain, but it could serve as a display of defiance toward the United States.
Both North Korea and Russia have practical and symbolic reasons for increasing cooperation and showing a united front.

This development will be closely watched by the international community, particularly the United States and South Korea, due to its potential implications for regional stability and security.
About the Korean Peninsula
The Korean Peninsula is a prominent landmass located in East Asia.
It is bordered by the Yellow Sea to the west, the Sea of Japan (East Sea) to the east, the Korea Strait to the south, and the northeastern part of China to the northwest.
Geography:

The peninsula is characterized by mountainous terrain.
The Taebaek Mountains run along the eastern side of the peninsula, while the shorter and less rugged Baekdudaegan Mountains run along the central and western parts.
Several rivers flow across the peninsula, with the most significant being the Yalu and Tumen Rivers.
The Korean Peninsula experiences four distinct seasons with a temperate climate.

Summers are warm and humid, while winters are cold, with some areas receiving heavy snowfall.

Political History:

In the early 20th century, Japan occupied Korea, which lasted from 1910 to 1945.
After World War II, the Korean Peninsula was divided along the 38th parallel into North and South Korea, with the North under Soviet influence and the South under U.S. influence.
The Korean War (1950-1953) resulted in a stalemate and an armistice agreement, but no formal peace treaty was signed, leaving the two Koreas technically at war.
Since the Korean War, North and South Korea have developed separately as distinct political entities with their own governments, economies, and ideologies.
South Korea has evolved into a democratic and economically prosperous nation, while North Korea remains a highly centralized, authoritarian regime.
---
Large rainfall deficit in August
(General Studies- Paper III)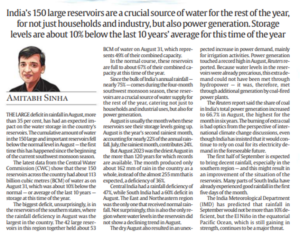 Source : The Indian Express
---
India experienced a significant deficit in rainfall during the month of August, with a shortfall of more than 35%.
This deficient rainfall had an expected impact on the water storage in the country's reservoirs.
The cumulative water storage in the 150 large and important reservoirs across India fell below the normal level in August, marking the first time this has occurred during the current southwest monsoon season.
Key Highlights
Water Storage Levels in Reservoirs:

Data from the Central Water Commission (CWC) revealed that as of August 31, these 150 reservoirs had approximately 113 billion cubic meters (BCM) of water.

This is around 10% below the normal storage for this time of the year, based on the average of the last 10 years.

The most significant deficit was observed in the reservoirs of southern states, where August witnessed the largest rainfall deficiency in the country.
Importance of Reservoirs:

Reservoirs are crucial sources of water supply for India, catering to households, industrial uses, and power generation.
These reservoirs typically see an increase in storage levels during August, which is the second rainiest month of the year, contributing nearly 22% of the annual rainfall.
However, August 2023 was the driest August in over 120 years, with a rainfall deficiency of 36%.

Impact on Power Generation and Coal Usage:

The dry August led to an unexpected surge in power demand, primarily for irrigation purposes.
To meet this demand, additional power generation from coal-fired power plants was required, resulting in an increase in coal's share in India's total power generation to 66.7%, the highest in six years.
This rise in coal usage raises concerns in the context of international climate change discussions, although India has maintained its reliance on coal for electricity.

Future Outlook and Concerns:

The first half of September is expected to bring decent rainfall, especially in the southern region, which may improve the situation of the reservoirs.
The India Meteorological Department (IMD) predicts that September's rainfall will not be more than 10% deficient.
However, the strengthening El Niño in the equatorial Pacific Ocean remains a significant threat, potentially affecting future rainfall patterns in the region.
About the Central Water Commission (CWC)
The Central Water Commission (CWC) is a central government agency in India responsible for the planning, coordination, and management of water resources in the country.
It operates under the Ministry of Jal Shakti (formerly the Ministry of Water Resources, River Development, and Ganga Rejuvenation).
The CWC plays a vital role in assessing, monitoring, and managing water-related activities, including rivers, reservoirs, and other water bodies across India.
The Commission was established on July 17, 1945 and is one of the oldest organizations dealing with water resources in India.
Functions and Responsibilities:

Water Resource Assessment:

The CWC conducts assessments of water resources, including river flows, groundwater levels, and reservoir capacities.

Flood Forecasting and Management:

It provides flood forecasts and warnings to help mitigate flood-related disasters and protect lives and property.

River Basin Planning:

The CWC is involved in the development of comprehensive river basin plans to ensure sustainable water resource management.

Dams and Reservoirs:

It oversees the operation and maintenance of dams and reservoirs, including large and important reservoirs.

Hydroelectric Projects:

The CWC plays a role in the planning and management of hydroelectric projects and their impact on water resources.

Water Quality Monitoring:

It monitors the quality of water in rivers, lakes, and other water bodies to assess pollution levels and develop remedial measures.
---
Recall of Digene Gel Batches
(General Studies- Paper III)
Source : The Indian Express
---
Drug manufacturer Abbott India has withdrawn all batches of the popular antacid syrup, Digene gel, that were manufactured at its Goa facility.
Customers reported that the liquid in the bottle had turned white, tasted bitter, and had a pungent smell, which is different from its usual pink color and sweetish taste.
The Central Drugs Standard Control Organisation (CDSCO) issued a public notice, stating that the impugned product may be unsafe and could lead to adverse reactions.
People are urged to discontinue the use of Digene gel from the Goa facility.
Key Highlights
Purpose of Digene:

Digene, available in both liquid and pill forms, is used to relieve acidity and its associated symptoms, including heartburn, stomach discomfort, abdominal pain, and gas.
It is prescribed for conditions such as gastritis (inflammation of the stomach lining) and acid reflux, where stomach acid flows back into the food pipe.

Doctors' Recommendations:

Doctors advise against consuming the product for which a recall has been issued and suggest switching to similar products for the time being.
Long-term use of antacids like Digene can lead to complications, including kidney and bone issues.
Consultation with a doctor is recommended for long-term use, rather than occasional use.

Safety of Antacids:

While antacids are generally safe and available over the counter, their long-term use should be avoided.
Prolonged use of antacids can lead to elevated calcium levels, resulting in a condition called milk-alkali syndrome, which includes an increase in calcium levels, elevated body pH, and kidney damage.
Antacids can also stimulate the production of more stomach acid, worsening symptoms and affecting the nervous system, potentially leading to iron deficiency.

Details of the Recall Notice:

Initially, Abbott India withdrew one batch of its product available in mint flavor and four batches in orange flavor after receiving complaints.
Subsequently, the company recalled all batches of its Digene gel sold in mint, orange, and mixed fruit flavors manufactured at its Goa facility.
CDSCO has instructed zonal and state drug controllers to monitor the movement, sale, distribution, and stock of the affected Digene gel.
Wholesalers and distributors have been asked to remove impacted products from distribution, and healthcare professionals are urged to educate patients about discontinuing the use of the recalled medicine to prevent adverse reactions.
About Central Drugs Standard Control Organisation (CDSCO)
The Central Drugs Standard Control Organisation (CDSCO) is the primary regulatory authority in India responsible for the regulation and control of pharmaceuticals and medical devices.
It operates under the Directorate General of Health Services (DGHS), which is part of the Ministry of Health and Family Welfare, Government of India.
The CDSCO plays a crucial role in ensuring the safety, efficacy, and quality of pharmaceuticals and medical devices in India.
The CDSCO was established in 1961, and it has since been the apex regulatory body for pharmaceuticals and medical devices in India.
Key Functions:

Regulatory Oversight:

The CDSCO is responsible for regulating the import, manufacture, distribution, sale, and marketing of pharmaceuticals and medical devices in India.

Drug Approvals:

It evaluates and approves applications for the marketing authorization of new drugs, including clinical trials and bioequivalence studies.

Quality Control:

The CDSCO ensures the quality of drugs and medical devices by setting and enforcing standards, specifications, and guidelines.

Clinical Trials:

It regulates and monitors clinical trials conducted in India to ensure compliance with ethical and regulatory standards.

Licensing and Registration:

The CDSCO issues licenses and registrations to pharmaceutical manufacturers, importers, and distributors.

Drug Pricing:

It plays a role in drug pricing and policy formulation to ensure affordability and accessibility of essential medicines.

Medical Devices:

In recent years, CDSCO has expanded its purview to include medical devices and is involved in their regulation and quality control.

The organization collaborates with international regulatory agencies, such as the U.S. Food and Drug Administration (FDA) and the European Medicines Agency (EMA), to ensure alignment with global standards and best practices.
---
African Union to join G-20
(General Studies- Paper II)
Source : The Hindu
---
Negotiators at a G-20 Sherpa meeting on the outskirts of Delhi have reportedly agreed to allow the African Union (AU) to join the G-20.
This will make it the third regional body in this global economic grouping.
However, it is uncertain whether the G-20 will be renamed as the "G-21" after the AU's inclusion.
Key Highlights
African Union's G-20 Membership:

Negotiators have agreed to allow the 55-member African Union (AU) to become a member of the G-20.
This decision will make the AU the third regional body in the G-20, alongside the European Union.
The possibility of renaming the G-20 as the "G-21" is still unclear.

Indian Presidency's Role:

Indian officials view the AU's inclusion as a testament to their efforts in bringing the Global South's interests and ambitions to the G-20.
They hope this move will leave a lasting impression on the G-20 summit's outcomes.

Ongoing Negotiations:

Sherpas, who represent each G-20 leader, will continue their discussions at the Delhi G-20 venue.
Negotiations will persist until an agreement on a draft declaration is reached.
Historically, no G-20 summit has concluded without a joint statement, and Indian officials aim to avoid such an outcome.

Key Negotiation Points:

The primary focus of negotiations is on resolving a "geopolitical issue" paragraph in the draft declaration.
Differences between Russia, China, and India persist regarding "Paragraph 6" of the draft, which seeks to reference United Nations General Assembly (UNGA) resolutions condemning the Russian invasion of Ukraine.
Disagreements also extend to climate financing, debt restructuring, and deadlines for phasing out fossil fuels and reducing carbon emissions.

China's Support for AU Membership:

Chinese Foreign Ministry spokesperson Mao Ning expressed China's support for the African Union's membership in the G-20.
China emphasized its commitment to supporting the AU's role in global governance and its partnership with Africa.
Russia also voiced support for the AU's G-20 membership.
About African Union
The African Union, established on July 26, 2001, in Durban, South Africa, succeeded the Organization of African Unity (OAU).
Its primary goal is to promote unity, cooperation, and integration among African countries and to address the continent's political, economic, social, and security challenges.
History:

In May 1963, leaders from 32 independent African states gathered in Addis Ababa, Ethiopia.
They convened to establish the Organization of African Unity (OAU), a continental institution, with the goal of promoting unity and cooperation among African countries.
The OAU was founded during a period when many African nations were gaining independence from colonial rule.
In July 2002, the OAU was transformed into the African Union (AU), which aimed to build on the achievements of the OAU and address the changing needs and challenges of the continent.

Member States:

The African Union is comprised of 55 member states from across the African continent.
It is a pan-African organization, meaning it includes all African countries that wish to participate.

Structure: The African Union has various organs and institutions, including:

The Assembly:

The highest decision-making body, consisting of the heads of state and government from member countries.

The Executive Council:

Comprising foreign ministers, it is responsible for coordinating and implementing AU decisions.

The Commission:

The AU's administrative arm, responsible for carrying out its day-to-day activities and implementing policies.

The Pan-African Parliament:

An advisory body with representatives from member states' legislatures.

The African Court of Justice:

Established to handle legal matters and disputes.

The African Union Peace and Security Council:

Responsible for promoting peace and resolving conflicts in Africa.

Key Initiatives:

African Continental Free Trade Area (AfCFTA):

An ambitious initiative aimed at creating a single African market for goods and services, promoting intra-African trade, and boosting economic growth.

African Peer Review Mechanism (APRM):

A voluntary self-assessment and monitoring tool to promote good governance and political stability.

NEPAD (New Partnership for Africa's Development):

A program focused on sustainable development, infrastructure development, and economic growth in Africa.
Note: Recently, African Climate Summit 2023 was held in Nairobi, Kenya. Theme- Driving Climate Positive growth and Finance Solutions for Africa and the World.
Note: As of September 2023, Burkina Faso, Gabon, Guinea, Niger, and Sudan are suspended from African Union.
---
Restoring order: On ASEAN and Myanmar 
(General Studies- Paper II)
Source : The Hindu
---
The Association of Southeast Asian Nations (ASEAN), a 10-member regional organization, has adopted a more assertive stance regarding the military junta in Myanmar.
This shift in approach comes in response to the ongoing violence and the junta's failure to implement the Five-Point Consensus agreed upon earlier, which aimed to address the post-coup crisis in Myanmar.

The country has experienced a decline in security and economic stability since the military ousted the democratically elected government of Aung San Suu Kyi in February 2021.
Key Highlights
ASEAN's latest statement, issued after its annual summit in Jakarta, represents a hardening of its position.

It strongly condemns the continued acts of violence and urges the armed forces and related parties to cease targeted attacks on civilians.

Additionally, ASEAN has decided to deny Myanmar the bloc's chairmanship, which it was set to assume in 2026.

Background:

Myanmar has been in turmoil since the military coup in February 2021, which resulted in the overthrow of the civilian government.

ASEAN attempted to mediate the crisis by reaching a Five-Point Consensus in April 2021, which included commitments from the junta to halt violence and engage in inclusive political dialogue.

Despite these agreements, the junta continued to violate the consensus, prompting a stronger response from ASEAN.

Pressure on the Junta:

The military junta is now facing increased pressure, particularly with the emergence of a National Unity Government (NUG) that includes a military wing and collaboration with ethnic separatist groups.

The NUG poses a challenge to the junta, despite the military's control over most population centers.

United Nations investigators have reported war crimes committed by the military regime, including mass executions and sexual violence.

Humanitarian and Political Crisis:

The conflict has left approximately 18 million people in need of humanitarian assistance and displaced two million.

Thousands of individuals have been killed in indiscriminate attacks on rebels and civilians.

The regime has been criticized by the UN Security Council for its "unrelenting violence."
Note: ​Indonesia recently hosted 43rd ASEAN Summit in Jakarta from 2nd -7th September 2023.
---
The transition of loans from floating to fixed rates: RBI Guidelines
(General Studies- Paper III)
Source : The Hindu
---
In August 2023, the Reserve Bank of India (RBI) issued new guidelines that grant borrowers the option to switch from a floating interest rate-based loan to one with a fixed interest rate.
The move aims to address borrower concerns related to extended loan tenures, increased Equated Monthly Installments (EMIs) due to rising benchmark interest rates, and issues related to consent and communication.
This transition option will be available for both existing and new loans by the end of the current calendar year.
The RBI's instructions also include a transparent communication process and considerations for assessing repayment capacity.
Key Highlights
Switching from Floating to Fixed Rates:

Borrowers now have the option to transition from a floating interest rate to a fixed interest rate for their loans.
Lending institutions are required to draft a board-approved policy specifying the number of times a borrower can make this switch during the loan's tenure.

Transparent Communication:

Lenders must clearly communicate all relevant charges, service fees, and administrative costs associated with the transition from floating to fixed rates.
At the time of loan sanction, lenders should transparently inform borrowers about the impact of changing from a floating to a fixed regime.
This includes explaining changes in EMI amounts, loan tenure, or both.
Borrowers can choose between increasing their EMI, extending the loan tenure, or a combination of both.
Prepayment of the loan, either partially or in full, is also an option but may incur foreclosure charges or pre-payment penalties.

Quarterly Statements:

Lending entities are required to provide borrowers with quarterly statements through appropriate channels.
These statements should include information on the principal and interest recovered to date, EMI amounts, remaining EMIs, and the annualized rate of interest/Annual Percentage Rate (APR) for the entire loan tenure.
The statements should be presented in a simple and easily understandable format for borrowers.

Fixed vs. Floating Interest Rates:

Fixed interest rates remain constant throughout the loan tenure, providing borrowers with certainty and security in planning their budgets.
Floating interest rates are subject to market dynamics and base rates, often resulting in lower initial rates but increasing the risk of higher rates over time.
While floating rates can be advantageous when benchmark rates are low, they can become costlier if rates rise significantly.
Unlike fixed-rate loans, floating rate loans do not carry prepayment penalties.

Assessment of Repayment Capacity:

Lending entities must assess the repayment capacity of prospective borrowers.
Considerations include allowing borrowers sufficient headroom or margin for extending the loan tenure or increasing EMIs.
Governor Shaktikanta Das emphasized that the extension should be for a "reasonable period" and that banks should avoid unduly long extensions that could mask underlying stress in a loan.
---
Finding Seoul in the Indo-Pacific
(General Studies- Paper II)
Source : The Hindu
---
The historic Camp David summit in August 2023 between the leaders of the United States, Japan, and the Republic of Korea (ROK) signifies a new beginning in the strategic partnership among these three traditional allies.
For India, which is commemorating the 50th year of its diplomatic relations with South Korea, the Camp David summit and Seoul's evolving strategic thinking offer a unique opportunity to re-imagine its relations with South Korea, particularly in the Indo-Pacific.
This potential partnership can be viewed in the broader context of recent geopolitical developments in East Asia.
Key Highlights
Significance of the Camp David Summit:

The Camp David summit marked a significant development in the region, indicating improved relations between South Korea and Japan.
This summit recognized the changing regional security environment, which could lead to a strengthened U.S.-led alliance structure in East Asia, involving countries like India.

Strategic Shift in South Korea's Approach:

South Korea's willingness to engage with Japan and align more closely with the U.S. regarding China represents a strategic shift.
South Korea is now more open to acknowledging the challenge posed by China's growing military presence in the region, despite its economic ties with Beijing.

ROK's Interest in Joining the Quad:

South Korea has expressed interest in joining the Quad grouping (India, Japan, Australia, U.S.) and may apply for Quad Plus membership in the future.
There is a growing desire in South Korea to play a larger role in the Indo-Pacific and become a "global pivotal state."

Opportunity for India-ROK Partnership:

South Korea's geographical location in the Indo-Pacific, close to China, makes it a potential like-minded strategic partner for India.
Both countries share concerns about China's rise and its impact on the Asian security architecture.

Focus Areas for Partnership:

India and South Korea can strengthen their partnership through annual summits at the Foreign Ministers' level and a 2+2 dialogue format.
Opportunities for reciprocal visits by leaders and exploring initiatives in critical and emerging technology (iCET) should be considered.
Defense cooperation, such as India's 'Make in India' program and collaboration on defense equipment production, is a potential area for collaboration.
South Korean-built civilian nuclear reactors, given their track record in supplying reactors to other countries, could be explored to expand India's nuclear energy capacity.

ROK's Role in Advancing India's Interests:

South Korea, with its evolving strategic outlook, can assist India in advancing its interests in the Indo-Pacific, aligning with the U.S., Japan, and Australia.
What is Camp David summit?
The Camp David summit refers to a series of meetings held at the Camp David presidential retreat, which is located in the Catoctin Mountain Park of Maryland, United States.
Camp David has been a historic venue for high-level discussions and negotiations involving U.S. presidents and foreign leaders.
One of the most famous Camp David summits took place in September 1978 when U.S. President Jimmy Carter hosted Egyptian President Anwar Sadat and Israeli Prime Minister Menachem Begin.
This summit led to the Camp David Accords, a historic peace agreement between Egypt and Israel, which was brokered by the United States.
The accords paved the way for a peace treaty between Egypt and Israel in 1979.
Since then, Camp David has been used for various other diplomatic meetings and negotiations involving U.S. presidents and world leaders.
---
What is heat index and why is it important to measure?
(General Studies- Paper I and III)
Source : The Hindu
---
In August, Iran experienced an extreme heatwave, recording a heat index of 70 degrees Celsius (°C) in the coastal region, an unprecedented and life-threatening level of heat.
This extreme heat prompted the Iranian government to declare public holidays on August 2 and 3.
Key Highlights
Understanding Heat Index

The heat index, also known as the apparent temperature, is a measure of how the temperature feels to humans, taking into account not just the air temperature but also the relative humidity.
It provides a more accurate representation of how hot it actually feels, as opposed to the recorded temperature.

Calculation of Heat Index

The calculation of the heat index is based on a complex formula developed by Dr. Robert Steadman in 1979.
Steadman's formula considers factors such as air temperature, relative humidity, and dew point.
Dew point is the temperature at which air cannot hold any more water vapor, causing moisture to condense into liquid form.
Steadman used a dew point of 14°C in his calculations.

Variations in Heat Index Measurement

Different countries may use their own indices to measure the heat index instead of Dr. Steadman's formula.
For example, Canada uses the Humidex system, which takes into account temperature and humidity to calculate the heat index.
These variations in heat index measurement help provide more region-specific assessments of heat and humidity levels.
Effect of Temperature and Humidity:

Increased Air Moisture:

Hot air has the capacity to hold more moisture than cold air.
As temperatures rise, the air's ability to retain moisture also increases.
This increase in humidity affects the apparent temperature or heat index.

Heat Stress:

High humidity levels during heatwaves can lead to heat stress, where the body struggles to dissipate excess heat.
The human body maintains a core temperature within a specific range, and when it cannot effectively cool down, it results in symptoms such as increased heart rate, heat-related exhaustion, rashes, and, if not addressed, potentially fatal heat strokes.

Difficulty in Cooling:

High humidity makes it challenging for the body to cool itself through perspiration and evaporation.
When the air is already saturated with moisture, sweat evaporation is less effective in lowering body temperature.

Why Heat Index Matters?

Better Assessment:

Heat index provides a more comprehensive understanding of the impact of heat on individuals.
It factors in both temperature and humidity, offering a more accurate representation of how hot it feels to humans.

Safety Precautions:

Heat index values help determine appropriate safety precautions during hot and humid conditions.
For example, at a temperature of 31°C (88°F), a relative humidity of 40% may only warrant caution with prolonged exposure or physical activity.
However, if humidity is at 95% at the same temperature, heat cramps, heat exhaustion, and even heatstroke become more likely with prolonged exposure or physical exertion.

Extreme Conditions:

Heat index values of 67°C or higher are considered extremely dangerous for individuals and animals with direct and prolonged exposure to such conditions.

Climate Change Implications

With climate change, the world is likely to experience more record-breaking heat index values.
As a result, there is a growing need to prepare and adapt to extreme heat conditions.
This includes investing in early warning systems, adjusting work schedules, and implementing sustainable cooling solutions to protect human health and safety.
---