Prime Minister's Speech on Independence Day
Prime Minister's speech on Independence Day
Highlights
PM addressed the citizens of India as a large family of 1.4 billion members, emphasizing the country's significance as the world's largest democracy in terms of population.

He acknowledged the contributions of freedom fighters like Mahatma Gandhi, Bhagat Singh, Sukhdev, and Rajguru, who led movements like Non-cooperation, Civil Disobedience, and Satyagraha for India's independence.

Commemoration of Birth Anniversaries:

This year marks the 150th birth anniversary of Sri Aurobindo, a revolutionary and spiritual leader, and Swami DayanandSaraswati, a prominent religious figure.

He also mentions the upcoming celebration of the 500th birth anniversary of Rani Durgawati, a warrior queen, and the 525th anniversary of Meerabai, a devotee and poetess.

The nation is preparing to celebrate its 75th Republic Day as well.

The Consequences of a Defeat:

PM delved into India's history of invasion, highlighting an instance where a small kingdom and its king were defeated around 1000-1200 years ago.

This defeat, though initially small, marked the beginning of a long period of subjugation for India.

He elaborated on the adverse effects of the defeated kingdom's conquest, leading India into a thousand years of slavery and foreign rule.

At the same time, he also commends India's brave individuals who upheld the flame of freedom throughout this difficult period.

He says that such individuals highlight the nation's tradition of sacrifice and resilience.

Addressing Amritkal and India's Potential:

The Prime Minister acknowledged the significance of the Amritkal.

He emphasized that the actions, sacrifices, and penance undertaken during this period will set the stage for India's future golden history spanning a thousand years.

He also notes the awakening of Maa Bharti (Mother India), indicating a resurgence of the nation's spirit.

The Power of Demography, Democracy, and Diversity:

The Prime Minister highlighted the potency of India's trinity—demography, democracy, and diversity—in shaping its destiny.

He also discussed the role of India's youthful population, particularly those below 30 years, and considered them as millions of assets.

India's Technological Influence:

Highlighting India's global presence, the Prime Minister points out that India's youth have positioned the nation among the world's top three startup ecosystems.

He says that technology will dominate the future, and India's technological talent will play a pivotal role in shaping the upcoming era.

Empowerment through Sports and Education:

The Prime Minister praises the achievements of children from underprivileged backgrounds who are excelling in the realm of sports.

He highlights the presence of schools in India where students are creating satellites and preparing to launch them.

Additionally, thousands of Atal tinkering labs are nurturing future scientists and inspiring countless children.

India's Global Presence:

Reflecting on the past year, the Prime Minister acknowledges the successful organization of G-20 events across various parts of India.

This effort has showcased the immense potential of the common citizens of India to the world.

The diverse nature of the country has been effectively introduced and displayed on the global stage.

India's Global Standing and Role:

The Prime Minister highlights India's increasing exports and the recognition by global experts that India's growth is unstoppable.

He also observes that the post-COVID era has spurred rapid changes in the global order and geopolitical dynamics.

Commending India's response to the pandemic, the Prime Minister believes that the world has witnessed India's potential and resilience.

India is poised to become the voice of the Global South, presenting its prosperity and heritage as an opportunity for the world.

The Prime Minister emphasizes that India now holds the responsibility to capitalize on the current opportunities.

Skill Development Ministry:

The Prime Minister highlights the establishment of a dedicated Skill Ministry.

This ministry is not only intended to cater to India's skill needs but also possesses the capacity to meet global requirements.

Ministry of Jal Shakti:

The Prime Minister mentions the creation of the Ministry of Jal Shakti, which prioritizes ensuring access to clean drinking water for every Indian.

The emphasis is on developing water-sensitive systems to protect the environment.

Holistic Healthcare Focus:

The Prime Minister underscores the importance of holistic healthcare for the nation.

He also highlights the creation of a separate Ministry of AYUSH, along with the fact that Yoga and AYUSH practices are gaining recognition on a global scale.

Support for Fishermen and Animal Husbandry:

He expressed his concern for the welfare of fishermen and acknowledges their significant role.

To provide support and uplift the marginalized, a distinct Ministry for Fisheries, Animal Husbandry, and Dairy has been established.

This initiative aligns with the broader objective of equitable growth.

Cooperative Movement and Prosperity:

The Prime Minister recognizes the significance of the cooperative movement in the economy.

To enhance and modernize this model, and to strengthen it as a fundamental democratic unit across the country, a dedicated Cooperative Ministry has been formed.

The emphasis is on fostering cooperation for achieving economic prosperity and growth.
The Prime Minister also provides a series of financial accomplishments achieved over the past years:
Increased State Allocations:

The Prime Minister points out the significant growth in financial assistance to the states over the last decade.

10 years ago, the amount transferred from the Government of India to the states was 30 lakh crore rupees.

However, in the past 9 years, this figure has substantially risen to 100 lakh crores.

This demonstrates the commitment to bolstering regional development.

Enhanced Local Bodies Funding:

The allocation for the development of local bodies has seen a remarkable increase.

Previously, 70 thousand crore rupees were spent from the national treasury for this purpose.

In the present day, this amount has surged to over 3 lakh crores, underscoring the focus on empowering grassroots governance and infrastructure development.

Fourfold Rise in Housing Support:

The Prime Minister highlights the expansion of financial support for housing for the underprivileged.

The expenditure dedicated to constructing houses for the poor has grown significantly.

While it used to be 90 thousand crore rupees previously, it has now multiplied fourfold, reaching more than 4 lakh crores.

This underscores the commitment to providing affordable housing to those in need.

Subsidized Urea for Farmers:

The Prime Minister discusses the substantial reduction in the cost of urea for farmers.

Bags of urea that were once sold for Rs 3,000 in certain global markets are now available to Indian farmers for just Rs 300.

The government's subsidy of Rs 10 lakh crore ensures that farmers can access this essential resource at an affordable price, thus supporting agricultural productivity.

Empowering Youth Through Self-Employment:

The Prime Minister emphasizes the investment in empowering the youth for self-employment and entrepreneurship.

An impressive sum of 20 lakh crore rupees has been provided to the youth for business and self-employment initiatives.

The Mudra Yojana has benefited 8 crore citizens, equipping them to generate employment opportunities for 8-10 crore additional individuals.

Boosting MSMEs:

The Prime Minister discusses the financial support extended to Micro, Small, and Medium Enterprises (MSMEs).

These enterprises, crucial for economic growth, have received three and a half lakh crore rupees to enhance their operations and promote their contributions to the economy.

Honoring Soldiers with One Rank, One Pension:

The Prime Minister acknowledges the significance of the One Rank, One Pension policy for retired soldiers.

As a mark of respect and gratitude, 70 thousand crore rupees have been disbursed from India's coffers to support retired army heroes and their families.

This initiative upholds the welfare and dignity of those who have served the nation.
 Various welfare measures:
Transformation from Poverty to Middle Class:

The Prime Minister proudly announces that the collective efforts of the government have led to a remarkable transformation.

Approximately 13.5 crore individuals, who were previously living in poverty, have now transitioned to a new middle class.

Support for Street Vendors through PM Swanidhi:

The government has allocated significant resources to uplift street vendors, who often belong to economically disadvantaged backgrounds.

An allocation of 50 thousand crore rupees has been made under the PM Swanidhi initiative, aimed at providing financial support and empowerment to street vendors across the nation.

Empowerment through Traditional Skills:

The Prime Minister outlines a forthcoming program to be implemented on the occasion of Vishwakarma Jayanti.

This program will focus on individuals who possess traditional skills and work with tools and their own hands, particularly from the Other Backward Classes (OBC) community.

An allocation of 13-15 thousand crore rupees will be directed towards empowering these skilled individuals and preserving traditional craftsmanship.

Direct Support for Farmers:

The government has prioritized the welfare of farmers by initiating the PM KisanSamman Nidhi scheme.

An impressive sum of 2.5 lakh crore rupees has been directly deposited into the accounts of farmers across the country.

This initiative aims to provide direct financial assistance to farmers, thereby improving their livelihoods and well-being.

Ensuring Access to Clean Water:

The Prime Minister highlights the commitment to providing clean and safe drinking water to every household in the country.

Under the Jal Jeevan Mission, a substantial investment of two lakh crore rupees has been made to ensure that pure and potable water reaches every home, thereby contributing to improved public health and sanitation.

Ayushman Bharat Scheme for Healthcare:

The Prime Minister emphasizes the importance of quality healthcare for the underprivileged.

The Ayushman Bharat scheme has been initiated to provide comprehensive healthcare coverage to those who were previously burdened by illness-related expenses.

The government has invested 70 thousand crore rupees under this scheme to ensure that the poor have access to necessary medical treatments, medicines, and hospital care.

Vaccination Efforts:

The government's commitment to public health extends beyond humans to livestock.

An allocation of about 15 thousand crore rupees has been made to ensure the vaccination of livestock, demonstrating the government's holistic approach to safeguarding the well-being of both people and animals.

Affordable Medicines through Jan AushadhiKendras:

The Jan AushadhiKendras play a crucial role in providing cost-effective medicines to the population.

Medicines that were previously priced at Rs. 100 in the market are now available at Jan AushadhiKendras for significantly lower amounts, such as Rs. 10, Rs. 15, or Rs. 20.

This initiative has collectively saved around 20 crore rupees for individuals who require these medicines.

The government is committed to expanding the network of Jan AushadhiKendras from the current 10,000 to a target of 25,000, ensuring broader access to affordable medicines.

Housing Support for Urban Dwellers:

The government has introduced a scheme aimed at assisting urban citizens who live in rented houses, slums, chawls, or unauthorized colonies.

For those who aspire to build their own houses, the government is offering financial relief in the form of loans with reduced interest rates.

Advancements in Various Sectors: The Prime Minister proudly notes the country's strides in various sectors:

Renewable Energy and Green Hydrogen

Space and Deep Sea Mission

Modern Railways: The rail infrastructure is undergoing modernization, with initiatives such as the Vande Bharat Express and the Bullet Train project contributing to enhanced connectivity.

Digital Connectivity: The government's focus on expanding internet access has led to widespread connectivity, reaching even remote villages.

Agricultural Innovations: Efforts are being made to revolutionize farming practices, with emphasis on organic farming.

Technology and Semiconductors

AmritMahotsav and AmritSarovar:

The government had set a significant goal of constructing 75 thousand AmritSarovars (water bodies) as part of the AmritMahotsav celebration of independence.

The construction of these sarovars is currently underway, with around 75 thousand projects in progress.

This massive endeavor draws upon the collective strength of Janshakti (human resources) and Jalshakti (water resources), playing a crucial role in environmental conservation.

Vaccination Efforts during COVID-19:

The nation's remarkable response to the COVID-19 pandemic is highlighted through the administration of 200 crore (2 billion) vaccination doses.

The dedication and efforts of Anganwadi workers, Asha workers, and health professionals have played a pivotal role in achieving this feat.

Technological Advancements: India's prowess in technology is showcased through its rapid achievements:

5G Rollout: India has emerged as the fastest nation in the world to roll out 5G technology, enabling enhanced connectivity and technological advancements.

Preparing for 6G: India's forward-looking approach is evident in its preparation for the next phase of technological evolution, demonstrating the nation's commitment to staying at the forefront of innovation.

Renewable Energy Achievements:

The target set for renewable energy by 2030 was achieved ahead of time, in the year 2021-22.

The goal of achieving 20 percent blending in ethanol was reached five years ahead of the projected timeline.

The Prime Minister also addressed several important aspects of national development, safety, unity, and gender empowerment:

New Parliament Building

Enhanced Security and Reduced Terrorism

Vision for a Developed India:

The Prime Minister sets a forward-looking goal for India to become a developed nation by 2047.

This aspiration is underscored by the importance of the mantra "Ek Bharat Shreshtha Bharat," symbolizing the commitment to unity and characterizing the nation's growth.

Women-Led Development

Women's Self-Help and Empowerment:

The Prime Minister celebrates the empowerment of women through self-help groups, showcasing their role in various sectors such as finance, childcare (anganwadi), and healthcare.

Vibrant Border Villages:

The government has initiated the "Vibrant Border Village" program, aimed at transforming border villages.

The Prime Minister redefines the perception of border villages, highlighting that they are not the last villages of the country, but rather the first villages in terms of importance due to their strategic location.

Vision for 2047 – 100 Years of Independence:

The Prime Minister sets a goal for India's development, aiming for a developed India to be recognized worldwide.

The Prime Minister expresses his belief that by the time India celebrates its 100 years of independence in 2047, the nation will have achieved the status of a developed country.

Duty of Every Citizen:

The Prime Minister calls upon every citizen to fulfill their duty during this transformative period.

He emphasizes the importance of collective efforts in realizing the dreams of Mahatma Gandhi, the freedom fighters, and the martyrs who sacrificed their lives for the nation.

AmritKaal – Time of Duty:

The current era, referred to as "AmritKaal," is a time of duty and responsibility.

The Prime Minister encourages all citizens to contribute to the betterment of Mother India and convert the collective resolution of the 1.4 billion countrymen into achievements.
Various Personalities that PM talked about
About Sri Aurobindo
Sri Aurobindo, whose full name was AurobindoGhose, was a prominent Indian philosopher, poet, yogi, and nationalist leader. He lived from August 15, 1872, to December 5, 1950.

Sri Aurobindo is best known for his contributions to Indian spirituality and his role in the Indian independence movement against British colonial rule.

Early Life:

Sri Aurobindo was born in Calcutta (now Kolkata), India, during the British colonial period.

He came from a well-educated and culturally rich family.

He studied in England, where he excelled in academics and English literature.

Return to India:

After completing his education in England, Sri Aurobindo returned to India in 1893.

He initially worked as a teacher in Baroda (now Vadodara) and later joined the freedom struggle.

Political Activism:

Sri Aurobindo became a prominent leader in the Indian freedom movement, advocating for complete independence from British rule.

He edited and wrote for several nationalist publications, inspiring many Indians to join the struggle.

Sri Aurobindo was the first of the Nationalist leaders to insist on full independence for India as the goal of the movement.

Spiritual Evolution:

In 1908, while in prison, Sri Aurobindo had a profound spiritual experience that transformed his life.

He withdrew from active politics and dedicated himself to spiritual pursuits and yoga.

Pondicherry Ashram:

Sri Aurobindo eventually settled in Pondicherry (now Puducherry), a French colony at the time, to focus on his spiritual practice.

He founded the Sri Aurobindo Ashram, where he guided his followers in integral yoga and spiritual growth.

Philosophical Works:

Sri Aurobindo's writings cover a wide range of topics, including spirituality, philosophy, poetry, and social issues.

His major philosophical works include "The Life Divine" and "Synthesis of Yoga."

Poetry:

He was also a prolific poet and wrote numerous poems, many of which are deeply spiritual in nature.

His poetry collections include "Savitri" and "Collected Poems."

Passing Away: Sri Aurobindo left his physical body on December 5, 1950, but his teachings and legacy continue to inspire people on their spiritual journeys.
About Swami DayanandSaraswati
Swami DayanandSaraswati, born on February 12, 1824, was a renowned Indian religious leader, social reformer, and the founder of the Arya Samaj, a Hindu reform movement.

Early Life:

Swami Dayanand was born as Mool Shankar Tiwari in a Brahmin family in Tankara, a village in the present-day state of Gujarat, India.

Search for Spiritual Truth:

As a young boy, he exhibited a curious and inquisitive nature.

After surviving a near-death experience from a snake bite, he embarked on a quest for spiritual truth.

He studied various religious texts and scriptures to find answers to his questions about life, religion, and God.

Founding of Arya Samaj:

In 1875, he founded the Arya Samaj in Bombay (now Mumbai).

The Arya Samaj aimed to reform Hinduism and promote the study of the Vedas, the oldest sacred texts of Hinduism.

Swami Dayanand emphasized monotheism, the worship of one God, and rejected idol worship, caste discrimination, and other rituals that he considered corrupting the true essence of Hinduism.

Promotion of Vedic Values:

DayanandSaraswati advocated the propagation of Vedic knowledge and values.

He believed that the Vedas contained all the knowledge necessary for human life, and he encouraged people to read and understand these ancient texts.

Swami DayanandSaraswati used to say, "Go back to the Vedas" reflecting his belief in the significance of the Vedas as the primary source of knowledge and spiritual guidance in Hinduism.

Social Reforms:

Swami Dayanand was a staunch advocate of social reforms.

He campaigned against child marriage, untouchability, and the subjugation of women.

His teachings and efforts contributed to the reformist movements within Hindu society.

Writings:

He authored several influential books, including "Satyarth Prakash" (The Light of Truth), which outlines his philosophy and teachings.

His writings had a significant impact on the intellectual and spiritual landscape of 19th-century India.

Influence:

His teachings and the Arya Samaj had a lasting impact on Indian society.

Many prominent leaders, including LalaLajpat Rai and Swami Shraddhanand, were influenced by his ideas and played active roles in India's struggle for independence.
About Rani Durgawati
Rani Durgavati, also known as Rani Durgavati of Gondwana, was a 16th-century Indian queen and warrior who ruled over the Gondwana Kingdom in central India.
Early Life:

Rani Durgavati was born in 1524 in the Chandel dynasty of Rajputs, a prominent royal family of the region.

She was married to Raja Dalpat Shah of the Gond dynasty, and their marriage strengthened the alliance between the Chandels and the Gonds.

Ascension to the Throne:

After her husband's death in 1548, Rani Durgavati took over the reins of the kingdom as a queen regnant.

She became one of the few female rulers in the male-dominated political landscape of medieval India.

Warrior Queen:

Rani Durgavati is best known for her valor and military prowess.

She defended her kingdom against various external threats, including invasions by the Mughal emperor Akbar's general Asaf Khan.

Her bravery in battles and her efforts to protect her people earned her legendary status.

Fort of Garha-Katanga:

The queen's capital was the fort of Garha-Katanga, strategically located in the present-day Jabalpur district of Madhya Pradesh.

She defended this fort against repeated attacks by the Mughals.

Death in Battle:

In 1564, Rani Durgavati faced a major Mughal invasion led by Asaf Khan.

Despite her fierce resistance, she eventually succumbed to the Mughal forces.

Rather than being captured, she chose to end her own life to avoid capture, setting herself on fire (performing jauhar) in the tradition of Rajput queens.

Several monuments and memorials in her honor exist in Madhya Pradesh, including the Durgavati Museum in Jabalpur.
About Meerabai
Meera Bai, often referred to as Meera, was a 16th-century Indian saint, poet, and devotee of Lord Krishna.
She is one of the most prominent and cherished figures in the Bhakti movement.

Birth and Family:

Meera Bai was born in 1498 in the small village of Kurki, near Merta in present-day Rajasthan, India.

She was born into the Rathore clan, a noble Rajput family.

Early Life and Marriage:

Meera Bai was married at a young age to Rana Kumbha of Mewar, a prince of the Sisodia Rajput dynasty.

However, she was known for her unwavering devotion to Lord Krishna even before her marriage.

Devotion to Lord Krishna:

Meera Bai's devotion to Lord Krishna was intense and all-consuming.

She considered Krishna as her divine lover and often sang and composed devotional songs (bhajans) dedicated to Him.

Her poetry and songs expressed her deep love, longing, and spiritual union with the Lord.

Conflict with the Royal Family:

Meera Bai's devotion to Krishna and her rejection of the traditional role of a Rajput queen brought her into conflict with the royal family of Mewar.

Renunciation:

Meera Bai ultimately renounced the worldly life and dedicated herself completely to her spiritual path.

She left the royal court and embarked on a pilgrimage to various Krishna temples and sacred places.

Poetic Legacy:

Meera Bai's compositions are a significant part of the devotional literature of the Bhakti movement.

Her poetry and bhajans are characterized by their simplicity, emotional depth, and spiritual intensity.

Her works continue to be sung and revered by devotees across India.

Later Life and Disappearance:

Meera Bai's exact date of death is uncertain, but it is believed to be around 1547.

According to tradition, she left the world by merging with the image of Krishna in the Dwarkadhish Temple in Dwarka, Gujarat.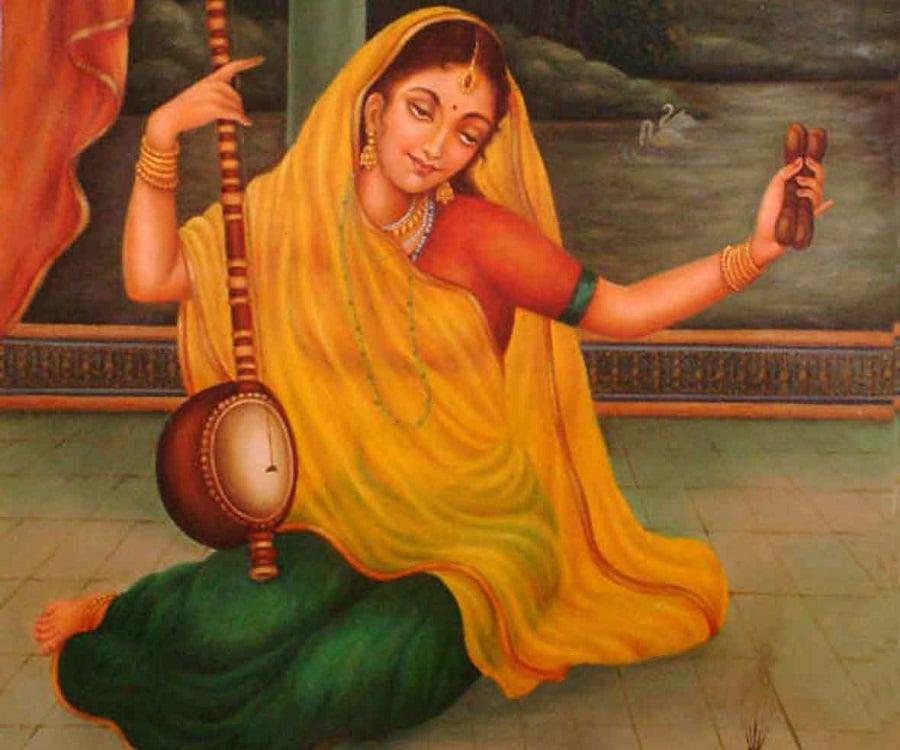 Various Schemes that PM talked about
About PM Mudra Yojana
The Pradhan Mantri Mudra Yojana (PMMY), also known as the Mudra Loan Scheme, is a government initiative launched by the Indian Prime Minister, Narendra Modi, on April 8, 2015.

This scheme aims to provide financial support and encourage entrepreneurship among small and micro-enterprises in India.

"Mudra" stands for "Micro Units Development and Refinance Agency."

Objective:

The primary objective of the Mudra Loan Scheme is to provide access to credit and financial assistance to small business owners, particularly those in the unorganized and informal sectors, to help them start, expand, or modernize their businesses.

Loan Categories:

The scheme offers loans under three categories, known as "Shishu," "Kishore," and "Tarun," catering to different stages of business development.

Shishu:

Loans up to Rs. 50,000 are provided to entrepreneurs looking to start new ventures.

Kishore:

Loans ranging from Rs. 50,000 to Rs. 5 lakhs are available for businesses looking to expand or scale up.

Tarun:

Loans from Rs. 5 lakhs to Rs. 10 lakhs are offered for more established businesses seeking further growth and development.

Collateral-Free Loans:

Mudra loans are typically collateral-free, which means borrowers do not need to provide assets or security to obtain the loan.

However, banks and financial institutions may require suitable project reports, business plans, and a guarantee of the business's viability.

Loan Repayment:

The repayment tenure for Mudra loans varies, with a maximum limit depending on the category:

Shishu: Up to 5 years

Kishore: Up to 7 years

Tarun: Up to 7 years

Refinancing:

The Mudra scheme works through various financial institutions, including public sector banks, regional rural banks, cooperative banks, microfinance institutions, and non-banking financial companies (NBFCs).

The government refinances these institutions to ensure that they have sufficient funds to lend to micro and small enterprises.

Monitoring and Reporting:

Banks and financial institutions are required to report their Mudra loan disbursements to the Micro Units Development and Refinance Agency (MUDRA) for proper monitoring and evaluation of the scheme's impact.
About PM Swanidhi
The PM SVANidhi (Pradhan Mantri Street Vendor's AtmaNirbhar Nidhi) scheme is a government initiative launched by the Prime Minister, Narendra Modi, on June 1, 2020.

This scheme is designed to provide financial support and economic stability to street vendors across India who have been affected by the COVID-19 pandemic and the subsequent lockdown measures.

Objective:

The primary objective of the PM SVANidhi scheme is to offer working capital loans to street vendors to help them resume their businesses, generate income, and become self-reliant (AtmaNirbhar).

The scheme aims to prevent street vendors from falling into the clutches of informal moneylenders and promote their formalization.

Target Beneficiaries:

The scheme primarily targets street vendors who were vending before March 24, 2020, and have been affected by the COVID-19 crisis.

This includes not just stationary street vendors but also mobile vendors, cart-pullers, hawkers, and other similar businesses.

Loan Amount:

Street vendors can avail of a working capital loan of up to Rs. 10,000 as a part of the PM SVANidhi scheme.

This loan amount is meant to help vendors purchase stock, raw materials, and necessary equipment for their businesses.

Interest Subsidy:

Beneficiaries of the scheme receive interest subsidy at a rate of 7% per annum on timely or early repayment of the loan.

This subsidy encourages borrowers to repay their loans on time and reduces the overall cost of borrowing.

Repayment Tenure:

The repayment tenure for the loan is set at 1 year, allowing street vendors to repay the loan amount in monthly installments without undue financial strain.

Digital Payments:

The scheme encourages the use of digital payments and e-wallets for conducting business transactions.

This is in line with the government's efforts to promote digital financial inclusion among street vendors.

No Collateral:

One of the significant benefits of the PM SVANidhi scheme is that it offers collateral-free loans.

Street vendors do not need to provide any form of collateral or security to access the credit facility.

Implementation:

The scheme is implemented through the Small Industries Development Bank of India (SIDBI).

It operates through lending institutions such as banks, microfinance institutions (MFIs), non-banking financial companies (NBFCs), and cooperative banks.

Application Process:

Street vendors can apply for loans under the PM SVANidhi scheme through Common Service Centres (CSCs) or by approaching the respective urban local bodies (ULBs).

The application process is designed to be simple and accessible.

Beneficiary Identification:

The states and UTs are responsible for identifying and mapping the street vendors in their respective areas.

This ensures that the benefits of the scheme reach the intended beneficiaries.
About PM Kisan Samman Nidhi
The Pradhan MantriKisanSamman Nidhi (PM-Kisan) is a government welfare scheme in India that was launched on December 1, 2018.

It is primarily aimed at providing financial support to small and marginal farmers across the country.

The scheme is part of the government's efforts to boost the income and economic well-being of farmers, especially in rural areas.

Objective:

The main objective of the PM-Kisan scheme is to provide income support to landholding farmers' families and enable them to meet their financial needs for various agricultural purposes, including the purchase of seeds, fertilizers, and other inputs.

Beneficiaries:

The scheme primarily targets small and marginal farmers.

It includes all eligible farmer families, regardless of their social or economic status..

Financial Assistance:

Under the PM-Kisan scheme, eligible farmers receive direct income support of Rs. 6,000 per year, which is paid in three equal installments of Rs. 2,000 each.

These installments are transferred directly into the bank accounts of the beneficiaries.

Frequency of Payments:

The income support of Rs. 6,000 is provided annually in three equal installments, typically credited to the bank accounts of the beneficiaries in April, August, and December.

Identification of Beneficiaries:

The identification of eligible beneficiaries is done at the state and union territory (UT) level.

States and UTs are responsible for identifying and enrolling farmers under the scheme.

The scheme relies on land records for identifying eligible beneficiaries.

Exclusion Criteria:

Certain categories of farmers are excluded from the PM-Kisan scheme, including individuals who hold constitutional positions or retired officers receiving pension benefits, among others.

Monitoring and Implementation:

The scheme is monitored and implemented by the Department of Agriculture, Cooperation & Farmers Welfare under the Ministry of Agriculture & Farmers Welfare at the central level.

States and UTs are responsible for the disbursement of funds to the beneficiaries.
About Jal Jeevan Mission
The Jal Jeevan Mission (JJM) is a significant government initiative launched by the Government of India to provide safe and adequate drinking water to all rural households in the country.

The mission was officially announced by Prime Minister on August 15, 2019, from the ramparts of the Red Fort during his Independence Day speech.

The primary objective of the Jal Jeevan Mission is to ensure that every rural household has access to potable water supply on a regular and long-term basis.

Scope and Coverage:

The mission aims to provide safe and adequate drinking water through functional household tap connections (FHTCs) to all rural households by the year 2024.

It encompasses all states and union territories of India.

Key Objectives:

Providing Functional Household Tap Connections (FHTCs)

Prioritizing Vulnerable Areas:

The mission gives priority to providing FHTCs in areas that face quality-related water challenges, including quality-affected areas, drought-prone regions, desert areas, and villages adopted under the SansadAdarsh Gram Yojana (SAGY).

Extending Water Supply to Key Institutions:

In addition to households, the mission aims to provide functional tap connections to essential institutions such as schools, Anganwadicenters (childcare centers), Gram Panchayat (GP) buildings etc.

Monitoring Tap Connection Functionality

Promoting Community Ownership:

The mission encourages local community participation and ownership.

Communities are encouraged to contribute in various forms, including cash, kind, labor, and voluntary work (shramdaan).

Ensuring Sustainability:

Sustainability of water supply systems is a key focus.

Community Awareness:

The mission places importance on creating awareness among communities about the significance of safe drinking water.

Funding:

The central government provides financial assistance to states and union territories for the implementation of the mission.

The funding pattern varies depending on the state's resource availability and population.

The mission is supported by both central and state government funds, as well as contributions from local communities.

Convergence:

The Jal Jeevan Mission promotes convergence with other government programs and initiatives to maximize the reach and impact of water supply services.

It collaborates with schemes related to sanitation, health, nutrition, and rural development.

Technological Interventions:

The mission encourages the adoption of appropriate and sustainable technologies for water supply, including water source development, water quality testing, water treatment, and distribution systems.

It aims to ensure the long-term functionality of water supply infrastructure.

Capacity Building:

The mission invests in capacity building and skill development of stakeholders involved in the planning and implementation of water supply projects.

This includes training programs for rural communities, government officials, and technical personnel.

Components under Jal Jeevan Mission (JJM):

Development of In-Village Piped Water Supply Infrastructure

Development of Reliable Drinking Water Sources

Bulk Water Transfer and Treatment Plants

Technological Interventions for Contaminant Removal

Greywater Management

Emergency Response to Natural Disasters/Calamities
About Ayushman Bharat Scheme
Ayushman Bharat Pradhan Mantri Jan ArogyaYojana (AB-PMJAY), commonly known as Ayushman Bharat Scheme, is a flagship healthcare initiative launched by the Government of India on September 23, 2018.
This ambitious program aims to provide financial protection and quality healthcare services to millions of vulnerable and economically disadvantaged families across India.
Objective:

It aims to provide financial coverage for hospitalization expenses and access to quality healthcare services.

Coverage:

Ayushman Bharat covers both urban and rural areas, encompassing nearly 10.74 crore (107.4 million) poor and vulnerable families.
This coverage includes approximately 50 crore (500 million) beneficiaries, making it one of the world's largest healthcare schemes.

Financial Protection:

The scheme provides a financial cover of up to Rs. 5 lakh (5,00,000) per eligible family per year.
This coverage includes expenses related to hospitalization, surgeries, diagnostic tests, medicines, and other medical procedures.

Beneficiary Identification:

Beneficiaries under Ayushman Bharat are identified through the Socio-Economic Caste Census (SECC) database, ensuring that the benefits reach those in need.
State governments and union territories have the flexibility to add more beneficiaries to the list.

Portability:

Ayushman Bharat offers portability, allowing beneficiaries to access healthcare services across India.
They can receive treatment at any empanelled hospital, regardless of their home state.

Empanelled Hospitals:

The scheme has a network of both public and private hospitals that have been empanelled (enlisted) to provide healthcare services.
Beneficiaries can choose from these empanelled hospitals for their treatment.

No Cap on Family Size:

The scheme covers the entire family, including the head of the family, spouse, and dependents.
There is no cap on the family size, ensuring comprehensive coverage.

Cashless Transactions:

Under Ayushman Bharat, beneficiaries can avail of cashless hospitalization services.
The scheme includes the use of technology to facilitate paperless and cashless transactions.

IT Infrastructure:

The scheme utilizes a robust IT infrastructure to manage beneficiary data, track claims, and monitor the performance of empanelled hospitals.

Implementation:

The implementation of Ayushman Bharat is the responsibility of individual states and union territories.
They have the flexibility to tailor the scheme to their specific healthcare needs and infrastructure.
About Jan Aushadhi Kendra
Jan Aushadhi Kendra, also known as Pradhan MantriBhartiyaJanaushadhi Kendra (PMBJK), is a government initiative in India aimed at providing quality generic medicines at affordable prices to the general public.
These Kendras (stores) are part of the broader Jan AushadhiYojana, which was launched to make healthcare more accessible and affordable to the masses.
Implementation:

The scheme is implemented by the Bureau of Pharma PSUs of India (BPPI), which is an autonomous body under the Department of Pharmaceuticals, Ministry of Chemicals and Fertilizers, Government of India.

Quality Assurance:

Medicines sold through Jan AushadhiKendras undergo strict quality control and are sourced from certified pharmaceutical companies.
They adhere to quality standards set by the World Health Organization (WHO) and the Indian Pharmacopoeia.

Expansion:

The government encourages the establishment of Jan AushadhiKendras across the country.
These Kendras can be set up by individuals, pharmacists, NGOs, and charitable organizations.

Online Availability:

Some Jan AushadhiKendras have an online presence, allowing customers to order medicines through websites and mobile apps.

Subsidy Support:

The government provides financial support and incentives to Jan Aushadhi Kendra owners to promote the initiative.
---