CURRENT AFFAIRS – 04/09/2023
CURRENT AFFAIRS – 04/09/2023
Three-fourths of India's irrigation sources run on electricity
(General Studies- Paper III, Page 10)
Source : The Hindu
---
The latest edition of the Minor Irrigation Census (MIC) highlights the prevalent use of electricity as the primary power source for groundwater extraction.
The report, which compiles data on privately owned irrigation sources such as borewells and tubewells, shows that electricity's dominance has steadily increased over time.
Key Highlights
Electricity Powers 76% of Groundwater Sources:
In 2017-18, electricity powered 76% of groundwater extraction sources compared to previous years.
This marks a significant increase from 56% in 2011 and 70% in 2017.
Time Lag in Data Collection and Reporting:
MIC reports do not provide a real-time snapshot but rather reflect irrigation trends from several years prior.
The data in the latest edition, released in 2023, pertains to the situation in 2017-18, illustrating the time lag in data collection and compilation.
The fifth edition reflected data from 2013-14, and the fourth edition presented data from 2006-07.
Shift to Deeper Tubewells and Borewells:
The electrification of groundwater extraction coincides with the increased use of tubewells and borewells capable of drawing water from greater depths.
Dugwells and shallow tubewells have declined in number, while medium-sized and deep wells have seen growth.
Causes for Increase in Deep Tubewells Not Discussed:
The report does not delve into the causes behind the rise of more powerful and deep-reaching tubewells.
An anonymous officer associated with the Census suggests that state government schemes, offering incentives and loans to farmers for purchasing such tubewells, might explain the increase.
There is also a likely emphasis on energy-efficient water extraction, which may contribute to the growth in electrification.
Overall Statistics:
The MIC reports a total of 23.14 million Minor Irrigation (MI) schemes across India, covering 695 districts and 6, 47,394 villages.
Groundwater extraction schemes accounted for 94.8% (21.93 million) of all MI schemes, with surface-water extraction schemes making up the remaining 5.2% (1.21 million).
Uttar Pradesh had the highest number of MI schemes (17.2%), followed by Maharashtra (15.4%), Madhya Pradesh (9.9%), and Tamil Nadu (9.1%).
Leading states in groundwater schemes were Uttar Pradesh, Maharashtra, Madhya Pradesh, Tamil Nadu, and Telangana. Maharashtra, Karnataka, Telangana, Odisha, and Jharkhand had the highest share of surface-water schemes.
The number of MI schemes increased by about 1.42 million between the fifth and sixth editions of the report.
The majority of MI schemes (96.6%) were privately owned, with small and marginal farmers, owning less than two hectares of land, holding the majority of these schemes.
Irrigation Status of the Country: Niti Aayog Report 2022-23
In the agricultural year 2022-23, India's gross sown area encompassed 141 million hectares.
Of this vast sown area, approximately 73 million hectares, equivalent to 52%, had access to irrigation.
This marks a significant increase from the 41% coverage observed in 2016.
Agriculture in India heavily depends on the monsoon, which accounts for nearly 80% of the country's annual available water use, equivalent to 700 billion cubic meters.

Agriculture's dominant share in annual water use highlights the importance of efficient water management in the sector.
The significant increase in irrigation coverage since 2017-18 can be attributed to six prominent programs and projects:
Pradhan Mantri Krishi Sinchai Yojana (PMKSY): A government scheme aimed at improving irrigation efficiency and expanding coverage.
Accelerated Irrigation Benefit Programme (AIBP): A program designed to accelerate the pace of irrigation development.
HarKhetKoPaani-Surface Minor Irrigation: A project focused on providing water to agricultural land.
PMKSY-Groundwater Projects: Initiatives aimed at improving groundwater-based irrigation.
Special Package for Maharashtra: Targeted funding to enhance irrigation infrastructure.
Rajasthan and Srihind Feeder: Projects aimed at augmenting irrigation facilities.
Shahpur-Kandi Project: A project focused on irrigation development.
Achievements in Madhya Pradesh:
In Madhya Pradesh, 21 prioritized irrigation projects were identified under PMKSY-AIBP.
Out of these, 17 projects have been successfully completed, leading to a remarkable 16% increase in the state's irrigation coverage.
Micro Irrigation Facilities:
As part of the overall irrigation infrastructure expansion, micro irrigation facilities, including sprinklers and drip systems, were installed across 8 million hectares.
Irrigation Sources and Water Management:
The data reveals that 40% of the total irrigated area in India relies on canal networks, while the remaining 60% depends on groundwater.
However, groundwater levels in several states have depleted significantly, emphasizing the need for sustainable water management practices to ensure the long-term viability of irrigation sources.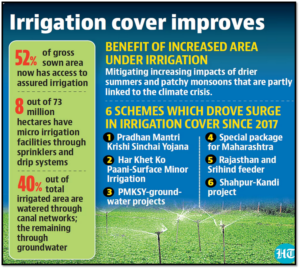 Concepts and Definitions
Net Area Sown:

Net Area Sown represents the total land area that is actively used for planting crops and orchards during a specific agricultural year.
It counts the area sown only once during the year, regardless of whether multiple crops are grown on the same land or if the same land is used for orchards.
Gross Cropped Area:

It also known as Total Cropped Area or Total Area Sown, represents the total land area that is sown with crops during a particular agricultural year.
It counts the land area as many times as it is sown within the same year, which means that if a piece of land is used for multiple crop plantings or if the same area is sown multiple times, it is counted each time.

Area under Non-agricultural Uses:

This term refers to the total land area within a region or country that is not used for agricultural purposes.
Example: buildings, roads and railways, rivers and canals, and all other land put to uses other than agriculture.
Barren and Unculturable Land:

Barren and Unculturable Land refers to land that is not suitable for cultivation due to various factors, such as rugged terrain, extreme aridity (deserts), or other natural conditions.
This category includes land covered by mountains, deserts, rocky areas, and land that would require prohibitively expensive efforts to bring it under cultivation.

Permanent Pasture and other Grazing Land:

Permanent Pasture and other Grazing Land encompass areas primarily used for livestock grazing.
Culturable Waste Land:

Culturable Waste Land includes land that could potentially be used for cultivation, but for some reason, it has not been cultivated for five years or more, including the current year.
This land may be left fallow or covered with shrubs and jungles that are not put to any productive use.

Fallow Lands other than Current Fallows:

Fallow Lands other than Current Fallows include land that was previously under cultivation but has been temporarily left uncultivated for a period of not less than one year and not more than five years.
Current Fallows:

Current Fallows represent cropped areas that have been intentionally left fallow during the current agricultural year.
---
Pragyan set into sleep mode
(General Studies- Paper III)
Source : The Hindu
---
On September 2, the Indian Space Research Organisation (ISRO) announced that the rover, Pragyan, of the Chandrayaan-3 mission had successfully completed its assigned tasks on the lunar surface.
Pragyan has now been safely parked and placed into sleep mode.
Key Highlights
Solar Panel and Battery Status:

The rover's battery is reported to be fully charged, and its solar panel has been oriented to receive sunlight during the next lunar sunrise, expected on September 22, 2023.
The receiver remains active, awaiting further commands or assignments.
Achievement:

The Chandrayaan-3 rover, Pragyan, has traveled over 100 meters from its lander, Vikram, on the Moon's surface.
Since its successful landing on the Moon on August 23, 2023, Pragyan and the lander have been actively conducting experiments, in-situ measurements, and capturing images.
The mission's lander and rover are designed for a one Lunar day (equivalent to 14 Earth days) mission, after which they must endure a lunar night.
During the lunar night, the small solar panel on the rover generates power to charge the battery for the following 14 days until the next lunar sunrise.
Challenges of Lunar Night:

During the lunar night, temperatures on the Moon can plummet to below minus 200 degrees Celsius (-200°C).
In such extreme conditions, there is no guarantee that the rover's battery and electronics will survive.
However, ISRO conducted tests to assess the rover's ability to withstand these harsh conditions and expressed confidence in its survival.
In Image: This image traces the path of the rover as it moved 100 metres from the lander, on the Moon.
---
Over half of Sri Lanka's population 'multidimensionally vulnerable': UNDP study
(General Studies- Paper II)
Source : The Hindu
---
The United Nations Development Programme (UNDP) conducted a national citizens' survey in Sri Lanka, spanning the years 2022 and 2023.
Sri Lanka experienced a severe economic crisis in the previous year, with significant repercussions on its population.
Key Highlights
The survey was conducted over the years 2022 and 2023.
It covered 25,000 households across Sri Lanka.
Multidimensional Vulnerability Findings:
The survey identified that 55.7% of Sri Lanka's population is "multidimensionally vulnerable" across three key dimensions:

Education
Health and Disaster Preparedness
Living Standards

Vulnerability was assessed using 12 indicators, such as school attendance, physical health, unemployment, and indebtedness.
Population Affected:
The survey results indicate that a significant portion of the population, approximately 12.34 million people out of a total of 22.16 million, have been severely impacted by the economic crisis and remain in a state of vulnerability.
Economic Crisis Impact:
The economic crisis has led to high living costs and food insecurity.
There are accounts of impoverished families reducing food consumption and withdrawing children from school to cope with the challenging economic conditions.
Contrast with Economic Recovery Claims:
The findings of the UNDP-led survey contrast with claims of an economic recovery, highlighting the ongoing challenges faced by a substantial part of the population.
Geographic Distribution of Vulnerability:
A majority (82%) of those identified as "multidimensionally vulnerable" reside in rural areas, emphasizing the need for more targeted policy focus in these regions.
One-third of the population has incurred debt for essential needs like food, healthcare, and education, including resorting to pawning jewelry or selling possessions.
Several districts, particularly in the north and east of Sri Lanka, as well as economically marginalized communities like the Malaiyaha Tamil community, experience high levels of economic deprivation.
The capital city, Colombo, and the neighboringGampaha district have the highest concentration of vulnerable individuals, largely attributed to their substantial populations.
Policy Implications:
The survey underscores the need for policy measures and support to address vulnerability, particularly in rural areas and regions with high economic distress.
Background:
Sri Lanka experienced a severe financial crisis in the previous year, which led to bankruptcy and widespread citizen protests due to shortages, power cuts, and soaring prices.
In March 2023, the government secured a $3 billion package from the International Monetary Fund (IMF) to support its economic recovery efforts.
Challenges on the Path to Recovery:
President RanilWickremesinghe has committed to revitalizing the country's economy, but the government faces several hurdles in achieving this goal.
One major challenge is reaching an agreement with external creditors on a debt treatment plan, which is crucial as the second tranche of the IMF loan is contingent on it.
The government's decision to restructure domestic debt, particularly by altering the pension funds, has sparked opposition from worker unions.

They argue that this move could negatively impact employees' life savings and reduce the fund's value significantly.
Criticism and Concerns:
Over 80 Sri Lankan organizations and trade unions have expressed their concerns to the IMF regarding the domestic debt restructuring.
They believe that subjecting workers' pension funds to such restructuring will diminish returns for wage-earners and deplete the fund by half of its current value.
Critics of the IMF's economic reforms argue that these measures have a detrimental effect on the country's economy, citing the negative consequences of previous reforms carried out over 16 IMF interventions.
Inflation Trends:
Data from the Central Bank has shown a decrease in headline inflation in August, dropping to 4% from the 6.3% recorded in the previous month.
However, this reduction in inflation has not translated into relief for most citizens, particularly due to the exceptionally high base effect from the previous year, combined with stagnant incomes during this period.
Social Support Programs:
The government, as part of the IMF program, has initiated cash transfers to 1.5 million identified as poor and eligible out of the 2 million families targeted.
Despite these efforts, many more families are protesting, demanding inclusion on the list.
Women's groups and government critics argue that the targeted social security program, which amounts to 0.6% of the GDP, will be insufficient to address the significant economic challenges faced by many citizens.
Sri Lanka's Recent Economic Crisis: Overview and Impact
Sri Lanka has been grappling with a severe economic crisis, characterized by acute shortages, extended power cuts, soaring prices, and widespread protests.
The crisis unfolded following a default on foreign debt in the wake of a crippling balance of payments problem.
The Sri Lankan economic crisis, which began in 2019, is the country's most severe economic turmoil since gaining independence in 1948.
This ongoing crisis has resulted in a range of economic and social challenges.
Background and Causes:
The crisis started in 2019 and has been exacerbated by various compounding factors.
Factors contributing to the crisis include tax cuts, aggressive money creation, a policy shift toward organic farming, the 2019 Sri Lanka Easter bombings, and the impact of the COVID-19 pandemic.
Impact of the Crisis:
The crisis has led to unprecedented levels of inflation, near-depletion of foreign exchange reserves, and shortages of essential medical supplies.
Prices of basic commodities have surged, making it difficult for the population to afford essential goods.
The economic hardships resulting from the crisis triggered widespread protests in 2022, reflecting public discontent and frustration.
Indian Line of Credit:
To address the crisis, Sri Lanka received a $4 billion line of credit from India, providing crucial financial support to cover the costs of importing essential goods and fuel.
This infusion of credit significantly improved the country's foreign currency reserves, reaching $2.69 billion.
Sovereign Default and Debt Repayment Challenges:
Sri Lanka faced the prospect of sovereign default as its foreign exchange reserves were insufficient to meet debt obligations for 2022.
In April 2022, Sri Lanka officially defaulted on its sovereign debt, marking a historic event as the first such default since independence in 1948 and the first in the Asia-Pacific region in the 21st century.
Prime Minister RanilWickremesinghe declared in June 2022 that the Sri Lankan economy had collapsed, rendering it incapable of funding essential needs.
A United Nations report in September 2022 attributed the economic crisis to officials' impunity for human rights abuses and economic crimes.
IMF Support:
In March 2023, Sri Lanka sought assistance from the International Monetary Fund (IMF) and secured a $3 billion support package.
The IMF package aims to aid Sri Lanka in stabilizing its economy and implementing necessary reforms.
---
Measuring hunger across States
(General Studies- Paper II)
Source : The Hindu
---
India, despite being a major food producer and having extensive food security schemes and the world's largest public distribution system, faces significant levels of food insecurity, hunger, and child malnutrition.
The Global Hunger Index (GHI) for 2022 ranked India 107th among 121 countries, placing it behind Nigeria (103) and Pakistan (99).
Key Highlights
The GHI measures undernourishment and hunger at the national level across three dimensions:

calorie undernourishment, child malnutrition, and under-five mortality.

The State of Food Security and Nutrition in the World report for 2022 indicates that India is home to 224.3 million undernourished people.
There are disparities among states in India in terms of food security and malnutrition.
Subnational data, encompassing the dimensions of the GHI, allows for the development of a hunger index specific to India at the state and union territory level.
This localized assessment is crucial for achieving the Sustainable Development Goals related to ending hunger and malnutrition.
State Hunger Index (SHI):

The State Hunger Index (SHI) is calculated using indicators like prevalence of stunting, wasting, mortality among children under five, and body mass index (BMI) undernourishment among the working-age population.
This replaces calorie undernourishment due to the unavailability of data since 2012.
Data for the SHI is sourced from the fifth round of the National Family Health Survey (NFHS-5) and other studies.
The scores range from 0 to 100, with higher scores indicating more hunger.
Categories include low hunger (below 10), moderate hunger (10-20), serious hunger (20-30), alarming hunger (30-40), and extremely alarming hunger (50 and above).

State-Level Hunger Assessment:

States like Bihar, Jharkhand, and Chhattisgarh scored 35 on the SHI, placing them in the 'alarming' category.
Several other states, including Gujarat, Uttar Pradesh, Assam, Odisha, Madhya Pradesh, Tripura, Maharashtra, and West Bengal, scored above the national average (29), resembling the performance of African nations.
States such as Chandigarh scored 12, while Sikkim, Puducherry, and Kerala scored below 16.
These states, along with Manipur, Mizoram, Punjab, Delhi, Arunachal Pradesh, Andaman and Nicobar Islands, and Tamil Nadu, fall under the 'moderate hunger' category.
All other states scored below the national average but above 20, indicating a problem of 'serious hunger.'
No state falls under the 'low hunger' category.

Changes in India's Hunger Situation:

Over the past five years, India's Global Hunger Index (GHI) score has deteriorated primarily due to the increasing prevalence of calorie undernourishment.
The proportion of calorie undernourishment in India has been escalating since 2017, reaching 16.3% in 2020, equivalent to the 2009 statistic.
The Indian government has disputed these conclusions but has not provided empirical evidence to support its claims.
Notably, no National Sample Survey (NSS) round on nutritional intake has been conducted by the government since 2011-12, which used to offer insights into the prevalence of calorie undernourishment at national and subnational levels.
In the 78th round of the NSS conducted in 2020-21, questions on household food insecurity were included, but information on these is missing from the NSS report.

Critiques of the GHI:

While the Global Hunger Index (GHI) has faced criticism for its methodology, indicator selection, and aggregation methods, it still provides valuable insights into undernourishment and child nutrition.

India's Poor Performance:
India's low ranking in the GHI is primarily due to its high prevalence of undernourishment and child malnutrition.
India performs poorly in child wasting, even worse than many low-income African countries.
The National Family Health Survey (NFHS-5) indicates that one-third of children under five in India are stunted and underweight, while one in five children suffers from wasting.
Despite India's progress in reducing extreme poverty, challenges remain in addressing food insecurity, hunger, and child malnutrition disparities.
What is the Global Hunger Index and how is it calculated?
The Global Hunger Index (GHI) is a tool used to measure and track hunger at the global and national levels.
It provides valuable insights into the state of hunger and undernutrition in various countries, helping policymakers and organizations address food security and malnutrition challenges.
It is jointly published by Concern Worldwide and Welt Hunger Hilfe, Non-Government Organisations from Ireland and Germany respectively.

Indicators:

The GHI is based on four key indicators, each representing a different dimension of hunger and malnutrition:

Undernourishment:

This indicator reflects the proportion of the population with insufficient caloric intake.
It is often measured by the number of people whose dietary energy consumption falls below a minimum level required to maintain a healthy life.
Child Stunting: Stunting occurs when children experience chronic malnutrition, leading to impaired growth and development.

This indicator measures the percentage of children under the age of five who have low height for their age.

Child Wasting: Wasting is a condition in which children have low weight for their height, indicating acute malnutrition.

This indicator measures the percentage of children under five who are wasted.
Child Mortality:

This indicator looks at the mortality rate of children under the age of five, reflecting the impact of undernutrition and other factors on child survival.

Data Sources: Data for these indicators are typically collected from national surveys, reports, and databases.

Reliable and up-to-date data sources are essential for calculating the GHI.

Calculation:

The GHI is calculated by combining the normalized values of the four indicators mentioned above.
Normalization involves rescaling each indicator so that values fall within a consistent range (usually 0 to 100) for meaningful comparison.
The normalized indicators are then averaged to calculate the overall GHI score for a country.

Interpretation: GHI scores are categorized into different levels of hunger severity:
Scores below 10 indicate "low hunger."
Scores between 10 and 19 indicate "moderate hunger."
Scores between 20 and 29 indicate "serious hunger."
Scores between 30 and 49 indicate "alarming hunger."
Scores of 50 or more indicate "extremely alarming hunger."
---
Integrating Personalised Adaptive Learning (PAL) into DIKSHA using AI
(General Studies- Paper III)
Source : The Hindu
---
The National eGovernance Division (NeGD), under the Ministry of Electronics and Information Technology (MeitY), is planning to integrate Personalised Adaptive Learning (PAL) into the existing Digital Infrastructure for Knowledge Sharing (DIKSHA) platform.
PAL aims to provide individualized learning experiences for students based on their unique needs and abilities.
Key Highlights
DIKSHA Overview:
DIKSHA, managed by the Ministry of Education, offers e-content for schools through an online portal and mobile application.
DIKSHA currently hosts digitized National Council of Educational Research and Training (NCERT) textbooks, teaching videos, explainers, and practice questions.
It provides content for both national and State Boards, making educational resources accessible to a wide range of students.
Introduction of PAL:
The National Council of Educational Research and Training (NCERT) has sought MeitY's expertise to introduce PAL to DIKSHA.
PAL utilizes Artificial Intelligence (AI) to personalize learning experiences.
For example, if a student makes a mistake in a math calculation, the AI system identifies the error and redirects the student to a basic instructional video.
PAL will initially focus on challenging subjects like Chemistry, Mathematics, and Physics for Classes 9 to 12.
The Ministry of Education aims to enhance digital learning to improve learning outcomes and reduce school dropouts, particularly after Class 10.
Experiments in States:
Several states have experimented with PAL through partnerships with private edtech companies.
Andhra Pradesh has collaborated with companies like Embibe, ConveGenius, and Mindspark to implement PAL in schools.
Assam and Haryana have initiated PAL projects but faced challenges due to funding constraints and high streaming costs.
Madhya Pradesh is considering introducing PAL for students from Classes 6 to 10 on its education portal, CM-RISE.
Challenges and Costs:
Building PAL is a significant undertaking that involves categorizing content, tagging chunks, and potentially creating new content.
The core tech platform's development may cost around ₹2-3 crore, with additional expenses for content development and recurring streaming costs.
The streaming costs depend on usage and could become substantial if widely adopted across India.
Future Plans:
MeitY plans to assess the market for edtech companies that can assist in launching PAL and integrating it with DIKSHA 2.0.
They are also considering the introduction of voice commands in DIKSHA 2.0 as part of AI-enabled learning.
Developing PAL and rolling it out for use is expected to take three to four years.
The integration of PAL into DIKSHA aims to provide tailored learning experiences to students, enhance educational outcomes, and address challenges related to school dropouts and academic difficulties.
About National e-Governance Division (NeGD)
The National e-Governance Division (NeGD) is a division under the Ministry of Electronics and Information Technology (MeitY) of the Government of India.
NeGD is responsible for the implementation and promotion of e-governance initiatives in India.
NeGD was established in 2009 as an independent business division under the Digital India Corporation, which was formerly known as Media Lab Asia.
NeGD plays a crucial role in supporting the Ministry of Electronics & Information Technology (MeitY) in the management and implementation of e-governance projects.

This support extends to both central and state government departments.
Operational Areas:
NeGD is involved in various operational areas related to e-governance and digital initiatives.
These areas include program management, project development, technology management, capacity building, and communication activities under the Digital India Programme.
National Public Digital Platforms:
NeGD has developed and manages several national public digital platforms aimed at enhancing the delivery of government services and improving digital infrastructure.
Some of these platforms include DigiLocker, UMANG, Rapid Assessment System, OpenForge, API Setu, Poshan Tracker, Academic Bank of Credits, National Academic Depositories, National AI Portal, MyScheme, India Stack Global, and Meri Pehchaan.
NeGD's activities align with the flagship Digital India Programme, which aims to transform India into a digitally empowered society and knowledge economy.
---
The northern plains of India is the most polluted region
(General Studies- Paper II and III)
Source : The Hindu
---
Data from the Air Quality Life Index (AQLI) for 2021 reveals that failing to meet the World Health Organization (WHO) guidelines for reducing PM2.5 (particulate matter) pollution to 5 μg/m3 could reduce global life expectancy by 2.3 years.
PM2.5 pollution poses the greatest external risk to human health worldwide.
Key Highlights
South Asia's Alarming Situation:
South Asia's Pollution Surge:

From 2013 to 2021, South Asia witnessed a surge in particulate pollution by 9.7%, further reducing life expectancy in the region by an estimated six months.
Most Polluted Countries: Bangladesh, India, Nepal, and Pakistan, collectively housing 22.9% of the global population, rank among the most polluted countries globally.

Bangladesh's Impact:

Bangladesh, the most polluted country in 2021, saw its citizens potentially losing an average of 6.8 years of life due to air pollution not meeting WHO guidelines.
In contrast, the average person in the U.S. lost just 3.6 months.
China's Success and India's Challenge:
China's Remarkable Pollution Reduction:

China stands out for its impressive 42.3% reduction in pollution from 2013 to 2021, extending its population's average life expectancy by 2.2 years.
This reduction is attributed to the country's pollution control policies initiated in 2014.
India's Persistent Challenge:
India, the second most polluted country in 2021, continues to face significant threats to human health due to particulate pollution.
PM2.5 pollution increased from 56.2 μg/m3 in 2020 to 58.7 μg/m3 in 2021, surpassing WHO guidelines by over 10 times.
Life Expectancy Impact:

The average Indian resident could lose 5.3 years of life expectancy if WHO guidelines remain unmet.
In comparison, cardiovascular diseases reduce life expectancy by about 4.5 years, while child and maternal malnutrition reduce it by 1.8 years.
Regional Insights for India:
Delhi's Severe Pollution: Delhi, the world's most polluted city, faces the potential loss of 11.9 years of life expectancy relative to WHO guidelines and 8.5 years relative to national guidelines if current pollution levels persist.
Northern Plains Challenge:

The northern plains, home to over half a billion people and 38.9% of India's population, is the most polluted region.
Residents here could lose approximately 8 years of life expectancy if pollution levels persist without effective policies.
Pollution Spread:
Pollution, once concentrated in the northern region, has spread to other parts of the country over the last two decades.
States like Maharashtra and Madhya Pradesh have seen pollution surges of 76.8% and 78.5%, respectively, since 2000, leading to additional years of life expectancy loss compared to 2000 levels.
Methodology and Impact Assessment:
Life Expectancy Calculations: AQLI's life expectancy calculations are based on peer-reviewed studies, which isolated the impact of particulate air pollution from other health factors.
These studies found that sustained exposure to an additional 10 μg/m3 of PM2.5 reduces life expectancy by 0.98 years.
About the Air Quality Life Index (AQLI)
The Air Quality Life Index (AQLI) is a tool used to assess and communicate the impact of air pollution on life expectancy.
The index is published by the Energy Policy Institute at the University of Chicago (EPIC).
It quantifies the extent to which exposure to fine particulate matter (PM2.5) air pollution, affects life expectancy in different regions and countries.
PM2.5 Exposure: The AQLI primarily focuses on PM2.5 pollution levels, as these fine particles can penetrate deep into the respiratory system, leading to various health problems.
Impact on Life Expectancy:
It calculates the impact of PM2.5 pollution on life expectancy, providing estimates of how many years of life individuals could potentially gain if air pollution levels were reduced to meet recommended guidelines, such as those set by the World Health Organization (WHO).
About PM2.5
PM2.5 stands for "Particulate Matter 2.5" or "Fine Particulate Matter."
It refers to tiny, inhalable particles found in the air that have a diameter of 2.5 micrometers or smaller.
To put this in perspective, PM2.5 particles are approximately 30 times smaller than the width of a human hair, making them so small that they can be easily inhaled and penetrate deep into the respiratory system.
They can originate from various sources, including:
Combustion Processes: The burning of fossil fuels in vehicles, power plants, and industrial facilities can release PM2.5 particles into the air.
Natural Sources: Some PM2.5 particles come from natural sources such as wildfires, dust storms, and volcanic eruptions.
Chemical Reactions: Chemical reactions in the atmosphere can create PM2.5 particles, such as secondary aerosols formed from the transformation of gaseous pollutants like sulfur dioxide and nitrogen oxides.
---