CURRENT AFFAIRS – 01/09/2023
CURRENT AFFAIRS – 01/09/2023
Economy grew 7.8% in first quarter
(General Studies- Paper III)
Source : TH
---
Strong Initial Growth:
India's Gross Domestic Product (GDP) and Gross Value Added (GVA) experienced a notable growth rate of 7.8% in the first quarter of the financial year.
This was the highest growth rate in four quarters, attributed to a supportive base.
Key Highlights
Factors Influencing Growth:

However, economists are cautious about the sustainability of this growth due to potential factors such as a weak monsoon, high inflation, and global economic challenges.
These factors might slow down the growth trajectory for the remainder of the fiscal year 2023-24.

Manufacturing and Services Sector Performance:

Manufacturing GVA, which had previously contracted for half a year, saw growth for the second consecutive quarter, reaching 4.7% in Q1.
The services sector experienced a significant surge, particularly in financial, real estate, professional services, trade, hotels, transport, communications, and related services.
Public administration, defense, construction, and employment-intensive sectors also showed positive growth.

Expert Views on Growth:

ICRA's chief economist, Aditi Nayar, expressed that the 7.8% growth fell below expectations of 8.5%, attributing the slower growth to manufacturing challenges and a deceleration in the construction sector.
On the other hand, Chief Economic Advisor V. AnanthaNageswaran remained optimistic, downplaying concerns about weak manufacturing and emphasizing balanced growth risks.

Outlook for Future Growth:

Crisil's chief economist, Dharmakirti Joshi, predicted that the 7.8% growth seen in Q1 could be the peak for the year.
He anticipated moderation in growth due to softening consumption, rising inflation impacting discretionary spending, global growth slowdown, lagged impacts of interest rate hikes, and potential agricultural output impact from dry weather conditions.

Sectoral Performance:

GVA growth rates varied across sectors.
While financial services, trade, and other related sectors showed strong growth, electricity, gas, water supply, and other services experienced lower growth at 2.9%.
The mining and quarrying sector saw growth at 5.8%.

Context:

Comparing with previous quarters, GDP growth was at 6.1% in the last quarter of 2023 and 13.1% in the first quarter of 2022-23.
GVA growth was at 6.5% in the previous quarter and 11.9% in the same period of the previous fiscal year.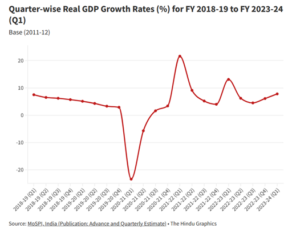 What is GVA?
Gross Value Added (GVA) is a crucial economic indicator that measures the total value of goods and services produced within a country's economy, minus the value of inputs and raw materials that are used up in the production process.
It provides a more comprehensive view of economic performance compared to Gross Domestic Product (GDP), as it accounts for production within various sectors without including taxes and subsidies on products.
GDP and GVA Relationship:

GDP is the sum of GVA from all sectors, plus taxes on products (minus subsidies on products).
In other words, GDP is the total value of all goods and services produced within a country, including the value added in each sector and net taxes on products.
Some other economic terms
Gross Domestic Product (GDP):

GDP is the total value of all final goods and services produced within a country's borders in a specific time period (usually a year or a quarter).
It's a comprehensive measure of economic activity and is often used to gauge the overall health and size of an economy.

Net Domestic Product (NDP):

NDP is derived by subtracting depreciation (wear and tear of capital) from GDP.
It measures the net value of economic output after accounting for the replacement of depreciated capital.

Gross National Product (GNP):

GNP includes the total economic output produced by a country's residents, whether domestically or abroad.
It's GDP plus net income earned from foreign investments.

Net National Product (NNP):

Similar to NDP, NNP is derived by subtracting depreciation from GNP.
It measures the net economic output produced by a country's residents, accounting for depreciation.

National Income:

National income is the sum of all the incomes earned by individuals and businesses in a country.
It includes wages, rents, interest, and profits.

Disposable Income:

Disposable income is the income left after deducting taxes and adding government transfers.
It represents the amount households have available for consumption and saving.
---
A progressive UCC must protect the child's best interests
(General Studies- Paper II)
Source : TH
---
The potential implementation of a Uniform Civil Code (UCC) in India has raised important considerations beyond matters like polygamy and divorce.
While a UCC aims to standardize personal laws across religions, it should encompass broader principles, especially those related to child custody and the rights of biological and adoptive parents.
Key Highlights
Expanding Beyond Father as Natural Guardian:

A UCC should extend beyond changing the traditional rule of the father being the natural guardian.
It should explicitly incorporate the "best interests of the child" principle in all custody disputes and address the rights of both biological and adoptive parents.

Current Laws and Guardianship:

The Guardians and Wards Act, 1890, emphasizes the welfare of the child in custody decisions.
The Hindu Minority and Guardianship Act, 1956, designates the father as the natural guardian, followed by the mother.
Islamic law prioritizes the rights of the child over the parents.
The father's right to custody ranks sixth, after the mother, maternal grandmother, paternal grandmother, sister, and maternal aunt.

Complex Issues Beyond Custody:

Issues more intricate than custody claims include the rights of biological parents after adoption and the case of an accused biological father.
Courts sometimes prioritize biological parents over adoptive parents without considering the child's best interests.

Accused Biological Father and Adoption:

In a case where the biological father was accused of rape resulting in the child's birth, the Bombay High Court granted custody to the biological father.
The child was initially given up for adoption due to the circumstances, but the court later decided in favour of the biological father, disregarding the best interests of the child and biological mother.

Biological Parents vs. Adoptive Parents:

In another case, the Allahabad High Court awarded custody to biological parents over adoptive parents, despite a notarized adoption deed.
The court upheld the rights of biological parents over adoption rights, ignoring the child's emotional attachment and well-being.

Importance of Protecting Adoptive Parents:

A progressive UCC should prioritize the rights of adoptive parents to encourage adoption.
It should not excessively emphasize biological ties and should recognize the significant role adoptive parents play in a child's life.

Inclusion of Various Parental Scenarios:

An effective UCC should cater to diverse family structures, including single parents, surrogate parents, and LGBTQ+ parents, without insisting on a specific marital bond between parents.
What is UCC?
The concept of a Uniform Civil Code (UCC) is enshrined in Article 44 of the Directive Principles of State Policy in the Constitution of India.
Article 44 states: "The State shall endeavour to secure for the citizens a uniform civil code throughout the territory of India."
This provision reflects the vision to bring about a uniform set of laws governing personal matters, including marriage, divorce, inheritance, and adoption, for all citizens of India, regardless of their religious affiliations.
The idea behind the Uniform Civil Code is to replace the diverse and often conflicting personal laws that are based on religious customs and traditions with a common set of civil laws.
This would promote gender equality, ensure justice, and unify the legal framework for various communities.
It's important to note that Article 44 places a duty on the State to "endeavour" to secure a uniform civil code.

This means that it is not a mandatory requirement but rather a goal to work towards.
---
Adani-Hindenburg matter and the SEBI Guidelines
(General Studies- Paper III)
Source : TH
---
In a previous order dated March 2, the Supreme Court of India addressed a set of petitions related to the Adani-Hindenburg matter.
The court instructed the Securities and Exchange Board of India (SEBI) to carry out investigations based on specific terms of reference outlined in the order.
The first term of reference pertained to investigating potential violations of Rule 19A of the Securities Contracts (Regulation) Rules 1957.
The Supreme Court set two additional terms of reference for SEBI's investigation: one related to non-disclosure of related party transactions and the other regarding the manipulation of stock prices, both in violation of existing laws.
In addition to SEBI's investigation, the Supreme Court established a separate Expert Committee to assess whether there was a regulatory failure in addressing alleged law violations by the Adani group.
Recent media investigations have brought forward additional allegations related to the Adani group, extending the scope of the ongoing probe.
What is Rule 19A?
Rule 19A is a provision within the Securities Contracts (Regulation) Rules 1957, introduced through an amendment on June 4, 2010.
It pertains to the "Continuous Listing Requirement" for companies listed on the Indian stock market.
Requirement for Public Shareholding:

Under Rule 19A, every company listed on the Indian stock market is required to maintain a minimum of 25 percent public shareholding.
This means that at least 25 percent of the company's total shares must be held by individuals or entities other than the "promoter and promoter group."

Definition of "Public":

In the context of Rule 19A, "public" is defined as individuals or entities that are distinct from the "promoter and promoter group."
The promoter group includes not only the promoter themselves but also their immediate family members such as spouse, parents, siblings, and children.
It also includes subsidiaries and associates of the company.

Purpose of the 25 Percent Threshold:

The minimum 25 percent public shareholding requirement serves a critical purpose in ensuring sufficient shares of a listed company are available for trading in the stock market.
This availability of shares facilitates the process of price discovery, which involves determining the fair market value of a company's stock through supply and demand dynamics.

Implications of Violations:

Violations of Rule 19A suggest potential stock price manipulation and insider trading.
If a company fails to meet the required 25 percent public shareholding, it raises concerns about attempts to artificially control the company's stock price and potentially engage in unauthorized trading activities.
Such actions can undermine the fairness and integrity of the equity market.

Significance for Market Integrity:

Maintaining the stipulated public shareholding level is essential to promote a transparent and well-functioning stock market.
Adequate public participation in share ownership helps prevent concentrated control and fosters a competitive trading environment that benefits investors and market participants.
What is Insider trading?
Insider trading refers to the buying or selling of a company's securities (such as stocks, bonds, or options) by individuals who have access to non-public, material information about the company.
This information can significantly impact the company's stock price once it becomes publicly known.
Insider trading involves trading based on information that is not yet available to the public and is considered material, meaning it could influence an investor's decision to buy or sell the company's securities.
Insiders typically include company officers, directors, employees, and other individuals who are privy to internal information that is not disclosed to the public.
This information can range from financial results, mergers and acquisitions, regulatory approvals, product developments, or other significant events that could impact the company's value.
When insiders trade based on non-public material information, they gain an unfair advantage over other investors who do not have access to such information.
---
India sees lowest August rainfall in a century
(General Studies- Paper I)
Source : TH
---
In August, India experienced the lowest rainfall in over a century, receiving 36% less rain than the typical amount for the month.
Key Highlights
August is usually a significant monsoon month with considerable rainfall, but this year, it has seen marked deficiencies in most parts of India, except for northeastern regions, the Himalayan States, and parts of Tamil Nadu.
El Nino Influence and Weather Conditions:

The strengthening of El Nino, a warming of the central Pacific, has contributed to deficient monsoon rainfall in India.
Unfavorable weather conditions in the Arabian Sea and the Bay of Bengal have also impacted rainfall patterns.

Comparisons to Past Years:

Similar severe deficits in August were observed in 2005 (25% shortfall) and 2009 (24% shortfall).
The latter year marked India's biggest drought in 50 years.

Overall Rainfall Deficit:

The cumulative effect of low rainfall in August has led to an overall national rainfall deficit of 10%.
Different regions of India have experienced varying levels of deficit, with eastern and north-eastern India facing a 17% deficit, central India facing a 10% deficit, and southern India facing a 17% deficit.

Increasing Break Days:

The India Meteorological Department (IMD) has noted an increasing trend in "break days," which are periods during the monsoon months (June-September) with little to no rain.

IMD's Forecast and Outlook:

The IMD had previously indicated that August rainfall would be "below normal," but the extent of the shortfall exceeded expectations.
The forecast for September suggests that monsoon rainfall will likely fall within a 10% range of the usual 16.7 cm for the month.
Understanding Rainfall Terminologies
Long Period Average (LPA) of Rainfall:

LPA of rainfall is the average rainfall recorded over a specific region for a particular time interval (such as a month or a season) averaged over a long period, often spanning several decades (e.g., 30 years, 50 years).
It serves as a benchmark for forecasting the expected quantitative rainfall for a specific time interval in that region.
LPA provides context for assessing whether the current rainfall is above normal, below normal, or within the expected range.

The India Meteorological Department (IMD) classifies All-India rainfall into different categories based on specific criteria.Here's how the classification is done:

Normal:

Rainfall falls within ± 10% of the Long Period Average (LPA).

Indicates a typical or average monsoon performance for the region.

Below Normal:

Rainfall is lower than 10% below the average of the LPA.
Suggests a deficit in monsoon rainfall for the area.

Above Normal:

Rainfall is greater than 10% above the average of the LPA.
Indicates an above-average monsoon performance.

Deficient Year:

Rainfall deficit ranges between 10% and 20% up to 40% of India's spatial area.
Reflects a significant shortfall in monsoon rainfall over a substantial portion of the country.

Large Deficient Year:

Rainfall deficit of over 10% is observed across more than 40% of India's area.
Signifies a widespread and severe shortfall in monsoon rainfall.
---
2023 Ramon Magsaysay award
(General Studies- Paper I)
Source : TH
---
Surgical oncologist R. Ravi Kannan, Director of Cachar Cancer Hospital and Research Centre (CCHRC) in Assam, is one of the Ramon Magsaysay Awardees for 2023.
Kannan is recognized for revolutionizing cancer treatment in Assam with a people-centric and pro-poor healthcare approach.
Key Highlights
Originally from Chennai, he worked at the Cancer Institute, Adyar, before becoming the Director of CCHRC in Silchar in 2007.
Under Dr. Kannan's leadership, CCHRC transformed into a comprehensive cancer hospital and research center with 28 departments covering various aspects of oncology and patient care.
The hospital implemented pro-poor initiatives including free treatment, food, lodging, employment for caregivers, and a homecare program to address patients' challenges in accessing treatment due to poverty and distance.
Hospital staff travelled to train family members in pain management and palliative care, leading to a significant increase in patient compliance from 28% to 70%.
CCHRC offers free or subsidized cancer care to around 5,000 new patients annually, benefiting approximately 20,000 poor patients for treatments and follow-ups.
Satellite clinics have been established in different districts, aiming to provide accessible prevention, treatment, and cancer care.
Kannan is also a recipient of the Padma Shri award.
About Ramon Magsaysay Award
The Ramon Magsaysay Award is an annual international award established in 1957 to honor individuals and organizations who have made outstanding contributions to society and community development in Asia.
Named after the late President of the Philippines, Ramon Magsaysay, the award recognizes those who have demonstrated selfless service, leadership, and transformative impact in their respective fields.

Categories:

The award is given in various categories that reflect the diverse areas of service and contribution.

These categories include Government Service, Public Service, Community Leadership, Journalism, Literature, Creative Communication Arts, Peace and International Understanding, and Emergent Leadership.

Eligibility:

The award is open to individuals and organizations from any country in Asia.

Nominees can come from various fields such as social work, government service, journalism, arts, literature, and more.

Previous Awardees:

Notable recipients include Mother Teresa, Mahatma Gandhi, Aung San Suu Kyi, and many others.
---
Neighbouring Countries Oppose China's New Map
(General Studies- Paper I and II)
Source : TH
---
Several countries, including the Philippines, Malaysia, Indonesia, and India, have expressed strong opposition to China's newly issued "standard map" for 2023, which includes disputed territories and maritime claims.
The map's content has escalated tensions and territorial disputes in the region.
Key Highlights
China's Defense of the Map:

On August 31, China's Foreign Ministry spokesperson, Wang Wenbin, defended the map's issuance, stating that China routinely releases standard maps to promote awareness of map usage.

Philippines' Rejection of the Map:

The Philippines' Foreign Ministry released a statement rejecting China's 2023 map, especially the inclusion of the controversial "nine-dash line."
The Philippines contends that China's efforts to assert sovereignty over Philippine features and maritime zones have no legal basis, particularly under the UN Convention on the Law of the Sea (UNCLOS) of 1982.

Malaysia's Protest:

Malaysia also voiced its protest against the map, rejecting its depiction of unilateral claims to Malaysian maritime territory, including parts of the Exclusive Economic Zone (EEZ).
Malaysia's government denounced the map's implications on its territorial integrity.

Indonesia's Concerns:

Indonesia, as the third ASEAN country to respond, emphasized the importance of adhering to international law.
The country's Foreign Minister, RetnoMarsudi, stated that any territorial claims and boundaries should align with the UN Convention on the Law of the Sea (UNCLOS) of 1982.

India's Strong Protest:

India, too, expressed its strong objection to the map.
External Affairs Minister S. Jaishankar characterized the map as making "absurd claims" on territories. India's stance further highlights the regional discontent with China's territorial assertions.
China-Philippines Boundary Dispute and the "Nine-Dash Line"
The China-Philippines boundary dispute revolves around competing territorial claims in the South China Sea, specifically concerning a group of islands, reefs, and features known as the Spratly Islands.
The primary source of contention is China's assertion of sovereignty over much of the South China Sea based on its "nine-dash line".
It is a demarcation line that encompasses nearly 90% of the sea's waters.
Origin and Historical Context:

China's "nine-dash line" has its origins in historical claims and maps dating back to the early 20th century, when China outlined a vague boundary to encompass various islands and features in the South China Sea.
However, these claims were not clearly defined and lacked international recognition.

UNCLOS and Legal Challenge:

The United Nations Convention on the Law of the Sea (UNCLOS) of 1982 established clear guidelines for maritime boundaries and Exclusive Economic Zones (EEZs).
The Philippines, a signatory to UNCLOS, initiated a legal challenge against China's claims in 2013 by filing a case with the Permanent Court of Arbitration (PCA) in The Hague.

Arbitration Ruling:

In 2016, the PCA issued a landmark ruling in favour of the Philippines, invalidating China's "nine-dash line" and declaring that China's activities within the Philippines' EEZ violated UNCLOS.
The tribunal ruled that China's claims had no legal basis and that its extensive maritime claims were incompatible with UNCLOS.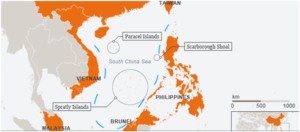 ---