CURRENT AFFAIRS – 28/08/2023
CURRENT AFFAIRS – 28/08/2023
Chandrayaan-3's landing spot on Moon to be known as Shiv Shakti point
(General Studies- Paper I)
Source : TH
---
Prime Minister Narendra Modi announced the renaming of points associated with Chandrayaan-3 and Chandrayaan-2 missions during his address to ISRO scientists.
The point where the Chandrayaan-3 Moon lander touched down will be known as "Shiv Shakti," symbolizing resolution for humanity's welfare and strength.
The area where Chandrayaan-2 left its footprints on the Moon will be called "Tiranga," representing inspiration and the idea that failure is not the end.
August 23, the date of Chandrayaan-3's historic soft-landing on the Moon, will be observed as "National Space Day."
Key Highlights
Naming points associated with space missions is a global tradition after successful achievements.
Previously, there was a discussion about naming the spot where Chandrayaan-2 crashed in 2019, but it was decided to name it only when a subsequent mission successfully soft-landed.

This point has now been named "Tiranga."

ISRO Chief K Somnath stated that naming landing sites is a common practice internationally and that India has the right to name its landing sites.
Other Indian names, such as the "Sarabhai crater," already exist on the Moon, and it's a tradition to name places related to scientific accomplishments.
In Image: Pragyan rover moving out of the lander.
No one can own the Moon
The Moon is not under the jurisdiction of any single country; it's a celestial body that is open for global exploration and landing missions.
The United Nations Office for Outer Space Affairs established the Outer Space Treaty in 1966, a period marked by the Cold War rivalry between the United States and the USSR.
This treaty set common principles for space exploration, including the provision that "outer space, including the moon and other celestial bodies, is not subject to national appropriation by claim of sovereignty, by means of use or occupation, or by any other means."
The Outer Space Treaty emphasized the importance of international cooperation in space exploration and prohibited any nation from claiming sovereignty over celestial bodies like the Moon.
While countries can send missions to the Moon and even plant flags, these actions hold no legal significance or consequences under the treaty.
The Outer Space Treaty does not specifically address the naming of sites on the Moon or other celestial bodies.
Naming conventions for these locations are not subject to the treaty's regulations.
Who names landing sites on the Moon?
The International Astronomical Union (IAU) is responsible for naming celestial bodies' features, including the Moon's surface.
India is one of the 92 member countries of the IAU.
Since its establishment in 1919, the IAU has been the authority for naming planetary and satellite features.
Informally, landing sites on the Moon and other landmarks were often named based on limited available information.
For instance, the far side of the Moon wasn't well known due to the Earth-facing nature of the Moon's rotation.
American and Soviet spacecraft missions improved our understanding of the Moon's surface, and many landmarks were informally named after scientists and engineers.
Subsequently, these names were submitted to the IAU for official approval.
During the Apollo missions, there was a practice of giving informal names to craters and mountains near landing sites.
These informal names often served as easy shorthand and were later given official status by the IAU.
Overall, while the Moon can't be owned by any nation, the IAU plays a role in officially naming various features on its surface based on proposals from the global scientific community.
The Process for naming Space objects
The International Astronomical Union (IAU) handles the process of naming features on planetary objects.
The process involves various steps and working groups within the IAU.
When the first images of a planet or satellite's surface are obtained, themes for naming features are chosen, and names for important features are proposed by members of the appropriate IAU task group.
As higher-resolution images and maps become available, additional feature names may be requested by investigators mapping or describing specific surfaces or formations.
Anyone can suggest a specific name for consideration by a Task Group, but there's no guarantee of acceptance.
Names approved by a task group are submitted to the Working Group for Planetary System Nomenclature (WGPSN).
After a successful review and vote by the WGPSN members, the names become official IAU nomenclature and can be used on maps and publications.
Approved names are entered into the Gazetteer of Planetary Nomenclature and posted on its website.
Objections to the names can be raised by contacting the IAU General-Secretary within three months of the name being posted on the website.
This naming process can take time; for example, the IAU approved the name "StatioTianchuan" for China's Chang'e 5 Moon mission's landing site in May 2021, several months after the mission's landing in December 2020.
Has India ever named any other site on the Moon?
After India's Chandrayaan-1 mission in 2008, a site on the Moon where the probe intentionally crashed was named "JawaharSthal" after India's first Prime Minister, Jawaharlal Nehru.
The decision to name the impact site was influenced by Dr. APJ Abdul Kalam, then Indian President and former ISRO scientist, who suggested making a symbolic note of India's achievement in reaching the Moon.
The Indian flag was also depicted on the Moon Impact Probe carried by the spacecraft during the mission.
The International Astronomical Union (IAU) later accepted the naming suggestion, making "JawaharSthal" the official designation for the impact site on the Moon.
---
Securing a Major Elephant Habitat
(General Studies- Paper III)
Source : TH
---
The Assam government is planting native tree species in an effort to secure a major elephant habitat and reduce conflicts between humans and elephants.
Around 25,000 saplings of native trees were planted between June and August in the Rowta Reserve Forest in Assam, covering a 100-hectare elephant habitat.
Key Highlights
Notable species among the planted saplings include Amla (Phyllanthusemblica), Bel (Aegle marmelos), Alpiniaallughus (ginger-like rhizome known as 'tora'), gamhari (Gmelinaarborea), jamun (Syzygiumcumini), bhumura (Terminalia bellirica), arjun (Terminalia arjuna), outenga or elephant apple (Dilleniaindica), and khair (Acacia catechu).
These species were selected based on their importance in the elephant's diet and the native forest cover.
The initiative aims to restore degraded areas with trees preferred by elephants, ensuring their habitat and facilitating their movement to mitigate human-elephant conflicts.
Assam-based biodiversity conservation organization Aaranyak is leading the effort, along with collaboration from the 61st Battalion of Sashastra Seema Bal, Dhansiri Forest Division personnel, and Dhansiri-Sikaridanga Joint Forest Management Committee.
Human-elephant conflicts have been a concern in Assam, with 561 reported human fatalities and several elephant deaths due to conflicts between 2014 and 2022.
Additionally, Aaranyak and the British Asian Trust have provided training in poultry farming to residents of 58 villages in the Garo Hills region, offering alternative livelihoods to those affected by conflicts with elephants, aiming to facilitate coexistence.
These efforts aim to promote both the well-being of elephants and the safety of human communities while fostering sustainable conservation practices.
About the Rowta Reserve Forest in Assam
The Rowta Reserve Forest is located in the Udalguri district of Assam, India.
It covers an area of approximately 100 hectares.
t comes under Mazbat Community Development Block.
The forest is situated along the border with Bhutan.
The reserve forest area is characterized by a mix of grasslands and woodlands.
The forest encompasses diverse soil substrata, including sandy coarse, rocky, and swampy land patches.
The Rowta Reserve Forest plays a significant role in providing habitat for various wildlife species, including elephants.
The forest's proximity to Bhutan adds to its ecological importance and its role in facilitating wildlife movement across borders.
The forest has been chosen as a site for planting native tree species to enhance the elephant habitat and mitigate human-elephant conflicts.
In Image: Assam forest map
---
Study on lifecycle of blow flies
(General Studies- Paper III)
Source : TH
---
Blow flies belonging to the Diptera, Calliphoridae family are the first insects to colonize a dead body.
This makes them important for accurate assessment of post-mortem interval (PMI), which is the time since death.
Key Highlights
These flies, commonly known as blow flies, play a crucial role in forensic entomology for determining the timing of death.
Studies have shown that the developmental rate of blow flies varies significantly based on seasonal changes such as summer, monsoon, and winter.
The developmental rate differences are attributed to changes in factors like humidity, rainfall, and temperature in the area, as well as genetic variations among blow flies.
Investigators performing PMI assessments must consider the local climatic conditions to ensure accurate estimates.
Generating location-specific data on forensically important fly species is essential for precise PMI assessment.
A study conducted by Reject Paul M.P., Assistant Professor at the MSc Forensic Science Programme, Kerala Police Academy, recorded 17 blow fly species from central Kerala.
The study analyzed morphological, molecular, and ultrastructural details of larval instars of these blow fly species.
The study developed a regression equation method that accurately estimates PMI using blow fly life history, providing specific hour-level estimations corresponding to different larval states.
This research, conducted is the first of its kind from southern India and is valuable for future PMI assessments during different seasons in forensic investigations.
Let us understand terminologies:
What is Forensic Entomology?

Forensic entomology is a branch of forensic science that involves the study of insects, arthropods, and other related organisms in relation to legal investigations.
It is particularly focused on using the behavior, biology, and life cycles of these organisms to provide valuable information in criminal investigations, especially in cases involving death, decomposition, and other biological evidence.
Forensic entomologists analyze insect activity, colonization patterns, life stages, and other factors to determine post-mortem interval (PMI), the time since death, and other relevant details that can help reconstruct the circumstances surrounding a crime or a death.
What is Morphology?

Morphology refers to the study of the form, structure, and appearance of organisms or their parts.
In biology, morphology involves the analysis and description of various physical characteristics, including shape, size, color, texture, and arrangement of body parts.
This study of external and internal structures helps in understanding the anatomy, classification, and relationships between different organisms.
What is larval instars?

Larval instars refer to the different developmental stages of an insect's life cycle during its larval phase.
Insects undergo a process called metamorphosis, which involves distinct stages including egg, larva, pupa, and adult.
The larval stage is characterized by the presence of larvae, which are often worm-like or caterpillar-like in appearance.
---
Climate Change and Health Hub in Delhi
(General Studies- Paper II and III)
Source : TH
---
India has secured the establishment of the first World Health Organization (WHO) Centre for Global Traditional Medicine in Gujarat.
India is also preparing to open a climate change and health hub in the national capital, in partnership with the Asian Development Bank (ADB).
Key Highlights
The WHO outpost in Jamnagar, Gujarat, will focus on global health matters related to traditional medicine, ensuring its quality, safety, accessibility, and rational use.
The climate change and health hub in Delhi aims to facilitate knowledge sharing, partnerships, and innovations related to climate change and its impact on health.
The G-20 outcome document recently released by India highlighted the link between climate change and health emergencies, including the emergence of infectious diseases and the increased frequency of natural disasters.
The document emphasizes the need to enhance the resilience of health systems against climate change impacts and to build sustainable and low-carbon healthcare supply chains.
India and other countries acknowledge the importance of addressing zoonotic spill-overs and emerging infectious diseases.
G-20 countries welcome initiatives like the International Pathogen Surveillance Network and the WHO Hub for Pandemic and Epidemic Intelligence to share good practices and strengthen infectious disease surveillance systems.
Alliance for Transformative Action on Climate and Health (ATACH)
The Alliance for Transformative Action on Climate and Health (ATACH) is an initiative that aims to fulfill the goals established during COP26.
Its primary objective is to establish climate-resilient and sustainable health systems by leveraging the combined efforts of WHO Member States and various stakeholders.
It also seeks to ensure the integration of climate change and health considerations into national, regional, and global plans.
ATACH operates through four thematic working groups that address key areas of concern:

Financing the Health Commitments on Climate Resilient and Sustainable Low Carbon Health Systems.
Climate Resilient Health Systems.
Low Carbon Sustainable Health Systems.
Supply Chains.
About Asian Development Bank (ADB)
The Asian Development Bank (ADB) is a regional development bank that was established to promote economic and social development in the Asia-Pacific region.
ADB was conceived in the early 1960s as a financial institution that would be Asian in character and foster economic growth and cooperation in one of the poorest regions in the world.
Formation:

The ADB was established on December 19, 1966.
It began operations on January 1, 1967.

Founding Members:

The ADB was founded by 31 member countries in the region, including both developed and developing countries.
India is one of the founding members of the Asian Development Bank (ADB).

Headquarters:

The headquarters of the Asian Development Bank is located in Manila, Philippines.

Membership:

The ADB has 68 members, which include 49 regional members from the Asia-Pacific region and 19 non-regional members from other parts of the world.

Financial Strength:

The ADB provides loans, grants, technical assistance, and policy advice to support development projects and initiatives in its member countries.
The bank raises funds through capital markets by issuing bonds.
Its financial resources come from its member countries' subscriptions, capital contributions, retained earnings, and borrowings.

Voting Powers:

Voting power in the ADB is based on financial contributions.
Members with larger financial contributions have higher voting power.
The voting power is divided into different categories, including subscribed capital, callable capital, and basic votes.
The largest shareholders are Japan, the United States, and China, which have the highest voting power due to their substantial financial contributions.

Governance:

The ADB is governed by its Board of Governors and its Board of Directors.
The Board of Governors consists of one governor from each member country, typically a finance minister or a central bank governor.
The Board of Directors is responsible for the day-to-day operations and decision-making of the bank.
It is composed of 12 executive directors and 12 alternate executive directors.

Mission and Activities:

The primary mission of the ADB is to reduce poverty and promote sustainable economic growth and development in the Asia-Pacific region.
The bank supports a wide range of projects and initiatives in sectors such as infrastructure, education, healthcare, agriculture, environment, and more.
ADB's operations include providing loans, grants, technical assistance, and policy advice to its member countries.
---
Tropical forests may be getting too hot for photosynthesis
(General Studies- Paper III)
Source : TH
---
A study published in Nature suggests that a small percentage of leaves in tropical forests are approaching the maximum temperature threshold for photosynthesis to work effectively.
Currently, around 0.01% of all leaves are surpassing this critical temperature for photosynthesis.
Key Highlights
The study estimates that tropical forests can endure up to a 3.9 degrees Celsius increase in air temperature over current levels before reaching a potential tipping point.
However, there is uncertainty regarding the range of critical temperatures in tropical trees, and the effect of leaf death on tree survival could impact predictions.
The 3.9 degrees Celsius estimate aligns with worst-case climate change scenarios for tropical forests, but there's still an opportunity to influence the future fate of these ecosystems.
Recent studies show that tropical forests have displayed resilience to warming impacts on carbon uptake and prolonged droughts.
Despite this resilience, the critical temperature serves as an upper limit, and crossing it is possible under the most pessimistic climate change scenarios.
Deforestation and habitat fragmentation can amplify local temperature changes in addition to global warming.
A combination of climate change mitigation goals and reduced deforestation is crucial to keeping tropical forests below critical thermal thresholds.
Tropical forests store significant carbon and host a major portion of global biodiversity, making them sensitive to rising temperatures.
The critical temperature for effective photosynthesis in tropical trees is around 46.7 degrees Celsius, but the extent to which leaf temperatures are approaching this threshold due to climate change remains uncertain.
What is critical temperature for photosynthesis?
The critical temperature for photosynthesis refers to the temperature at which the process of photosynthesis, which is the biochemical process by which plants convert light energy into chemical energy to produce food, starts to become less efficient or even inhibited.
It is the temperature threshold beyond which the enzymes and metabolic reactions involved in photosynthesis start to be negatively affected, leading to a decrease in the plant's ability to produce sugars and other organic compounds.
About Tropical Forests
A tropical forest, also known as a tropical rainforest, is a type of biome found in tropical regions near the equator.
It is characterized by high levels of rainfall and consistent warm temperatures throughout the year.
Tropical forests are incredibly diverse ecosystems that support a wide variety of plant and animal species.
They are often referred to as the "lungs of the Earth" because they play a significant role in absorbing carbon dioxide and producing oxygen through the process of photosynthesis.
Some key characteristics:

Location:

Tropical rainforests are primarily located near the equator, within the tropical latitudes.

They can be found in regions of Central and South America, Africa, Southeast Asia, and Oceania.

Climate:

Tropical rainforests have a humid and hot climate.

Temperatures are consistently warm throughout the year, usually ranging between 70°F to 85°F (21°C to 30°C).
These regions receive abundant rainfall, often exceeding 80 inches (200 cm) annually.

Canopy Layers:

The forest is divided into different canopy layers, including the emergent layer (tallest trees that protrude above the canopy), the canopy (dense layer of interconnected tree branches and leaves), the understory (lower and shadier layer beneath the canopy), and the forest floor.
Some Tropical rainforests:

Amazon Rainforest:

Located in South America, the Amazon Rainforest is the largest tropical rainforest on Earth.

Congo Rainforest:

Also known as the Central African Rainforest, this rainforest is situated in the Congo Basin in Africa.

Southeast Asian Rainforests:

These rainforests are found in countries such as Indonesia, Malaysia, Thailand, and the Philippines.

Daintree Rainforest:

Located in Queensland, Australia, the Daintree Rainforest is one of the oldest tropical rainforests in the world.

Madagascar Rainforests:

Madagascar, an island nation off the coast of Africa, is home to unique rainforests.

Papua New Guinea Rainforests

: The rainforests of Papua New Guinea are part of the Coral Triangle, a region known for its marine biodiversity as well.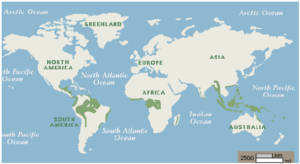 ---
What is the care protocol for babies in India?
(General Studies- Paper II)
Source : TH
---
Former British nurse Lucy Letby was sentenced to life in prison for being found guilty in the UK's worst child serial killer case.
Under such circumstances, let us look at patient safety provisions and protocols in India.
What are patient safety provisions in India?
Patient safety in India is defined as the freedom from unnecessary harm or potential harm related to healthcare.
The concept is outlined in the Union Health Ministry's document titled 'National Patient Safety Implementation Framework (2018-2025).'
Patients in India are protected through various layers of fragmented laws.
The Hippocratic Oath has the earliest reference to patient safety.
The Consumer Protection Act addresses medical negligence and deficiency of services.
Legal rights of patients are outlined in the Clinical Establishment Act.
The National Pharmaceutical Pricing Authority and Drugs Controller General of India ensure patients' rights in terms of medication and devices, preventing overcharging.
How is neonatal safety maintained?
Comprehensive provisions ensure neonatal safety and wellbeing to minimize potential risks.
Adequate staffing for closely monitoring each baby's condition and swift response to concerns.
Proper equipment for respiratory support, temperature regulation, and vital signs monitoring.
Controlled environments to prevent exposure to infections and temperature fluctuations.
Parental involvement encouraged with precautions to prevent infection spread.
Healthcare staff trained to counsel parents and provide emotional support for neonatal safety and development.
Regular training and continuing medical education for healthcare staff to maintain high-quality neonatal care and uphold safety standards.
Neonatal Health Issues:

Neonates face significant health risks, with a global decline in neonatal deaths from 5 million in 1990 to 2.4 million in 2019.
Highest risk of death occurs in the first 28 days after birth.
In 2019, 47% of all under-five deaths happened in the newborn period, with one third dying on the day of birth and three quarters within the first week.
Leading causes of neonatal deaths include lack of quality care at birth, intrapartum-related complications, infections, and birth defects.

Infant Mortality Rate in India:

Current infant mortality rate in India for 2023 is 26.6 deaths per 1,000 live births, a 3.89% decline from 2022.
In 2022, the rate was 27.6 deaths per 1,000 live births, a 3.74% decline from 2021.

Midwife-led Continuity of Care (MLCC):

Women receiving MLCC from professional midwives educated and regulated to international standards have better outcomes.
MLCC linked to a 16% lower likelihood of losing the baby and a 24% lower likelihood of experiencing pre-term birth.

Global Organization's Advice for Neonatal Care:

Families advised to seek prompt medical care for danger signs in neonates, including feeding problems and reduced activity.
Danger signs include difficult breathing, fever, fits or convulsions, jaundice in the first 24 hours, yellow palms and soles, and feeling cold.
Families required to register births and bring babies for timely vaccinations.

Some newborns may require additional attention and care during hospitalization and at home to minimize health risks.
Note: The term "neonatal" refers to the period immediately after a baby's birth, usually encompassing the first 28 days of life.
Note: Pre-term Birth: A "pre-term birth" occurs when a baby is born before completing a full 37 weeks of gestation. Pre-term babies, also known as premature babies, may require extra medical attention
---
PMJDY accounts cross 50 crore bank accounts
(General Studies- Paper II and III)
Source : TH
---
The number of bank accounts under PMJDY has crossed 50 crore this month.
Total deposits in PMJDY accounts have exceeded ₹2 lakh crore.
Key Highlights
The PM Jan DhanYojana (PMJDY) has completed nine years.
As of August 16, there were 50.09 crore PMJDY accounts with total deposits of ₹2, 03,505 crore.
This is an increase from 48.65 crore accounts with deposits of ₹1.98 lakh crore as of March 31.
Deposits in PMJDY accounts have more than doubled over the past 52 months, from ₹96,107 crore in March 2019.
Promoting Micro Insurance Schemes:
The government is working with banks and line ministries to encourage account holders to opt for micro insurance schemes like PMJJBY (Pradhan Mantri Jeevan JyotiBimaYojana) and Pradhan Mantri Suraksha BimaYojana.
The average deposit in PMJDY accounts has risen to ₹4,063.
Efforts are focused on persuasion, financial literacy camps, and awareness drives to educate people about the benefits of these insurance schemes.
Collaboration and Outreach:
Coordination is happening with ministries having field-level presence, such as anganwadi or Asha workers.
Databases like the E-Shram portal of the Labour Ministry are being examined to identify potential beneficiaries not covered by the schemes.
Enhancing Financial Services:
Efforts are underway to improve PMJDY account holders' access to micro-credit and micro-investment options, such as flexible recurring deposits.
The use of digital payments through Rupay cards and UPI has increased among PMJDY account holders.
The government aims to enhance the acceptance infrastructure for digital payments.
Zero Balance Accounts and Demographics:
The percentage of zero balance accounts has significantly decreased from 58% in March 2015 to only 8% of total PMJDY accounts.
Women account for 56% of the account holders, and 67% of the accounts are in rural and semi-urban areas.
Overdraft Facilities:
Around 32 lakh account holders have availed overdraft facilities, totaling ₹370 crore.
The overdraft limit was enhanced from ₹5,000 to ₹10,000 in August 2018, and the age limit for the facility was increased from 60 to 65 years.
About PM Jan DhanYojana (PMJDY)
Pradhan Mantri Jan-DhanYojana (PMJDY) is a National Mission for Financial Inclusion in India.
Its primary objective is to ensure access to various financial services for all citizens, especially those from marginalized and economically disadvantaged sections.
The services provided through PMJDY include basic savings and deposit accounts, remittance, credit, insurance, and pension, all in an affordable and accessible manner.
Benefits under Pradhan Mantri Jan-DhanYojana (PMJDY) include:
Basic Savings Bank Account:

Each unbanked individual is provided with a basic savings bank account, giving them access to formal banking services.

No Minimum Balance Requirement:

There is no mandatory requirement to maintain a minimum balance in PMJDY accounts, making banking accessible to all.

Interest Earnings:

Deposits in PMJDY accounts earn interest, allowing individuals to earn returns on their savings.

Rupay Debit Card:

PMJDY account holders are issued a Rupay Debit card, enabling them to perform cashless transactions and access their accounts conveniently.

Accident Insurance Cover:

Account holders receive an Accident Insurance Cover of Rs. 1 lakh (enhanced to Rs. 2 lakh for new PMJDY accounts opened after August 28, 2018) through the RuPay card issued with their PMJDY account.

Overdraft (OD) Facility:

Eligible account holders can avail an overdraft (OD) facility of up to Rs. 10,000, providing them with a short-term credit option.

Direct Benefit Transfer (DBT):

PMJDY accounts are eligible for receiving government subsidies and benefits directly into their bank accounts through the Direct Benefit Transfer (DBT) system.

Insurance Schemes:

Pradhan Mantri Jeevan JyotiBimaYojana (PMJJBY):

PMJDY account holders can enroll in this life insurance scheme, providing financial security to their families in case of unfortunate events.

Pradhan Mantri Suraksha BimaYojana (PMSBY):

This scheme offers accident insurance coverage, providing financial assistance in case of accidental injuries or death.

Atal Pension Yojana (APY):

PMJDY account holders can also join the Atal Pension Yojana, a pension scheme that provides a regular pension income to individuals during their retirement years.

Micro Units Development & Refinance Agency Bank (MUDRA) Scheme:

PMJDY accounts are linked to the MUDRA scheme, which provides financial assistance to small and micro enterprises for their growth and development.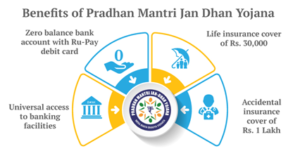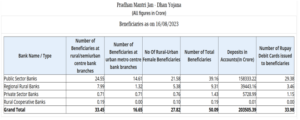 In Image: Pradhan Mantri Jan- DhanYojana Progress Report.
---
Why was a 40% duty imposed on onion exports?
(General Studies- Paper III)
Source : TH
---
In a bid to enhance onion availability in the market before the festive season, the Indian government introduced a 40% export duty on onions effective from August 19 until the year's end.
Additionally, the government plans to release its onion stocks in wholesale markets to counterbalance retail prices.
Key Highlights
Objective of the Measures:

Infusing Stocks for Price Stability:

The primary objective of these measures is to inject more onions into the market, thereby stabilizing prices and addressing the gap between supply and demand.

Response to Climatic Factors:

The decision stems from the adverse effects of unusual weather conditions such as higher temperatures and unseasonal rainfall that disrupted the growth cycle of onion crops.

Indian Onion Production and Growing Seasons:

Three Growing Seasons:

Onions in India are cultivated across three main seasons: kharif, late kharif, and rabi.

The kharif crop is harvested between October and December, late kharif between January and March, and rabi around March to May.

Major Producing States:

Maharashtra leads onion production with 39%, followed by Madhya Pradesh at 17%.

Other significant onion-producing states include Karnataka, Gujarat, Bihar, Andhra Pradesh, Rajasthan, Haryana, and Telangana.

Challenges and Concerns:

Temperature and Rainfall Impact:

Sudden temperature rise and unseasonal rainfall affected the quality and shelf life of onions, leading to smaller bulbs and reduced storage capabilities.

Lean Season and Stock Depletion:

This year, the expected reduction in shelf life of rabi onions has extended the lean period, increasing the risk of stock depletion by early September and causing price hikes.

India's Onion Exports and Impact of Export Duty:

Indian Export Volume:

India exported around 2.5 million tonnes of onions valued at approximately ₹4,522 crore in 2022-23.

Export Duty Impact:

The 40% export duty is anticipated to impact major export destinations like Bangladesh, Malaysia, UAE, Sri Lanka, Nepal, Indonesia, Qatar, Vietnam, Oman, and Kuwait.
India is the third largest exporter after The Netherlands and Mexico, which command about 15.8% and 11.7% of the market share respectively.

Buffer Stock Enhancement and Retail Availability:

Enhanced Buffer Stock:

The government has increased the buffer stock of onions from three to five lakh metric tonnes.

Subsidized Retail Availability:

Onions from the buffer stock will be offered to retail consumers at a subsidized rate of ₹25/kg through retail outlets and the National Cooperative Consumers' Federation of India (NCCF).

Balancing Farmers' Income and Consumer Availability:

Dual Benefit:

The government's actions aim to ensure remunerative prices for onion farmers while ensuring an affordable and continuous supply for consumers.

Strengthening Onion Market:

These measures are devised to create stability in the onion market, particularly ahead of the festive season and amid market disruptions caused by climate-related factors and export dynamics.
Cropping Seasons in India and Major Crops
India's diverse climate allows for the cultivation of crops throughout the year. The country has three main cropping seasons, each aligned with specific climatic conditions:
Kharif Season (Monsoon Crop):

Time:

June to October.

Key Monsoon Crops:

Rice, maize, millets (like jowar and bajra), cotton, groundnut, soybean.

Characteristics:

These crops require a high amount of rainfall and warm temperatures. Monsoon rains are crucial for their growth.

Rabi Season (Winter Crop):

Time:

October to March.

Key Rabi Crops:

Wheat, barley, mustard, gram, peas.

Characteristics:

Rabi crops thrive in cooler temperatures and do not rely solely on monsoon rains. They are typically irrigated.

Zaid Season (Summer Crop):

Time:

March to June.

Key Zaid Crops:

Cucumber, watermelon, muskmelon, vegetables (cabbage, cauliflower, tomato).

Characteristics:

Zaid crops are sown during the hot and dry summer months. They require irrigation for growth.

Cropping Diversity by Region:

North India:

Rabi crops dominate due to the winter climate. Major crops include wheat, barley, and mustard.

South India:

Both kharif and rabi crops are cultivated, benefiting from two monsoon seasons. Rice and millets are important kharif crops, while pulses and oilseeds are common rabi crops.

East India:

Rice is a staple kharif crop, while rabi crops like wheat and mustard are also grown. The region's abundant rainfall supports rice cultivation.

West India:

The region sees a mix of kharif and rabi crops. Maharashtra is a leading onion producer during the rabi season.
| | | |
| --- | --- | --- |
| Cropping Season | Time | Major Crops & States |
| Kharif Season | June – October | Rice (Punjab, Haryana, West Bengal, Andhra Pradesh), maize (Karnataka, Andhra Pradesh), cotton (Gujarat, Maharashtra), groundnut (Gujarat, Andhra Pradesh), soybean (Madhya Pradesh) |
| Rabi Season | October – March  | Wheat (Uttar Pradesh, Punjab, Haryana), barley (Rajasthan, Uttar Pradesh), mustard (Rajasthan, Uttar Pradesh), gram (Madhya Pradesh, Uttar Pradesh), peas (Uttar Pradesh, Madhya Pradesh |
| Zaid Season   | March – June | Cucumber, watermelon, vegetables (Multiple states) |
---