CURRENT AFFAIRS – 23/08/2023
CURRENT AFFAIRS – 23/08/2023
Kashmir drug crisis
(General Studies- Paper II and III)
Source : The Indian Express
---
Kashmir is facing a severe epidemic of drug addiction, particularly affecting young men, causing havoc in families, straining public health resources, and presenting a security challenge.
The largest de-addiction centre in Srinagar received one patient every 12 minutes in the previous year, highlighting the scale of the issue.
Key Highlights
Heroin is the most consumed drug in Kashmir, with seizures doubling in 2022 compared to 2019. Drug-related arrests increased by 60% in the same period.
Combatting drug cartels is crucial, but punitive measures alone are insufficient to address the problem.
Drug addiction is connected to societal, economic, and political distortions. A study by the J&K administration and the Institute of Mental Health and Neuro Sciences Kashmir reveals links between unemployment, education levels, and addiction.
Conflict zones like Kashmir with disruptions and limited recreational opportunities contribute to psychological distress, especially among youth.
Narcotic smugglers infiltrate Kashmir through Punjab, where drug issues have long prevailed due to lack of economic prospects.

A study showed one in seven people in Punjab dependent on addictive substances.

J&K needs to learn from Punjab's experiences, investing in economic and recreational opportunities for youth and involving civil society players.
The drug cartels have connections to Pakistan and West Asia, adding a security dimension to the crisis.
Governance in J&K faces a test, particularly without an elected assembly, requiring empowerment of people and civil society through vibrant political processes.
A comprehensive approach is needed, addressing public health, economy, and politics to heal the region.
The "Golden Crescent" and the "Golden Triangle"
The "Golden Crescent" is a term used to describe a region in South Asia that is notorious for being a significant producer of illegal narcotics, primarily opium and heroin.

The Golden Crescent region includes parts of three countries: Afghanistan, Iran, and Pakistan.
These countries are major players in the global drug trade due to their substantial opium poppy cultivation and heroin production.

The term "Golden Crescent" is often contrasted with another drug-producing region known as the "Golden Triangle," which encompasses parts of Southeast Asia, including Myanmar, Laos, Thailand, and Vietnam.

The Golden Triangle is another major hub for opium and heroin production.

Both the Golden Crescent and the Golden Triangle are areas of concern for global efforts to combat drug trafficking and production, as they contribute significantly to the illegal drug trade, leading to a range of social, economic, and security issues both within the region and internationally.
---
India, ASEAN agree to review FTA
(General Studies- Paper II and III)
Source : TH
---
India and ASEAN countries have agreed to review their free trade pact for goods to address trade imbalances.
The ASEAN-India Trade in Goods Agreement (AITIGA), signed in 2009, will undergo a comprehensive review.
Key Highlights
The Joint Committee of AITIGA discussed the roadmap for the review and finalized the terms of reference for new negotiations.

The decision was made ahead of an ASEAN-India Economic Ministers' meeting held in Indonesia.

The AITIGA review will be a topic of discussion at the upcoming India-ASEAN Leaders' Summit scheduled for early September.

Indian businesses had long advocated for the review, aiming to enhance trade facilitation and mutual benefits.

Negotiations will follow a quarterly schedule, with the aim of concluding the review by 2025.

The review is expected to boost trade diversification and address existing trade imbalances between India and ASEAN countries.

In 2022, FDI inflows from ASEAN into India totaled $16.41 billion, representing about 37% of India's total FDI inflows.
Note: ASEAN and India saw bilateral merchandise trade grow by 9.8% to $80.8 billion in 2018 from $73.6 billion in 2017, according to preliminary data.
India-ASEAN Relations and Trade
India's relations with the Association of Southeast Asian Nations (ASEAN) have evolved significantly over the years, encompassing political, economic, and strategic dimensions.

ASEAN consists of ten member countries: Brunei, Cambodia, Indonesia, Laos, Malaysia, Myanmar, Philippines, Singapore, Thailand, and Vietnam.

India's engagement with ASEAN is rooted in its 'Look East Policy' which later transformed into the 'Act East Policy', reflecting a stronger commitment to the region.

Diplomatic relations between India and ASEAN were established in 1992.

In 2002, India and ASEAN signed the ASEAN-India Framework Agreement for Comprehensive Economic Cooperation, which led to the establishment of the ASEAN-India Free Trade Area in 2010.
Trade Relations:

Bilateral trade between India and ASEAN has grown significantly in recent years.

Both sides signed a Free Trade Agreement (FTA) in goods in 2009, known as the ASEAN-India Trade in Goods Agreement (AITIGA).

AITIGA aims to reduce or eliminate tariffs on a wide range of goods, promoting trade liberalization.

Trade between India and ASEAN includes products like machinery, electronic goods, chemicals, textiles, and agricultural products.

ASEAN is India's 4th largest trading partner.

ASEAN and India have also adopted a joint statement announcing the elevation of the existing Strategic Partnership to Comprehensive Strategic Partnership.
Investment and Economic Cooperation:

ASEAN is a significant source of Foreign Direct Investment (FDI) for India.

India has invested in sectors such as telecommunications, automobile, chemicals, and textiles in ASEAN countries.

ASEAN investments in India are also on the rise, particularly in sectors like chemicals, electronics, and information technology.
Note: India is also part of the ASEAN-led regional forums like the East Asia Summit (EAS) and ASEAN Regional Forum (ARF), promoting dialogues on political and security issues.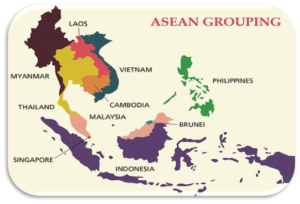 ---
Inflation pressures may linger
(General Studies- Paper III)
Source : TH
---
India's Finance Ministry has indicated that while inflation issues persist, spikes in food prices might be temporary.
The ministry attributed the recent surge in headline inflation to global uncertainties caused by the termination of the Black Sea Grain Initiative, impacting wheat and edible oil supplies, as well as disruptions in domestic farm output.
Key Highlights
Retail inflation surged to a 15-month high of 7.44% in July, with food inflation at 11.5%, possibly the third-highest since the current Consumer Price Index (CPI) series began in 2014.
Core inflation, excluding energy and food, was at a 39-month low of 4.9%.
The global uncertainties and domestic disruptions are likely to keep inflationary pressures elevated in the coming months, requiring increased vigilance from both the government and the central bank to maintain macroeconomic stability.
Global disruptions and domestic factors have contributed to these price pressures.
The termination of the Black Sea Grain Initiative disrupted wheat and sunflower oil supplies.
Domestic disruptions included interruptions in the tomato supply chain due to whitefly disease in Karnataka and swift monsoon arrival in northern India, leading to higher tomato prices.

Tur dal prices also increased due to deficient production.

Despite these abnormal price upticks, the review suggests that they are expected to be temporary.

Efforts such as enhanced imports of tur dal and fresh tomato stocks are expected to moderate food inflation.

Factors like continued dry conditions in Canada and the U.S. have led to rising wheat prices.

Vegetable oil prices spiked due to subdued production growth in Malaysia and concerns over soybean and rape seed production outlook in the U.S. and Canada.

While India's domestic consumption and investment demand are projected to drive growth, the Ministry cautioned that further global monetary tightening could impact stock markets in emerging economies.
Let us learn: Economy
Inflation:

Inflation refers to the general increase in prices of goods and services in an economy over a certain period of time.
Inflation essentially means that, on average, you need more money to buy the same basket of goods and services than you did before.
Inflation can erode the purchasing power of money, which means that the same amount of money buys fewer goods and services.
It is often expressed as a percentage increase in the average price level of goods and services over a specific time frame, usually a year.
Retail Inflation:

Retail inflation, also known as consumer inflation or consumer price index (CPI) inflation, measures the average change in the prices of a specific basket of goods and services consumed by urban and rural consumers over a period of time.
It reflects the cost of living for households.
This basket of goods and services includes items such as food, clothing, housing, transportation, medical care, education, and more.
Retail inflation is an important economic indicator as it directly affects consumers' purchasing power and living standards.
Headline Inflation:

Headline inflation refers to the overall inflation rate that includes all goods and services in the consumer basket.
It's a broad measure of inflation and includes volatile items like food and energy prices, which can often experience significant fluctuations.
Changes in headline inflation can be influenced by factors like supply disruptions, changes in commodity prices, or shifts in demand.
Core Inflation:

Core inflation is a measure of inflation that excludes volatile items like food and energy prices from the consumer basket.
It focuses on the underlying, more stable trend in inflation.
Core inflation provides a clearer picture of the general price movement of non-volatile goods and services and helps economists and policymakers better understand long-term inflation trends.
Deflation:

Deflation is the opposite of inflation. It refers to a general decrease in the prices of goods and services over time.
While this might sound like a good thing, deflation can have negative economic consequences, as it can lead to reduced consumer spending and business investment, creating a cycle of economic decline.
Hyperinflation:

Hyperinflation is an extremely rapid and out-of-control increase in prices.
It occurs when the supply of money grows much faster than the supply of goods and services.
Hyperinflation can erode the value of money at an alarming rate, leading to a breakdown in economic stability and confidence.
About CPI
The Consumer Price Index (CPI) in India is a measure that tracks the average change over time in the prices paid by urban and rural consumers for a basket of goods and services.
It serves as an indicator of inflation and reflects changes in the cost of living for households.
The CPI in India is measured and published by the Central Statistics Office (CSO), which is part of the Ministry of Statistics and Programme Implementation.
The CSO releases monthly data on various CPI indices that cover different segments of the population and regions.
The inflation rate is calculated by comparing the CPI value for the current period to the CPI value for a previous period.
Variants of CPI in India:In India, there are different CPI indices that cater to various consumer segments and regions:

CPI-Urban (CPI-U):

This index covers urban consumers and reflects price changes in the urban areas of the country.

CPI-Rural (CPI-R):

This index covers rural consumers and reflects price changes in rural areas.

CPI-Combined (CPI-C):

This index combines both urban and rural consumers, providing a comprehensive view of overall price changes in the country.
Uses of CPI in India:

Inflation Measurement: The CPI in India is primarily used to measure inflation and to monitor changes in the cost of living.
Policy Formulation: The Reserve Bank of India (RBI) uses CPI data to make decisions about interest rates and monetary policy, as it targets a specific inflation rate.
Wage and Benefit Adjustments: The government and organizations use CPI data to adjust wages, pensions, and benefits to account for changes in the cost of living.
---
Fukushima nuclear plant will start releasing treated radioactive water
(General Studies- Paper III)
Source : TH
---
The Fukushima Daiichi nuclear power plant in Japan will begin releasing treated and diluted radioactive wastewater into the Pacific Ocean around August 24.
Prime Minister Fumio Kishida approved the plan, stating that it is essential for the ongoing cleanup of the facility following the reactor meltdowns that occurred 12 years ago.
Key Highlights
The operator of the plant, Tokyo Electric Power Company Holdings (TEPCO), will carry out the coastal release if weather and sea conditions permit.
This decision has faced strong opposition from Japanese fishing organizations concerned about seafood reputation and from South Korea and China due to political and diplomatic concerns.
The wastewater is a result of the massive earthquake and tsunami that damaged the plant's cooling systems, leading to reactor meltdowns and contamination of cooling water.
The treated wastewater will be diluted with seawater to levels safer than international standards, and its impact on the environment and human health is considered negligible by the International Atomic Energy Agency (IAEA).
TEPCO plans a gradual release of the treated water over several years to minimize environmental impact.
The IAEA will continue monitoring the water release to ensure it adheres to safety standards and will provide real-time monitoring data and information.
While most scientists support the IAEA's view, some believe the long-term impact of the remaining low-dose radioactivity in the water should be considered.
The Japanese government has been actively communicating with neighbouring countries, particularly South Korea, to prevent the issue from negatively affecting international relations.
Hong Kong and Macau have announced bans on products from Fukushima and other prefectures, and China has increased radiation testing on Japanese fisheries products in response to the release.
TEPCO is also working on accepting applications for damages caused by China's export restrictions on Japanese seafood.
The Fukushima Daiichi nuclear power plant
The Fukushima Daiichi nuclear power plant is a complex of nuclear reactors located in Okuma, Fukushima Prefecture, Japan.
It gained global attention due to a catastrophic accident in 2011 following a massive earthquake and tsunami.
Location: Okuma, Fukushima Prefecture, Japan
Operator: Tokyo Electric Power Company Holdings, Inc. (TEPCO)
Number of Reactors: The Fukushima Daiichi plant initially had six boiling water reactors (BWRs), labeled Units 1 to 6.
Accident Date: March 11, 2011
Accident Sequence: What happened on that day?

Earthquake:

A powerful undersea megathrust earthquake with a magnitude of 9.0 struck off the northeastern coast of Japan on March 11, 2011.

Tsunami:

The earthquake triggered a massive tsunami, with waves exceeding 40 meters in some areas, which inundated the Fukushima Daiichi plant and damaged its backup power systems.

Cooling System Failure:

The tsunami knocked out the plant's backup generators, leading to a loss of power for cooling systems that were necessary to keep the reactors and spent fuel pools cool.

Reactor Meltdowns

: Without adequate cooling, the reactor cores of Units 1, 2, and 3 experienced fuel rod damage, leading to partial meltdowns.

Hydrogen gas build up caused explosions in reactor buildings.

Fuel Pool Issues:

The spent fuel pools of Units 3 and 4 also faced cooling problems, leading to hydrogen explosions and significant releases of radioactive materials.

Radiation Releases:

Radioactive materials were released into the atmosphere, leading to widespread contamination of the surrounding area.

Evacuation:

A wide evacuation zone was established around the plant to protect residents from potential radiation exposure.

Severity:

The Fukushima Daiichi accident was classified as a Level 7 event on the International Nuclear and Radiological Event Scale (INES), making it one of the most serious nuclear accidents in history, along with the Chernobyl disaster.
Aftermath and Cleanup:

The accident led to the evacuation of tens of thousands of residents from the affected areas, and the evacuation zone remains restricted in some parts.
Efforts to contain and stabilize the reactors involved the use of water injection, cooling, and the construction of various containment structures.
TEPCO and Japanese authorities faced immense challenges in managing the disaster, mitigating its effects, and decontaminating the area.
Decommissioning efforts and cleanup of the site includes the removal of fuel debris and the safe management of radioactive waste.
Long-Term Impact:

The Fukushima Daiichi accident led to increased global scrutiny of nuclear power safety, stricter regulations, and a re-evaluation of emergency response protocols.
It also prompted debates about the future of nuclear energy, with some countries reconsidering their nuclear power programs and others intensifying safety measures.
In Image: Fukushima Daiichi nuclear plant.
About International Atomic Energy Agency (IAEA)
The IAEA is an independent international organization that promotes the peaceful use of nuclear energy and technology.
Its primary goal is to prevent the spread of nuclear weapons and to ensure the safe and secure use of nuclear energy for peaceful purposes.

Established:

Founded in 1957

Headquarters:

Vienna, Austria

Director General:

Rafael Mariano Grossi

Membership:

173 Member States
Functions:

The agency works to foster cooperation among Member States to develop nuclear science and technology for various applications, including energy generation, medicine, agriculture, and industry.
It provides technical assistance and expertise to help countries develop their nuclear capabilities in a safe and secure manner.
The IAEA also plays a critical role in monitoring and verifying compliance with international agreements related to nuclear non-proliferation, such as the Treaty on the Non-Proliferation of Nuclear Weapons (NPT).
It conducts inspections and safeguards activities to ensure that nuclear materials are not diverted for military purposes.
The agency promotes nuclear safety and radiation protection, setting international safety standards and providing guidance on nuclear safety practices.
---
Bharat NCAP: India gets its own car crash testing programme
(General Studies- Paper III)
Source : TH
---
Starting from October 1, car manufacturers in India can voluntarily participate in the Bharat New Car Assessment Programme (Bharat NCAP), which will provide safety ratings for their models in crash tests.
Key Highlights
Bharat NCAP is based on the Global New Car Assessment Programme (Global NCAP) and aims to promote motor vehicle safety standards globally.
The program will apply to passenger vehicles with up to eight seats in addition to the driver's seat, with a gross vehicle weight not exceeding 3,500 kg.
The ratings will be based on three parameters:

adult occupant protection,
child occupant protection, and
safety assist technologies present in the car.

Tests for adult and child occupant protection include frontal offset, side impact, and pole-side impact tests conducted at specified speeds.
Manufacturers can nominate their models for testing, and random sampling will be done by Bharat NCAP representatives to select base variants for testing.
The selected vehicle will undergo testing at a testing centre in coordination with the Central Institute of Road Transport (CIRT).
Test results will be approved by the Bharat NCAP Standing Committee and published on the program's website.
The program is voluntary, but certain cases may require mandatory participation, such as popular vehicle models or when recommended by the Ministry for public safety reasons.
The goal is to enhance road safety in India, where road fatalities are high despite lower speeds compared to other countries.
NGO SaveLIFE Foundation's crash investigations revealed key factors in fatal car crashes, including passenger compartment intrusion, seat deformation, and lack of safe braking technology.
Bharat NCAP aims to reduce casualties, injuries, and the societal impact of road traffic incidents, while also enhancing brand reputation and consumer loyalty for manufacturers.
About Global New Car Assessment Programme (Global NCAP)
Established:

Founded in 2011

Purpose:

Global NCAP is an international non-profit organization dedicated to evaluating and promoting the safety of vehicles worldwide by conducting crash tests and providing safety ratings.

Partnerships:

Global NCAP collaborates with government agencies, international organizations, automotive manufacturers, and other stakeholders to advocate for higher safety standards in vehicle design and manufacturing.
Safety Ratings:

Global NCAP conducts independent crash tests on vehicles and assigns safety ratings based on their performance in various crash scenarios and safety features.
Vehicles are evaluated for adult occupant protection, child occupant protection, pedestrian protection, and safety assist technologies.
Star Ratings:

Vehicles are awarded star ratings, typically ranging from zero to five stars, based on their safety performance.
Higher star ratings indicate better crashworthiness and safety features.
Advocacy and Research:

Global NCAP advocates for the adoption of robust vehicle safety standards, regulations, and policies globally.
The organization conducts research to identify key safety challenges, technological advancements, and best practices in vehicle safety.
Promotion of Safer Vehicles:

By conducting independent crash tests and providing safety ratings, Global NCAP incentivizes automakers to improve vehicle safety standards and design.
The organization encourages the implementation of safety features like airbags, seatbelts, anti-lock braking systems, and electronic stability control.
---
How NASA, ESA will support ISRO
(General Studies- Paper III)
Source : TH
---
Ground stations of NASA and ESA have been assisting ISRO's Chandrayaan-3 mission since its launch on July 14.
Key Highlights
ESA's ground stations in Kourou, French Guiana, and Goonhilly Earth Station, U.K., have been tracking the satellite, receiving telemetry, and forwarding commands to the Mission Operations Centre in Bengaluru.
For Chandrayaan-3's Lander touchdown attempt on August 23, ESA's 35-metre deep space antenna in New Norcia, Australia, will track and communicate with the Lander Module during the Lunar Descent phase, serving as a back-up to ISRO's own ground station.
NASA's Deep Space Network provides telemetry and tracking coverage during the descent phase, receiving health data, instrument measurements, and monitoring the radio signal's Doppler Effect for real-time navigation.
Primary support from DSN comes from the complex in California, positioned on the other side of the Earth from India, providing Moon visibility when the Indian station cannot.
These ground stations' support becomes crucial during critical mission phases such as landing, ensuring success and data transmission for scientific analysis.
What is Doppler Effect?
The Doppler Effect is a phenomenon that happens when a sound or a light source is moving relative to an observer.
It causes a change in the pitch or frequency of the sound or the colour of the light that we perceive.
Imagine you're standing on the sidewalk and a car is driving past you while honking its horn.

As the car approaches you, the sound of the horn will be higher in pitch, or it will sound "squeezed."
But as the car moves away from you, the sound will become lower in pitch, or it will sound "stretched out."

The same thing happens with light.

If a light source, like a moving star or a passing ambulance with its siren on, is coming toward you, the light waves get compressed and appear bluer than they actually are.
If the light source is moving away from you, the waves get stretched out and appear redder.

This effect is why sirens on ambulances sound different when they're approaching you (higher pitch) versus when they're moving away from you (lower pitch).
It's also why astronomers use the Doppler Effect to learn about the movement and speed of stars and galaxies in space.
---
Causing floods is a terrorist offence in proposed Bharatiya Nyaya Sanhita Bill
(General Studies- Paper II)
Source : TH
---
The Bharatiya Nyaya Sanhita Bill aims to replace the Indian Penal Code (IPC) and introduces new definitions and provisions.
The Bill includes a provision that considers causing "floods" as a terrorist offense.
It defines terrorism as a separate offense and introduces a general law for the first time, distinct from the Unlawful Activities (Prevention) Act (UAPA) that focuses on terrorist activities.
Key Highlights
Section 111 (6) (a) and Terrorism:

Section 111 (6) (a) of the Bill defines a "terrorist" as someone who causes fire, floods, or explosions, among other actions.
Concerns and Criticisms:

Legal experts and practitioners express concerns about procedural safeguards against false implications in the new law, unlike UAPA and Maharashtra Control of Organised Crime Act (MCOCA).
UAPA has faced criticism for its stringent provisions and low conviction rates.
Critics argue that the proposed law lacks safeguards, allowing any police officer to file an FIR against someone as a terrorist, which could lead to misuse.
Past Incident and Concerns:

In 2022, a flood in Assam led to allegations of a "man-made" flood and arrests of residents, sparking social media accusations of "flood jihad."
Punishments and Similarities to UAPA:

Section 111 proposes a minimum five-year imprisonment and the death sentence as maximum punishment for terrorist offenses.
The new law's language and interpretation closely resemble UAPA.
Safeguards Missing:

Legal experts highlight that the proposed law lacks essential safeguards found in UAPA and MCOCA, such as requiring approval by a senior police officer before filing an FIR and restrictions on court cognizance without government sanctions.
Scope of the BNS Bill:

A senior government official states that the BNS Bill will not affect other special laws like UAPA and MCOCA but will follow arrest and custody procedures outlined in the BharatiyaNagarik Suraksha Sanhita (BNSS) Bill, which will replace the Code of Criminal Procedure (CrPC).
Mob Lynching and Group Definition:

The BNS Bill also defines mob lynching as a crime, specifying that the mob must comprise "a group of five or more persons."
---