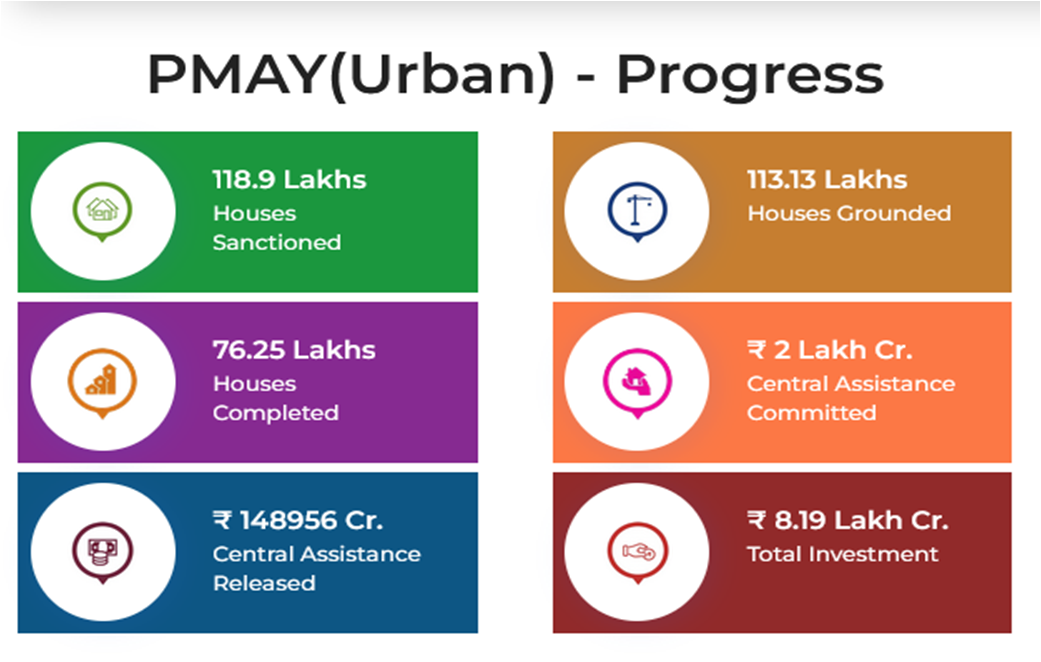 CURRENT AFFAIRS – 17/08/2023
CURRENT AFFAIRS – 17/08/2023
10,000 electric buses in 169 cities
(General Studies- Paper III)
Source : The Hindu
---
The Union Cabinet has approved a scheme called PM e-bus Sewa with the aim of enhancing urban infrastructure and promoting green mobility initiatives in India.
The scheme will add 10,000 electric buses (e-buses) to city bus services across the country.
An e-bus is defined as a bus that relies solely on zero-emission electricity for its propulsion and accessory systems.
Key Highlights
The estimated cost of the PM e-bus Sewa scheme is ₹57,613 crore, with the central government contributing ₹20,000 crore.
This support will be provided over a 10-year period to facilitate the operations of these e-buses.
The scheme is planned to be implemented in two segments:
Public-Private Partnership (PPP) Model:
In 169 cities, 10,000 e-buses will be introduced through a PPP model.
This involves collaboration between the public sector and private entities for the deployment of e-buses.
Additionally, depot infrastructure will be established or upgraded to support these e-buses.
This includes the development of behind-the-meter power infrastructure, such as substations.
Green Urban Mobility Initiatives:
In 181 other cities, the focus will be on upgrading urban infrastructure under green mobility initiatives.
This involves improving bus priority, infrastructure, multimodal interchange facilities, automated fare collection systems, and charging infrastructure for electric vehicles.
The scheme aims to cover cities with a population of three lakh and above, including all capital cities of Union Territories and various north-eastern and hill states.
Under the PM e-bus Sewa scheme, states or cities will be responsible for operating the bus services and making payments to the bus operators.
The central government will provide subsidies as specified in the scheme to support these bus operations.
It is anticipated that the scheme will generate around 45,000 to 55,000 direct jobs.
The adoption of electric mobility services, like e-buses, is expected to contribute to reducing noise and air pollution in Indian cities and curbing carbon emissions.
The scheme also seeks to leverage economies of scale through aggregation for the procurement of electric buses.
Schemes for E-Mobiity in India: Highlights
FAME I:
The FAME scheme (Faster Adoption and Manufacturing of (Hybrid and) Electric vehicles) was launched by the Indian government under the National Electric Mobility Mission Plan (NEMMP) in April 2015.
Ministry of Heavy Industries and Public Enterprises is the implementing ministry.
The primary objective of the FAME scheme is to accelerate the adoption of electric and hybrid vehicles in India.
FAME II:
FAME II (Faster Adoption and Manufacturing of Electric Vehicles Phase II) was launched by the Indian government on April 1, 2019.
FAME II had a total budget allocation of ₹10,000 crore ($1.4 billion) over a period of three years, from 2019 to 2022.
Ministry of Heavy Industries and Public Enterprises (MHIPE) is responsible for implementing the FAME II scheme.
Objectives:
Accelerate the adoption of electric vehicles.
Promote the manufacturing of electric vehicle components and technologies within the country.
Establish a robust charging infrastructure to support the growth of electric vehicles.
PLI SCHEME:
Production Linked Incentive for Advanced Chemistry Cell Battery Storage (PLI-ACC Scheme) was launched by the Department of Heavy Industry in June 2021.
Objective:
Encourage domestic and global investments in establishing large-scale Advanced Chemistry Cell (ACC) battery manufacturing facilities in India.
Accelerate the development and manufacturing of advanced batteries used in electric vehicles (EVs), renewable energy storage, and other applications.
The PLI-ACC Scheme aims to attract both international and domestic investors to set up manufacturing units for ACC batteries.
Battery Swapping Policy:
The Indian government also plans to introduce a Battery Swapping Policy for electric vehicles (EVs).
The policy aims to standardize the specifications of batteries used in EVs across India.
This standardization ensures compatibility and interchangeability of batteries among various EV models and manufacturers.
---
A necessary brake
(General Studies- Paper I and III)
Source : The Hindu
---
Unanticipated Monsoon Rainfall: In an El Niño year, contrary to expectations, north India experienced heavy monsoon rainfall in July, with record rainfall reported in Himachal Pradesh, Punjab, Uttarakhand, and Delhi.
The excessive rainfall resulted in flooding, landslides, and casualties. Himachal Pradesh alone reported losses worth ₹10,000 crore and at least 150 casualties.
Key Highlights
Unusual Weather Patterns: Western Disturbances (WD), which typically bring winter rainfall, deviated from their normal patterns, causing unexpected heavy rainfall in northern India throughout the year.
Warming Arctic's Role: The altered WD patterns are attributed in part to a warming Arctic, influencing the polar jet stream and directing moisture-laden disturbances to north India during the monsoon season.
Concerns over Construction in Himalayas: Scientists and environmentalists warn against indiscriminate construction in the Himalayan region due to the changing weather patterns.
Char Dham Road Project: The ongoing road-building project, like the Char Dham road project, involves extensive mountain alterations, making these areas more prone to landslides and upheaval.
Risk Amplification: Poor construction practices, including carving mountains for infrastructure, magnify the risk for residents living in these regions, as demonstrated by fears of land subsidence in Uttarakhand's Joshimath.
Immediate Solutions vs. Long-term Planning: While state governments often seek compensation for disaster relief, there's a need to prioritize long-term solutions by reconsidering infrastructure development and potentially imposing restrictions for stability.
Environmental Impact: The article emphasizes the need to consider the larger ecological impact of infrastructure development in the fragile Himalayan ecosystem.
Understanding the Western Disturbance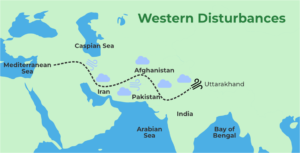 Western Disturbance (WD) is a meteorological term that refers to a phenomenon of extratropical storm systems originating in the Mediterranean region and moving eastwards across Europe and Asia.
WDs are low-pressure systems that bring in a flow of moist air from the Mediterranean Sea.
They are marked by an upper-level trough or cyclonic circulation in the mid-latitude westerly flow.
These disturbances carry moisture and often result in cloud formation and precipitation.
Impact on India:
Rainfall Distribution: WDs play a crucial role in the winter and pre-monsoon rainfall in northwestern India.
They bring rain and snow to regions like Jammu and Kashmir, Himachal Pradesh, and Uttarakhand.
Snowfall: In higher altitudes, WDs can lead to heavy snowfall, impacting transportation, agriculture, and the livelihoods of people living in those areas.
Winter Rainfall: Parts of northern India experience winter rainfall due to WDs, which is vital for agriculture and groundwater recharge.
Temperature Fluctuations: WDs can lead to significant temperature fluctuations, bringing colder conditions as they introduce moist air and cloud cover.

Cyclonic Activity:

WDs can interact with other atmospheric features to trigger cyclonic activity in some cases.
Recent years have witnessed changes in the behavior of WDs, including their timing, intensity, and frequency.
Climate change and a warming Arctic are thought to influence the jet stream's behavior, leading to deviations in WD patterns.
What are Jet Streams?
A jet stream is a high-speed, narrow, and meandering air current found in the upper troposphere and lower stratosphere.
It is driven by the temperature contrasts between different air masses, primarily caused by the differences in solar heating at various latitudes.
The jet stream flows from west to east, influencing the movement of weather systems across large distances.
There are typically two major jet streams in each hemisphere: the polar jet stream and the subtropical jet stream.
Note: The polar jet stream, which flows at higher altitudes, often influences the movement and intensity of western disturbances. When a western disturbance interacts with the jet stream, it can enhance its intensity and affect the distribution and amount of precipitation it brings.
---
Housing for all
(General Studies- Paper II)
Source : The Hindu
---
Prime Minister Narendra Modi's announcement of a new housing scheme for urban poor signals the government's intention to address the shortage of urban housing.
Previously, the government had extended the Pradhan MantriAwasYojana-Urban (PMAY-U) until December 2024, with a focus on completing sanctioned houses.
Key Highlights
A reevaluation of PMAY-U might have led to the shift in the government's stance, highlighting the ongoing challenges of achieving "housing for all."
In the past eight years since PMAY-U's launch, only around two-thirds (76.25 lakh) of the sanctioned houses (1.19 crore) have been completed or handed over.
Central assistance released amounted to ₹1.49 lakh crore, with the Centre's share at 24.4%, and states and urban local bodies contributing 16%.
          – Beneficiaries contributed nearly 60%.
The proposed scheme aims to reduce the beneficiaries' share to around 40% due to their low income, as recommended by a parliamentary committee report.
While some states assist beneficiaries in accessing bank loans, financial institutions are reluctant due to a lack of proof of sustained income.
The parliamentary committee's suggestions on PMAY-U implementation are noteworthy, especially its recommendation to adopt a flexible assistance arrangement based on topography and other factors instead of a uniform approach.
Factors contributing to challenges in urban housing include poor quality of houses, unoccupancy, high land costs, floor space index restrictions, and multiple certifications from various agencies.
Effective solutions require central government-led discussions involving relevant agencies like State governments, local bodies, urban planning bodies, professionals, financial institutions, and activists.
The objective of the new housing scheme should be to create a fool-proof approach that transforms "housing for all" from a slogan into a tangible reality in the near future.
About Pradhan MantriAwasYojana-Urban (PMAY-U)
Pradhan MantriAwasYojana-Urban (PMAY-U) was launched on June 25, 2015, by the Government of India.
The aim was to provide affordable housing to the urban poor and achieve the goal of "Housing for All" by 2022.
PMAY-U is implemented by the Ministry of Housing and Urban Affairs (MoHUA).
PMAY-U consists of two key components:
In-situ Slum Redevelopment (ISSR): This approach focuses on improving the living conditions of slum dwellers by providing them with pucca houses within the same slum area.
Credit-Linked Subsidy Scheme (CLSS): The CLSS aims to provide financial assistance to eligible beneficiaries for purchasing or constructing a new house or upgrading their existing homes.
This component includes: Credit Linked Subsidy Scheme for EWS and LIG, Affordable Housing Through Partnership, Subsidy for Beneficiary-led individual house construction.
Coverage and Duration:
All 4041 statutory towns as per Census 2011 with focus on 500 Class I cities would be covered in three phases as follows:
Phase I (April 2015 – March 2017) to cover 100 Cities selected from States/UTs as per their willingness.
Phase II (April 2017 – March 2019) to cover additional 200 Cities
Phase III (April 2019 – March 2022) to cover all other remaining Cities
---
Koosina mane scheme
(General Studies- Paper II)
Source The Hindu
---
The Karnataka government's introduced the "Koosina mane" scheme in the 2023-24 Budget.
It is aimed at setting up child homes or creches across 4,000 gram panchayats for the children of working mothers, is a noteworthy initiative with multiple positive aspects.
Key Highlights
Demand-Side Solution for Women's Labor Force Participation:
The scheme aligns with the Mahatma Gandhi National Rural Employment Guarantee Act (MGNREGA), which requires one-third of beneficiaries to be women.
Women's participation in MGNREGA in Karnataka is lower compared to states like Tamil Nadu and Kerala.
Reliable childcare infrastructure can enhance and sustain women's labor force participation.
Explicit Support for Working Mothers:
The scheme acknowledges that women are not just mothers but active contributors to the workforce.
Existing infrastructure like the Integrated Child Development Services (ICDS) primarily focuses on maternal and child health, not supporting working mothers.
"Koosina mane" addresses childcare needs before six months and beyond, aligning with working women's requirements.
Redistributing the Gendered Burden:
Working women in India face the "triple burden" of paid work, childcare, and domestic chores.
Building "koosina mane" at scale across gram panchayats can redistribute the gendered burden of childcare.
This can alleviate the strain on women and young girls who substitute for mother's care.
Ease the Relationship Between Women's Employment and Childcare:
Childcare provision can help ease the "motherhood penalty" and enable women to sustain better-paying work.
The scheme reorganizes care work outside the household, creating space for women to work, upskill, and seek higher-paid opportunities.
Child Safety and Well-Being:
Child safety is a concern for working mothers who must take their children to work due to lack of care support.
"Koosina mane" addresses child safety, nutrition, and overall well-being by offering well-managed childcare by trained caregivers.
Key Differentiators of "Koosina Mane" Initiative:
The scheme stands out due to its scale, integration of expenses within the government budget, and focus on children as young as six months.
Similar to the Shakti scheme, which enhances women's participation through multiple approaches, "Koosina mane" can positively impact women's labor force participation.
Karnataka Govt's Shakti Scheme
Launched in 2023 itself, Karnataka Shakti Scheme is flagship scheme of Government of Karnataka.
The main objective behind launching Shakti Scheme is to empower women financially by providing them free of cost bus service.
Free Travel from one place to another place is only applicable within the boundary of Karnataka State.
Women Beneficiary can avail the free of cost ride under Shakti Scheme only in Ordinary, Urban Transport, Express and Regular Transport Buses.
No Free of Cost Bus Service will be provided to women beneficiary in AC, AC Sleeper, Non AC Sleeper, or any luxury bus.
---
Bihar's caste-based survey facing a challenge
(General Studies- Paper II,)
Source : The Hindu
---
The Supreme Court is scheduled to hear petitions challenging the Patna High Court's decision on August 18 regarding the ongoing caste survey by the Bihar government.
A plea for a stay on the survey was declined by a Bench of Justices Sanjay Khanna and SVN Bhatti on August 14.
On August 1, the Patna High Court allowed the Bihar government to continue the survey, stating that it was valid, competent, and in the public interest.
Details of the Ongoing Caste-Based Survey:
The Bihar government initiated a two-phase caste survey on January 7, aimed at gathering socio-economic data to improve policies for disadvantaged groups.
The survey also records the economic status of families alongside their caste, covering a population of 12.70 crore in Bihar's 38 districts.
The first phase took place from January 7 to January 12, involving a house listing exercise.
The second phase began on April 15 and aims to collect data on castes, sub-castes, and religions of individuals.
After a High Court stay on May 4, the Bihar government resumed the second phase on August 2 and aims to complete it by mid-August.
The final survey report is expected in September, close to the 2024 general election.
Origin of Caste Census and Mandal Politics:
The Bihar Assembly passed a unanimous resolution in February 2019, seeking a caste-based census.
Regular censuses only record Scheduled Castes data, with the last comprehensive caste data collected in 1931.
There has been demand for a Socio-Economic Caste Census (SECC), but the Union government argued it's unfeasible and administratively difficult.
The 2011 Socio-Economic and Caste Census (SECC-2011) collected data but faced challenges in processing and publication.
High Court's Ruling and Reasons for Upholding Survey:
The Patna High Court upheld the caste survey's validity, noting its purpose to uplift Backward Classes, Scheduled Castes, and Scheduled Tribes.
The Court emphasized that affirmative action under Article 16 requires relevant data on social, economic, and educational conditions.
It referred to IndraSawhney's ruling, highlighting caste's importance in ameliorating social backwardness.
The Court acknowledged caste as an indicator of historical discrimination and recognized the need for equal opportunities.
Challenges and Supreme Court Petitions:
Multiple petitions were filed challenging the Bihar government's survey, claiming it infringes upon the Centre's powers.
The petitioners argue that only the Union government can conduct a census under relevant constitutional provisions.
The State government's competence to conduct the survey was also contested.
Privacy concerns were raised regarding the collection of personal data.
Importance of Caste Surveys:
Sociologists and political experts emphasize the significance of caste surveys in combating caste discrimination and fostering an egalitarian society.
The phrase 'caste' has historically been associated with lower castes, and surveys help map socio-economic disparities.
If successful in Bihar, other states might demand similar surveys.
Internal Caste Survey and Concluding Remarks:
An internal caste survey by the Indian Institute of Technology Bombay revealed caste discrimination and mental health issues faced by SC and ST students.
The Supreme Court's hearing on August 18 will address the challenges to the ongoing caste survey.
The ongoing caste survey in Bihar holds implications for policy-making and social equity.
About Socio-Economic Caste Census (SECC)
The Socio-Economic Caste Census (SECC) of 2011 was a comprehensive survey conducted in India to collect data on various socio-economic and caste-related parameters of households and individuals.
It aimed to provide a detailed picture of the socio-economic conditions and living standards of households across the country.
Census in Rural Area was conducted by the Department of Rural Development (DoRD).
Census in Urban areas was under the administrative jurisdiction of the Ministry of Housing and Urban Poverty Alleviation (MoHUPA).
Caste Census is under the administrative control of Ministry of Home Affairs: Registrar General of India (RGI) and Census Commissioner of India.
Objective:
To identify and prioritize households living below the poverty line.
To create a database for targeted delivery of government welfare schemes and programs.
To capture information on various social and economic indicators, including caste and religion, to aid in policy planning.
The SECC covered both rural and urban areas of India and collected information on various aspects such as: 
Household demographics
Housing conditions
Landholding and assets
Source of income and livelihood
Educational status
Occupational pattern
Social and caste status
Methodology: The SECC was conducted through a three-step process:
Automatic Inclusion: Certain households were automatically included in the survey based on specific criteria, such as households with no literate adult above 25 years.

Exclusion Criteria:

Households fulfilling certain exclusion criteria were excluded from the survey.
These criteria included households with members holding government jobs, households with a specified amount of land, households with higher income levels, etc.
Data Collection: Enumerators visited households to collect data using specially designed SECC forms.
Limitations and Criticisms:
The SECC faced criticism for the accuracy of data collection and classification, as well as concerns about potential misuse of caste and religion data.
The process of automatic inclusion and exclusion led to debates about the fairness of these criteria.
Some argued that the SECC should have included more categories and criteria for assessing poverty and socio-economic conditions.
---
Vishwakarma scheme
(General Studies- Paper II and III)
Source : The Hindu
---
The Cabinet Committee on Economic Affairs (CCEA) has approved the "PM Vishwakarma" scheme with a budget of ₹13,000 crore.
This scheme, introduced by Prime Minister Narendra Modi in his Independence Day speech, will be active for five financial years, from 2023-2024 to 2027-2028.
Key Highlights
The scheme is designed to support traditional craftspeople and artisans, aiming to strengthen the "Guru-Shishyaparampara" or the traditional practice of passing down skills within families.
The goal is to enhance the quality and reach of products and services created by artisans and integrate them into domestic and global value chains.
18 traditional trades, including carpenter, blacksmith, goldsmith, potter, tailor, and more, will be covered under the scheme.
The beneficiaries will receive a PM Vishwakarma certificate and ID card, credit support up to ₹1 lakh (first tranche) and ₹2 lakh (second tranche) at a concessional interest rate of 5%.
The scheme also offers skill upgrading, toolkit incentives, support for digital transactions, and marketing assistance.
Two types of skilling programs—basic and advanced—will be provided, with beneficiaries receiving a stipend of ₹500 per day during skill training.
A support of up to ₹15,000 will be given to beneficiaries for purchasing modern tools.
The scheme's first year targets to cover five lakh families, with a total of 30 lakh families covered over five years.
Prime Minister Modi had announced the Vishwakarma scheme during his speech, focusing on empowering individuals skilled in traditional craftsmanship, particularly from the OBC community.
The scheme will benefit weavers, goldsmiths, blacksmiths, laundry workers, barbers, and similar families, with an initial allocation of around ₹13-15 thousand crore.
---
Global Initiative on Digital Health
(General Studies- Paper II and III)
Source : The Hindu
---
India, in partnership with the World Health Organization (WHO), is set to launch the Global Initiative on Digital Health during the ongoing G-20 summit in Gandhinagar, Gujarat on August 19.
This pioneering global initiative aims to facilitate data convergence, interface health platforms, and encourage investments in the digital health sector worldwide.
Key Highlights
The G-20 summit is also focusing on establishing an interim Medical Countermeasure (MCM), a 'network of networks approach,' to prepare for future health emergencies.
India, in collaboration with WHO, is leading this effort.
The Global Initiative on Digital Health will feature an investment tracker, an ask tracker (to identify specific product and service needs), and a library of existing digital health platforms.
Digital health innovations and solutions are expected to enhance universal health coverage and improve healthcare service delivery globally.
The initiative has secured funding from global partners and will prioritize data security, following India's practice of data being owned by citizens.
The global platform for data sharing will not disclose user data but will focus on sharing analyses and ensuring interoperability of data.
The G-20 summit is also working on establishing a Climate and Health Initiative (CHI) in India, in partnership with the Asian Development Bank, and launching a patient and healthcare workforce mobility portal.
What is an interim Medical Countermeasure (MCM)?
An interim Medical Countermeasure (MCM) refers to a temporary and often multifaceted approach to address public health emergencies.
This is needed particularly in situations where a specific disease outbreak or health crisis requires urgent intervention before a comprehensive and long-term solution can be developed.
MCMs are designed to provide a rapid response to emerging health threats, such as infectious disease outbreaks, bioterrorism incidents, or other public health emergencies.
They can include vaccines, antiviral medications, medical devices, diagnostic tools, therapeutic agents, and public health measures.
The goal of using interim MCMs is to minimize the spread of the disease, reduce morbidity and mortality, and alleviate the burden on healthcare systems.
---