CURRENT AFFAIRS – 16/08/2023
CURRENT AFFAIRS – 16/08/2023
Tamil Nadu Chief Minister seeks transfer of education back to State List
(General Studies- Paper II)
Source : TH
---
Tamil Nadu Chief Minister M.K. Stalin emphasized transferring education back to the State List of the Seventh Schedule of the Constitution.
This move is proposed to eliminate centralized exams like NEET.
Education was originally a State subject but was shifted to the Concurrent List during the Emergency by the Indira Gandhi government.
About Schedule 7 of the Constitution
Schedule 7 of the Indian Constitution is a critical component that delineates the allocation of powers between the Union (central) government and the State governments.
The seventh schedule is mentioned under Article 246 of the constitution.
It consists of three lists: the Union List, the State List, and the Concurrent List.
These lists categorize various subjects of legislation and administrative authority, determining whether they fall under the jurisdiction of the central government, State governments, or both.
This schedule plays a fundamental role in establishing the federal structure of India's governance.
Union List:

Central Authority

The Union List, also known as List I, enumerates subjects on which only the central government has the authority to legislate.
It includes matters of national importance, such as defense, foreign affairs, atomic energy, banking, currency, and taxation.
This list has at present 100 subjects (originally 97 subjects).
The central government's jurisdiction over the subjects listed in this list is exclusive, meaning State governments cannot make laws on these matters.
State List:

State Authority

The State List, also known as List II, outlines subjects that are within the legislative and administrative authority of the State governments.
These subjects primarily pertain to local issues and the day-to-day governance of the States.
Subjects in this list include police, public health, education, agriculture, and land.
This has at present 61 subjects (originally 66 subjects).
State governments have the sole power to make laws on matters listed here without interference from the central government.
Concurrent List:

Shared Authority

The Concurrent List, also known as List III, includes subjects on which both the central government and State governments can legislate.
This list was created to ensure uniformity and coordination in certain areas while allowing flexibility for State-specific requirements.
Subjects in this list include criminal law, marriage and divorce, bankruptcy and insolvency, and education.
This list has at present 52 subjects.
In cases of conflict between central and State laws on a concurrent subject, the central law prevails.
Residuary Powers

While the Union List, State List, and Concurrent List provide a comprehensive framework for allocating powers, there's also a provision for "residuary powers."
These are matters that are not explicitly mentioned in any of the lists.
The residuary powers belong to the central government, allowing it to legislate on subjects not covered in the lists.
Amendment of Schedule 7

Amending Schedule 7 requires a special procedure.
A constitutional amendment bill to this effect must be passed by both houses of Parliament with a special majority, i.e., a majority of the total membership of each house and a majority of not less than two-thirds of the members present and voting.
This is intended to ensure that any changes to the allocation of powers are carefully considered and not undertaken without broad consensus.
42nd Amendment Act (1976):

Transferred education, forests, weights and measures, protection of wildlife, administration of justice, etc., from State List to Concurrent List.
101st Amendment Act (2018) – Goods and Services Tax (GST):

Parliament and state legislatures can make laws on GST imposed by Union or State.
Exclusive Parliament power for inter-state trade or commerce related to GST.
---
Bird survey at Corbett Tiger Reserve
(General Studies- Paper III)
Source : TH
---
A bird survey was conducted at Corbett Tiger Reserve in Nainital.
A team of 62 members, including ornithologists, conservationists, and volunteers from organizations like WWF India, Tiger Conservation Foundation, and Village Volunteer Protection Force, participated.
The survey covered a total of 540 km across 135 forest trails within the reserve.
Key Highlights
Diverse Bird Species:

The survey identified around 275 bird species in Corbett Tiger Reserve.
The survey included various landscapes such as grasslands, dense forests, rivers, and hilly terrains.
Critically Endangered and Endangered Species:

The survey documented two critically endangered species: white-rumped vulture and red-headed vulture.
Two endangered species were also recorded: Pallas's fish-eagle and Egyptian vulture.
Vulnerable and Near-Threatened Species:

Four vulnerable bird species were counted: great hornbill, great slaty woodpecker, grey-crowned prinia, and river tern.
About 10 near-threatened bird species were found, including river lapwing, red-breasted parakeet, Himalayan griffon, and others.
Least Concern Species:

Around 256 species documented in the survey are considered of least concern by the IUCN.
Survey Methods:

Two methods were used to record bird species: Point Count Method and Trail Monitoring Count Method.
These methods aimed to provide a comprehensive approach to protect different parts of the landscape, essential for various wildlife.
Purpose of the Survey:

The survey aimed to better understand bird species and their associated habitats.
The goal was to comprehend the complexity of avian species and other populations in the tiger reserve.
The survey's findings were compiled by Oriental Trails, an NGO focused on wildlife conservation.
About Corbett Tiger Reserve
Named after the legendary British hunter and conservationist Jim Corbett, Corbett Tiger Reserve is one of India's oldest and most renowned tiger reserves.
It is located in the Nainital district of the state of Uttarakhand.
Corbett Tiger Reserve was established in 1936 as Hailey National Park, making it the first national park in India.
It was renamed Ramganga National Park in 1952 and later became known as Corbett National Park in 1957, in honor of Jim Corbett.
The reserve was one of the first areas chosen under the Project Tiger initiative in 1973, aimed at tiger conservation.
Corbett Tiger Reserve covers an area of around 1,318 square kilometers, spreading over three districts of Uttarakhand viz., Pauri, Nainital and Almora.
The reserve is situated in the foothills of the Himalayas and encompasses a diverse range of ecosystems, including hills, rivers, grasslands, and forests.
Flora and Fauna:

The reserve is home to a rich variety of flora and fauna. It features a mix of dense Sal forests, mixed deciduous forests, and grasslands.
Apart from Bengal tigers, the reserve houses a plethora of other wildlife species, such as leopards, Indian elephants, Indian rhinoceros, sloth bears, and various species of deer.
The Ramganga River, which flows through the reserve, supports a diverse aquatic ecosystem, including fish and crocodiles.
About Vulture Species in India
India is home to nine species of vultures, and seven of them face the danger of extinction. Some of the Vulture species endangered in India are:
Indian Vulture (Gyps indicus):

IUCN Status: Critically Endangered
The Indian vulture has faced a catastrophic population decline of over 97% due to the use of diclofenac in livestock.
White-Rumped Vulture (Gyps bengalensis):

IUCN Status: Critically Endangered
Similar to the Indian vulture, the white-rumped vulture has suffered a massive population decline due to diclofenac poisoning.
Slender-Billed Vulture (Gyps tenuirostris):

IUCN Status: Critically Endangered
This vulture species has also been significantly impacted by diclofenac, leading to population declines.
Red-Headed Vulture (Sarcogypscalvus):

IUCN Status: Critically Endangered
The red-headed vulture is listed as critically endangered primarily due to habitat loss and the presence of diclofenac in the environment.
Egyptian Vulture (Neophronpercnopterus):

IUCN Status: Endangered
While not as severely affected by diclofenac, the Egyptian vulture faces threats from habitat loss, poisoning, and electrocution on power lines.
Himalayan Griffon (Gyps himalayensis):

IUCN Status: Least Concern
Unlike other vulture species, the Himalayan griffon is currently classified as least concern by the IUCN.
Cinereous Vulture (Aegypiusmonachus):

IUCN Status: Near Threatened
This vulture species is listed as near threatened due to ongoing population declines.
It faces threats from habitat degradation, poisoning, and collisions with power lines.
Griffon Vulture (Gyps fulvus)

IUCN Red List Status: Least Concern (Population increasing)
Bearded Vulture (Gypaetus barbatus)

IUCN Red List Status: Near Threatened (Population decreasing)
---
Kerela- Draught Situation
(General Studies- Paper I and III)
Source : TH
---
The state is facing a possible drought-like situation due to widening monsoon deficit.
Southwest monsoon has been exceptionally poor, with a 44% overall rainfall deficit from June to August 14.
Threat of drought is looming large in various parts of the state.
Key Highlights
August Rainfall Shortfall:

Usual rainfall pattern in the first two weeks of August is 240.2 mm.
However, this year, the state has received only 25.0 mm of rainfall, marking a 90% shortfall.
IMD's Initial Prediction:

India Meteorological Department (IMD) predicted an above-normal southwest monsoon for the state before the monsoon season.
This was despite the impending El Nino effect.
Challenging Reality:

Contrary to predictions, the actual situation is alarming, particularly due to low water levels in reservoirs.
Water availability in key reservoirs under the Kerala State Electricity Board (KSEB) is just 37% of total capacity as of August 14.
In comparison, the reservoirs held 3,438.062 million units (mu) during the same period in 2022.
Current Meteorological Conditions:

Recent meteorological features do not indicate a strengthening of the monsoon for the rest of August.
An extended IMD rain forecast predicts below-normal rainfall until August 25.
September Rainfall Scenario:

Historically, the state usually receives only 13% of its seasonal average rainfall of 2,018.7 mm in September.
This implies that even normal rainfall in September would not be sufficient to compensate for the existing rain deficit.
Extreme Rainfall Events:

Only extreme rainfall events could potentially offset the shortfall, but such events are unlikely given the current meteorological conditions.
A senior IMD scientist stated that extreme events are necessary to compensate for the deficit.
The El Niño effect
The El Niño effect, also known as El Niño-Southern Oscillation (ENSO), is a climate phenomenon characterized by the periodic warming of sea surface temperatures in the central and eastern tropical Pacific Ocean.
It has significant impacts on global weather patterns, including changes in temperature, precipitation, and atmospheric circulation.
El Niño is one phase of the larger ENSO cycle, which also includes its opposite phase known as La Niña.
Effect on Indian Monsoon: Weakening of Monsoon Winds

During an El Niño event, the warming of sea surface temperatures in the tropical Pacific disrupts the normal atmospheric circulation patterns.
The easterly trade winds that typically bring moist air from the Indian Ocean towards the Indian subcontinent weaken or reverse.
This weakening of winds reduces the influx of moisture-laden air over India, leading to decreased rainfall.
El Niño tends to bring drier and warmer conditions to India during the monsoon season.
The weakened monsoon winds result in reduced rainfall in many parts of the country.
Regions that rely heavily on monsoon rains for agricultural activities may face drought conditions, affecting crops and water availability.
---
Consumption-based poverty estimates
(General Studies- Paper II)
Source : TH
---
Recent NITI Aayog report reveals a decline in the percentage of poor individuals in India, with a shift from 25% in 2015-16 to 15% in 2019-21, resulting in approximately 135 million people being lifted out of poverty.
The Global Multidimensional Poverty Index (MPI) report by UNDP and OPHI supports this trend, indicating a decrease in the incidence of the multidimensional poverty index from 27.5% in 2015-16 to 16.2% in 2019-21.
Key Highlights
Methodology and Context:

The methodology used for measuring multidimensional poverty is in question here and it has been argues that it should not be considered a substitute for consumption-based poverty estimates.

Consumption-based poverty estimates are still relevant for understanding poverty trends and their implications.

There are concerns about using multiple indicators for measuring multidimensional poverty, including challenges related to measurability, aggregation, and data availability.
Comparison of Results:

The Global MPI report of 2018 praised India's progress in reducing multidimensional poverty.

Similar reductions in poverty were observed based on consumption estimates using methodologies such as the Tendulkar and Rangarajan committee approaches.

The decline in the number of poor people over a period of several years highlights that the global MPI's conclusion is consistent with previous trends.
The Role of Non-Income Dimensions:

There is a need for non-income dimensions of poverty but these dimensions should complement, rather than replace, income or consumption-based poverty estimates.

Analyzing non-income indicators such as education, health, sanitation, etc., alongside income or consumption poverty is beneficial.

Converting these indicators into an index can be problematic due to issues related to aggregation and data constraints.
Challenges and Critiques:

The concern about aggregating multiple indicators is that they may not be commensurate or analytically suitable for aggregation.

Similarly, The Human Development Index is criticized for being an arbitrary unidimensional index.
Data Limitations and Need for Changes:

Official data on consumer expenditure beyond 2011-12 is not available for comparison with the multidimensional poverty index.

It is essential to wait for the results of the ongoing consumption expenditure survey for accurate analysis.
Recommendations and Conclusion:

Addressing the widening gap between NSS and NAS consumption estimates is crucial, and the National Statistical Office should investigate this issue.

It is suggested that consumption surveys should be supplemented with studies on the impact of public expenditure on health and education within different expenditure categories.
About Global Multidimensional Poverty Index (MPI)
The Global Multidimensional Poverty Index (MPI) is a measure developed to assess multidimensional poverty in various countries around the world.

The MPI was introduced by the United Nations Development Programme (UNDP) and the Oxford Poverty & Human Development Initiative (OPHI).

The index considers various dimensions of poverty, including health, education, and living standards, to capture a more holistic picture of individuals' well-being.

The index not only measures the extent of poverty but also provides information about the intensity of poverty, indicating how many deprivations individuals or households experience.

The MPI is calculated using a set of indicators such as:

health (child mortality and nutrition),

education (years of schooling and school attendance), and

standard of living (access to cooking fuel, sanitation, drinking water, electricity, and housing).

Each indicator is weighted equally.
The Rangarajan Committee
The Rangarajan Committee, officially known as the Expert Group to Review the Methodology for Measurement of Poverty, was a committee set up by the Government of India in 2012.

The objective was to review and suggest revisions to the methodology for measuring poverty in the country.

The committee was chaired by Dr. C. Rangarajan, an eminent economist and former Governor of the Reserve Bank of India.

The committee recommended a shift from the consumption expenditure-based approach to a multidimensional approach that considers various dimensions of well-being, such as education, health, and living standards.

The committee introduced a new methodology for calculating poverty lines that took into account both consumption expenditure and other non-monetary indicators.
The Tendulkar Committee
The Tendulkar Committee, officially known as the Expert Group on Estimation of Proportion and Number of Poor, was a committee set up by the Government of India in 2005.

The objective was to review and recommend revisions to the methodology for estimating poverty in the country.

The committee was chaired by Dr. Suresh D. Tendulkar, a renowned economist.

The committee aimed to update the methodology for measuring poverty in India to better reflect the changing economic and social conditions.

The committee recommended a revised poverty line based on the "Calorie Consumption Method," which calculates the minimum calorie intake required for survival and translates it into monetary terms.

The committee introduced the concept of "consumption basket" which included not only food items but also non-food items, reflecting a more comprehensive understanding of basic needs.
---
Cauvery water sharing issue
(General Studies- Paper II)
Source : TH
---
On August 14, the Tamil Nadu government approached the Supreme Court seeking its intervention in a water dispute with Karnataka.
Tamil Nadu urged the Supreme Court to direct Karnataka to immediately release 24,000 cubic feet per second (cusecs) of water from its reservoirs.
The water release requirements were based on the Cauvery Water Disputes Tribunal's (CWDT) final award from February 2007, which had been modified by the Supreme Court in 2018.
Cauvery Water Dispute: Understanding the Conflict
The Cauvery water dispute revolves around the sharing of Cauvery river waters between the states of Karnataka and Tamil Nadu.
The conflict stems from historical agreements and the shifting dynamics of water availability due to monsoon variability.
The dispute has seen various attempts at resolution through arbitration and legal interventions.
Historical Background:
Agreements of 1892 and 1924: Early regulations on Cauvery water were established through agreements between the princely state of Mysore and the Madras presidency.
1956 Reorganization: The reorganization of states shifted the river's basin across Karnataka, Tamil Nadu, Kerala, and Pondicherry.
Water Allocation: The 1892 and 1924 agreements allocated about 75% of water to Tamil Nadu and Pondicherry, 23% to Karnataka, and the rest to Kerala.
Causes of Dispute
Monsoon Dependency: The Cauvery river relies on seasonal monsoon rains for water supply, causing variability in water availability.
Irregular Flow: Unlike rivers originating from glaciers, Cauvery's flow varies greatly between excessive floods and droughts due to rainfall fluctuations.
Disputing States' Perspectives:
Karnataka: Argues that since Cauvery originates within its territory, it should have control over water usage, not bound by colonial-era agreements.
Tamil Nadu: Claims it developed agricultural land based on existing water patterns, advocating for maintaining the status quo over water sharing.
Efforts for Resolution:
Cauvery Water Disputes Tribunal (CWD Tribunal):

Constituted in 1990 after demands for adjudication by a farmer's association from Tamil Nadu.
Interim Award (1991):

The tribunal calculated an average inflow of 205 TMC to be ensured from Karnataka to Tamil Nadu, leading to controversy and protests.\
Final Award (2007):

After 16 years, the CWD Tribunal issued a 1000-page award, allocating water as follows:

Tamil Nadu: 419 TMC
Karnataka: 270 TMC
Kerala: 30 TMC
Pondicherry: 7 TMC
Regulatory Mechanisms:

The CWD Tribunal's final award established a division of water and provisions for environmental allocations.
A monitoring authority was formed to regulate water release.
Challenges and Reactions:

Karnataka: Feels disadvantaged by the final award, plans to file a revision petition seeking a review, citing economic and political concerns.
Tamil Nadu: Generally satisfied with the final award but faces sporadic protests, supports the verdict.
Pondicherry and Kerala: Welcome the final award.
Union Government: Supports the verdict, emphasizes the need for all states to accept the tribunal's decision.
About Cauvery River
The Cauvery River, also spelled as "Kaveri," is one of the major rivers in India, known for its historical and cultural significance.
Originating in the Western Ghats, it flows through the southern states of Karnataka and Tamil Nadu before emptying into the Bay of Bengal.
The river has played a crucial role in shaping the region's agriculture, economy, and society.
Source:

The Cauvery River originates from Talacauvery in the Brahmagiri hills of Coorg (Kodagu) district in Karnataka.
The source is marked by a small temple and a tank.
Flow:

The river flows for approximately 800 kilometers through Karnataka and Tamil Nadu, traversing through various landscapes and regions.
Basin:

The Cauvery basin extends beyond Karnataka and Tamil Nadu, covering parts of Kerala and the Karaikal region of Puducherry.
Major Tributaries:

Hemavati: Originates from the Western Ghats and joins the Cauvery near Krishnarajasagar in Karnataka.
Arkavathi: Joins the Cauvery near Kanakapura in Karnataka.
Kabini: Joins the Cauvery near TirumakudalNarsipur in Karnataka.
Bhavani: Flows through Tamil Nadu and Kerala before joining the Cauvery near Erode.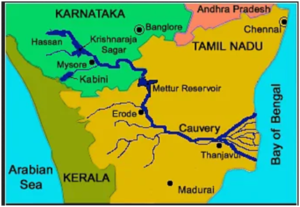 ---
No more 'deemed forests' in Odisha
(General Studies- Paper II and III)
Source : TH
---
The Odisha government has issued a letter to district officials clarifying that requests from industries to divert forest land for non-forestry purposes should align with the amended Forest Act and that the category of 'deemed forests' will no longer exist.
Key Highlights
'Deemed forests' are areas that meet the 'dictionary' definition of forests but haven't been officially designated as forests by the central or state governments.
Approximately half of Odisha's forest land is categorized as 'deemed forest,' and the government's interpretation of the Forest Act could lead to accelerated deforestation, according to experts.
The Environment Ministry had previously assured a parliamentary committee that 'deemed forest' areas would continue to be protected.
The amended Act now explicitly defines forest and eliminates the concept of 'deemed forest,'.
Protection Under the Forest Act:

Land categorized as forest is protected under the Forest Act, which requires the consent of both the central government and local gram panchayats for land diversion.
Diverting forest land also necessitates reforestation of double the area and incurring significant penalties.
Amendments to the Forest Act:

The Forest Act of 1980, now renamed the Van (SanrakshanEvamSamvardhan) Adhiniyam, protected forests officially notified in government and revenue records after 1980.
The 1996 Supreme Court verdict expanded the Act's scope to areas that weren't officially notified as forests but met the dictionary definition of forests.
States were expected to identify such areas through expert committees, but not all states submitted these reports, leading to ambiguity in defining forest areas.
Implications and Concerns:

The amended Act suggests that forest land not officially designated as such before 1996 will lose protection under the Act.
The Odisha government had identified around 66 lakh acres as 'deemed forest' with the help of district-level expert committees, but many of these weren't officially notified in government records.
Experts suggest that this amendment might ease forest land diversion and weaken protection for forest rights.
Concerns arise over the fate of community-managed forests and forests managed by tribal and forest-dependent groups.
While Odisha has a significant forest cover, with around 33.50% of the state's geographical area covered, data indicates that a substantial portion of forest land has been diverted for mining purposes.
Environmentalists and experts worry that the amendment might facilitate unchecked forest diversion and have adverse implications for forest conservation and tribal communities' land rights.
Note: According to the latest Forest Survey of India data, Odisha has a forest cover of approximately 52,156 square kilometers, which accounts for about 33.50% of the state's total geographical area.
This forest cover percentage is significantly higher than the national average of 21.71%.
---