CURRENT AFFAIRS – 14/08/2023
CURRENT AFFAIRS – 14/08/2023
UNFPA project in Rajasthan for gender sensitivity
(General Studies- Paper II, Page 13)
Source : TH
---
The UNFPA's project in Rajasthan promoting gender sensitivity has gained support from experts dedicated to eliminating customs that uphold patriarchy.
Key Highlights
The four-month-long project's goal is to advance gender equality and change public opinions to eradicate gender-based discrimination.
The UNFPA has partnered with Haridev Joshi University of Journalism (HJUJ) in Jaipur to enhance students' understanding of gender norms, sexual violence, and human rights.
A two-day workshop on gender sensitivity was held in Jaipur, engaging 40 journalism students and emphasizing the need for a more equitable society.
Gender experts encouraged young individuals to actively contribute to changing societal attitudes and behaviours.
Reference was made to prevailing social norms and customs in Rajasthan that marginalize women.
It was noted that urbanization and education among Rajasthan's youth are gradually driving change.
It was also stated that integrating gender sensitivity into the curriculum would raise awareness about gender issues and empower youth to challenge discriminatory norms.
The project aims to enable young individuals to play a meaningful role in women's empowerment by challenging social norms that promote discrimination and gender disparities.
About United Nations Population Fund (UNFPA)
The United Nations Population Fund (UNFPA) is a specialized agency of the United Nations that focuses on global population and reproductive health issues.
Establishment:

UNFPA was established on December 19, 1969, with the goal of addressing population and development challenges.

Mandate:

UNFPA's mandate revolves around promoting the right of every individual to have access to reproductive health services, gender equality, and population data and analysis.
Its mission is to ensure that every pregnancy is wanted, every childbirth is safe, and every young person's potential is fulfilled.

Areas of Focus:

Reproductive Health: UNFPA works to ensure access to sexual and reproductive health services, including family planning, maternal health, and the prevention of sexually transmitted infections (STIs) and HIV/AIDS.
Gender Equality: UNFPA supports efforts to eliminate gender-based violence, harmful practices, and discrimination against women and girls.
Population Data and Analysis: UNFPA collects and analyzes population data to inform policies and programs related to population dynamics, including demographic trends and their impact on development.
---
Nyoma advanced landing ground in eastern Ladakh
(General Studies- Paper II and III)
Source : TH
---
Expansion work on the Advanced Landing Ground (ALG) at Nyoma in eastern Ladakh has commenced as part of ongoing infrastructure development along the Line of Actual Control (LAC).
Key Highlights
The runway at Nyoma ALG will be extended beyond 9,000 feet, making it capable of handling fighter jets.
The Indian Air Force (IAF) is modifying fighter jet engines to enable them to start in high-altitude areas, addressing the extreme cold temperatures that can reach -40 degrees Celsius.
Nyoma is situated at an altitude of about 13,700 feet and is in close proximity to the Line of Actual Control (LAC) in eastern Ladakh.
Nyoma's weather conditions are more stable compared to other airfields in the region, allowing for smoother operations.
During the 2020 standoff, IAF deployed helicopters and attack aircraft to Nyoma for troop support, surveillance, and intelligence gathering.
China has upgraded and built new airfields, roads, accommodations, and infrastructure along its side of the LAC, altering the status quo and enhancing its strategic capabilities.
The Indian Army also adapted its equipment for extreme conditions, such as using winterization kits for tanks and artillery deployed at high altitudes.
China has fortified alternate approaches and roads around its Moldo garrison opposite the south Bank of Pangong Tso to reduce vulnerabilities observed during the 2020 standoff.
About LAC
The Line of Actual Control (LAC) is a demarcation line separating Indian-controlled territory from Chinese-controlled territory.
India and China have differing perceptions of the length of the LAC. India considers it to be 3,488 km long, while China views it as around 2,000 km.
The LAC is divided into three sectors: the eastern sector covering Arunachal Pradesh and Sikkim, the middle sector encompassing Uttarakhand and Himachal Pradesh, and the western sector located in Ladakh.
The LAC serves as a de facto border between the two countries and has been a source of tension and border disputes.
---
Government plans law on protection of Indian manuscripts
(General Studies- Paper I)
Source : TH
---
The Indian government is planning to introduce the National Manuscripts Bill, 2023, aimed at documenting and cataloging Indian heritage texts, regardless of their location.
Key Highlights
The proposed bill envisions the establishment of a 10-member National Manuscripts Authority (NMA), with the Culture Minister as Chairperson.
The NMA's responsibilities include digitization, conservation, preservation, editing, and publication work of manuscripts.
The NMA would regulate access to manuscripts, investigate thefts and damage, and collaborate with educational institutions for study opportunities.
The NMA will create a digital portal for indexing, cataloging, and sharing manuscript copies.
The authority can acquire manuscripts from private owners based on content importance, with compensation determined by an expert committee.
India possesses an estimated 10 million manuscripts in various ancient scripts, stored in languages like Sanskrit and regional dialects.
Manuscripts cover topics ranging from history and religion to literature, astrology, and agriculture.
Around 75% of existing manuscripts are in Sanskrit, while 25% are in regional languages.
The National Mission for Manuscripts (NMM) has digitized a substantial number of manuscripts, although only a portion is available online.
Prominent institutions housing a vast number of manuscripts include Sarasvati Mahal Library, Bhandarkar Oriental Research Institute, Sampurnanand Sanskrit University, and the Oriental Research Institute.
The effort aims to link manuscript study with livelihoods and increase global interest in Indian manuscripts.
About Bakhshali manuscript
The Bakhshali manuscript is an ancient Indian mathematical text.
It is written on birch bark.
The manuscript is considered the earliest recorded example of the use of zero in mathematics.
It dates back to the third or fourth century A.D.
The manuscript is housed in one of the Bodleian Libraries of the University of Oxford.
The Bakhshali manuscript is significant for its contribution to the understanding of ancient mathematical concepts, including the use of zero.
It provides insights into the mathematical practices of ancient India.
The text covers a wide range of mathematical topics, including arithmetic and algebra.
The Bakhshali manuscript's discovery has shed light on the sophisticated mathematical knowledge present in ancient India.
In Image: Bakhshali Manuscript
---
Low human activity helps corals despite Warm Ocean
(General Studies- Paper III)
Source : TH
---
A paper in the journal Nature highlights the positive impact of combined management strategies in mitigating coral loss during a marine heatwave in Hawaiʻi and supporting coral reef persistence afterward.
Key Highlights
Coral reefs are affected by human activities both on land and in the sea, including pollution and overfishing.
Coral bleaching and death can occur due to prolonged periods of warm ocean temperatures known as marine heatwaves.
Researchers conducted surveys of reef changes along with a 20-year time series (2003-2019) of human impacts encompassing a 2015 marine heatwave in Hawai'i with elevated ocean temperatures.
Human impacts analysed included urban runoff, wastewater pollution, and fishing restrictions.
Coral reef cover showed varying changes across different areas throughout the study period, increasing in some, decreasing or remaining stable in others.
Reefs with reduced human impacts from both land and sea showed increased coral cover before the heatwave and reduced coral loss during the heatwave.
Reefs with more herbivorous fishes and fewer land-based human impacts exhibited increased cover of essential reef-building coral types four years after the heatwave.
Modeling scenarios suggested that reducing human impacts from land and sea increased the probability of reefs having high reef-builder cover four years after a disturbance by three to six times.
The study emphasizes that integrated land-sea management could enhance coastal ocean conservation efforts and provide coral reefs with better prospects for persistence in a changing climate.
About Coral Reefs
Coral reefs are underwater ecosystems formed by colonies of coral polyps, which are tiny animals belonging to the phylum Cnidaria.

Coral reefs are often referred to as the "rainforests of the sea" due to their high biodiversity and ecological importance.

They are found in shallow, clear, warm ocean waters, primarily in tropical and subtropical regions.

Types of Coral Reefs:

Fringing Reefs

Barrier Reefs

Atolls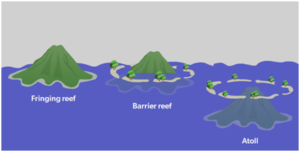 Importance of Coral Reefs:
Coral reefs provide habitat and shelter for a diverse range of marine species, including fish, mollusks, crustaceans, and other marine organisms.

They contribute to coastal protection by acting as natural barriers against storm surges and waves.

Coral reefs support local economies through tourism, fishing, and other marine-related activities.

Reefs play a crucial role in nutrient cycling and carbon storage in marine ecosystems.

They are valuable sources of new pharmaceuticals and compounds for medical research.
---
Why has the government called for PC import curbs?
(General Studies- Paper II and III)
Source : TH
---
Background
The Indian government has imposed restrictions on the import of laptops, tablets, all-in-one personal computers, ultra-small form factor computers, and servers.
The initial enforcement was set to be immediate, but it was deferred to November 1, according to a revised order.
Restrictions and Licensing
Import of products categorized under Harmonised System of Nomenclature (HSN) 8471 (automated data processing machines and units) will be restricted from November 1.
A valid license will be required to import these products for sale to consumers.
Exemptions to licensing requirements include cases like:

purchasing a single unit from e-commerce websites,
repair and return of products,
research and development purposes, and
items serving as essential parts of an entity's capital goods.

Purpose of the Move:

The key objectives are to reduce import dependence, ensure access to trusted hardware, and promote domestic manufacturing of IT products.

Domestic Manufacturing and Imports:

Domestic production of electronic goods increased from $49 billion in 2016-17 to $87.1 billion in 2021-22, with a CAGR of 15%.
Imports of the restricted products were around $10.1 billion in FY 2022-23, down about 13% from the previous year.
It is expected that the domestic demand for electronics hardware expected to rise to approximately $300 billion by FY2026.
To match such increasing demand, it is necessary to ramp up domestic production as India cannot afford to bear the rapidly increasing foreign exchange outgo on account of import of electronics.

Impact on Market and Companies:

Major players in the domestic PC market include HP, Lenovo, Dell, Acer, and Asus.
Concerns about accessibility to stocks and potential price impacts have arisen, especially before the festive season.
Global companies operating in India have sought a deferred implementation by 9-12 months to ramp up domestic production and understand the licensing process.
Companies with local assembly operations are likely to expedite the assembly process to comply with the new regulations.

Price Impact and Future Expectations:

Vendors are not expected to increase prices during the festive sales season, but customers might advance purchases in anticipation of future price increases.
Price increases are expected from November onwards as a result of the import restrictions.
---
14 States yet to join Centre's flagship education scheme
(General Studies- Paper II)
Source : TH
---
Kerala, Tamil Nadu, West Bengal, and 11 other States and Union Territories are yet to sign a crucial Memorandum of Understanding (MoU) with the Union Education Ministry.
The MoU is necessary to implement the National Education Policy (NEP) and avail funds of nearly ₹13,000 crore over the next three years.

This is under the Pradhan MantriUchchatarShikshaAbhiyan (PM-USHA) scheme.
Key Highlights
Opposition-Ruled States' Concerns:

Opposition-ruled States have raised concerns about the MoU, as 40% of the PM-USHA budget needs to be funded by the States themselves.

They emphasize that no additional funds have been allocated for NEP reforms, leading to apprehensions about bearing the financial burden.

The Centre is engaged in discussions with dissenting States to resolve differences.

Purpose and Implementation of PM-USHA:

PM-USHA focuses on enhancing the quality of higher education in State Universities through various measures like curriculum changes, teacher training, infrastructure improvement, and more.

The scheme promotes equity, access, and inclusion and has a budget of ₹12,926.10 crore for 2023-24 to 2025-26.

NEP Reforms and Funding Gap:

The MoU mandates States to undertake administrative, academic, accreditation, and governance reforms as per NEP guidelines.

Some State governments are unhappy with the MoU, stating that it doesn't address the need for additional funds to implement NEP reforms.

Flexibility and Alignment with NEP:

University Grants Commission chairman explains that PM-USHA's MoU ensures proper planning, implementation, and monitoring of the scheme.

PM-USHA streamlines resources and provides flexibility to States to focus on their specific needs and priorities.

Prioritizing Focus Districts:

States and UTs can identify focus districts based on indicators like low enrolment, gender parity, and proportion of Scheduled Castes and Tribes.

These districts will receive priority under the scheme to address diverse needs effectively.
About Pradhan MantriUchchatarShikshaAbhiyan (PM-USHA) scheme
The Pradhan MantriUchchatarShikshaAbhiyan (PM-USHA) is a flagship scheme of the Government of India aimed at improving the quality of higher education in India.

It focuses on enhancing access, equity, and quality in State Universities and Colleges through various measures.

The Pradhan MantriUchchatarShikshaAbhiyan (PM-USHA) is a remodeled version of the previously known scheme, RashtriyaUchchatarShikshaAbhiyan (RUSA).
Background
RashtriyaUchchatarShikshaAbhiyan (RUSA) is a Centrally Sponsored Scheme (CSS) launched in 2013.

RUSA operates in mission mode and focuses on funding state government universities and colleges.

The scheme aims to achieve equity, access, and excellence in higher education.

RUSA's objectives include improving the quality of higher education institutions and enhancing their infrastructure.

The scheme supports colleges and universities in achieving higher standards of education.

The government had, earlier, approved the continuation of the RUSA scheme until 31.03.2026 or until further review, whichever comes earlier.

RUSA 1.0:

Aimed to achieve a Gross Enrolment Ratio (GER) target of 25.2% by the end of the 12th Five Year Plan and 32% by the end of the 13th Five Year Plan.

RUSA 2.0:

Increase the allocation of State budgets to higher education to 2% or above of the Gross State Domestic Product (GSDP).

Ensure all State institutions are accredited by the National Assessment and Accreditation Council (NAAC) by March 2020, as part of the mandatory quality assurance framework.

Reduce the student-teacher ratio to 15:1 in institutions by March 2020.

Raise the National Gross Enrolment Ratio (GER) to 32% by March 2022.

Enhance GER through greater inclusion of disadvantaged groups such as Scheduled Castes (SC), Scheduled Tribes (ST), and women.

Ensure all states participate in the All India Survey on Higher Education (AISHE) and provide data for all state institutions.

Reduce the number of colleges affiliated to State Universities to 200.

RUSA 3.0:

Focuses on expanding its reach to previously underserved and unserved areas, including remote, rural, difficult geographies, areas affected by Left Wing Extremism (LWE), North Eastern Region (NER), aspirational districts, tier-2 cities, and regions with low Gross Enrolment Ratio (GER).

Aims to benefit the most disadvantaged areas and Socially and Educationally Disadvantaged Groups (SEDGs).

Financial outlay:

The approved proposal outlines a total expenditure of Rs. 12,929.16 crore for the continuation of RUSA.

Out of the total expenditure, the Central Share is allocated Rs. 8,120.97 crores, while the State Share amounts to Rs. 4,808.19 crores.

The new phase of RUSA is expected to support around 1600 projects across the education sector.
---
Arunachal hydro projects
(General Studies- Paper III)
Source : TH
---
On August 12, 12 hydropower projects in Arunachal Pradesh were handed over to three Central public sector undertakings (CPSUs).
These projects have a combined installed capacity of 11,523 megawatts (MW) and were previously owned by private companies.
Key Highlights
The projects are considered economically unviable, and private companies had given up on them.
The CPSUs taking over the projects are Satluj Jal Vidyut Nigam, North Eastern Electric Power Corporation Limited (NEEPCO), and National Hydroelectric Power Corporation (NHPC).
Satluj Jal Vidyut Nigam and NEEPCO will handle five projects each with a total installed capacity of 5,097 MW and 2,626 MW respectively, while NHPC will manage two projects (3,800 MW).
Experts and hydrologists have expressed concerns about the economic viability and potential negative impacts of these projects on Arunachal Pradesh and downstream regions in Assam.
It is believed that private companies deemed these projects unviable and sold them to CPSUs at a loss.
Critics argue that public sector entities lack accountability and might proceed with unviable projects.
Despite concerns, Arunachal Pradesh's Power Commissioner signed agreements with CPSUs.
The Minister of Power and New and Renewable Energy emphasized the potential contribution of hydropower to achieving net-zero carbon emissions by 2070 and creating employment opportunities.
The development of these projects is also seen as part of India's commitment to reach 500 gigawatts of non-fossil energy capacity by 2030.
500 GW of renewable energy Plan
India aims to achieve 500 GW (gigawatt) of renewable energy capacity by 2030, necessitating an investment of around ₹2.44 lakh crore ($32.8 billion).

This means the country is aiming to derive approximately 50% of its energy from non-fossil fuel sources by 2030.

This massive endeavour is part of India's commitment to global climate goals and signifies a significant step towards reducing reliance on fossil fuels.
Battery storage capacity worth 51.5 GW is also planned to be installed by 2030 to provide continuous power to end-consumers.
Major non-fossil fuel generation centers are identified in different regions of the country, contributing to achieving the 500 GW goal.
With this transmission plan and other strategies like transparent bidding, an open market, and efficient dispute resolution, India aims to attract investment in renewable energy. Currently, India's installed electricity-generating capacity is 409 GW, including 173 GW from non-fossil fuel sources, making up around 42% of the total.
---
Parliamentary Privileges: Understanding and Mechanisms
(General Studies- Paper II)
Source : The Indian Express
---
Parliamentary privileges are special rights and immunities granted to Parliament and it's Members of Parliament (MPs) to facilitate effective legislative functioning.
These privileges are derived from a combination of provisions in the Constitution, statutes, House procedures, and conventions.
Originally, these privileges were based on UK House of Commons privileges until a constitutional amendment in 1978 severed this link.
Components and Examples of Privileges:
Constitutional provisions grant MPs freedom of speech and immunity from judicial proceedings for their statements and votes in Parliament.
Code of Civil Procedure safeguards MPs from arrest and detention under civil cases during sessions and specified periods.
Rules require authorities to inform the House Speakers about MPs' arrests, releases, and convictions.
Contempt of the House:
Contempt refers to any action that obstructs or hampers the functioning of Parliament or its members, even without a precedent of the offense.
Contempt includes acts or omissions that hinder House activities or affect members and officers' duties.
Actions against Breach of Privilege:
Each House guards its privileges and can take action against privilege breaches or contempt of the House.
Breach of privilege cases are often referred to Privileges Committees for detailed examination and recommendations.
Mechanisms for Addressing Breach of Privilege:
MPs can raise privilege breach issues on the House floor, and the House decides the action.
Cases are often referred to Privileges Committees, which recommend actions accepted by the House.
Presiding officers can also decide to refer cases to the committee of privileges.
Types of Cases for Privilege Committee Examination:
Common cases involve outsiders breaching MPs' privileges, such as violating protocol or being unresponsive.
MPs can also bring up breaches by fellow MPs, particularly regarding unparliamentary conduct.
Committee Decisions on Breach of Privilege:
The Committee of Privileges has the authority to suggest admonitions, reprimands, suspension, and, rarely, expulsion from the House.
If an MP apologizes unconditionally, the matter usually rests, and no further action is recommended.
Notable Cases and Recommendations:
In 1978, the Lok Sabha committee recommended the expulsion of then Prime Minister Indira Gandhi but the next Lok Sabha revoked it.
A 2009 case saw BJP MPs displaying cash bundles in the Lok Sabha; the committee disapproved and condemned their actions.
The Rajya Sabha Committee on Privileges urged senior party members to prevent disruptions and recommended measures for orderly proceedings.
Recent cases include recommending discontinuance of suspension for an MP's unauthorized recording of proceedings.
Composition of the Committee
The committee consists of Members of Parliament (MPs) from both the Lok Sabha (Lower House) and the Rajya Sabha (Upper House).
The committee is constituted separately for each House of Parliament.
---