CURRENT AFFAIRS – 09/08/2023
CURRENT AFFAIRS – 09/08/2023
---
The Havana Syndrome
(General Studies- Paper III)
The Central government has recently told the Karnataka High Court that it will look into the matter of the 'Havana Syndrome' in India.
What is Havana Syndrome?
Havana Syndrome refers to a set of unexplained symptoms experienced by United States intelligence and embassy officials in different countries, including Cuba, China, and even India.
The syndrome has raised concerns about potential health risks associated with high-frequency microwave transmission and its possible use as a counter-intelligence weapon.
Origin and Nature:
'Havana Syndrome' originated in Cuba in late 2016, where American embassy officials began experiencing sudden bursts of pressure in their brains followed by persistent headaches, disorientation, and insomnia.
The term 'syndrome' refers to a set of symptoms that are usually experienced together, though no unique medical condition has been identified.
Symptoms associated with 'Havana Syndrome' include hearing certain sounds without external noise, vertigo, nausea, memory loss, and balance issues.
Global Impact:
After the Cuban incident, American officials posted in various countries, including China, reported similar symptoms.
Over 130 such incidents were reported across the world, including in Russia, Poland, Georgia, Taiwan, Colombia, Kyrgyzstan, Uzbekistan, and Austria.
The syndrome has raised concerns about the potential use of high-powered microwaves as a counter-intelligence weapon.
Causes and Theories:
Initially, it was speculated that the symptoms were caused by a "sonic attack" or a hostile act by Cuban intelligence.
Later studies suggested that high-powered microwaves may have damaged or interfered with the nervous system, causing pressure in the brain and generating auditory sensations.
The use of microwaves as a counter-intelligence tactic was experimented with during the Cold War by both the US and Russia.
Current Understanding:
Despite extensive research and medical examinations, no conclusive evidence has been found regarding the "microwave weapon."
Medical experts have debunked the theory, suggesting psychological illness amplified by fear.
A US security agency report in 2023 concluded that a foreign adversary is unlikely behind the "anomalous health incidents."
Havana Syndrome in India:
A single case of Havana Syndrome was reported in India in 2021 when a US intelligence officer travelling to New Delhi reported symptoms.
The Indian security establishment was not aware of possessing such technology, and the Indian government did not admit to having acquired counter-espionage technology.
Speculations arise about why a foreign power would target only the US and no other countries.
The 'Havana Syndrome' remains a mysterious phenomenon with no definitive explanation.
While theories about the use of high-powered microwaves as a weapon persist, no conclusive evidence has been presented.
The global impact and concerns surrounding this syndrome have led to heightened vigilance among intelligence agencies.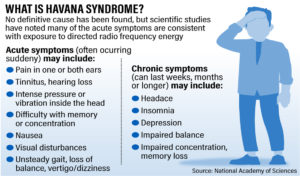 Source: The Indian Express
---
Defence Ministry to switch to locally built OS Maya
(General Studies- Paper III)
The Defence Ministry plans to replace Microsoft Operating System (OS) with a new OS called "Maya" in computers connected to the Internet.
Key Highlights
Maya is an open-source Ubuntu-based OS developed locally to enhance cybersecurity in the face of increasing cyber and malware attacks on defense and critical infrastructure.
Maya's interface and functionality are designed to be similar to Windows, ensuring a smooth transition for users.
The initiative aims to install Maya on all computers connected to the Internet in South Block, the government's administrative headquarters, before August 15.
A cybersecurity system called 'Chakravyuh' is also being installed alongside Maya for end point detection and protection.
Currently, Maya is being implemented in Defence Ministry systems, and it is also under evaluation by the Army and the Air Force for adoption on their networks.
The Navy has already approved Maya for use on its networks, signifying its potential security benefits.
Maya was developed by government development agencies in a span of six months to address the rising threat of malware attacks and cyber threats.
The decision to develop Maya is driven by the need to prevent and mitigate cyberattacks, which have seen a significant increase in frequency and sophistication.
The move comes in response to a series of recent malware and ransom attacks on critical infrastructure and defense systems in the country.
This effort aligns with previous attempts within the Defence Ministry to replace Windows OS with an Indian-developed alternative.
What is an 'Operating System'?
An operating system (OS) is a software program that acts as an intermediary between computer hardware and the various software applications running on it.
It provides a platform for users to interact with the computer's hardware and manage tasks, resources, and system operations.
The operating system manages hardware components, memory, files, and input/output devices, making it possible for software applications to run and communicate effectively with the hardware.
Examples of operating systems include:
Microsoft Windows:

A popular OS for personal computers, laptops, and servers. Different versions include Windows 10, Windows 11, and Windows Server.
macOS: The OS designed for Apple's Macintosh computers and laptops.

Linux:

An open-source OS that comes in various distributions (distros), such as Ubuntu, CentOS, Fedora, and Debian.
iOS: Apple's mobile operating system used on iPhones, iPads, and iPod Touch devices.
Android: Google's mobile OS used on a wide range of smartphones and tablets.
UNIX: An older OS that has influenced the development of Linux and macOS.
About Ubuntu
Ubuntu is a popular open-source operating system based on the Linux kernel.
It is known for its user-friendly interface, stability, and community-driven development.
Ubuntu is developed and maintained by Canonical Ltd., a UK-based company, in collaboration with a global community of contributors.
The name "Ubuntu" is derived from an African philosophy that emphasizes community, interconnectedness, and mutual support.
What is Open Source operating system?
An open source operating system refers to a type of operating system software whose source code is made available to the public.
In contrast to proprietary operating systems, where the source code is restricted and owned by a specific company or entity, open source operating systems allow anyone to view, modify, distribute, and contribute to the underlying code.
Source : The Hindu
---
Climate events and urban health
(General Studies- Paper III)
This year's monsoon season in India has been marked by severe weather events such as cyclones, floods, and heavy rains, leading to widespread devastation.
The monsoon season began with Cyclonic Storm Biparjoy, which hit western India after forming over the Arabian Sea.
Assam, a northeastern state, faced significant flooding during this period, and heavy rains caused devastation in parts of northern India.
Key Highlights
Water and Vector-Borne Diseases:
The aftermath of the monsoon season raises concerns about the outbreak of common water and vector-borne diseases like typhoid, cholera, malaria, dengue, etc.
Rain-affected areas become conducive to the spread of such diseases due to water stagnation and favorable conditions for vectors like mosquitoes.
Vulnerability in Urban Areas:
Urban households, particularly in underdeveloped parts like slums and settlements, are among the most vulnerable groups.
Many urban residents in these areas work in the informal sector without social security benefits, exacerbating their vulnerability.
Study on Disease Vulnerability:
A study highlights that households with poor socio-economic indicators are more susceptible to malaria.
Urban households, when compared to rural ones, face significantly greater odds of contracting malaria and dengue.
Households in climatically high and moderately high vulnerable states are also more prone to malaria.
Challenges in Disease Management:
Disease management officials face pressure in monitoring and containing water and vector-borne diseases post-monsoon.
The movement of people between states complicates coordination efforts in disease control across regions.
Rebuilding Urban Health Systems:
To address the health challenges posed by climatic shocks, there's a need to rebuild urban primary health-care systems.
The focus should be on vulnerable urban populations, particularly in slums and peri-urban areas.
A resilient health system should be capable of responding to emergencies, preparing for crises, and adapting to changing health needs.
Public Investment and Urban Health Mission:
Increased public investment, particularly in vulnerable urban areas, is essential.
The National Urban Health Mission has made some progress, but urban local bodies' limited revenue generation constrains improvements.
Coordination and Cooperation:
The COVID-19 pandemic highlighted the need for coordination and cooperation among multiple actors in urban health governance.
Public health emergencies require knowledge sharing, data exchange, coordinated preventive and curative actions, and regulation of standards and rates.
Strengthening Surveillance and Information Systems:
Comprehensive surveillance and information systems like the Integrated Disease Surveillance Programme need universalization and enhancement.
Transition to Comprehensive Health Systems:
The complexity of health and climate crises demands a shift from vertical disease control programs to comprehensive health system approaches.
Integrating frontline workers across disease management programs can create multi-purpose public health cadres accountable to both communities and the health system.
Climate Change Preparedness:
Given the increasing frequency and intensity of climate change-led events, systems must integrate climate change preparedness into planning and management.
A shortage of adequately trained health workforce calls for integrated approaches to address challenges.
Source : The Hindu
---
CHIPS Act of the U.S.
(General Studies- Paper III, Page 11)
The CHIPS Act is a U.S. legislation aimed at enhancing semiconductor industry competitiveness, innovation, and national security.
It allocates $52.7 billion over five years for semiconductor development
Importance and Lessons for India
India should observe and learn from the Act's execution as industrial policy becomes crucial for nation-states.
Extracting lessons can aid India in executing its semiconductor strategy more effectively.
Coordination and Cooperation:
CHIPS Act involves multiple government arms and funds, including Commerce, Defense, State, and Science Foundation.
India should adopt a whole-of-government approach like CHIPS Act to ensure semiconductor strategy continuity beyond government terms.
Workforce Development Focus:
CHIPS Act mandates workforce development plans and establishes National Semiconductor Technology Center (NSTC).
India should prioritize creating a skilled semiconductor engineering workforce through programs like Chips2 Startup (C2S).
Certification of Training Programs:
India's C2S should focus on certifying quality training programs from universities or private training institutes.
Ensuring program quality is crucial for building a competent workforce.
Structuring Accountability:
CHIPS Act creates a CHIPS Program Office (CPO) to assess project viability and catalyze private sector investments.
India needs transparent assessment guidelines and regular progress reports for its semiconductor program.
Future Research Investment:
CHIPS Act allocates funds for future research, including advanced packaging techniques.
India should consider investing in research on future semiconductor technologies for long-term competitiveness.
India should prioritize comprehensive planning, coordination, transparent reporting, and focus on future technologies in its semiconductor strategy.
India's Semiconductor Journey
India's semiconductor policy and initiatives aim to bolster the domestic semiconductor industry, enhance innovation, and strengthen national security.
As the global demand for semiconductors continues to rise, India recognizes the strategic importance of establishing a strong semiconductor ecosystem.
India Semiconductor Mission (ISM):
The India Semiconductor Mission was launched by the Ministry of Electronics and Information Technology (MeitY) to promote semiconductor manufacturing, assembly, and research.
ISM aims to foster collaboration between academia, industry, and research institutions to drive semiconductor innovation and production.
Chips2 Startup (C2S) Program:
MeitY initiated the Chips2 Startup program to nurture semiconductor startups and entrepreneurship in the country.
The program collaborates with over 100 universities and colleges to develop a skilled semiconductor engineering workforce.
Semiconductor Design Initiative:
The development of semiconductor chip design capabilities is a focus area under India's semiconductor policy.
The Centre for Development of Advanced Computing (C-DAC), an R&D organization under MeitY, administers chip design initiatives.
Note: The second edition of Semicon India, the annual conference by India Semiconductor Mission (ISM) was held recently.
Source : The Hindu
---
Trial done in India shows nutrition support prevents TB
(General Studies- Paper II)
A large trial conducted in India focused on the impact of nutritional supplementation on reducing tuberculosis (TB) disease rates and mortality in households with TB patients.
Key Highlights
The trial took place in four districts in Jharkhand from August 2019 to August 2022 and was published in The Lancet and The Lancet Global Health.
The randomized controlled trial involved household contacts of patients with pulmonary TB, and it revealed a 39-48% reduction in TB disease in the intervention group compared to the control group.
The intervention arm received monthly nutritional support for six months, including rice, split pigeon peas (tur dal), and a micronutrient pill.
Each child below 10 years received 50% of the adult nutrition support.
The trial also provided nutritional supplementation to all 2,800 people with active pulmonary TB undergoing treatment.
The treatment success rate for TB patients was nearly 94%, with only about 4% deaths during the six-month follow-up.
Early weight gain in the first two months was associated with a 60% lower risk of TB mortality.
Severe undernutrition is a significant contributor to deaths in TB patients.
Nutritional support showed a protective effect against TB disease similar to a vaccine.
Undernutrition accounts for over 40% of new TB cases annually.
The study emphasizes the importance of addressing undernutrition as a risk factor for TB, alongside other factors like diabetes, HIV infection, smoking, and alcohol use.
About Tuberculosis (TB)
Tuberculosis (TB) is an infectious disease caused by the bacterium Mycobacterium tuberculosis.
It primarily affects the lungs but can also impact other parts of the body.
TB spreads through the air when an infected person coughs or sneezes, releasing tiny droplets containing the bacteria.
Common symptoms include persistent cough, weight loss, fever, and night sweats.
TB can be latent, where the bacteria are dormant and not causing symptoms, or active, where the bacteria are actively multiplying and causing symptoms.
India's Initiative on Tuberculosis:
India is one of the countries with a high burden of tuberculosis.
The Indian government has launched several initiatives to combat TB and improve the overall health and well-being of its citizens:
Revised National Tuberculosis Control Programme (RNTCP):
This initiative, launched in 1997, aimed to control the spread of TB through strategies like directly observed treatment, short-course (DOTS), ensuring proper medication administration, and improving diagnostics.
National Strategic Plan for TB Elimination:
In 2017, India launched a five-year plan to eliminate TB by 2025.
The plan aims to increase case detection, ensure universal access to quality diagnosis and treatment, and address challenges like drug-resistant TB.
National Tuberculosis Elimination Program (NTEP):
NTEP is a comprehensive program that involves strengthening healthcare infrastructure, training healthcare workers, and raising awareness about TB.
It also focuses on the early detection and treatment of cases.
TB-Free India Campaign:
Launched in 2019, this campaign aims to raise awareness about TB, reduce stigma associated with the disease, and encourage people to seek treatment.
Active Case Finding Campaigns:
The government organizes campaigns to actively identify TB cases in communities and provide timely treatment. These campaigns help identify individuals with TB who may not have sought medical care on their own.
Digital Initiatives:
India has embraced digital technology to improve TB management.
The NikshayPoshanYojana, for example, uses a mobile app to transfer money directly to the bank accounts of TB patients to support their nutrition during treatment.
Source : The Hindu
---
CAG reports 7.5 lakh recipients linked to single number
(General Studies- Paper II)
The Comptroller and Auditor General of India (CAG) has found irregularities in the registration and validation of beneficiaries under the Ayushman Bharat – Pradhan Mantri Jan AarogyaYojana (PMJAY).
Key Highlights
The CAG's audit report revealed that nearly 7.5 lakh beneficiaries were linked to a single mobile number, 9999999999, in the Beneficiary Identification System (BIS) of the scheme.
The report highlighted that the improper linking of beneficiaries with the same or invalid mobile numbers could lead to denial of scheme benefits and cause inconvenience to eligible beneficiaries.
The National Health Authority (NHA) acknowledged the audit observation and stated that the issue would be resolved with the deployment of BIS 2.0, which prevents a certain number of families from using the same mobile number.
The report also pointed out unrealistic household sizes for registered beneficiaries and discrepancies in data validation, indicating lack of control in the beneficiary registration process.
The report noted that pensioners in some Indian states were found possessing PMJAY cards and availing treatment under the scheme, leading to excess payments of premiums to insurance companies.
NHA is developing a policy to address beneficiaries with larger families and to ensure adherence to eligibility criteria.
The audit highlighted the need for better validation controls, timely action to remove ineligible beneficiaries, and adherence to clear guidelines to prevent irregularities in the scheme.
About Ayushman Bharat – Pradhan Mantri Jan AarogyaYojana (PMJAY)
Ayushman Bharat – Pradhan Mantri Jan AarogyaYojana (PMJAY) is a flagship health insurance scheme launched by the Indian government.
It aims to provide health coverage to economically vulnerable and socially marginalized families across the country.
PMJAY provides financial protection against high medical expenses and offers cashless hospitalization for various medical treatments and surgeries.
The scheme covers a wide range of medical services, including hospitalization, surgery, diagnostics, and medications.
PMJAY covers both rural and urban populations, targeting around 10.74 crore vulnerable households initially, with the target later increased to 12 crore households.
The scheme is administered by the National Health Authority (NHA).
It is part of the larger Ayushman Bharat program aimed at transforming healthcare access and delivery in India.
PMJAY provides beneficiaries with an e-card that allows them to avail of healthcare services at empanelled hospitals without paying upfront costs.
The scheme emphasizes preventive and primary healthcare, and it also offers benefits for secondary and tertiary care treatments.
PMJAY is a significant step towards achieving universal health coverage and improving the overall health and well-being of the Indian population.
About National Health Authority (NHA)
The National Health Authority (NHA) is a government agency responsible for implementing and managing flagship health insurance programs in India.
NHA was established to oversee and operationalize the implementation of schemes like Ayushman Bharat – Pradhan Mantri Jan AarogyaYojana (PMJAY) and other related initiatives.
It operates under the Ministry of Health and Family Welfare, Government of India.
NHA's primary objective is to ensure access to affordable and quality healthcare services for economically vulnerable and socially marginalized populations.
About CAG
The Comptroller and Auditor General (CAG) of India is an independent constitutional authority responsible for auditing and reporting on the financial activities of the Government of India and state governments.
CAG is appointed by the President of India and holds a significant position in maintaining transparency, accountability, and integrity in the financial administration of the country.
CAG's main functions include conducting financial audits, performance audits, compliance audits, and propriety audits of various government departments, ministries, and agencies.
The audit reports prepared by CAG are submitted to the President of India, who then presents them to the Parliament for discussion and debate.
CAG also assesses the effectiveness of government programs, policies, and initiatives in achieving their intended objectives.
The independence of the CAG is ensured by its constitutionally mandated status, which allows it to operate without any interference from the executive or legislative branches of the government.
Note: Article 148 of the Indian Constitution establishes the office of the Comptroller and Auditor General of India (CAG).
Tenure: The CAG holds office for a term of six years or until the age of 65, whichever is earlier.
Source: The Indian Express
---
CBI Academy joins Interpol Global Academy Network
(General Studies- Paper II and III)
The Central Bureau of Investigation (CBI) Academy has become the 10th member of the Interpol Global Academy Network.
The CBI Academy, located in Ghaziabad, is a premier training institution focusing on crime investigation, prosecution, and vigilance.
Key Highlights
A letter of acceptance was signed by the DIG (Training) of CBI Academy and Interpol's Director of Capacity Building and Training Directorate through a virtual signing ceremony.
This step is part of the Interpol Global Academy Network's efforts to promote joint training programs and research projects in law enforcement.
The CBI Academy's engagement with international law enforcement institutions will enable effective capacity building and innovation activities.
The CBI conducts international training programs in collaboration with various foreign agencies, including Interpol, FBI, RCMP Canada, and others.
The CBI Academy's inclusion in the network will enhance its international visibility, contribute to law enforcement education discussions, and facilitate knowledge exchange among network members.
This collaboration is expected to provide high-quality training opportunities to police personnel globally and contribute to capability development.
Interpol's Director of Capacity Building and Training Directorate mentioned that the CBI Academy's expertise will significantly benefit the network.
This initiative aligns with the CBI's role as the nodal body for Interpol-related matters in India.
The collaboration will enhance the CBI Academy's contribution to global law enforcement education and capacity building.
About Interpol
Interpol, short for the International Criminal Police Organization, is an international organization that facilitates cooperation among law enforcement agencies from different countries to combat transnational crime.
It was established in 1923 and is headquartered in Lyon, France.
Interpol acts as a bridge between law enforcement agencies of its member countries.
Interpol provides a platform for police agencies around the world to share information, intelligence, and collaborate on joint operations to tackle various types of crime, including terrorism, human trafficking, drug trafficking, cybercrime, and more.
The organization operates a global police communications system called I-24/7 that enables member countries to quickly exchange information about criminals, crime trends, and emerging threats.
Interpol issues notices (such as Red Notices) to alert member countries about individuals wanted for extradition or to assist in locating missing persons.
It also offers specialized training and capacity-building programs for law enforcement personnel to enhance their skills in crime detection, investigation, and prevention.
Interpol's General Secretariat coordinates its activities and provides support to its member countries.
The organization also has regional offices and liaison offices around the world.
As of 2021, Interpol has 194 member countries, making it one of the largest international law enforcement organizations.
About CBI
The Central Bureau of Investigation (CBI) is the premier investigative agency of the Government of India.
It was established in 1963 on the recommendations of the Santhanam Committee on Prevention of Corruption.

Objective:

CBI works with the objective of investigating and combating corruption, economic crimes, and other special cases.
The CBI operates under the jurisdiction of the Ministry of Personnel, Public Grievances, and Pensions.
It is headquartered in New Delhi, India.
The agency's primary mandate includes investigating cases related to corruption, economic offenses, major frauds, organized crimes, high-profile cases, and cases of national and international significance.
The CBI acts as the nodal agency for Interpol matters in India, facilitating international cooperation and coordination on matters of transnational crime.
The agency can take up cases on its own or upon the request of state governments, courts, or other authorities.
It has the authority to investigate cases across state boundaries and internationally.
The CBI is also responsible for conducting investigations related to cases involving public servants, central government employees, and matters referred by the courts.
The agency is headed by a Director who is appointed by the Central government.
The CBI has its own training academy, known as the CBI Academy, located in Ghaziabad, Uttar Pradesh.
Source: The Indian Express
---
What is the Jan Vishwas Bill, 2023 proposed by Centre?
Source : The Hindu