Chandrayan – 3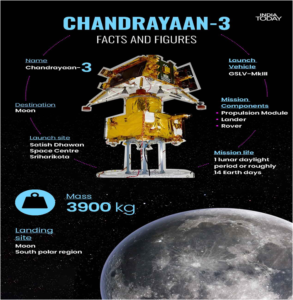 Indian Space Research Organization (ISRO) said that it successfully integrated the Chandrayaan-3 spacecraft with the Launch Vehicle Mark-III (LVM3) at the Sathish Dhawan Space Centre in Sriharikota ahead of its launch, which is scheduled to launch at 2.30 PM on July 14. 
 

Objective of the Chandrayaan-3 mission
Chandrayaan-3 is a follow-on to the unsuccessful Chandrayaan-2 mission, and it has the same objective—to demonstrate the capability of soft landing on the Moon by delivering a lander and a rover on the lunar South Pole

The Chandrayaan-2 mission ended in tears on September 6, 2019, when the mission's Vikram lander failed to make a soft landing.

The failure happened about 13 minutes after the spacecraft began its descent. So far, only three countries have actually managed to land on the Moon–the United States, the erstwhile Soviet Union and China.
Chandrayaan-3 spacecraft
The Chandrayaan-3 spacecraft consists of three parts–the lander module, propulsion module and a rover.
The lander is designed to make a soft landing at a specific site on the Moon and deploy the rover.
The rover will carry out chemical analysis of the lunar surface. Both the lander and the rover carry many scientific payloads for experiments on the lunar surface.
The propulsion module has one main function—to carry the lander and rover from "launch vehicle injection" to a 100-kilometre circular polar lunar orbit before it separates from the other modules. The propulsion module also has a scientific payload that will begin operation after separation.
Chandrayaan-3's LVM-3
LVM-3 or Launch Vehicle Mark-III, is a three-stage medium-lift launch vehicle developed by ISRO and earlier known as the GSLV Mark III. It is the most powerful rocket in the space agency's stable and will be used to launch the Chandrayaan-3 mission.
The vehicle is 43.5 metres tall and has a diameter of 4 metres. It has a lift-off mass of 640 tonnes. It can carry a payload of upto 8,000 kilograms to a low-Earth orbit. Going further, it is capable of carrying about 4,000 kilograms of payload to a geostationary transfer orbit.
Its cryogenic upper stage is powered by CE-20, which according to ISRO is India's largest cryogenics engine. It also uses two S200 solid rocket boosters to provide the thrust required for takeoff. The core stage is powered by two L110 liquid-stage Vikas rockets.