Veer Savarkar International Airport, Port Blair
Why in News
Prime Minister will inaugurate the New Integrated Terminal Building of Veer Savarkar International Airport, Port Blair on 18th July.
About the Airport Project
The New Integrated Terminal Building is built at a cost of around Rs. 710 crore.
It has a total built up area of around 40,800 sqm., and has the capability of handling about 50 lakh passengers annually.
This project is expected to play a key role in boosting connectivity of the island UT.
Inspired from nature, the architectural design of the airport terminal resembles a shell shaped structure depicting sea and islands.
Sustainability features at the airport:

Double Insulated Roofing System to reduce heat gain
Rainwater catchment in an underground water tank
On-site sewage treatment plant with 100% of treated wastewater
500 KW capacity solar power plant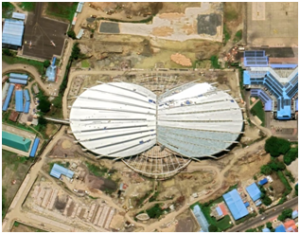 About Veer Savarkar
Shri VinayakDamodarSavarkar was born on 28 May 1883 atBhagur, a village near Nasik.
The assassination of two British PlagueCommissioners by the Chapekar brothers in Poona on 22 June 1897and the subsequent execution of DamodarpantChapekardisturbed the young Savarkar.
Later in 1899, when he was just 16 year's old, Savarkar formed MitraMela.

The group's principal aim was to attain the complete political independence of India.

The name of the groupwas later changed to Abhinava Bharat.

It had a close resemblanceto the 'Young Italy' movement of Guiseppe Mazzini and that ofthe revolutionary societies in Russia.

He left for London in 1906 and continued hismission there also.

The same year, he started the Free IndiaSociety.

Savarkar's activities finally led to his arrest in March 1910.
Whilebeing extradited to India, he made the famous escape through theport-holes of the steamer into the sea and reached the shore offMarseilles in France.

However, he was recaptured.

Hague International Tribunal passed a judgment in favour of theBritish Government.
At the young age of 27, he was sentenced totwo transportations for life and imprisoned in Andamans.
The lifein prison (1911-1924) was one of untold hardships.
Due to the restrictions imposed on him after release from jail,Savarkar became less active.
Savarkar was elected President ofthe Hindu Mahasabha Session at Ahmedabad in 1937.
For fivesuccessive years thereafter, he presided over the MahasabhaSessions.
While in the Cellular Jail in Andamans, he etched his poems on the walls of his cell.
Thecollection of his poems include Wild Flowers, Kamala, Gomantak, Saptarshi,Virahochhvas and Mahasagara.
His other poems, Chain, Cell, Chariot Festival of Lord Jagannath, Oh Sleep, and On Death Bed have a philosophical basis.
Savarkar's renowned work Hindutva was written in Ratnagiri jail under his pen-name Mahratta.

The book defines the principles of Hindu nationalism at length.

During his internment at Ratnagiri, he wrote another of his famous books, Hindu Pad-Padshahi.
Savarkar's book The Indian War of Independence, 1857became the source of inspiration for many revolutionaries.
Source: PIB and savarkar.org