Kashmir's centuries-old 'Namda' craft
Why in News
Recently, the Prime Minister shared about the revival and growth of centuries old 'Namda Craft' from Kashmir.
About Namda Craft
The art of producing Namda is a centuries-old traditional craft that has been handed down through the generations in the valley.
Namda are felted rugs that are made by enmeshing wool fibers with water, soap and pressure and then embroidering the resultant fabric.
These are extensively used in Kashmiri households as an effective and inexpensive floor covering and mattress.
The art of making Namda goes through several stages and requires skilled craftsmanship that has been handed down through generations.
The process of making Namda involves various steps such as carding, creating the border, the creation of a layer, sprinkling soap solution, rolling the Namda, drying and finally, the Aari work.
Despite the exquisite beauty of Namda, the tradition is threatened as there are fewer skilled craftsmen who have experience in this art form.
Additionally, the modernization of carpets and the emergence of cheap imitations also contributed to its decline.
Younger generations seem less interested in learning this ancient craft as a result of modern trends.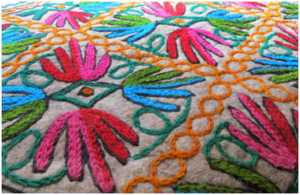 Source: PIB, gaatha.org