CURRENT AFFAIRS – 14/06/2023
Tax law in the shadow of the higher judiciary
Suhrith Parthasarathy
India's law of taxation is built on two central precepts. First, on the idea captured in Article 265 of the Constitution, that a tax may be imposed only with the authority of law. Second, on a principle of sureness, that any levy ought to be clear, consistent, and predictable. Both these precepts emanate out of a larger commitment to the rule of law, in particular to values of legality and certainty.
Upholding these principles requires a commitment not only from the legislature but also from our courts too. But over the course of the last 12 months, there have been instances where the Supreme Court of India has undermined this commitment, by reversing well-reasoned judgments of High Courts, and by virtually enacting into existence taxes that lack legislative support. Two judgments, delivered by Justice M.R. Shah who retired from the Supreme Court on May 15, represent noteworthy examples.
In the more recent of the rulings, in ITO vs Vikram Sujitkumar Bhatia, the question before the Court concerned whether an amendment to a provision of the Income Tax Act, 1961, could have retrospective effect in the absence of legislative mandate.
The provision at stake, Section 153C of the Act, which stipulates the conditions under which a search made on a person's premises could result in the opening of proceedings against other persons and entities. Before an amendment to the law in 2015, Section 153C allowed the Revenue to proceed against third parties to a search, if material seized (such as money, bullion, jewellery, or books of accounts) "belongs or belong to" a person other than the one who was subject to the search.
At least three different High Courts held that the terms, "belongs or belong to," ought to be narrowly construed. In their reading, for incriminating material found during a search to serve as a basis for assessing persons alien to the search, that material must not merely relate to, or pertain to, such person but must "belong" to them. Therefore, a mere reference to a person's name would not by itself satisfy the law. There must be evidence that the material in question is the person's property.
To overcome these decisions, the law was amended in 2015. Section 153C now stipulated that assessments could be made against third parties to a search, even if the material seized — in the case of documents and books of accounts — "pertains or pertain to" the person or if information contained in those items "relates" to the person. The question turned to this: would the law apply to searches conducted prior to its enactment?
The amendment was not made expressly retrospective. In any event, as the Gujarat High Court held, it could not be so because such an application would impinge on rights that had vested on persons through the previous stipulation. This reasoning stems out of the idea that even if a law was merely procedural in nature, it would apply retrospectively only if it did not take away any substantive rights conferred on a person. Here, the Court found that the amendment was bringing into the fold of Section 153C a new class of assessees, who were previously excluded.
On April 6, the Supreme Court reversed this verdict. Its reasons for doing so, insofar as they can be gleaned from the judgment, are twofold. One, that the old Section 153C had been replaced by amendment, and the words "belongs or belong to" had been substituted by "pertains or pertain to," and, therefore, one must presume that the unamended provision never existed in law, not even before the date of the amendment. Two, that the new law is declaratory, in that it seeks to explain an earlier provision, and is hence retrospective.
Court as maker, not interpreter
However, these professed reasons do not add up. Section 153C may have been amended through substitution. But the phrase "belongs to" continues to remain in the provision. What the altered law does is to add an additional stipulation: that even material — in the case of books of accounts and documents — that "pertains or pertain to" a person can serve as a ground for fresh proceedings. Therefore, the amendment by no means asserts what was always the position, but, instead, seeks to expand the law's domain with an eye to the future. The Court, in holding that it will apply to past searches, has acted not as an interpreter of the law but as a maker of the law.
The judgment in Union of India vs Ashish Agarwal, delivered in May last year, is not dissimilar. Its many ramifications continue to be felt. In it, the Court resuscitated notices of reassessment that had been issued by the Revenue without any sanction of law. In doing so, it not only reversed the Allahabad High Court's judgment that had been carried to it on appeal but also verdicts rendered by at least seven different High Courts that were not before it. Parties to those cases, numbering in the hundreds and thousands, did not so much as get their audience in court.
The issue at stake in the case was simple. With effect from April 1, 2021, Parliament had enacted a new regime to govern reassessments of completed income-tax proceedings. But, despite the change in law, the Revenue continued to issue notices under a repealed provision, deriving authority, it believed, from executive notifications that extended timelines during the COVID-19-inflicted period. The High Courts declared these notices invalid, but also pointed out that the Income-Tax Department, if it so desired, was at liberty to invoke the new law, if the statute of limitation so permitted.
There is no doubt that the quashing of these notices would have had some effect on the revenue. There would have been cases where limitation had expired, leaving the authorities with no choice but to drop any proposal for reassessment. But if this situation called for mending, it was for the legislature to think of solutions.
Instead, the Court found — although this was not the government's pleaded case — that the "officers of the Revenue may have been under a bona fide belief that the amendments may not yet have been enforced". In other words, that state functionaries were ignorant of the law. In the Court's belief, mistakes of this kind must not be allowed to cost the exchequer. Therefore, the quashed notices were revived, and were deemed to have been issued under the amended law.
More than an encroachment
Through this, the Court was not only encroaching on legislative functions but was also striving to give life to what were otherwise entirely illegitimate actions. What followed the judgment was an especially bewildering situation, because the notices under the old law were evidently issued keeping in mind the preconditions that that law stipulated — as a result, this has only led to a fresh round of litigation.
What is more, in doing this, the Court also invoked its most infamous power: Article 142 of the Constitution, which allows it to pass orders for "doing complete justice to a cause". It has previously been held that this power ought not to be applied in breach of statutory law. Yet, here was a case where the Court not only resuscitated actions that lacked any legislative support but also reversed judgments that were simply not on appeal before it.
Article 265 of the Constitution forbids taxation without legislation. But if the Supreme Court is willing to play Parliament, this peremptory promise will remain illusory.
The central precepts on which India's law of taxation is built face erosion, as two judgments by the top court show.
Facts about the News
It deals with the Supreme Court's power to exercise its jurisdiction and pass an order for doing complete justice in any cause or matter pending before it.
It provides the apex court with a special and extraordinary power and is meant to provide justice to litigants who have suffered traversed illegality or injustice in the course of legal proceedings.
Article 142(1) states that "The Supreme Court in the exercise of its jurisdiction may pass such decree or make such order as is necessary for doing complete justice in any cause or matter pending before it, and any decree so passed or order so made shall be enforceable throughout the territory of India in such manner as may be prescribed by or under any law made by Parliament and, until provision in that behalf is so made, in such manner as the President may by order prescribe".
Significant cases where Article 142 was invoked:
Babri Masjid Case: The article was used in the Ram Janmabhoomi-Babri Masjid land dispute case and was instrumental in the handover of the disputed land to a trust to be formed by the union government.
Bhopal Gas Tragedy:The SC invoked its plenary powers in the Union Carbide vs Union Govt case and intervened to provide compensation to victims of the deadly Bhopal Gas Tragedy.
The practice of Judicial Activism was created and developed in the USA, and historian Arthur Schlesinger, Jr. stamped the term in 1947.
In India, the basis of Judicial Activism was brought about by Justice P.N Bhagwati, Justice O. Chinnappa Reddy, Justice V.R. Krishna Iyer, and Justice D.A Desai.
Judicial activism means the proactive role played by the judiciary in the protection of the rights of citizens and promoting justice in society.
Judicial activism is a practical tool for doing this when the administration and legislature fail to uphold constitutional values and protect the rights of people. It also disproves the notion that the judiciary is only a spectator in these situations.
Judicial activism has arisen mainly due to:
The failure of the executive and legislatures to act.
When the legislature and executive have failed to deliver the desired results.
It occurs because the entire system has been plagued by ineffectiveness and inactiveness.
The violation of basic human rights has also led to judicial activism.
Due to the misuse and abuse of some of the provisions of the Constitution, judicial activism has gained importance.
In order to prevent the compromise of democracy, the Supreme Court and High Courts took the responsibility of solving these problems.

For example, in G. Satyanarayana vs Eastern Power Distribution Company (2004), Justice Gajendragadkar ruled that a mandatory enquiry should be conducted if a worker is dismissed on the ground of misconduct, and be provided with an opportunity to defend himself. This judgement added regulations to labour law which was ignored by legislation.
Similarly, Vishaka vs State of Rajasthan (1997) is an important case that reminds the need of Judicial activism. Here, the SC laid down guidelines that ought to be followed in all workplaces to ensure proper treatment of women. It further stated that these guidelines should be treated as a law until Parliament makes a legislation for enforcement of gender equality.
Some other famous cases of Judicial Activism include –

Kesavananda Bharati case (1973)

:

The apex court of India declared that the executive had no right to intercede and tamper with the basic structure of the constitution.

Sheela Barse v. State of Maharashtra (1983):

 A letter by Journalist, addressed to the Supreme Court addressing the custodial violence of women prisoners in Jail. The court treated that letter as a writ petition and took cognizance of that matter.

I. C. Golaknath & Ors vs State Of Punjab & Anrs. (1967):

The Supreme Court declared that Fundamental Rights enshrined in Part 3 are immune and cannot be amended by the legislative assembly.

Hussainara Khatoon

(I) v. State of Bihar (1979):

 The inhuman and barbaric conditions of the undertrial prisoners reflected through the articles published in the newspaper. Under article 21 of the Indian Constitution, the apex court accepted it and held that the right to speedy trial is a fundamental right.
A.K. Gopalan v. State of Madras (1950): The Indian Supreme Court rejected the argument that to deprive a person of his life or liberty not only the procedure prescribed by law for doing so must be followed but also that such procedure must be fair, reasonable and just.

1985:

 In the MC Mehta vs Union of India case, the Supreme Court ordered the closure of several industries in Delhi to control pollution levels. This landmark judgment established the 'Polluter Pays' concept and set a precedent for environmental protection.

1993:

In the case of S. R. Bommai vs. Union of India, the Supreme Court upheld the principle of federalism and ruled that the dismissal of state governments by the central government must be for valid reasons and not for political reasons.

2002:

 In the Unnikrishnan vs. State of Andhra Pradesh case, the Supreme Court declared that every child in India has the fundamental right to education. It directed the government to provide free and compulsory education to all children aged 6-14 years.
Methods of Judicial Activism
Public Interest Litigation (PIL)
Interpretation of the Constitution
Striking Down Unconstitutional Laws
Expanding the Scope of Existing Laws
Judicial Review
Cyclone Biparjoy: 21,000 shifted to safety in Gujarat
High alert:
 Fishing trawlers anchored at the Jakhau port ahead of the landfall of Cyclone Biparjoy in Kutch district of Gujarat. 
PTI
As Cyclone Biparjoy barrels towards Gujarat, the State government has shifted nearly 21,000 people from coastal areas to safer places.
The cyclone, which is likely to make landfall near Jakhau port in Kutch district on Thursday, holds "extensive damaging potential" for the coastal districts of Saurashtra and Kutch, officials said.
According to the India Meteorological Department, Cyclone Biparjoy weakened from an extremely severe cyclone to a very severe cyclone on Tuesday. It is expected to cross Saurashtra and Kutch in Gujarat and the adjoining Pakistan coast between Mandvi in Gujarat and Karachi in Pakistan near the Jakhau port (Gujarat) in the evening of June 15 with a maximum sustained wind speed of 125-150 kmph.
"Its damaging potential could be extensive," IMD Director-General Mrutyunjay Mohapatra said at a press conference in New Delhi.
The cyclone could lead to extremely heavy rainfall (over 20 cm) at isolated places in Kutch, Devbhumi Dwarka, Jamnagar and Porbandar districts from June 13 to 15. Gusty winds and rain may cause extensive damage to standing crops, houses, roads, electricity and communication poles.
"Up to six-metre-high tidal waves are likely to inundate low-lying areas of Saurashtra and Kutch coasts. We have recommended evacuation of the population in such areas and action is being taken," Mr. Mohapatra said.
21,000 shifted to safety before cyclone in Gujarat
The Gujarat government has deployed teams from the National Disaster Response Force (NDRF) and the State Disaster Response Force and created over 500 temporary shelters in eight coastal districts.
Shelter homes have been set up with arrangements for rations and food packets. The administration has made plans to deal with the fallout of any health or medical emergency.
"So far, various district administrations have shifted nearly 21,000 people to temporary shelters. The evacuation process is still on," said Alok Pandey, Relief Commissioner of Gujarat.
Nearly 6,500 were evacuated in Kutch district, followed by 5,000 in Devbhumi Dwarka, 4,000 in Rajkot, 2,000 in Morbi, more than 1,500 in Jamnagar, 550 in Porbandar and 500 in Junagadh district, according to information.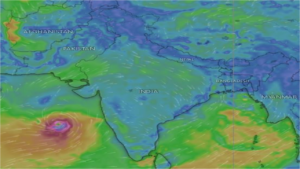 It was stationed about 850 km west of Goa and 900 km southwest of Mumbai. Extremely Severe Cyclonic Storm Biparjoy is a powerful tropical cyclone that formed over the east-central Arabian Sea and is expected to make landfall along Gujarat's Kutch coast.
The cyclone is predicted to gain in strength over the next three days and develop into a very severe cyclonic storm by June 13.
It would result in squally weather with wind speeds reaching 35-45 kmph along the coastline of Karnataka, Goa, and Maharashtra
The IMD has not yet predicted any major impact on countries adjoining the Arabian Sea, including India, Oman, Iran, and Pakistan.
Biparjoy' was suggested by Bangladesh and the word means 'disaster' or 'calamity' in Bengali. The next cyclone after Biparjoy will be named 'Tej' based on India's suggestion.
Musings on the frictions in India-Canada ties
During a pro-Khalistani parade on June 4 in Brampton, Canada, there was a tableau that depicted a lady clad in a white sari, who was bloodied, with two soldiers training their guns on her. The board behind her read, "Revenge of attack on Shri Darbar Sahib". The side of the float carried the words, "Never forget 1984". Clearly, the tableau figures depicted were that of India's former Prime Minister Indira Gandhi and her assassins.
In a media conference on June 8, to commemorate nine years of Prime Minister Narendra Modi's administration, the External Affairs Minister, S. Jaishankar, was asked about the Brampton tableau. He chose not to refer directly to the offensive float though he indirectly indicated that it was "egregious". Instead, he focused, as he put it, on the "bigger" issue — the space Canada gives "to separatists, to extremists, to people who advocate violence." He added, "… and I think it's not good for the relationship and I think it's not good for Canada." Mr. Jaishankar did well to speak out, openly and forcefully, on Canada's hypocritical approaches on human rights issues and its decades long disdain for the territorial integrity of India.
This stated, it is remarkable that Mr. Jaishankar could not get himself around to take the name of Indira Gandhi. The glorification of "revenge" by anyone for the assassination of an Indian Prime Minister is an issue beyond party politics or personal pique for it concerns the dignity of the nation. This is so even if a Prime Minister took actions, like Indira Gandhi did in June 1984, that were controversial and the Congress party's role in the anti-Sikh 1984 riots was condemnable. Ironically, while Mr. Jaishankar did not name Indira Gandhi, the Canadian High Commissioner to India Cameron Mackay did. He tweeted, "I am appalled by reports of an event in Canada that celebrated the assassination of late Indian Prime Minister Indira Gandhi." Indeed, the country's positions would be better and more credibly articulated if the able, popular and powerful politician that Mr. Jaishankar has become does not completely obscure his former avatar of a distinguished diplomat.
Diaspora and foreign policy
The ethnic Indian community, including the Sikhs, plays an important role in Canada's public life. There are currently some ethnic Indians in Prime Minister Justin Trudeau's cabinet. At the press conference, Mr. Jaishankar mentioned Canada's indulgence of Khalistani elements (he did not use the word, but that is clearly what he had in mind) and aptly attributed it to 'vote bank' politics. It is the ethnic Indian, and, in this case, not restricted to a Khalistani-'vote bank' that had led Mr. Trudeau to comment on the farmers' agitation which was a purely domestic Indian issue. India naturally found Mr. Trudeau's remarks unacceptable.
Mr. Jaishankar's comments on Canadian attitudes to ethnic Indians provide an occasion to consider the Indian political class's approaches towards the diaspora which has gained political, financial and professional success in many countries. It has become a pillar of foreign policy, especially of the present dispensation which has also used Prime Minister Narendra Modi's popularity with a vast section of the diaspora to impress domestic public opinion. Also, whereever the diaspora is politically important, local politicians want to use Mr. Modi's popularity for their political purposes. The latest illustration of this phenomena was Mr. Modi's diaspora rally during his recent visit to Australia which was attended by Australian Prime Minister Anthony Albanese.
Following Mr. Modi's example, other Indian political players will also now play diaspora politics. The Congress's Rahul Gandhi's recent visit to the United States is a case in point. Thus, the tradition that Indian domestic politics will not be taken beyond the shores of India no longer holds.
Another significant issue which Mr. Jaishankar addressed during the media briefing related to the remarks of Jody Thomas, Canada's National Security and Intelligence Adviser. Speaking at a conference organised by the Canada Global Affairs Institute on June 2, Ms. Thomas said, "When I talk about foreign interference and economic security, I'm now talking of a number of state actors and non-state proxies. This includes Russia, Iran, India." That said, the actor that comes up most on these issues, and it is no surprise to anybody, is China. In response Mr. Jaishankar used the Hindi language phrase, "Ulta Chor Kotwal ko daten (The thief scolds the police)". He rightly dismissed Ms. Thomas' comment outright. India cannot be accused of seeking to influence Canadian domestic affairs if its diplomats openly interact with the Indian diaspora there. Indian diplomats have the obligation to point to the diaspora and others the harmful impact on bilateral ties when Canadian politicians support separatism in India. These diplomatic activities cannot be construed as interference in Canada's internal affairs.
The harsh reality of the current Canadian political situation is that Mr. Trudeau is critically dependent on the New Democratic Party (NDP) for his government's survival and Jagmeet Singh, the NDP leader, is a committed Khalistan sympathiser. He had asked Mr. Trudeau to intervene in the events in Punjab surrounding radical preacher Amritpal Singh's activities. Coming from a Canadian government ally, this was naturally unacceptable to India.
Bilateral ties are passing through difficult times but cooperation in many areas continues. One eye-catching one is the Cannabis medicine project.
Indian diplomats have the obligation to highlight the damage caused to bilateral ties when Canadian politicians support separatism in India.
HAP to take AI governance global
An eye for AI
: The leaders of the G-7 countries attending a meeting during the G-7 Leaders' Summit in Hiroshima on May 19.
AP
Is the question of regulating generative AI possible? Can the development and implementation of AI be aligned with values such as freedom, democracy, and human rights? Will the Hiroshima AI Process (HAP) respond to the concerns of other country-groups involved in developing international technical standards in AI?
The story so far:
The annual Group of Seven (G-7) Summit, hosted by Japan, took place in Hiroshima from May 19-21. Among other matters, the G-7 Hiroshima Leaders' Communiqué initiated the Hiroshima AI Process (HAP) — an effort by this bloc to determine a way forward to regulate Artificial Intelligence (AI). The ministerial declaration of the G-7 Digital and Tech Ministers' Meeting, on April 30, discussed "responsible AI" and global AI governance, and said, "we reaffirm our commitment to promote human-centric and trustworthy AI based on the OECD AI Principles and to foster collaboration to maximise the benefits for all brought by AI technologies". Even as the G-7 countries are using such fora to deliberate AI regulation, they are acting on their own instead of waiting for the outcomes from the HAP. So while there is an accord to regulate AI, the discord — as evident in countries preferring to go their own paths — will also continue.
What is the Hiroshima AI process?
The communiqué accorded more importance to AI than the technology has ever received in such a forum — even as G-7 leaders were engaged with other issues like the war in Ukraine, economic security, supply chain disruptions, and nuclear disarmament. It said that the G-7 is determined to work with others to "advance international discussions on inclusive AI governance and interoperability to achieve our common vision and goal of trustworthy AI, in line with our shared democratic value".
To quote the G-7 communiqué at further length, "we recognise the need to immediately take stock of the opportunities and challenges of generative AI, which is increasingly prominent across countries and sectors, and encourage international organisations such as the OECD (Organisation for Economics Co-operation and Development) to consider analysis on the impact of policy developments and Global Partnership on AI (GPAI) to conduct practical projects. In this respect, we task relevant ministers to establish the Hiroshima AI process, through a G7 working group, in an inclusive manner and in cooperation with the OECD and GPAI, for discussions on generative AI by the end of this year. These discussions could include topics such as governance, safeguard of intellectual property rights including copyrights, promotion of transparency, response to foreign information manipulation, including disinformation, and responsible utilisation of these technologies."
The HAP is likely to conclude by December 2023. The first meeting under this process was held on May 30. Per the communiqué, the process will be organised through a G-7 working group, although the exact details are not clear.
Why is the process notable?
While the communiqué doesn't indicate the expected outcomes from the HAP, there is enough in there to indicate what values and norms will guide it and from where it will derive its guiding principles, based on which it will govern AI.
The communiqué as well as the ministerial declaration also say more than once that AI development and implementation must be aligned with values such as freedom, democracy, and human rights. Values need to be linked to principles that drive regulation. To this end, the communiqué also stresses fairness, accountability, transparency, and safety. It spoke of "the importance of procedures that advance transparency, openness, and fair processes" for developing responsible AI. "Openness" and "fair processes" can be interpreted in different ways, and the exact meaning of the "procedures that advance them" is not clear.
What does the process entail?
An emphasis on freedom, democracy, and human rights, and mentions of "multi-stakeholder international organisations" and "multi-stakeholder processes" indicate that the HAP isn't expected to address AI regulation from a state-centric perspective. Instead, it exists to account for the importance of involving multiple stakeholders in various processes and to ensure the latter are fair and transparent.
The task before the HAP is really challenging considering the divergence among G-7 countries in, among other things, regulating risks arising out of applying AI.
It can help these countries develop a common understanding on some key regulatory issues while ensuring that any disagreement doesn't result in complete discord.
For now, there are three ways in which the HAP can move forward — it can enable the G-7 countries to move towards a divergent regulation based on shared norms, principles and guiding values; it can become overwhelmed by the divergent views among the G-7 countries and fail to deliver any meaningful solution; or it can deliver a mixed outcome with some convergence on certain issues and at the same time a lack of common ground on many others.
Is there an example of how the process can help?
The matter of intellectual property rights (IPR) offers an example of how the HAP can help. Here, the question is whether training a generative AI model, like ChatGPT, on copyrighted material constitutes a copyright violation.
While IPR in the context of AI finds mention in the communiqué, the relationship between AI and IPR and in different jurisdictions is not clear. There have been several conflicting interpretations and judicial pronouncements. The HAP can help the G-7 countries move towards a consensus on this issue by specifying guiding rules and principles related to AI and IPR.
For example, the process can bring greater clarity to the role and scope of the 'fair use' doctrine in the use of AI for various purposes.
Generally, the 'fair use' exception is invoked to allow activities like teaching, research, and criticism to continue without seeking the copyright-owner's permission to use their material. Whether use of copyrighted materials in datasets for machine learning is fair use is a controversial issue.
As an example, the HAP can develop a common guideline for G-7 countries that permits the use of copyrighted materials in datasets for machine-learning as 'fair use', subject to some conditions.
It can also differentiate use for machine-learning per se from other AI-related uses of copyrighted materials. This in turn could affect the global discourse and practice on this issue.
The G7 communiqué states that "the common vision and goal of trustworthy AI may vary across G7 members."
The ministerial declaration has a similar view: "We stress the importance of international discussions on AI governance and interoperability between AI governance frameworks, while we recognise that like-minded approaches and policy instruments to achieve the common vision and goal of trustworthy AI may vary across G7 members."
This acknowledgement, taken together with other aspects of the HAP, indicates that the G-7 doesn't expect to harmonise their policies on regulations.
On the other hand, the emphasis on working with others, including OECD countries and on developing an interoperable AI governance framework, suggests that while the HAP is a process established by the G-7, it still has to respond to the concerns of other country-groups as well as the people and bodies involved in developing international technical standards in AI.
It is also possible that countries that aren't part of the G-7 would want to influence the global governance of AI, and may launch a process of their own like the HAP.
Overall, the establishment of the HAP makes one thing clear: AI governance has become a truly global issue that is likely to only become more contested in the future.
Krishna Ravi Srinivas is with RIS, New Delhi. Views expressed are personal.
The G-7 Summit, hosted by Japan, took place took place in Hiroshima on May 19-21, 2023. The leaders initiated the Hiroshima AI Process (HAP) to regulate Artificial Intelligence.
With the help of the HAP, the G-7 countries could move towards a divergent regulation based on shared norms, principles and guiding values.
It can develop a common guideline for G-7 countries that allows the use of copyrighted materials in datasets for machine-learning as 'fair use'.
UN needs to be more democratic and representative, says Rajnath
Counting milestones:
 Rajnath Singh at the 75th anniversary of 'UN Peacekeepers Day', in New Delhi on Tuesday. 
ANI
Defence Minister says the moral legitimacy of the United Nations is undermined when India, the most populous nation, is not a permanent member of the UN Security Council; he stresses that the global organisation must reflect current realities
Commenting on the fact that India is yet to find a place as a permanent member of the United Nations Security Council (UNSC), Defence Minister Rajnath Singh said on Tuesday that the time had come for the UN and its bodies to be "more democratic and representative of the current realities of our age".
"When India, the most populous nation, does not find a seat as a permanent member of the UNSC, it tends to undermine the moral legitimacy of the United Nations. Therefore, the time has come for making the UN bodies more democratic and representative of the current realities of our age," Mr. Singh said at a seminar organised by the Army, along with the Centre for Land Warfare Studies and Centre for UN Peacekeeping, to celebrate 75 years of UN peacekeeping.
India has been one of the top troop contributing nations to UN peacekeeping operations. It has contributed approximately 2.75 lakh troops to the missions so far. Mr. Rajnath called for innovative approaches and enhanced cooperation among responsible nations to ensure the safety and effectiveness of UN peacekeepers who are deployed in violence-hit regions.
Highlighting the emerging challenges being faced by the peacekeepers today, Mr. Singh stressed on the need to invest more in training, technology and resources for their safety and productivity.
"When there is a conflict, it is harmful to the directly involved actors. Moreover, it has negative externalities for those involved indirectly. There is a plethora of negative externalities that have emanated out of the recent Russia-Ukraine conflict. It has led to a food crisis in various African and Asian countries and has fuelled an energy crisis in the world. A conflict at a particular place or region creates ripple effects, which adversely impact the whole world. So, the rest of the world becomes a stakeholder in resolving the conflict. When conflicting parties restore peace, they benefit in terms of human lives saved, higher economic growth achieved, etc. The rest of the world also benefits as peace fosters stability and encourages economic growth," Mr. Singh stated.
In his opening remarks, Army chief General Manoj Pande said that currently there are close to 5,900 Indian peacekeepers serving around the world on various peacekeeping operations, including "female engagement teams" who work with women and children affected by conflicts. There are also women staff officers and military observers.
"Since the first deployment in 1950, Indian peacekeepers have served in almost all UN missions across four continents, making us the largest contributor to UN peacekeeping efforts, both in terms of personnel and resources," he added.
On the occasion, Mr. Singh unveiled a pictorial compilation of India's peacekeeping journey.
Facts about the News :
International Day of UN Peacekeepers- History
UN Peacekeeping began in 1948 when the UN Security Council authorized the deployment of UN military observers to the Middle East to form the United Nations Truce Supervision Organization (UNTSO) to monitor the Armistice Agreement between Israel and its Arab neighbours.
UN Peacekeeping helps countries navigate the difficult path from conflict to peace.
It deploys troops and police from around the world, integrating them with civilian peacekeepers to address a range of mandates set by the UN Security Council (UNSC) and the General Assembly.
Composition:
UN peacekeepers (often referred to as Blue Berets or Blue Helmets because of their light blue berets or helmets) can include soldiers, police officers, and civilian personnel.
Peacekeeping forces are contributed by member states on a voluntary basis.
Civilian staff of peace operations are international civil servants, recruited and deployed by the UN Secretariat.
The theme of the 75th anniversary "Peace begins with me"
What is India-ASEAN Initiative for Women in UNPK operations?
The 'India-ASEAN Initiative for women in UNPK operations' refers to a collaborative effort between India and the Association of Southeast Asian Nations (ASEAN) to promote the participation of women in UNPK operations.
This initiative focuses on providing training and support to women personnel from ASEAN member-states who are interested in serving as peacekeepers.
Under this initiative, India has announced two specific initiatives:
Specialized courses at the Centre for United Nations Peacekeeping (CUNPK) in New Delhi. These courses will offer targeted training in peacekeeping operations to women peacekeepers from ASEAN countries.
The aim is to equip them with the necessary skills and knowledge to effectively contribute to UNPK missions.
Table Top Exercise for women officers from ASEAN. This exercise will simulate various scenarios and challenges faced by UN peacekeepers, allowing participants to enhance their understanding and preparedness for UNPK operations.
World Cup triumph and Dronacharya award will be the crowning glory for seasoned coach Kumar
'I have been given a free hand by Hockey India and I have a strong belief that the juniors can win the world event; it has been a recurring dream for me and I will make it happen'
C.R. Kumar still remembers Rajinder Singh (Sr) lifting the hockey junior men's World Cup in Hobart with the Indian players nearly 22 years ago.
Kumar was a bit peeved as the junior men's team was his baby. The 60-year-old had coached the team for nearly two years, and guided it to the Asia Cup final.
However, in a sudden change of guard, Rajinder took over the reins at Hobart much to Kumar's disappointment.
Kumar masterminded the Indian junior men's team triumph in the Asia Cup in Salalah (Oman) recently and is all set to be the head coach of the side for the junior men's World Cup to be held in Kuala Lumpur from December 5 to 16 this year.
Kumar has a wealth of experience, having coached the Indian senior men's and women's teams. He has also helmed the Malaysian women's squad in a career spanning 25 years.
The seasoned coach obviously knows the importance of the World Cup and the pressure that comes with it. Kumar is hopeful of India clinching the trophy in Kuala Lumpur.
"I deserved to be there in Hobart with the team then, but it was not to be. No problem. To win the World Cup has been a recurring dream for me. I will make it happen since the boys are very talented," said Kumar.
He was thrilled that his wards qualified for the World Cup with an efficient performance in the Asia Cup at Oman by following his dictum that every player must score.
"I knew Pakistan was the team to beat. My strategy was that all the players would have to play an attacking game. Every team feared us precisely for that reason. And if you look at the statistics, except the two goalkeepers, all 16 of our players scored," said Kumar, known for his acumen and meticulous preparation.
Kumar was out of the country for three years from March 2019. After his father's death, he went to Oman to coach a local club Ahli Sidab in the men's super-division category, not willing to disturb the Indian team preparing for the Tokyo Olympics.
His untiring efforts helped Ahli Sidab win the title for two consecutive years. "It was a nice challenge for me and I enjoyed every minute of it. I took quite a few former Indian players in my side in 2022," he said.
It was then that he received a call from world hockey president Narinder Batra who asked him to join the Indian junior team as head coach.
And Kumar was more than glad to accept the offer.
His first assignment was the Sultan of Johor Cup. He proved his worth when he shepherded the team to the gold with a win over a formidable Australia in the shootout. "That was the first tournament for our juniors in six years and the Sultan of Johor Cup was the only scheduled tournament in the FIH calendar. It was one way to test the standards of the team," he said.
Then the victory at the Asia Cup catapulted Kumar to the pinnacle of glory. However, he is not satisfied with what he has achieved and the junior team coach has set his sights on the World Cup gold.
With this in mind, the team will travel to Dusseldorf for a five-nation tournament — Spain, Argentina, England and Germany the other sides — and for the Sultan of Johor Cup.
"The current junior team is a very mature squad with high technical standards. I have been given a free hand by Hockey India. I have a strong belief that India can win the World Cup. Moreover, I have a strong and dependable support staff who will help me with my tactics and technical preparation," said Kumar.
He has high praise for the boys and felt that they can shine in senior world events soon. "From my team, a minimum of two players will represent India in the Paris 2024 Olympics," he said.
Kumar has another unfulfilled dream that he possibly should have achieved long back — the Dronacharya award. In fact, in 2022 he was recommended for the honour but his name, along with several others, was surprisingly left out.
"I will win the World Cup at Kuala Lumpur and then apply for the Dronacharya award," he said.
From starting his coaching career for the National men's team assisting V. Baskaran at the 1998 Utrecht World Cup to being Cedric D'Souza's deputy in the 2002 World Cup in Kuala Lumpur, Kumar has witnessed several ups and downs. The man has, however, remained grounded and served the sport with distinction.
Facts about the News :
Dronacharya Award
The Dronacharya Award gets its name from the epic of Mahabharata. Dronacharya was the guru of the Kauravas and the Pandavas.
The Dronacharya Award came into existence in 1985 and was included by the Government of India.
These sports awards are presented to the 'gurus' or coaches in the sports fraternity who have coached in various big sporting events like the Olympics, Commonwealth Games, Asian Games, etc.
The first ones on the list of coaches to receive this award in 1985 were Om Prakash Bhardwaj (Boxing), O. M. Nambiar (Athletics), and Bhalchandra Bhaskar Bhagwat (Wrestling).
Weightlifting coach Hansa Sharma is the first woman ever to have received this award in the year 2000.
Lightning, blamed for Canada fires, will get worse in a warming world
Smoke billows up from the Donnie Creek wildfire south of Fort Nelson, British Columbia, Canada.
B.C. Wildfire Service via Reuters
In at least one climate scenario, lightning capable of causing fires is expected to become more common by the 2090s. Within India, lightning has been the deadliest natural disaster for some time, taking 90,632 lives from 1972-2019, says a report
New York City's air quality was recently among the worst in the world due to smoke drifting from the wildfires in Canada. According to AirNow, areas from the mid-Atlantic through the northeast and upper parts of the Great Lakes registered air quality in 'unhealthy' or worse categories starting Wednesday. The smoke also went on to blanket Washington D.C. and other parts of the North American continent.
According to the Canadian Interagency Forest Fire Centre, there were 426 active fires in the country as of June 8, 2023. Of these, 232 were reportedly out of control a major chunk of them (144) were reported to have been from Quebec province alone. The Centre also raised the national preparedness level, an indicator of wildland fire activity, to its highest level of five.
What's causing the wildfires?
Wildfires in Canada's British Columbia and Alberta province started in late April, news agency Reuters reported. They have since moved on to the eastern provinces of Quebec, Ontario, and Nova Scotia. Quebec is Canada's largest province by area and also home, as of June 12, to the most currently active wildfires.
Most of these blazes were caused by lightning, Reuters added. Human activities are also to be blamed for adding to the forest fires, reports have said.
According to a study published in Nature on February 10, 2023, lightning is the main precursor of natural wildfires. Laboratory experiments and field observations have together revealed that lightning electric currents that flow for more than some tens of milliseconds, the so-called long-continuing currents (LCC), are likely to produce fires.
The study indicated an increase in the total global lightning activity and global LCCs by the 2090s. In one climate projection, the simulated globally averaged surface temperature increased by about 4 degrees C. Here, the amount of total lightning activity was found to increase by 11% per K.
The same study also found that LCC lightning activity increased by around 47% over land, implying a higher risk of lightning-ignited wildfires in the future. The simulated relative increase in the global total lightning flash rate of 43% is also similar to the relative increase in the global LCC lightning flash rate (41%).
The trends face the other way in some other regions, including the western parts of North America, northern and southern South America, parts of Central Asia, and in the Scandinavian peninsula. Simulations have found that in these parts of the world, the total lightning activity could decrease but the amount of LCC lightning activity could increase, leading to an increase in wildfires.
During a storm, water droplets in warmer air and ice crystals that condensed in cooler air coalesce together to form thunderstorm clouds (usually cumulonimbus clouds). Contact between these droplets and crystals produces a static electrical charge in the clouds.
The negative and positive charges in the clouds build up. Over time, the voltage difference becomes high enough to surmount the resistance presented by the air, leading to a rapid discharge of electric charge. This is what we see as a lightning flash. It can occur between oppositely charged surfaces within a thunderstorm cloud or between such surfaces in the cloud and on the ground.
Is lightning a climate indicator?
Long-term changes in lightning patterns reflect, at least in part, changes wrought by the climate crisis. The World Meteorological Organisation recognises lightning to be an essential climate variable that contributes critically to the way the earth's climate is characterised.
This said, in a 2009 book, geophysicist Colin Price wrote: "It needs to be emphasised that lightning-climate relationship based on data for short periods, and different regions, in the present climate cannot always be used as a proxy for future global warming." This, he added, is because surface temperature is also affected by a host of other factors.
According to Eos, a publication of the American Geophysical Union, lightning also produces nitrogen oxides, which react with oxygen in the air to form ozone, which is a strong greenhouse gas.
Lightning strikes in India
Of late, lightning strikes have been the deadliest natural disaster in India. There were 18.5 million lightning strikes in the country between April 2020 and March 2021 – 34% higher than the previous year – according to the Climate Resilient Observing Systems Promotion Council. The Indian Institute of Tropical Meteorology, Pune, has also reported a sharp uptick in strikes in the decade since 1995.
Per a report of the Lightning Resilient India Campaign, 90,632 people died by lightning between 1972 and 2019. According to the National Crime Records Bureau, India had 2,875 deaths due to lightning in 2019, rising marginally by 2021. The private weather-forecasting company Skymet has reported that Odisha recorded the most strikes among India's states in 2019.
However, the Campaign report also said strikes had dropped by 60% in Odisha, Andhra Pradesh, and Nagaland in 2021-2022. It also said that most such deaths in India happen because people living in villages seek shelter from lightning under tall trees, which are more likely to be struck.
What else is happening in Canada?
According to Reuters, Canada's Atlantic coast received lower snowfall this winter followed by an unusually dry spring. The weather of Nova Scotia province, where wildfires are not unusual but are nonetheless less common than in other provinces, is influenced by the North Atlantic Ocean. Due to its proximity to the water-body, the region is ordinarily more humid and has more moderate temperatures compared to other parts of the country.This year, Nova Scotia's capital, Halifax, received only 120 mm of rain between March and May, roughly a third of the average, according to Reuters. To add to the region's woes, a late-May heatwave pushed the temperature up, causing it to breach a high 33 degrees Celsius mark on June 8.
(With inputs from Vasudevan Mukunth)
According to a study published in Nature on February 10, 2023, lightning is the main precursor of natural wildfires. Laboratory experiments and field observations have together revealed that lightning electric currents that flow for more than some tens of milliseconds, the so-called long-continuing currents (LCC), are likely to produce fires
Long-term changes in lightning patterns reflect, at least in part, changes wrought by the climate crisis. The World Meteorological Organisation recognises lightning to be an essential climate variable that contributes critically to the way the earth's climate is characterised.
Simulations have found that in North America and Central Asia, the total lightning activity could decrease but the amount of LCC lightning activity could increase, leading to an increase in wildfires.
SOURCE THE HINDU