CURRENT AFFAIRS – 12/06/2023
Embracing nature's warmth: A herd of sambar deer resting by a pond in the Mudumalai Tiger Reserve. Good rainfall in the past three weeks in the reserve has garnished the surroundings with greenery.M. Sathyamoorthy
Facts about the News
Sambar Deer:
Sambar is a large deer species native to the Indian subcontinent and Southeast Asia.
They are primarily found in forested areas, including both deciduous and evergreen forests.
They are highly adaptable and can also be found in grasslands, swamps, and even coastal areas. They are known to thrive in a variety of habitats, from sea level to high altitudes.
One of the notable features of sambar deer is their large and impressive antlers. These antlers are typically present only on males and can grow up to a meter (3.3 feet) in length.
The antlers are shed and regrow annually, with the new antlers typically reaching their full size by the breeding season.
1. Vulnerable –IUCN Red List
2. State animal of Odisha
3. Nocturnal and solitary
4. Native range — Indian subcontinent, southern China, and Southeast Asia
5. Habitat
Gentle slopes and the steeper parts of forested hillsides. They prefer to live near cultivated areas like gardens and plantations, where they can find food, but are also seen in swamp forests, thick forests and open scrub.
Wide range due to broader diet
Thorn and arid forests — Gujarat and Rajasthan
Moist and dry deciduous forests — peninsular India
Pine and oak forests — Himalayan foothills
Evergreen and semi-evergreen forests — northeastern India and the Western Ghats
Temperate-latitude and alpine-zone woodlands – Taiwan
Conservation
Schedule – I of wildlife (Protection) act, 1972
Protected areas like Kanha, Corbett, Ranthambore, Bandhavgarh, Gir, Dudhwa, Manas, Kaziranga and Sariska
Mudumalai Tiger Reserve
Mudumalai Tiger Reserve is located in the Nilgiris District of Tamil Nadu state at the tri-junction of three states, viz, Karnataka, Kerala and Tamil Nadu.
It is a part of Nilgiri Biosphere Reserve (1st Biosphere Reserve in India) along with Wayanad Wildlife Sanctuary (Kerala) in the West, Bandipur National Park (Karnataka) in the North, Mukurthi National Park and Silent Valley in the South.
The name Mudumalai means " the ancient hill range". Indeed, it is as old as 65 million years when Western Ghats were formed.
Manipur, a rude reminder of northeast tensions
Violence in Manipur, which has gone on for over a month now, claimed well over a 100 lives and displaced thousands more, and has opened many raw wounds that most people had hoped belonged to a bygone era. The spectre of an unbridgeable divide between the Meiteis on the one hand and the Kuki-Chin-Mizo-Zomi-Naga tribes on the other is now all too evident, and any resolution will demand utmost sensitive handling. The ethnic divide and violence seems to suggest that little has changed in the northeast, notwithstanding the many developments in place. Thus the healing process is likely to be a long-drawn-out one.
Most people across the country had reason to believe that the northeast had over time become well and truly integrated. Also, that there were now more commonalities rather than differences amongst the various tribes and communities. The ethnic violence in Manipur, consequently, has come as a rude reminder. Notwithstanding improved communications, better transit facilities, and support for the special needs of the region, there does still exist a divide between the tribes and plains people within the region.
It is easy to pontificate whenever an outbreak of violence of this magnitude takes place, and to harp on certain aspects such as the existence of an excess of region-centric calculus, lack of internal cohesion, and ethnic/caste rivalries as the causes for internal tensions and violence. Such aspects, fortunately, had become lesser in number in recent times, but it is possible that the fraying of our composite culture in recent times — which has also effected other parts of India — is casting a shadow over the northeast.
An additional dimension in the northeast is the presence of ethnic sub-nationalism and identity politics in an aggravated form. Ethnic allegiance had oftentimes been in conflict with mainstream nationalism or vice-versa previously, but it was hoped that such tensions had subsided. The Manipur developments imply that in much of the northeast, ethnic identities still overshadow and overwhelm all other considerations. What is also disturbing is that according to some reports from the region, consolidation efforts by different tribal entities were resulting in subterranean pressures, and the result is that many issues which were deemed settled seem to have been reopened. This applies specially to Manipur where, of late, there have been incipient signs of a resurgence of ultra-nationalistic tendencies. The confrontation between Meitei versus Kuki-Naga ultra-radicalism, as evidenced in Manipur these past weeks, needs to be viewed in the larger context of the conflict between the plains Meiteis and the Kuki-Mizo-Chin-Zomi-Naga hill tribes. What we witness in Manipur today is a conflict between charged up Meitei chauvinism seeking to consolidate their position within Manipur and across the region, in opposition to the Kukis, Mizos and other tribes. The Meiteis may lack a significant militaristic profile, but the Meiteis had earlier on developed a strategy of networking with other northeastern resurgent outfits and militant groups at one level, and with Maoist groups in the hinterland States of the country, at another. This is a matter of record.
Currently, the polarisation between the majority Meitei, and the other tribal communities, in Manipur appears total and irreconcilable. Notwithstanding the peace moves by the central authorities, fresh outbreaks of violence continue. Relocation of the two communities is taking place vigorously with parts of the State being designated as Meitei and Kuki, respectively. The demand for a separate administration as a prelude to the division of the State along these lines is currently gaining momentum.
The State Government — more specifically, the Chief Minister — has come under severe attack by the Kuki tribals for the ongoing violence. This is accompanied by accusations that the police are siding with the Meitei attackers. Meitei elements, in turn, have threatened to form a 'civilian defence force' to protect their people against attacks by Kuki militants. Old issues are being resurrected, such as the burning of the historic Centenary Gate in Leisang village by Meitei miscreants, thus sharpening the divide. Demands for the dismissal of the State government and the imposition of President's rule under Article 356 of the Constitution, alongside a demand by tribal groups such as the Kukis-Chins-Mizos-Zomis, urging the Centre to give the region inhabited by them a separate administration, are being vociferously raised.
Weighing in on the solutions
The Home Minister, Amit Shah's recent visit to Manipur promised much, but it is highly uncertain whether the solutions that he has proposed — which is the standard prescription in all such situations — are the right ones at this time. His announcement of a judicial probe into the ethnic violence and of a three-member committee headed by a judge has been well received. His proposal for the creation of a unified command to oversee security in the State, however, appears draconian in the prevailing circumstances. The announcement of a Central Bureau of Investigation inquiry into specific incidents of violence is a welcome measure. However, changing the Director General of Police, who belongs to the Kuki tribe, on grounds of ineffectiveness may only serve to heighten the gap between the warring Meitei and Kuki communities.
Saner voices must take the lead
What is needed at this time is for saner voices to play a leading role. Notwithstanding the fact that the northeast has been spared serious violence for some years now, the reality is that it is still a volatile region. It is in the process of changing and adapting to newer circumstances. What the Centre needs to achieve is an 'optimal positioning' even if it may seem like giving far too many concessions. Delhi is on test as to how it would adjust or react to the new situation that has presented itself — this demands innovative thinking. Even as States in the region crave greater autonomy, the process of achieving a proper equilibrium requires both sensitivity and 'out of the box' thinking.
Understanding cultural factors are critical, specially in times of conflict. The Meitei versus Tribal divide is both a cultural and sociological phenomenon. A solution demands a combination of adjusting to realities, coupled with an understanding of the moral imperatives of the numerous tribal communities that dot the northeastern landscape. The art is to come up with an agreement in which both or more parties to the dispute think it is the best from their point of view. A solution to the Manipur imbroglio in quick time is important — if a satisfactory solution is not found early, it could aggravate centrifugal tendencies that have not entirely been dissipated, despite the best efforts of successive governments in Delhi and in the region over the past 75 years. The region is beset with people belonging to different cultures often confronting each other. Delhi has consistently tried to avoid an adversarial policy, and, instead, has sought dialogue. This is still the best remedy available, while avoiding any impression of weakness on the part of Delhi.
Delhi needs to acknowledge to itself that the situation in Manipur poses a 'problem' of no mean magnitude. An answer has to be found sooner rather than later before it ignites similar conflicts elsewhere in the region where such tensions also lurk. All communities across the region crave 'security'. The impression that Delhi is neutral in any conflict, and is only on the side of justice has to be properly communicated. The key task for Delhi would be to be seen to act on the basis of overreaching moral principles without, however, making a virtue of such principles. Today, there is enough common purpose and principles across the partisan divide; what is often absent is a weak democratic resolve and an ability to act in the shared national interest.
A solution, in quick time, to the Manipur imbroglio is important or else it could ignite similar conflicts elsewhere in the region.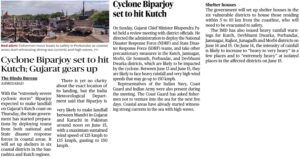 Cyclone Biparjoy set to hit Kutch; Gujarat gears up
Red alert:
Fishermen move boats to safety in Porbandar as coastal areas start witnessing strong sea currents and high waves.
PTI
With the "extremely severe cyclonic storm" Biparjoy expected to make landfall on Gujarat's Kutch coast on Thursday, the State government has started preparations by deploying teams from both national and State disaster response forces in coastal areas. It will set up shelters in six coastal districts in the Saurashtra and Kutch regions.
There is yet no clarity about the exact location of its landing, but the India Meteorological Department said that Biparjoy is very likely to make landfall between Mandvi in Gujarat and Karachi in Pakistan around noon on June 15, with a maximum sustained wind speed of 125 kmph to 135 kmph, gusting to 150 kmph.
Cyclone Biparjoy set to hit Kutch
On Sunday, Gujarat Chief Minister Bhupendra Patel held a review meeting with district officials. He directed the administration to deploy the National Disaster Response Force (NDRF) and State Disaster Response Force (SDRF) teams, and take other precautionary measures in the Kutch, Jamnagar, Morbi, Gir Somnath, Porbandar, and Devbhumi Dwarka districts, which are likely to be impacted by the cyclone. Between June 13 and June 15, they are likely to face heavy rainfall and very high wind speeds that may go up to 150 kmph.
Representatives of the Indian Navy, Coast Guard and Indian Army were also present during the meeting. The Coast Guard has asked fishermen not to venture into the sea for the next five days. Coastal areas have already started witnessing strong currents in the sea with high waves.
The government will set up shelter houses in the six vulnerable districts to house those residing within 5 to 10 km from the coastline, who will need to be evacuated to safety.
The IMD has also issued heavy rainfall warnings for Kutch, Devbhumi Dwarka, Porbandar, Jamnagar, Rajkot, Junagadh and Morbi districts on June 14 and 15. On June 14, the intensity of rainfall is likely to increase to "heavy to very heavy" in a few places and to "extremely heavy" at isolated places in the affected districts on June 15.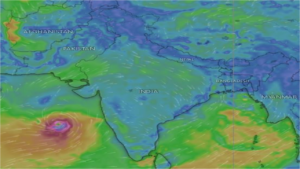 Facts about the News
It was stationed about 850 km west of Goa and 900 km southwest of Mumbai. Extremely Severe Cyclonic Storm Biparjoy is a powerful tropical cyclone that formed over the east-central Arabian Sea and is expected to make landfall along Gujarat's Kutch coast.
The cyclone is predicted to gain in strength over the next three days and develop into a very severe cyclonic storm by June 13.
It would result in squally weather with wind speeds reaching 35-45 kmph along the coastline of Karnataka, Goa, and Maharashtra
The IMD has not yet predicted any major impact on countries adjoining the Arabian Sea, including India, Oman, Iran, and Pakistan.
Biparjoy' was suggested by Bangladesh and the word means 'disaster' or 'calamity' in Bengali. The next cyclone after Biparjoy will be named 'Tej' based on India's suggestion.
Amplify the subject of adolescent girl nutrition
To unlock the full potential of India's future, we have to prioritise the health and nutrition of its adolescent girls. Adolescence is a pivotal period of cognitive development and, therefore, improving access to nutrition during this "second window of opportunity of growth" compensates for any nutrient deficiencies acquired during early developmental stages in the girl child. Furthermore, adolescent health is a significant indicator of women's labour force participation in India in the long term, as better nutrition improves every young girl's prospect to participate in productive activities. Thus, the country beholds a colossal opportunity to add to its nation's demographic dividend by investing in nutrition interventions in adolescent girls.
Ever-growing nutritional concern
Adolescent girls are particularly vulnerable to undernutrition and anaemia due to the onset of menstruation. The findings of the National Family Health Survey-5 (2019-21) confirm these concerns, as a staggering 59.1% of adolescent girls were found to be anaemic. With the NFHS-4 numbers also having reported over 41.9% of school-going girls as underweight, the numbers showcase a worrying trend. What makes the situation more complex is the fact that a range of factors, from environmental conditions to cultural norms that lack a gender-neutral environment within a household, affects the nutrition uptake in adolescent girls.
While progress has been made in improving crucial health indicators in the form of various government initiatives that have successfully achieved optimum coverage, it is however essential to acknowledge that current health interventions do not specifically focus on the nutritional statuses of adolescent girls.
We are, as a nation, far from realising the long-term consequences of overlooking the nutritional needs of young girls. Poorly balanced and insufficient diets can lead to cognitive impairments that affect one's academic performance. This can result in lower educational attainment, which can limit opportunities for employment and economic self-sufficiency later in life. Undernourished adolescent girls are also at a higher risk of chronic diseases and pregnancy complications, which can lead to a higher health-care burden on both families and communities, potentially leading to financial instability and increased poverty. If our girls are less healthy and less educated, they are less likely to participate fully in society, whether through work, politics, or community involvement.
Redefine the interventions
Therefore, it is imperative that we redefine interventions such that we not only centre it around good nutrition but also adopt a life-cycle approach, ensuring that no girl gets left behind. This investment can also help break the intergenerational cycle of poverty, as well-nourished girls are more likely to have healthy babies and provide better care for their families. Thus, investing in girls' nutrition is not only the moral obligation of the state but also an economic one, with potential returns in the form of greater and more sustainable economic growth of the nation.
Additionally, a few strategic modifications to existing interventions can significantly expand the scope of its outcomes. The convergence of various government initiatives such as the Scheme for Adolescent Girls (SAG) within the umbrella of the Prime Minister's Overarching Scheme for Holistic Nutrition programme (POSHAN) 2.0 is a step in the right direction, provided it is implemented effectively. Targeted adolescent-oriented schemes such as the Rashtriya Kishor Swasthya Karyakram (RKSK) could include even stronger awareness and nutrition education programmes that would help sustain beneficiary compliance. Targeted and regionally contextualised Social and Behaviour Change Communication (SBCC) efforts around adolescent girls' nutrition are sure to generate greater demand and the adoption of good practices. For improved outcomes, it is very imperative for effective convergence and collaborations among all the relevant departments, in a way that fosters a collective endeavour. Routine training of health workers for effective implementation and monitoring of various schemes, and to adapt with an evolving landscape, is also a crucial step in this process.
A holistic narrative on adolescent girls' nutrition, explaining its linkages with overall mental and physical well-being, individual productivity and overall economic growth of the country is needed. This must be packed with evidence/data that effectively appeals to all, to those outside the technical community, and must be framed to make it actionable. This also immediately brings about the need for disaggregated data that allows for effective interpretation.
As an elected representative, it is my duty to amplify this vital discourse on nutrition, to work towards protecting and improving the nutritional status of adolescent girls in our country. It is crucial to acknowledge that tackling the complex issue of nutrition among adolescent girls is not just a health concern, but is an investment in the future of the nation. We have an enormous responsibility, as well as a tremendous opportunity, to ensure the welfare and the upliftment of the nation by prioritising the nutritional needs of India's girls. The strength of a nation is measured by its ability to nurture its future generations; hence, let us work collectively to sow the seeds of a healthier, stronger India, where every girl can reach her full potential.
Tackling the complex issue of nutrition among adolescent girls is not just a health concern but is also an investment in India's future.
Facts about the News
NHRC History
In 1948, the UN adopted the UDHR (Universal Declaration of Human Rights).
In 1991, the Paris Principles were established by the National Human Rights Institutions (NHRIs).
In 1993, the UN adopted these Paris Principles at its General Assembly.
In 1993, India enacted the Protection of Human Rights Act.
This led to the formation of the National Human Rights Commission (NHRC).
The Protection of Human Rights Act also allowed state governments to establish the State Human Rights Commission.
National Human Rights Commission of India (NHRC), is a statutory body established in 1993, under the provisions of The Protection of Human Rights Act, 1993
It is responsible for the protection and promotion of "rights relating to life, liberty, equality and dignity of the individual guaranteed by the Constitution or embodied in the International Covenants".
NHRC Composition – Members of NHRC
The National Human Rights Commission (NHRC) is composed of a Chairperson and eight other members.Those eight members are:
Four full-time members.
Four deemed members.
Appointment of NHRC Members
A Selection Committee will recommend the candidates to the President.
The Selection Committee includes:
– Prime Minister (Chairman)
– Speaker of Lok Sabha
– Union Home Minister
– Deputy Chairman of Rajya Sabha
– Leaders of the Opposition in both Houses of the Parliament
Term and removal:
They hold office for a term of three years or until they attain the age of 70 years, whichever is earlier.
The President can remove them from the office under specific circumstances.
World Test Championship
Australia beats India to win the World Test Championship.
Australia became the first team to win all ICC titles.
The 2021–2023 ICC World Test Championship was the second edition of the ICC World Test Championship of Test cricket.
It started on 4 August 2021 and finished with the Final on 7–11 June 2023 at The Oval, London, played between Australia and India.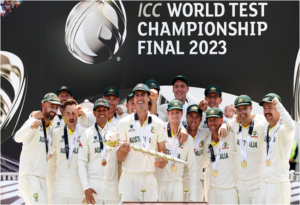 SOURCE : THE HINDU