CURRENT AFFAIRS – 11/05/2023
A ground view of the Indian Space Policy 2023
Rakesh Sood
is a former diplomat who has worked and negotiated on the interface of technology, security and strategy
Though the forward-looking document is qualitatively different from previous efforts, it needs to be followed up with suitable legislation, backed by clear rules and regulations
On April 20 this year, the Indian Space Research Organisation (ISRO) released the Indian Space Policy 2023 that had been in the works for some years. The document has been received positively by industry. However, it needs to be followed up with suitable legislation, accompanied by clear rules and regulations. Just preceding this, this writer wrote the article, "Awaiting lift-off into the Second Space Age" (April 10, 2023), which said that India's modest entry into the First Space Age followed by its many gains should be used to help the country tap the vast potential in the Second Space Age.
Until the early 1990s, India's space industry and space economy were defined by ISRO. Private sector involvement was limited to building to ISRO designs and specifications. The Second Space Age began with the licensing of private TV channels, the explosive growth of the Internet, mobile telephony, and the emergence of the smartphone. Today, while ISRO's budget is approximately $1.6 billion, India's space economy is over $9.6 billion. Broadband, OTT and 5G promise a double-digit annual growth in satellite-based services. It is estimated that with an enabling environment, the Indian space industry could grow to $60 billion by 2030, directly creating more than two lakh jobs.
Yet, it is the enabling policy environment that has proved elusive. The first satellite communication policy was introduced in 1997, with guidelines for foreign direct investment (FDI) in the satellite industry that were further liberalised but never generated much enthusiasm. Today, more than half the transponders beaming TV signals into Indian homes are hosted on foreign satellites, resulting in an annual outflow of over half a billion dollars.
A remote sensing data policy was introduced in 2001, which was amended in 2011; in 2016, it was replaced by a National Geospatial Policy that has been further liberalised in 2022. Yet, Indian users including the security and defence agencies spend nearly a billion dollars annually to procure earth observation data and imagery from foreign sources. To streamline matters, a draft Space Activities Bill was brought out in 2017, which went through a long consultative process. It lapsed in 2019 with the outgoing Lok Sabha. The government was expected to introduce a new Bill by 2021, but it appears to have contented itself with the new policy statement.
What is different
To be fair, the Indian Space Policy 2023 is qualitatively different from previous efforts. It is a short 11-page document, which includes three pages devoted to definitions and abbreviations. The 'Vision' is to "enable, encourage and develop a flourishing commercial presence in space" that suggests an acceptance that the private sector is a critical stakeholder in the entire value chain of the space economy. It makes five key points. It defines its role in India's "socio-economic development and security, protection of environment and lives, pursuing peaceful exploration of outer space, stimulation of public awareness and scientific quest".
First, this is the only reference to 'security' in the document, making it clear that the focus is on civilian and peaceful applications. Considering that space-based intelligence, reconnaissance, surveillance, communication, positioning and navigation capabilities are increasingly seen as mission critical by the defence services, that India conducted a successful A-SAT (anti-satellite) direct ascent test in March 2019, and, in the same year, set up the Defence Space Agency and the Defence Space Research Organisation, it is reasonable to infer that a defence-oriented space security policy document will be a separate document. The United States puts out a space policy under the aegis of the White House Office of Science and Technology Policy, National Aeronautics and Space Administration (NASA) and the Departments of Commerce and Transportation, while the Department of Defence and the Director of National Intelligence are responsible for the space security strategy.
Second, the policy lays out a strategy and then spells out the roles of the Department of Space, ISRO, the Indian National Space Promotion and Authorisation Centre (IN-SPACe) set up in 2020, and the NewSpace India Limited (NSIL), a public sector unit set up in 2019 under the Department of Space as the commercial arm of ISRO to replace the now defunct Antrix.
Third, it states that ISRO will "transition out of the existing practice of being present in the manufacturing of operational space systems. Hereafter, mature systems shall be transferred to industries for commercial exploitation. ISRO shall focus on R&D in advanced technology, proving newer systems and realisation of space objects for meeting national prerogatives". Another of ISRO's tasks in the new policy is to "share technologies, products, processes and best practices with NGEs (non-government entities) and/or Government companies". This implies that ISRO will now use its biggest asset, its qualified and talented manpower, to concentrate on cutting edge research and development and long-term projects such as Chandrayaan and Gaganyaan.
As ISRO's commercial arm, NSIL will become the interface for interacting with the industry, undertake commercial negotiations and provide hand-holding support to ensure smooth and efficient transfer of technologies.
Private sector role
Fourth, the NGEs (this includes the private sector) are "allowed to undertake end-to-end activities in the space sector through establishment and operation of space objects, ground-based assets and related services, such as communication, remote sensing, navigation, etc.". Satellites could be self-owned, procured or leased; communication services could be over India or outside; and remote sensing data could be disseminated in India or abroad. NGEs can design and operate launch vehicles for space transportation and establish their own infrastructure. NGEs can now make filings with the International Telecommunication Union (ITU) and engage in commercial recovery of asteroid resources. In short, the entire gamut of space activities is now open to the private sector. Security agencies can task NGEs for procuring tailor-made solutions to address specific requirements.
The activities of the NGEs will be in keeping with guidelines and regulation to be issued by IN-SPACe. It is expected to act as the single window agency for authorising space activities "by government entities and NGEs", in keeping with safety, security, international obligations and overall national interests.
Finally, IN-SPACe is expected to create a "stable and predictable regulatory framework" that will ensure a level playing field for the NGEs. It will act as a promoter by setting up industry clusters and as the regulator, issue guidelines on liability issues.
The gaps
The policy sets out an ambitious role for IN-SPACe but provides no time frame for the necessary steps ahead. Neither is there an indicative timeline for ISRO's transitioning out of its current practices nor is there a schedule for IN-SPACe to create the regulatory framework. The policy framework envisaged will need clear rules and regulations pertaining to FDI and licensing, government procurement to sustain the new space start-ups, liability in case of violations and an appellate framework for dispute settlement.
A regulatory body needs legislative authority. The Reserve Bank of India was set up by the 1934 RBI Act, the Securities and Exchange Board of India (SEBI) by the 1992 SEBI Act, and the Telecom Regulatory Authority of India (TRAI) by the 1997 TRAI Act. IN-SPACe is expected to authorise space activities for all, both government and non-government entities. Currently, its position is ambiguous as it functions under the purview of the Department of Space. The Secretary (Space) is also Chairman of ISRO, the government entity to be regulated by IN-SPACe.
The Space Policy 2023 is a forward-looking document reflecting good intentions and a vision. But it is not enough. What is urgently needed is a time frame to provide the necessary legal framework to translate this vision into reality, to successfully launch India into the Second Space Age.
Pokhran-II: A moment of profound epiphany
Amitabh Mattoo
is Professor of Disarmament Studies at JNU and Honorary Professor at the University of Melbourne. He was a member of the National Security Council's Advisory Board, which reviewed India's nuclear doctrine
The nuclear tests of 1998 reflected an awakening of India's self-confidence and an awareness of its potential.
Twenty-five years ago, on May 11 and 13, 1998, India carved out a new future for itself. No other event — save the fall of Dhaka in 1971 — did more for India's self-esteem and its place in the world, and no other policy decision had greater consequences for its national security. In the previous two decades, the military aspects of India's nuclear policy and programme were shrouded in a veil of ambiguity and opaqueness. There had been little reliable information available since May 18, 1974, the day India conducted its first nuclear test and termed it a "peaceful nuclear explosion."
On May 11, 1998, the veil was finally lifted. After conducting three underground tests at Pokhran, followed by two more on May 13, the Government of India was unusually candid in its statements. Prime Minister Atal Bihari Vajpayee was explicit: "Our intentions were, are, and will always be peaceful but we do not want to cover our action with a veil of needless ambiguity. India is now a nuclear weapons state…"
The consequences
The 1998 tests unleashed a fury of events and catapulted India into probably its worst confrontation with the United States. On May 13, Washington imposed sanctions against New Delhi under the Glenn Amendment; Pakistan conducted a series of nuclear tests on May 28 and 30; and China castigated India for what it saw as an "outrageous contempt for the common will of the international community." Domestically, the Congress and the Left criticised the decision to test.
But in 2023, it is evident that the nuclear tests reflected a moment of profound epiphany: an awakening of India's self-confidence and an awareness of its potential. India's status, security, and ability to influence the international system received arguably the greatest fillip then, since independence, and unarguably the strongest boost since the end of the Cold War.
Dispelling three beliefs
Moreover, the nuclearisation of India, subsequent events, and declassified sources dispelled, if not destroyed, three beliefs. First, that the decision to conduct the tests was taken by a BJP government out of tune with public opinion. While the Vajpayee government may have taken the decision to test, virtually every Prime Minister since independence is "implicated" in the development of India's nuclear weapons programme. Even Jawaharlal Nehru, whose commitment to disarmament is considered unassailable, was conscious of the potential security benefits of India's nuclear programme. He argued that by not having developed steam power and having thus missed out on the industrial revolution, India become a slave country and therefore must develop nuclear energy for peaceful purposes. But he went on to add, "Of course, if we are compelled as a nation to use it for other purposes, possibly no pious sentiments will stop the nation from using it that way."
It was during Lal Bahadur Shastri's premiership, after the nuclear test by China at the Lop Nor test site in 1964, that Homi Bhabha, 'the father of India's nuclear programme,' is believed to have received the green signal to pursue India's nuclear weapon option, and a small group was set up to study Subterranean Nuclear Explosions for Peaceful Purposes.
It is well known that Indira Gandhi sanctioned the first nuclear test in May 1974. Although it was termed a "peaceful nuclear explosion," the architect of the test, Raja Ramanna, revealed that it was a weapon that was tested. Less well known is that in 1988-89, Rajiv Gandhi gave the go-ahead to the Atomic Energy Commission, and the Defence Research and Development Organisation, to begin creating an Indian nuclear deterrent. By 1990, India had a fully developed nuclear weapons programme, which every subsequent Prime Minister had approved of. The Vajpayee government must, however, take credit for the historic Shakti tests.
The second was the myth that India would be isolated and its economy would collapse under the weight of sanctions and international opprobrium. However, beginning with the dialogue between Jaswant Singh and Strobe Talbott, it became clear that democratic India, with its blemish-free non-proliferation record, was too big and important to be marginalised. Instead, the U.S. took the first steps to mainstream India, treating it as an exceptional case, which culminated in the India-U.S. Civil Nuclear Agreement in 2005.
The third was the ethnocentric myth perpetuated by non-proliferation absolutists of the West that India and South Asia could not be "trusted" to manage nuclear weapons, and the logic of deterrence that had prevented a major war between the Soviet Union and the U.S. could not be applied to the sub-continent. In reality, whether it be in terms of a well-thought-out nuclear doctrine, C4I (command, control, communications, computers and intelligence) structures required to manage nuclear weapons, deterrence and the escalation ladder and to ensure flexibility of response, India has far more sophisticated measures in place than the U.S. and the Soviet Union had 25 years after acquiring nuclear weapons. Deterrence has worked well in South Asia, not just at the strategic or conventional level, but increasingly at the sub-conventional level as well.
As Ukraine, which renounced nuclear weapons, faces nuclear threats and 'blackmail' from Russia, India must celebrate the wisdom and sagacity of its leaders (political and scientific) who refused to capitulate under pressure, and helped to develop a credible nuclear deterrent against fierce odds.
The troubles of India's aviation industry
What does GoFirst's distress call mean for the aviation sector? Why was a major section of GoFirst's aircraft grounded since last year? Why do airlines struggle to survive? What contributes to the high operating costs? What are the policy and regulatory factors affecting the industry?
DIKSHA MUNJAL
EXPLAINER
The story so far:
After low-cost carrier GoFirst's insolvency filing last week, the aviation safety regulator Directorate General of Civil Aviation (DGCA) on Monday, May 8, directed the airline to stop selling air tickets immediately. The DGCA issued GoFirst a showcause notice for its "failure to continue the operation of the service in a safe, efficient and reliable manner", giving it 15 days to reply before the regulator decides on revoking the airline's permit to offer commercial flights. The unprecedented distress call by the airline that rebranded itself just two years ago raises concerns about the health of the Indian aviation industry already reeling from pandemic losses.
How big is the Indian aviation sector?
The country's domestic air traffic has been recovering in the past few months after being severely hit by the coronavirus pandemic. In March, domestic carriers flew 13 million passengers, which according to the DGCA was 11% more than the same month in the pre-pandemic years of 2018 and 2019. As per the Civil Aviation Ministry, India will have more than 140 million passengers in FY2024 alone. The CAPA-Centre for Aviation projects India to handle over 1.3 billion passengers annually in the next 20 years. There are currently 148 airports in the country and it is the third-largest domestic market in the world in terms of seat capacity. As of March 2023, IndiGo remained the domestic market leader with 56.8% of the market share, followed by Vistara (8.9%) and Air India (8.8%). AirAsia had 7.6% of the market, while GoFirst was at 6.9%, followed by SpiceJet at 6.4%. The newest player AkasaAir, which began operations in August 2022, managed to capture a 3.3% share.
Is the sector financially viable?
Despite being touted as the 'fastest growing aviation sector' in the world, airlines in the country have struggled to survive in the highly competitive and unforgiving aviation industry. While travel restrictions during the pandemic badly hit the coffers of all carriers, their financials were in the red earlier as well. While India's airlines cumulatively suffered huge losses (₹15,000 crore) in the financial year 2020-2021 owing to the pandemic, losses are not a post-COVID phenomenon. In 2019-20, IndiGo was the only airline to make a profit, while all other players posted losses led by then state-run Air India at ₹4,600 crore (Chart 1). Financial trouble has led to the folding of major airlines in the past few decades — seventeen airlines, domestic and regional, have exited the market (Chart 2). Meanwhile, the consolidation of four carriers including Air India and Vistara under one umbrella by the Tatas is going to make it even tougher for smaller airlines to capture the market, pointed out CAPA in its recent report. While AirIndia was bad for competition in its earlier state-owned version, with the current consolidation, 75-80% of the market will be captured by Indigo and Air India combined, leaving just about 20% for players like SpiceJet, GoFirst (if it revives), and the newest entrant Akasa.
What costs do airlines bear?
Aviation policy is broad-based in India and is dealt with by the Ministry of Civil Aviation under the legal framework of the Aircraft Act 1934, and Aircraft Rules 1937. The DGCA is the statutory regulatory authority which comes in for issues related to safety, licensing, airworthiness, and so on. While the mother Act and Rules have seen frequent modifications, aviation experts argue that India has not kept pace with modern technology in aerospace and increasing costs to the industry which ultimately affects passenger growth.
While the Indian aviation sector initially saw a boom in the 1990s after opening up as a result of liberalisation reforms and the breaking of the monopoly created by Indian Airlines and Air India, by the early 2000s, only two major airlines that were given licences (Jet Airways and Sahara) survived. Low-cost carriers then entered the market around 2003 with diversification and lower fares being expected to promote the industry's growth. However, while no-frills brands faced intense competition to keep prices low, the government levied high taxes on Aviation Turbine Fuel (ATF).
According to estimates, while India's airfares are 15% below the break-even point, heavily-taxed ATF contributes to the single biggest expenses of carriers, amounting to anywhere between 40-50% of operational expenses. Some Indian States impose provincial taxes of as much as 30% on jet fuel. This also makes shorter flight routes unsustainable for smaller airlines while big carriers like IndiGo offer ultra-cheap fares on routes flown by rivals using their reach to recoup costs on less-competitive legs and tapping economies of scale to lower overheads, notes a Bloomberg analysis.
Indian aviation policy has also posed barriers to entry and growth while also not affecting players uniformly. From 2004 to 2016, new airlines in the country had to be in operation for at least five years and have a fleet of at least 20 aircraft to be able to fly internationally, which stabilises the operations and viability of carriers. This changed with the National Civil Aviation Policy (NCAP) in 2016, which removed the five-year domestic experience rule but kept in place the 20 aircraft fleet requirement — mandating domestic airlines to have at least 20 aircraft (or 20% of its entire fleet size whichever is higher) for domestic operations. While newer entrants to the industry, like Vistara and AirAsia India lobbied the government to remove the 5/20 rule, legacy carriers who had to meet the earlier requirements to go international opposed the change as being bad for competition.
Most Indian airlines do not own entire fleets as their financials do not allow them to shell out huge one-time payments to buy planes but lease them from companies based out of India instead. About 80% of India's total commercial fleet is leased, according to PwC. However, leasing ends up adding high costs to operations as these leases of about six months each are denominated in U.S dollars. Airlines have to pay annual lease rents of about ₹10,000 crore to lessors, making up nearly 15% of the revenues of Indian Airlines, except Air India which owns a large part of its fleet. The costs of these leases go up further when the Indian rupee depreciates during short and long term global financial developments, for instance, an oil price shock, which simultaneously increases the cost of ATF, compounding the carrier's expenses. Till the government's plan to get leasing companies to set up shop in India and make it a leasing hub takes off fully, the expensive lease rents for airlines and repayment feuds with lessors are here to stay.
Airlines also have to bear costs in terms of airport fees for the use of airport facilities including aircraft landing, freight and other charges related to the use of airport infrastructure such as runways and passenger terminals. Internationally, airlines pass on the bulk of these charges to passengers, however, carriers in India to must remain competitive have to offer lower ticket fares to increase reach. For state-run airports, these charges are regulated by the Airports Economic Regulatory Authority (AERA) but the recent privatisation of airport operations, (handing over major airports to firms like Adani) have raised concerns about further fee hikes. There are also high costs associated with the training of airline crew. Besides, the crunch in pilots is also reflective of the inadequate number of Flight Training Organisations.
Why was GoFirst's fleet grounded?
Recent months saw several aircraft grounded at airports, frequent mid-air snags and cancellations due to operational reasons. As for GoFirst, which filed for bankruptcy at the National Company Law Tribunal (NCLT) last week, 28 of its 54 aircraft are grounded. This, it says is due to "the serial failure of Pratt & Whitney's engines, while it continued to incur 100% of its operational costs". The airline said that 50% of its fleet had to be grounded by December 2022, leading to a loss of over ₹10,000 crore for the airline. American engine maker Pratt & Whitney, meanwhile, has disputed the claim saying that the airline has a "lengthy history of missing its financial obligations". Besides, the airline has total dues amounting to ₹11,463 crore to its various creditors. While lessors are now rushing to take back their aircraft before the NCLT can impose a moratorium on claims, GoFirst is not the only low-cost carrier currently struggling with a grounded fleet. In the case of SpiceJet, its aircraft in operation are now down to about 47-50 out of a total fleet of 78-80 aircraft. Lessors have already taken back 20 of its aircraft owing to non-payment of dues. Besides, the grounding of aircraft has not resulted purely out of financial constraints. Engine and spare part issues have led to the grounding of 13% of the fleet of profit-making and market-leading IndiGo as well. Air India also has part of its fleet grounded. Supply chain troubles in the recent past have substantially affected all major players, with industry experts calling for ramping up the establishment of the Maintenance, Repair and Overhaul (MRO) segment domestically. Captain G.R. Gopinath (retd), the founder of Air Deccan, points out that there are "labyrinthine taxes, customs, other duties and tortuous rules to be overcome to bring in parts, to facilitate repair and overhaul, and to re-export them or for use in aircraft here". The layers of costs associated with policy and infrastructural incapacity affect the viability of airlines which struggle to remain competitive.
THE GIST
The Directorate General of Civil Aviation (DGCA) on May 8, directed the airline to stop selling air tickets immediately. The DGCA issued GoFirst a showcause notice for its "failure to continue the operation of the service in a safe, efficient and reliable manner".
Despite being touted as the 'fastest growing aviation sector' in the world, airlines in the country have struggled to survive in the highly competitive and unforgiving aviation industry. While travel restrictions during the pandemic badly hit the coffers of all carriers, their financials were in the red earlier as well.
The layers of costs associated with policy and infrastructural incapacity affect the viability of airline which struggle to remain competitive.
Santiniketan may be added to World Heritage List
THE HINDU BUREAU
NEW DELHI
Santiniketan, associated with Nobel laureate Rabindranath Tagore, has been recommended for inclusion on UNESCO's World Heritage List.
The quaint town in West Bengal's Birbhum district is also home to the Visva-Bharati University built by Tagore. The recommendation was made by the International Council on Monuments and Sites (ICOMOS), which is the advisory body to the UNESCO World Heritage Centre, based on a file moved by the Centre.
The nomination would be formally announced at the World Heritage Committee meeting to be held at Riyadh, Saudi Arabia in September 2023, Union Minister for Culture G. Kishen Reddy said.
Santiniketan, if selected, would be the second cultural symbol from West Bengal, to make it to the UNESCO list. In 2021, UNESCO had included 'Durga Puja in Kolkata' on its list of Intangible Cultural Heritage of Humanity.
Study on sludge finds high potential for use as fertilizer after treatment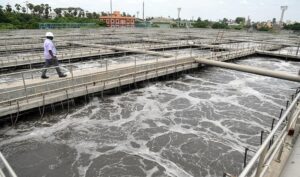 Wastewater when treated leaves behind organic sludge that is also a repository of effluents and bacterial contaminants. File photo
JACOB KOSHY
NEW DELHI
A first-of-its-kind analysis of the sludge found in Indian sewage treatment plants (STP), set up to treat polluted water from the Ganga, found that most of it had "high potential" for use as fertilizer, but required treatment before it could be used unrestricted on farms or as a potential biofuel.
An emerging initiative of the National Mission for Clean Ganga, a flagship programme of the government to establish treatment facilities and prevent pollution of the river, is to derive livelihood opportunities from the river rejuvenation programme. One of the measures under this, "Arth Ganga" (economic value from Ganga), is to "monetise" and reuse treated wastewater and sludge. This means converting sludge — a thick residue that while rich in organic chemicals is also a repository of heavy metals, industrial effluents and bacterial contaminants — into usable products such as manure and bricks.
Treated sludge can be classified as class A or B — as per the standards of the United States Environment Protection Agency — with class A being safe to be disposed of in the open and useful as organic fertilizer. Class B means that the sludge can be used in "restricted" agricultural applications, the edible parts of the crop not be exposed to the sludge-mixed soil, and animals and people not come into extensive contact. India does not yet have standards classifying sludge as class A or B.
A study by the Indian Institute of Technology (IIT), Roorkee found that most of the sludge analysed after drying fell into the class B category. Nitrogen and phosphorous levels — the basic soil nutrients — were higher than those recommended by India's fertilizer standards (FCO, 2009). However, potassium levels in some samples were less than recommended. The total organic carbon was more than 16%, again higher than FCO recommendations, but the degree of pathogens as well as heavy metal contamination was above the recommended standard.
"This is the first time such a project has been conceived in India," D.P. Mathuria, a senior official in the NMCG, said. "Only when we have data about the chemical characteristics of the sludge can we then ask developers to adopt practices on treatment and safe disposal of sludge."
SOURCE : THE HINDU